Washington (CNN)President Donald Trump has lived his life, in and out of politics, on one simple principle: I make the rules — and I can break them.
In his life as a real estate developer/marketer/reality TV star, Trump would steer into controversy purposely, so deeply did he believe in his ability to make lemonades out of lemons every single time.As President, he's taken a similar sort of damn-the-torpedoes approach."Let me tell you, the one that matters is me," Trump said in an interview that aired on Fox News in November 2017. "I'm the only one that matters." Asked recently how the decision was made to invite the Taliban to Camp David for peace talks — an invite that was later rescinded — Trump said this: "Actually, in terms of advisers, I took my own advice."Read MoreWhile Trump has had a few close calls — the Taliban invite being right near the top of that list — he had, generally speaking, been able to navigate his way through the briar patches he has thrown himself into over the first three years of his president. And every time Trump survived by charging into controversy, he became a little more certain that he was teflon, that there was simply nothing that could truly hurt him, that, in his own words, "I could stand in the middle of Fifth Avenue and shoot somebody and wouldn't lose any voters, OK?"That hubris may, finally, have caught up with Trump this week. Specifically in his decision to authorize the release of a rough transcript of a July 25 call with Ukrainian President Volodymyr Zelensky that paints, in clear terms, the effort by an American President to pressure a foreign leader to look into corruption allegations against a potential 2020 opponent in former Vice President Joe Biden, and his son, Hunter. (There is no evidence of wrongdoing by either Joe or Hunter Biden.)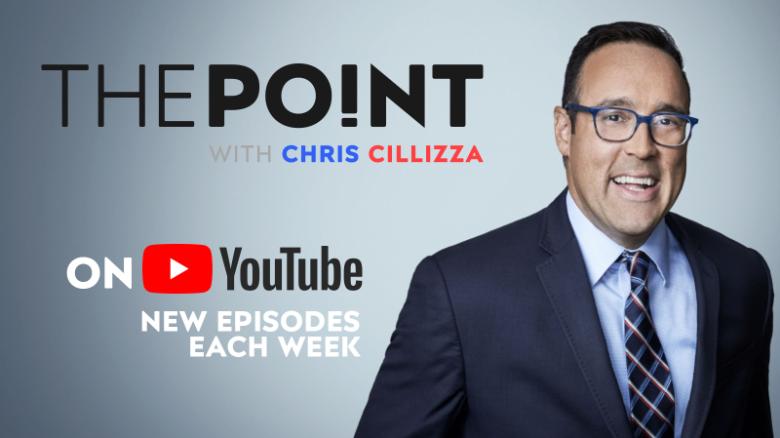 THE POINT — NOW ON YOUTUBE!
In each episode of his weekly YouTube show, Chris Cillizza will delve a little deeper into the surreal world of politics. Click to subscribe!
The transcript sent a shockwave through official Washington, forcing most Republicans in hiding (for fear they would be forced to answer questions about Trump's behavior) and emboldened Democrats who, the day before the transcript was released had announced their plans to conduct a formal impeachment inquiry.Trump, as is his style, seemed to go about his regular business — blasting Democrats, calling the call "perfect" and insisting this (all of it, I guess) was and is a "total hoax." But the reaction by most of his party, and even the reported nervousness within some elements within his White House, reminded me of nothing so much of this scene from "Anchorman."In it, anchorman Ron Burgundy reads a curse word on air that has been surreptitiously put into the Teleprompter by his rival/love interest. (What a film!) Burgundy reads it because, well, he reads whatever is on the prompter. And as the lights go down and the show ends, Ron acts as though nothing is out of the ordinary even as everyone around him is paralyzed with shock.Trump, right now, is Ron Burgundy in that moment. He's stepped way too far out on this limb but, thanks to the very hubris that led him to think the transcript wasn't a problem, he is wholly unaware of that fact. The next few weeks will be a very rough wake-up call.The Point: Pride comes before the fall. Always.Monday:Washington Post: Trump ordered hold on military aid days before call with Ukrainian President Senate Republicans skip criticizing Trump over handling of whistleblower: 'It's a lot of hysteria over very little'House Democrats near 'tipping point' on impeachment as Pelosi faces crucial weekTrump delivers religious freedom speech at UNGATuesday:Pelosi's announcement of an impeachment inquiry into President TrumpTrump paints Democrats as fixated on impeachment after Pelosi announces inquiryUkrainian President says his conversations with Trump are 'private and confidential'McConnell says Senate will 'find out what happened' on whistleblower complaintMore than 31,000 people blocked from entering US by Trump travel banTrump mocks teenage climate activist Greta Thunberg Wednesday:Trump pushed Ukraine to investigate Joe Biden, transcript showsSchiff says Ukraine scandal is 'the most serious misconduct of the President thus far'Whistleblower tentatively agrees to testify, attorneys say, as long as they get appropriate clearances to attend hearingDarrell Issa to run against GOP Rep. Duncan HunterRomney out front of GOP with criticisms of Trump's Ukraine call, but signs emerge that he's not aloneTrump's comments on former Ukraine ambassador raise further questions Thursday:Justice Department knew about whistleblower complaint involving Trump more than a week before referralHouse chairmen warn Trump to stop attacking whistleblowerBiden accuses Trump of trying to 'hijack an election' by pushing Ukraine investigationUS sets a refugee cap of 18,000 for next year — a new historic lowLewandowski may lead White House impeachment teamWhistleblower complaint on Trump and Ukraine releasedFriday:Pelosi says Barr has 'gone rogue'White House says lawyers directed moving Ukraine transcript to highly secure systemHundreds of ex-national security officials support impeachment inquiry into TrumpAnd that was the week in 25 headlines.
Source Link:
https://www.cnn.com/2019/09/27/politics/donald-trump-impeachment-week-in-review/index.html
[-0.397569]
Comments
comments