(CNN)A camp for pediatric cancer patients and their families is yet another casualty of the wildfires scarring California as the Bear Fire, part of the North Complex, burned through the area.
"We are heartbroken to let you know that we were notified today that there has been significant fire damage to our beloved Camp Okizu at Berry Creek," Executive Director Suzie Randall posted on the organization's website.Camp Okizu hosts about 700 kids each year, along with their siblings and parents, giving them a respite from hospitals and doctor appointments.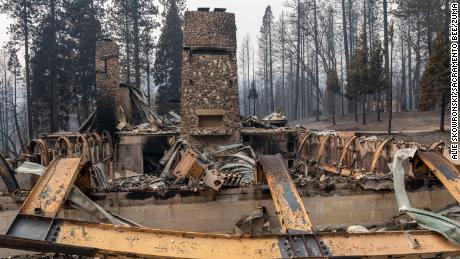 One of the structures at Camp Okizu that has burned to the ground.It is not yet clear if anything is left of the camp, which had a large lodge, 32 cabins, an extensive ropes course, and an infirmary to care for campers undergoing chemotherapy or those who might need blood draws.Live updates on the wildfiresRead MoreBoard Member Hanna Malak has been visiting the camp since he was 8, when his older brother had leukemia. "I just got hooked," he said. "There's no place like it." Malak says Okizu creates a traditional camping experience where the kids all know how each other feel. "It creates a special bond," he said. Malak's brother has since recovered.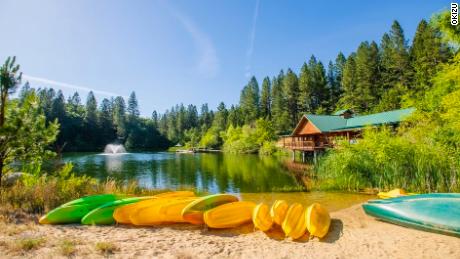 A photo of Camp Okizu before the wildfires."It is devastating," Malak said of the destruction. "I think I'm going through the stages of loss and feel like I'm still in denial. It's still hard to believe, but we are staying positive and are especially thankful no one was hurt."
Photos: Wildfires burning in the WestDora Negrete is consoled by her son Hector Rocha after seeing their destroyed mobile home in Talent, Oregon, on Thursday, September 10.Hide Caption 1 of 76
Photos: Wildfires burning in the WestThis aerial photo shows a destroyed mobile-home park in Phoenix, Oregon, on September 10.Hide Caption 2 of 76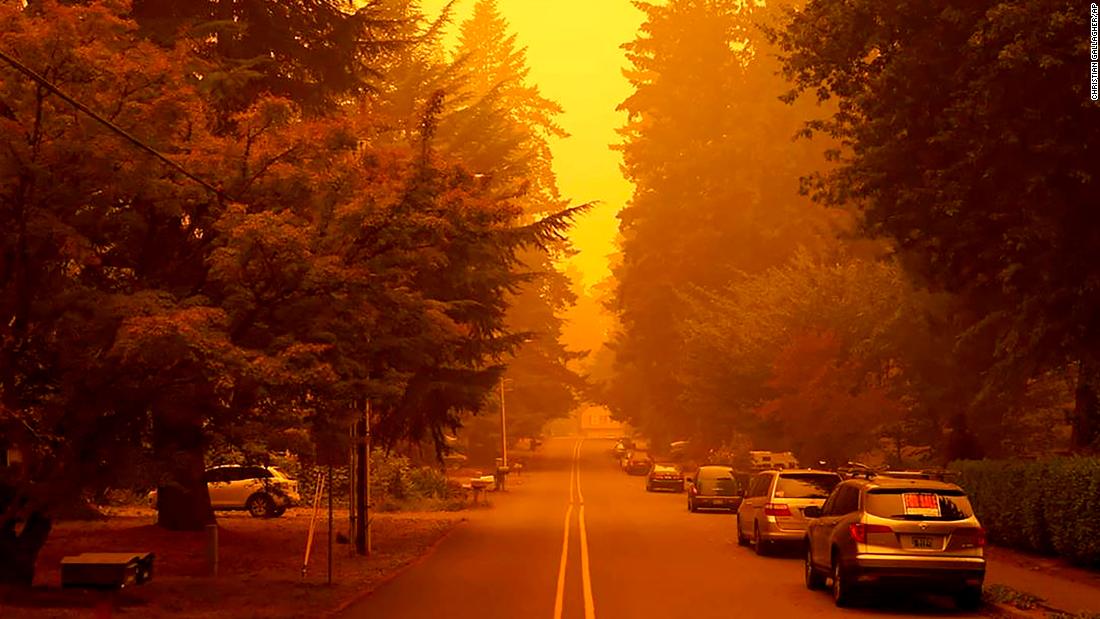 Photos: Wildfires burning in the WestA street is shrouded by smoke from wildfires in West Linn, Oregon, on September 10.Hide Caption 3 of 76
Photos: Wildfires burning in the WestA tanker jet drops fire retardant to slow the Bobcat Fire in the Angeles National Forest north of Monrovia, California, on September 10.Hide Caption 4 of 76
Photos: Wildfires burning in the WestLooking up San Francisco's Columbus Avenue, the Transamerica Pyramid and Salesforce Tower are covered with smoke from nearby wildfires on Wednesday, September 9. This photo was taken in the late morning.Hide Caption 5 of 76
Photos: Wildfires burning in the WestVisitors of San Francisco's Dolores Park are seen under an orange sky darkened by smoke on September 9.Hide Caption 6 of 76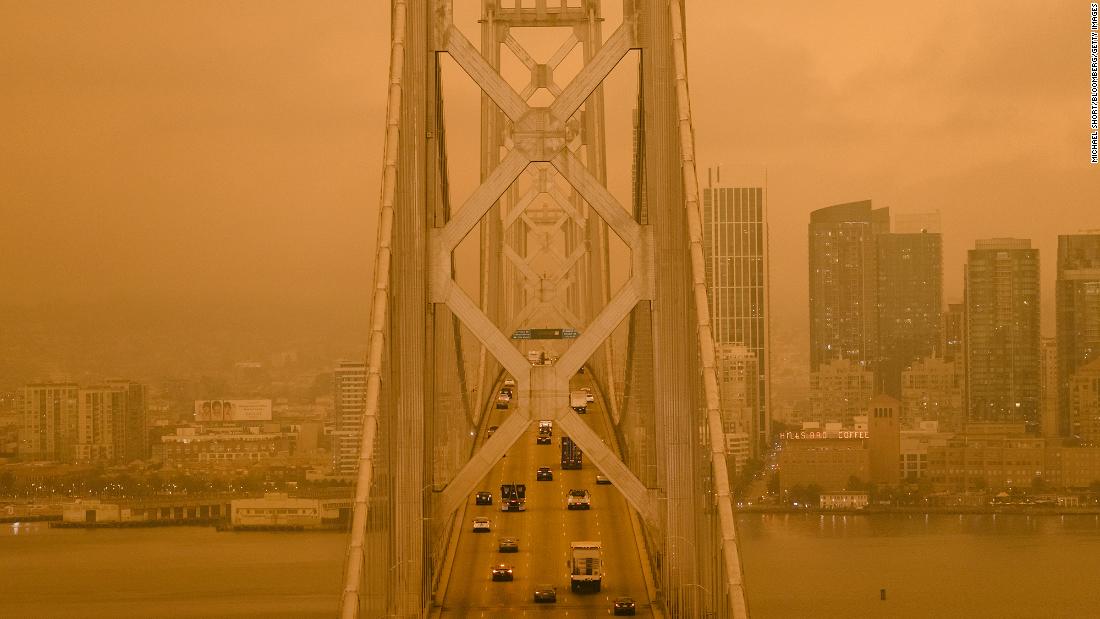 Photos: Wildfires burning in the WestWildfire smoke hangs over the San Francisco-Oakland Bay Bridge on September 9. Hide Caption 7 of 76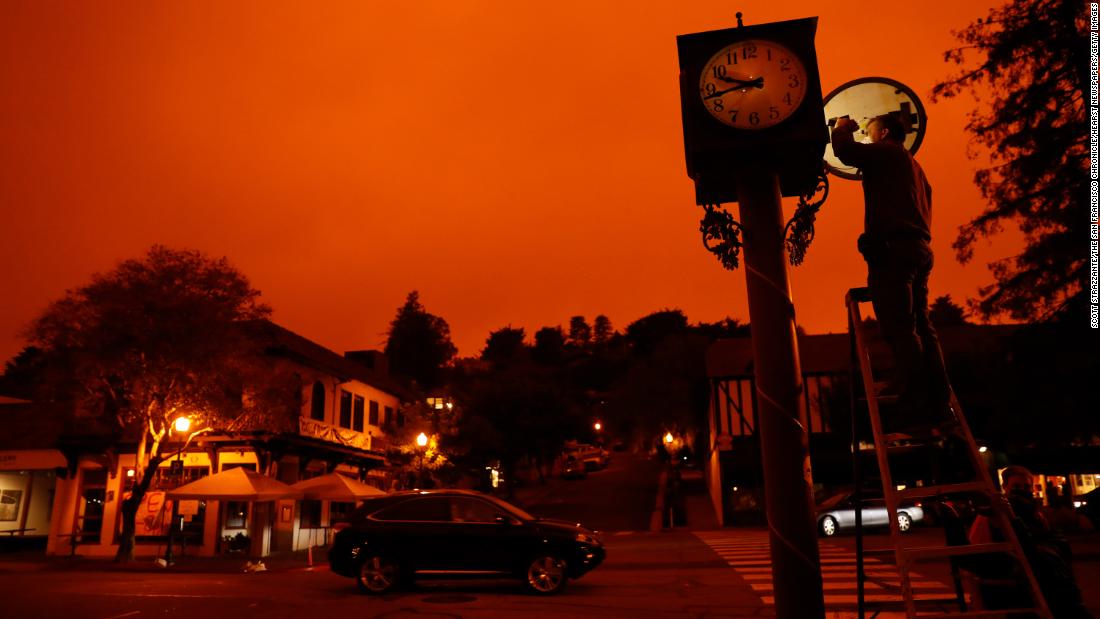 Photos: Wildfires burning in the WestBejhan Razi, a senior building inspector in Mill Valley, California, checks out repairs on a lamp-post clock as the sky is illuminated by nearby wildfires.Hide Caption 8 of 76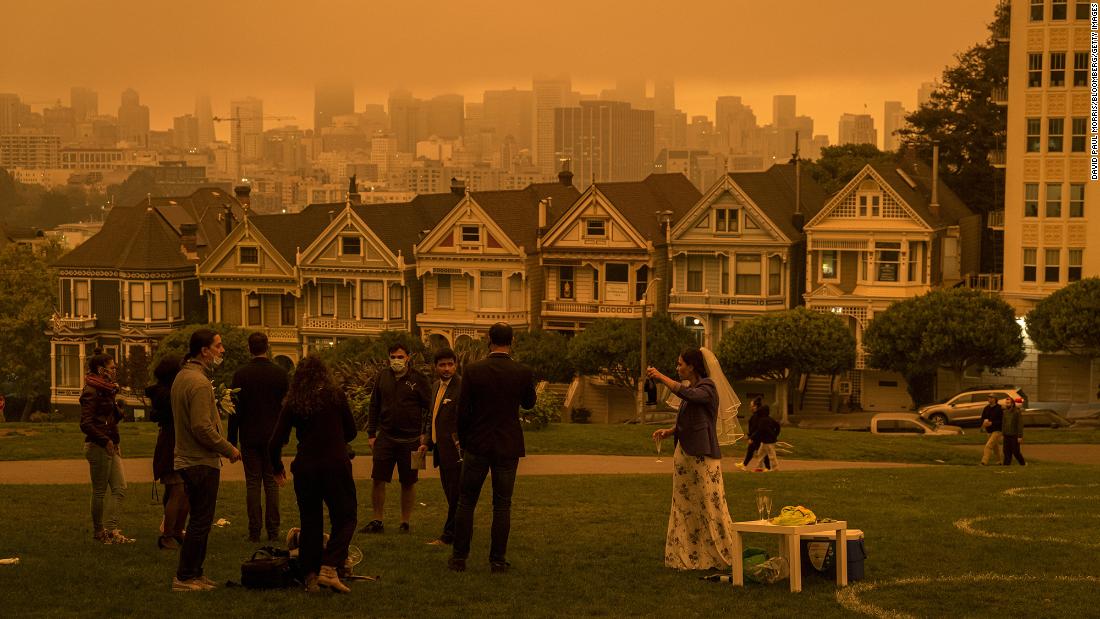 Photos: Wildfires burning in the WestPeople stand in Alamo Square Park as smoke hangs over San Francisco on September 9. Hide Caption 9 of 76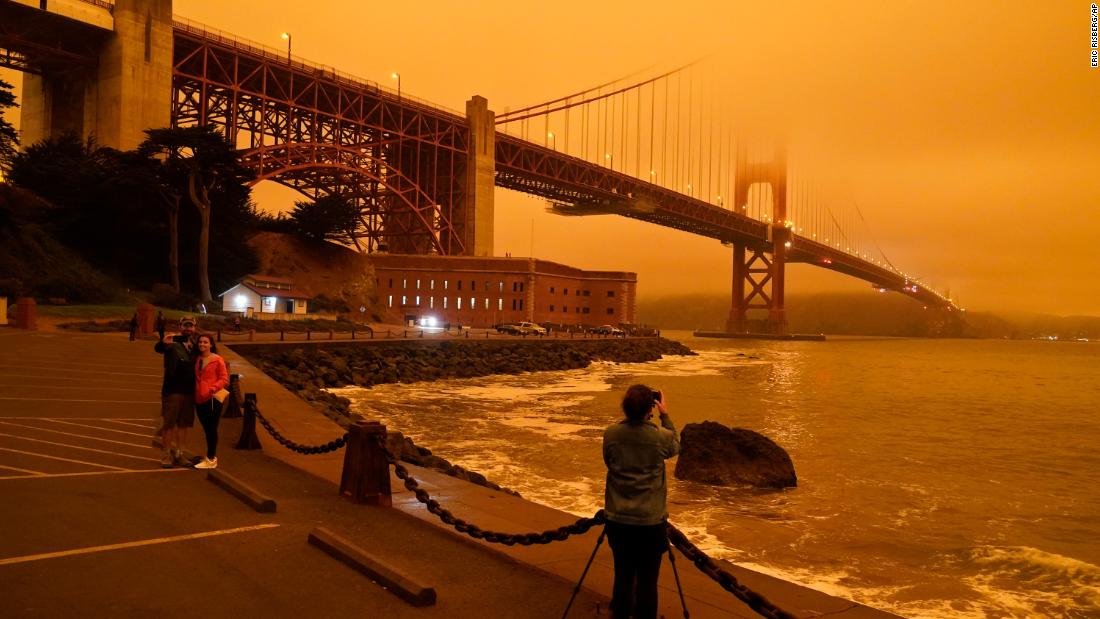 Photos: Wildfires burning in the WestPeople stop to take pictures of the Golden Gate Bridge as it is affected from smoke by nearby wildfires on September 9.Hide Caption 10 of 76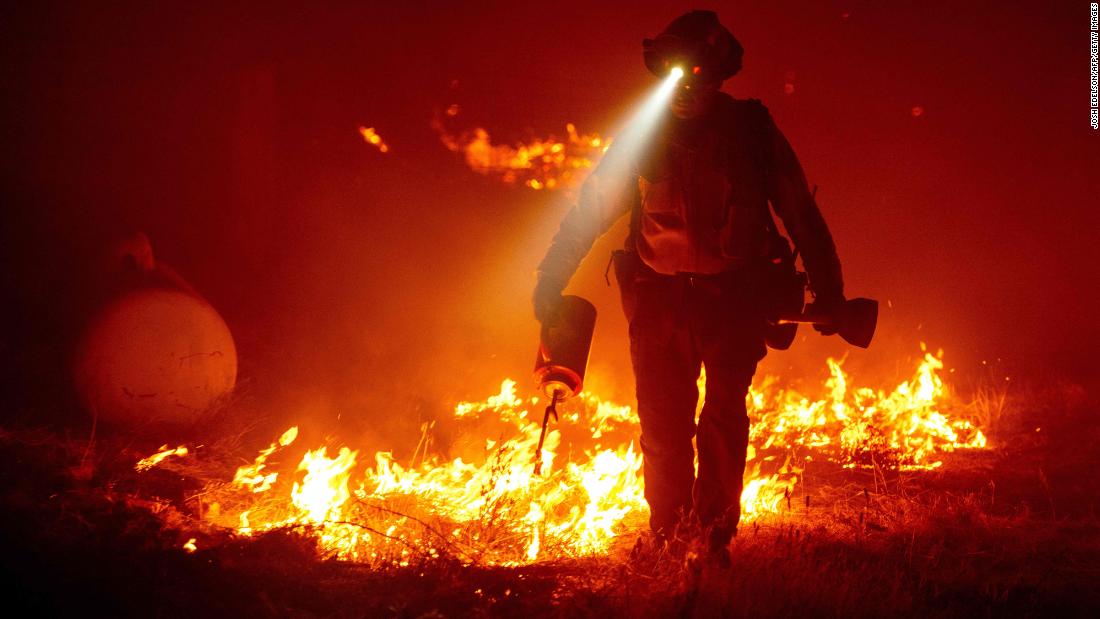 Photos: Wildfires burning in the WestFirefighters cut defensive lines and light backfires to protect structures in Butte County, California, on September 9.Hide Caption 11 of 76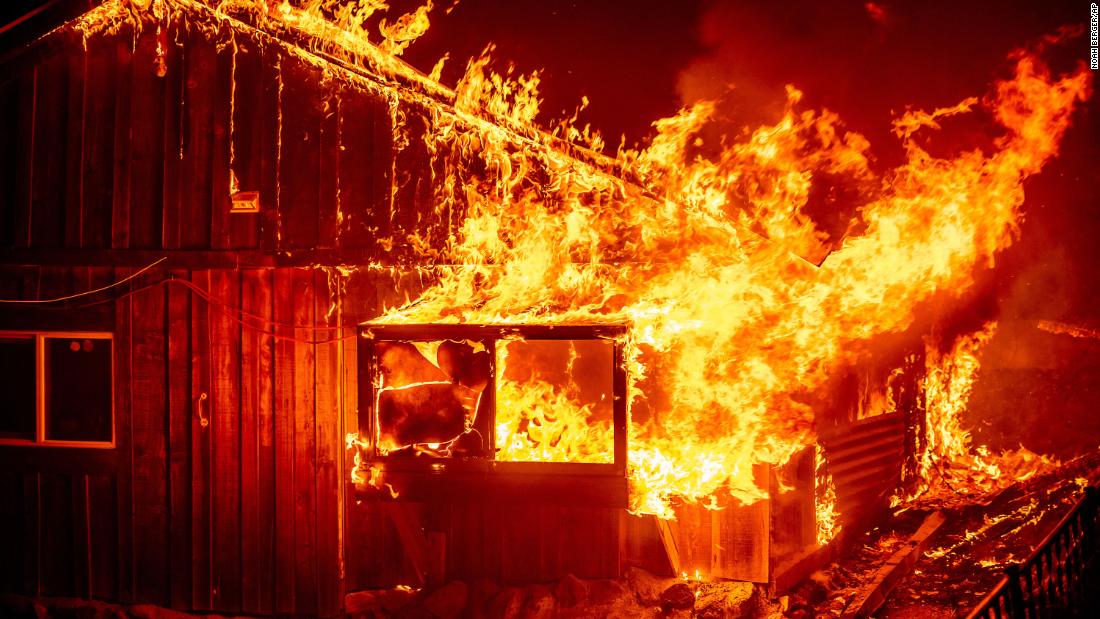 Photos: Wildfires burning in the WestFlames shoot from a home in Butte County.Hide Caption 12 of 76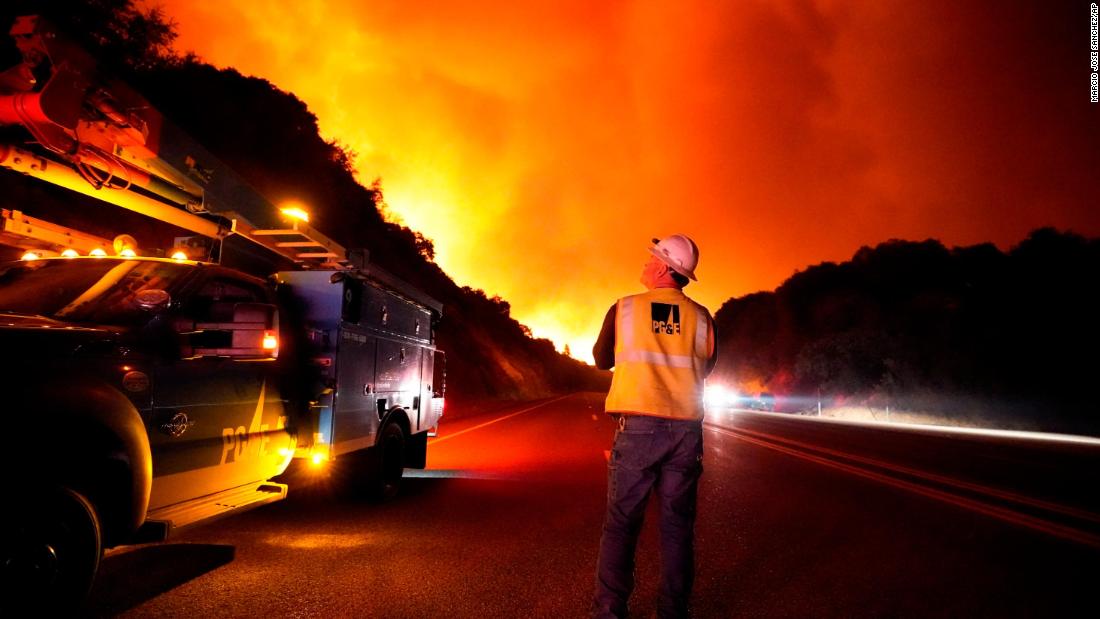 Photos: Wildfires burning in the WestA Pacific Gas and Electric worker looks up at the advancing Creek Fire near Alder Springs, California, on Tuesday, September 8.Hide Caption 13 of 76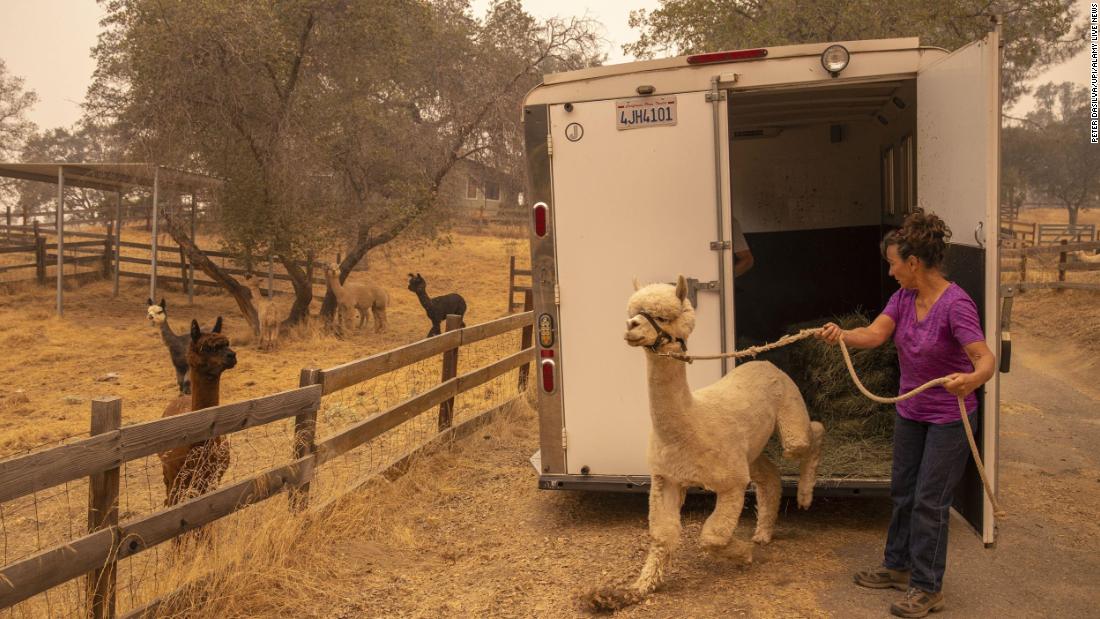 Photos: Wildfires burning in the WestLisa Theis unloads the last of her 44 alpacas after she evacuated her ranch in North Fork, California.Hide Caption 14 of 76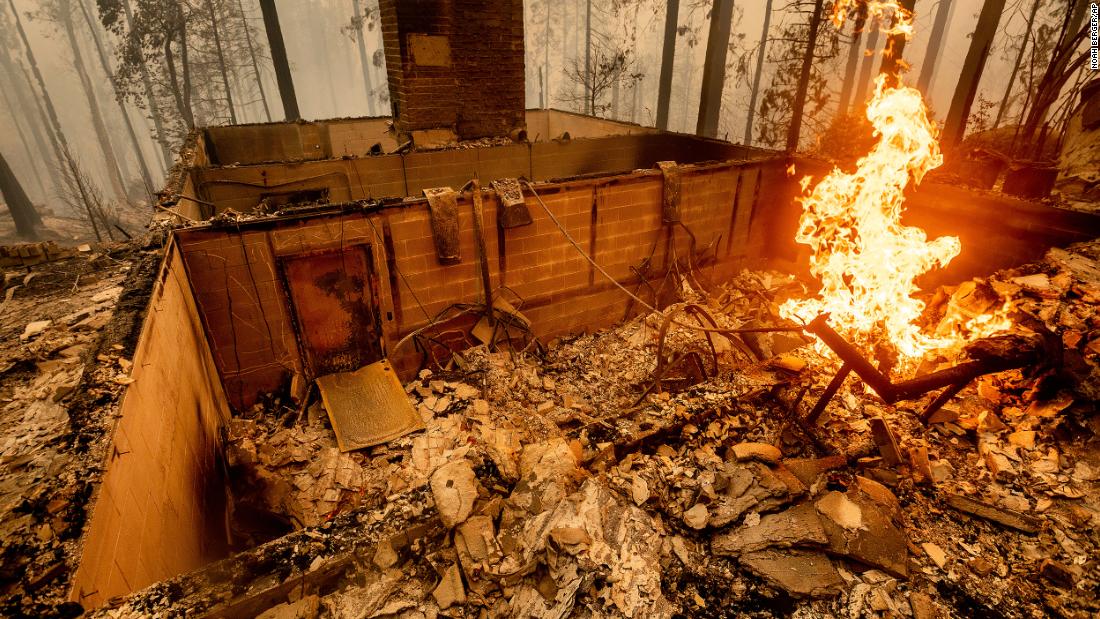 Photos: Wildfires burning in the WestFlames burn at a home leveled by the Creek Fire in Fresno County, California.Hide Caption 15 of 76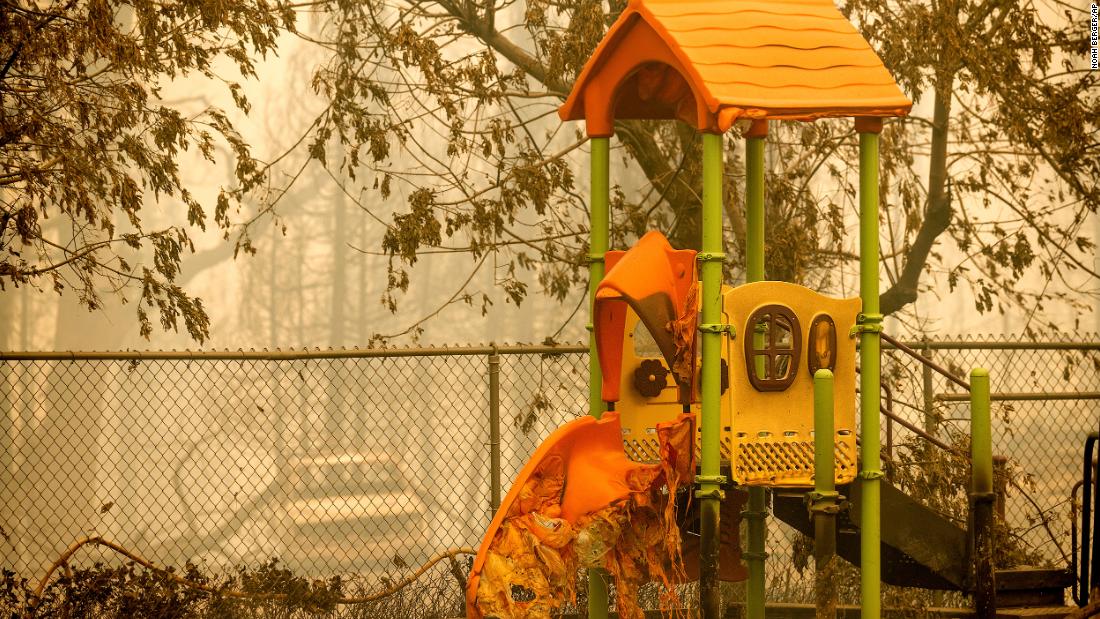 Photos: Wildfires burning in the WestA slide is melted at a school playground in Fresno County.Hide Caption 16 of 76
Photos: Wildfires burning in the WestRubble is seen on Monday, September 7, after a wildfire left the small town of Malden, Washington, in ruins. The fire destroyed about 80% of the homes and buildings in Malden, which is about 35 miles south of Spokane.Hide Caption 17 of 76
Photos: Wildfires burning in the WestFirefighter Nick Grinstead battles the Creek Fire in Shaver Lake, California, on September 7.Hide Caption 18 of 76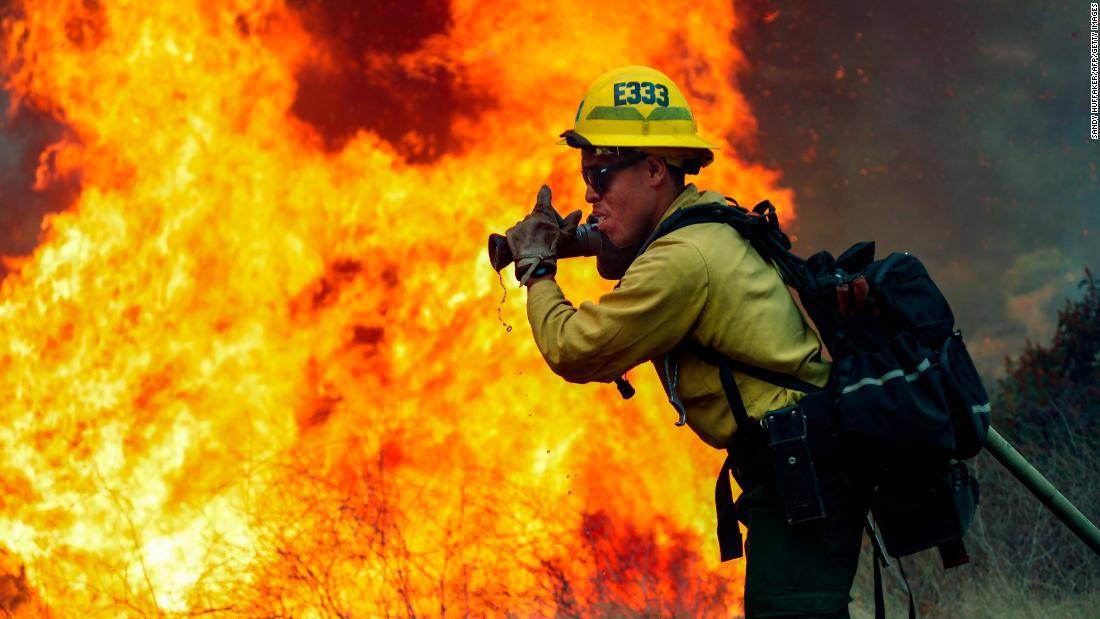 Photos: Wildfires burning in the WestA firefighter in Jamul, California, battles the Valley Fire on Sunday, September 6.Hide Caption 19 of 76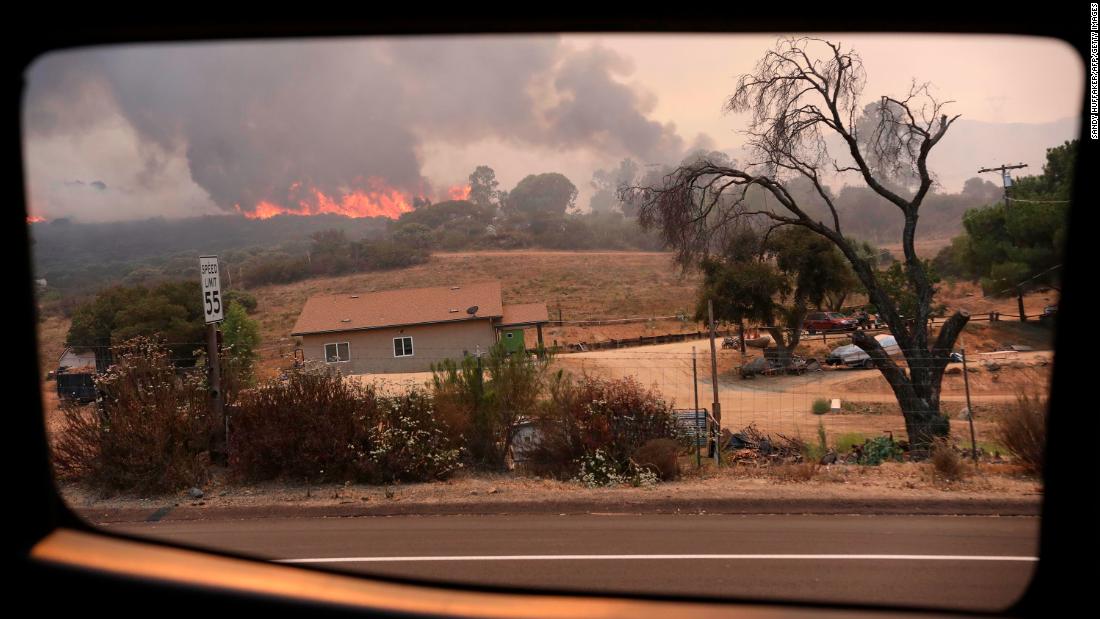 Photos: Wildfires burning in the WestA fire encroaches Japatul Road in Jamul on September 6.Hide Caption 20 of 76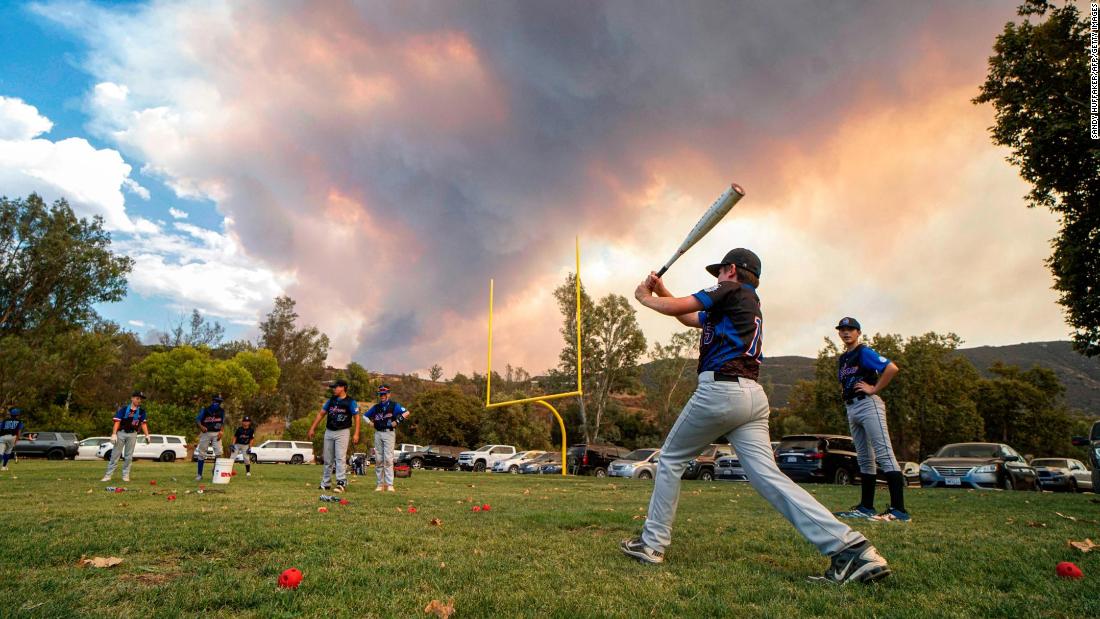 Photos: Wildfires burning in the WestLittle League baseball players warm up for a game near Dehesa, California, as the Valley Fire burns on September 6.Hide Caption 21 of 76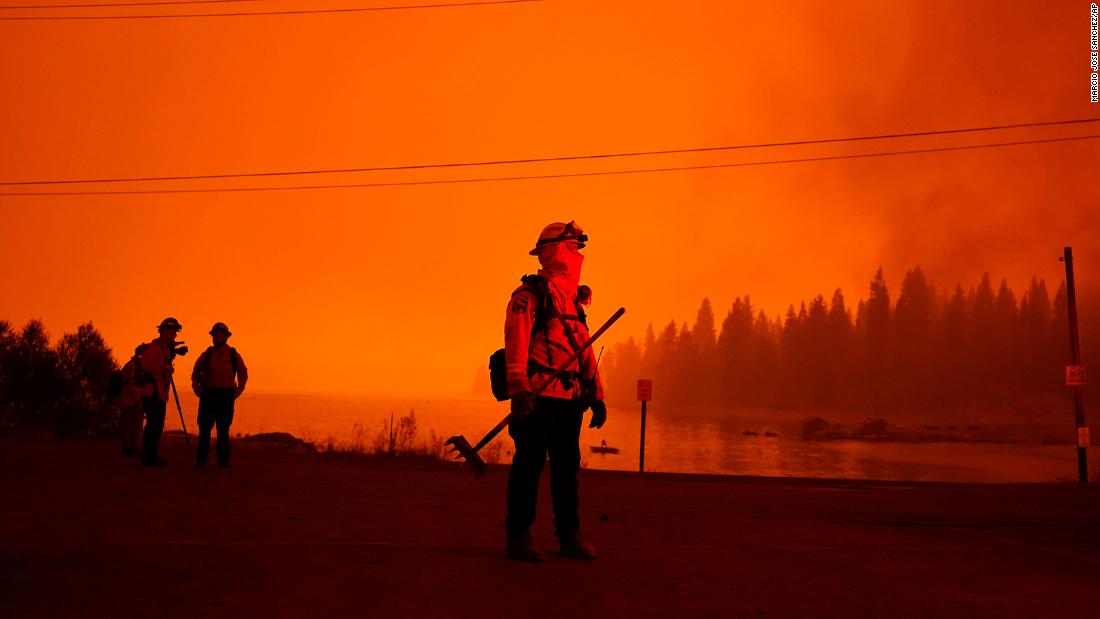 Photos: Wildfires burning in the WestA firefighter watches the advancing Creek Fire in Shaver Lake.Hide Caption 22 of 76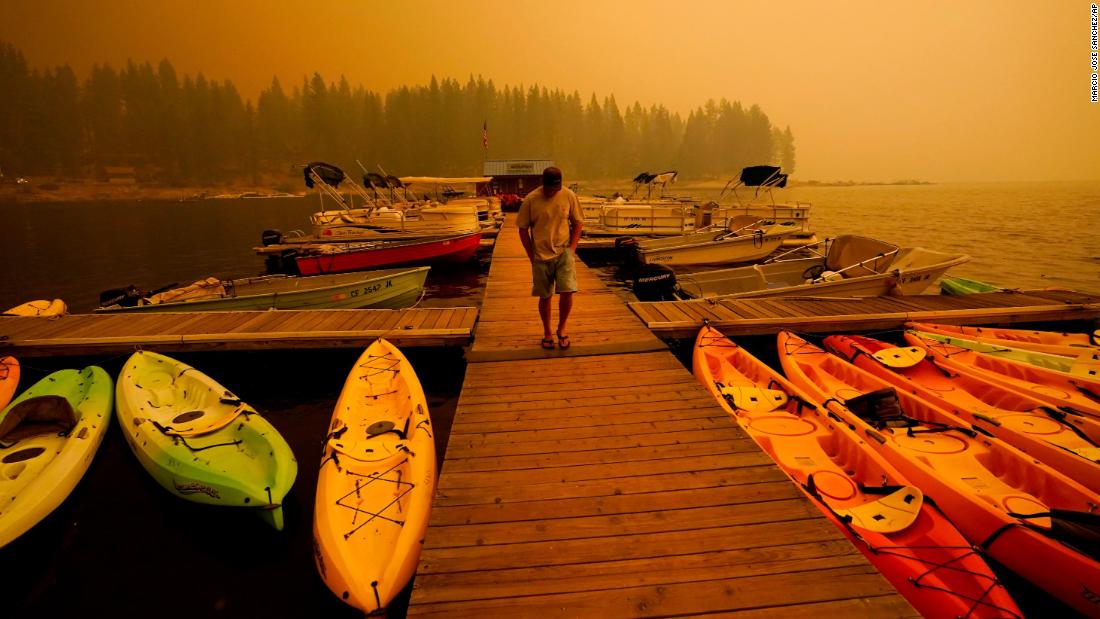 Photos: Wildfires burning in the WestA business owner in Shaver Lake walks next to kayaks he rents as smoke from the Creek Fire fills the sky on September 6.Hide Caption 23 of 76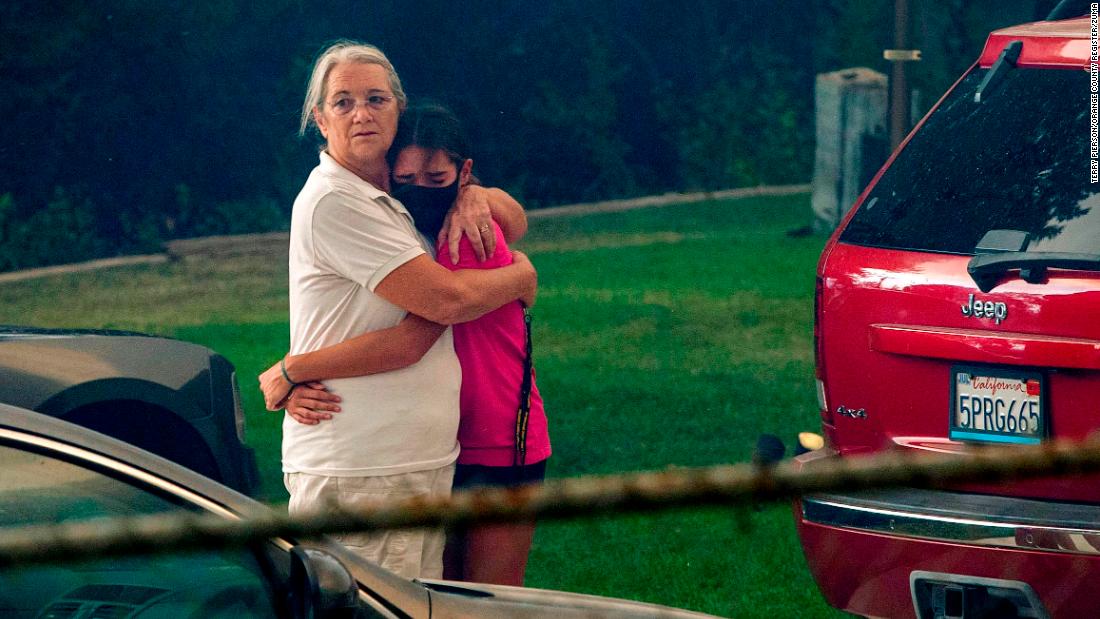 Photos: Wildfires burning in the WestFamily members comfort each other as the El Dorado Fire moves closer to their home in Yucaipa, California, on September 6.Hide Caption 24 of 76
Photos: Wildfires burning in the WestA firefighter sets a controlled burn with a drip torch while fighting the Creek Fire in Shaver Lake.Hide Caption 25 of 76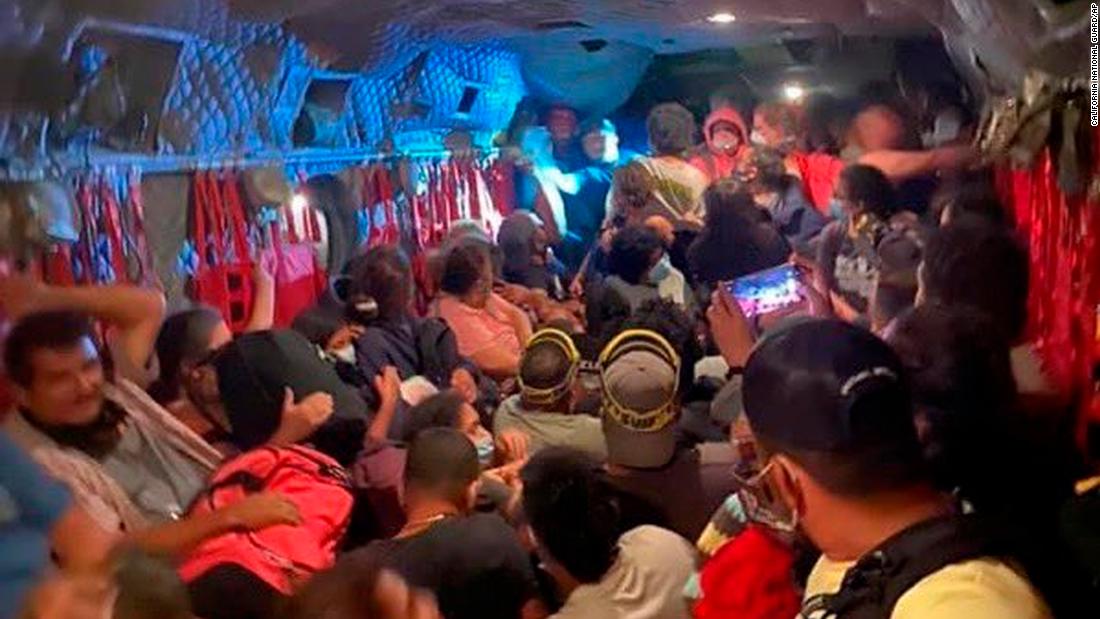 Photos: Wildfires burning in the WestDozens of evacuees are airlifted to safety on a California National Guard helicopter on Saturday, September 5. The Creek Fire had left them stranded in a popular camping area in the Sierra National Forest.Hide Caption 26 of 76
Photos: Wildfires burning in the WestFirefighters walk in a line in Yucaipa on September 5.Hide Caption 27 of 76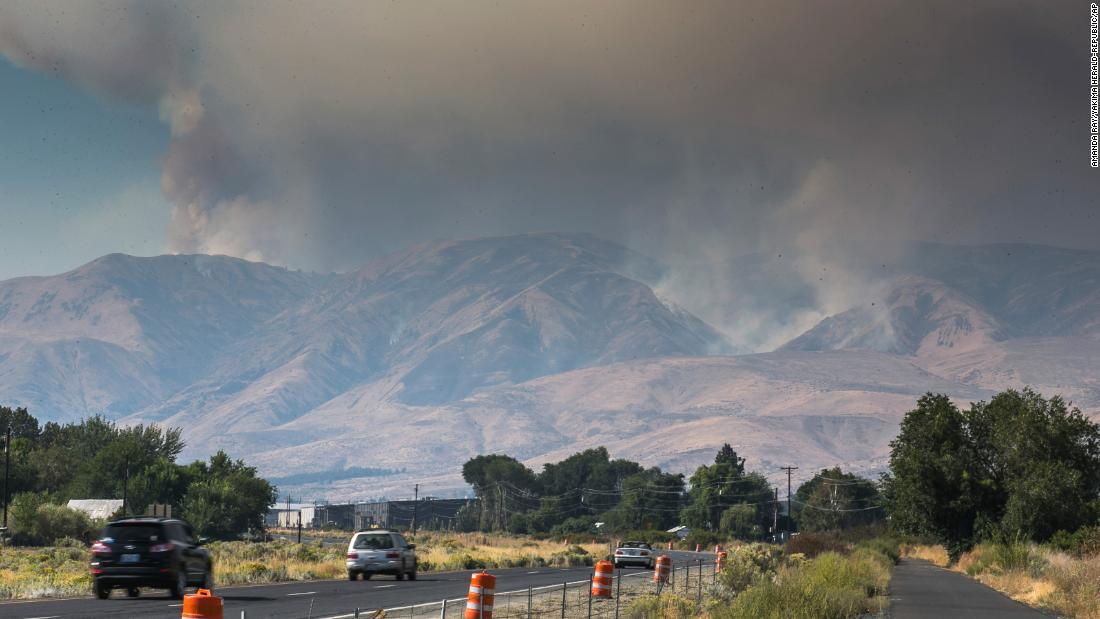 Photos: Wildfires burning in the WestHaze and smoke blanket the sky near Naches, Washington, as the Evans Canyon Fire burns on September 3.Hide Caption 28 of 76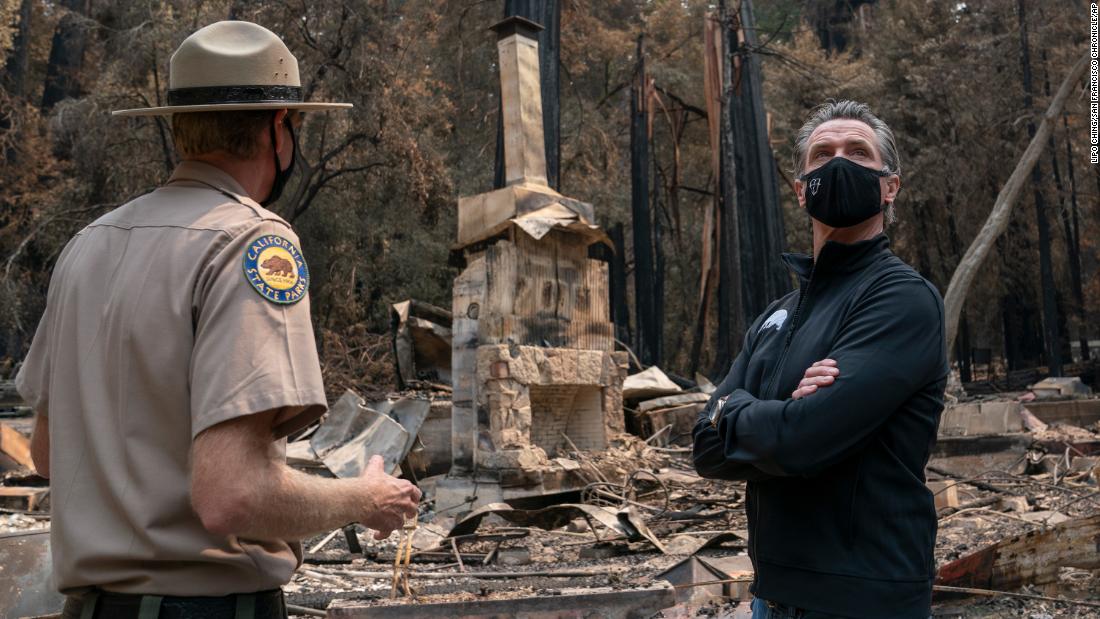 Photos: Wildfires burning in the WestCalifornia Gov. Gavin Newsom, right, listens as Santa Cruz State Park Superintendent Chris Spohrer talks about the fire damage to the Big Basin Redwoods State Park.Hide Caption 29 of 76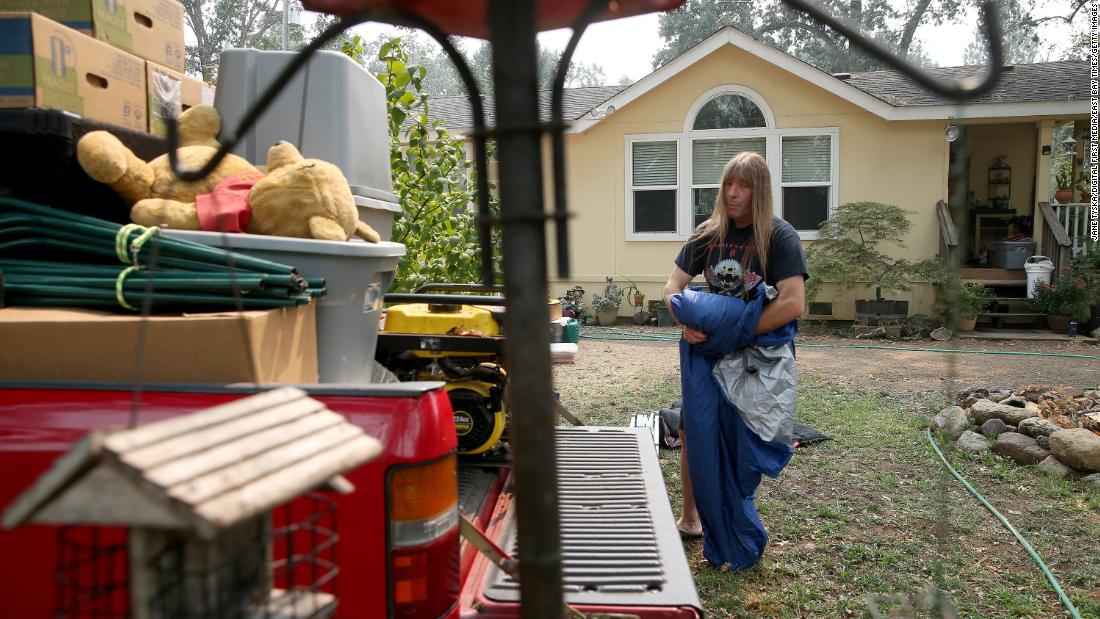 Photos: Wildfires burning in the WestRandy Hunt packs up his belongings, including his daughter Natasha's first Pooh bear, left, in case he and his wife Sheli had to evacuate the home they rent in Middletown, California, on August 26.Hide Caption 30 of 76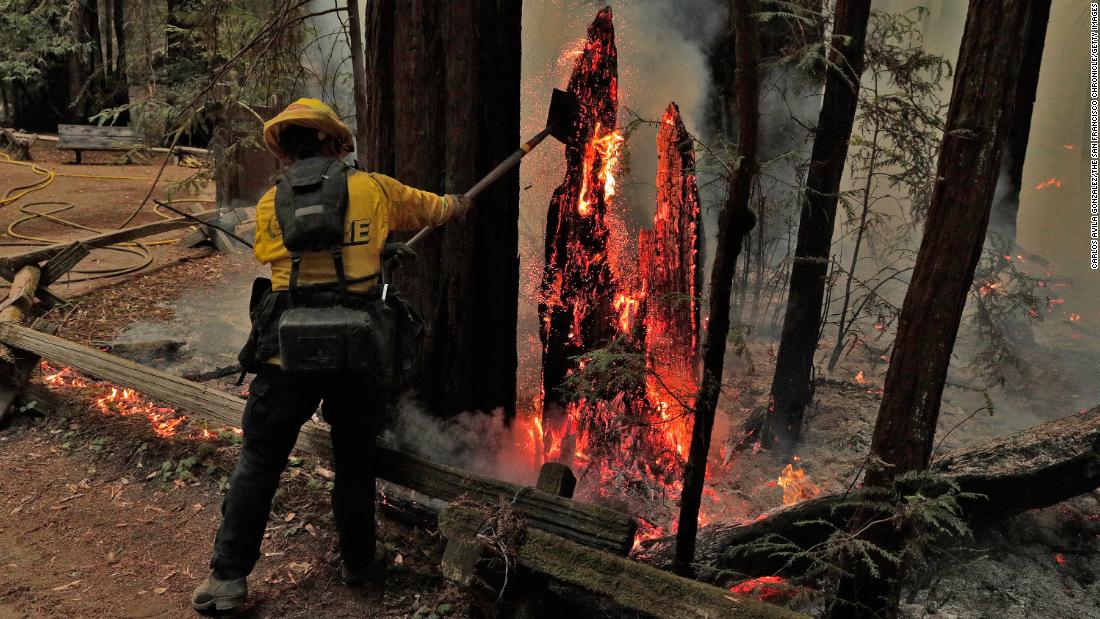 Photos: Wildfires burning in the WestFirefighter Juan Chavarin pulls down a burning tree trunk in Guerneville, California, on August 25.Hide Caption 31 of 76
Photos: Wildfires burning in the WestA sign reading "Vaca Strong" adorns a charred hillside in Vacaville, California, on August 24.Hide Caption 32 of 76
Photos: Wildfires burning in the WestAustin Giannuzzi cries while embracing relatives at the burned remains of their Vacaville home on August 23.Hide Caption 33 of 76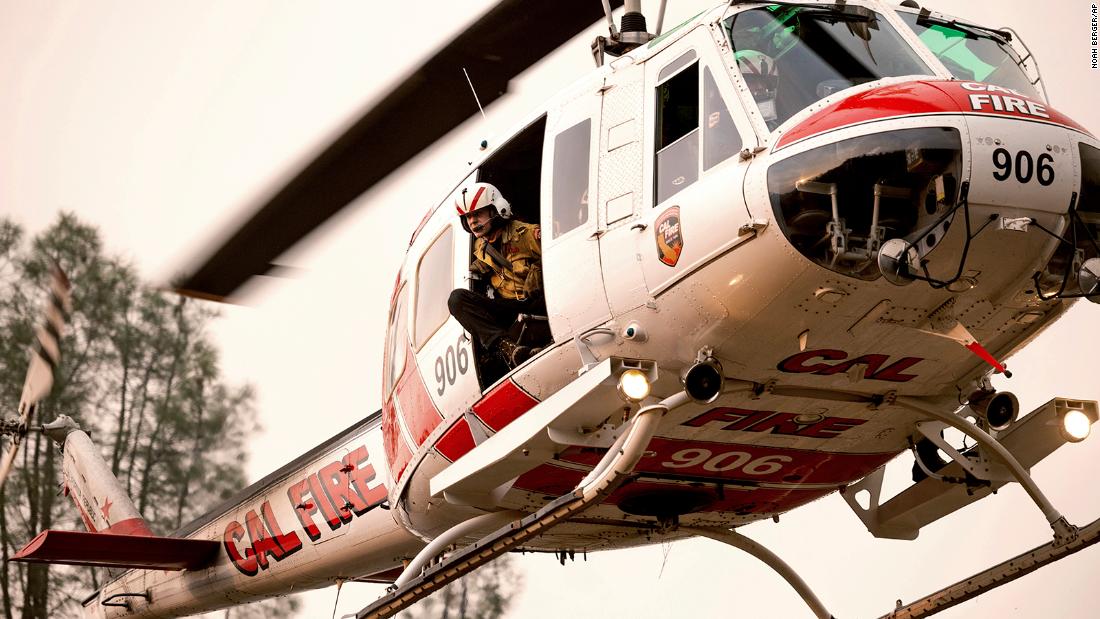 Photos: Wildfires burning in the WestA firefighter looks out from a helicopter while battling the LNU Lightning Complex fires in Lake County, California.Hide Caption 34 of 76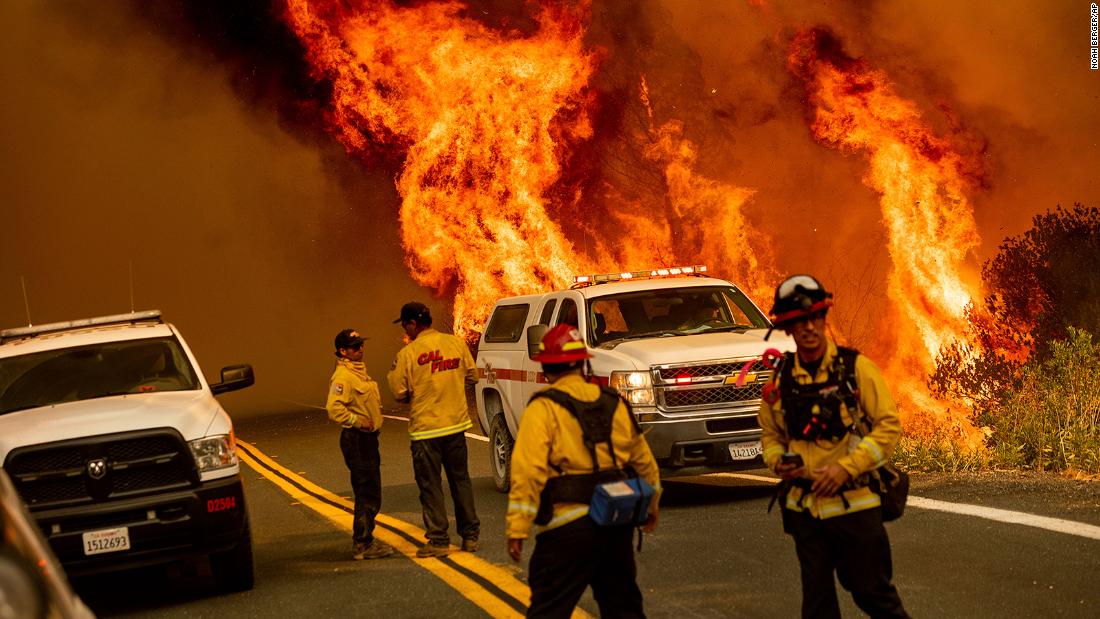 Photos: Wildfires burning in the WestFlames from the LNU Lightning Complex fires leap above Butts Canyon Road in Lake County on August 23.Hide Caption 35 of 76
Photos: Wildfires burning in the WestKarol Markowski of the South Pasadena Fire Department hoses down hot spots while battling the CZU Lightning Complex fires in Boulder Creek, California, on August 22.Hide Caption 36 of 76
Photos: Wildfires burning in the WestA burned-out vehicle is left in front of a destroyed residence as smoke fills the sky in Boulder Creek on August 22.Hide Caption 37 of 76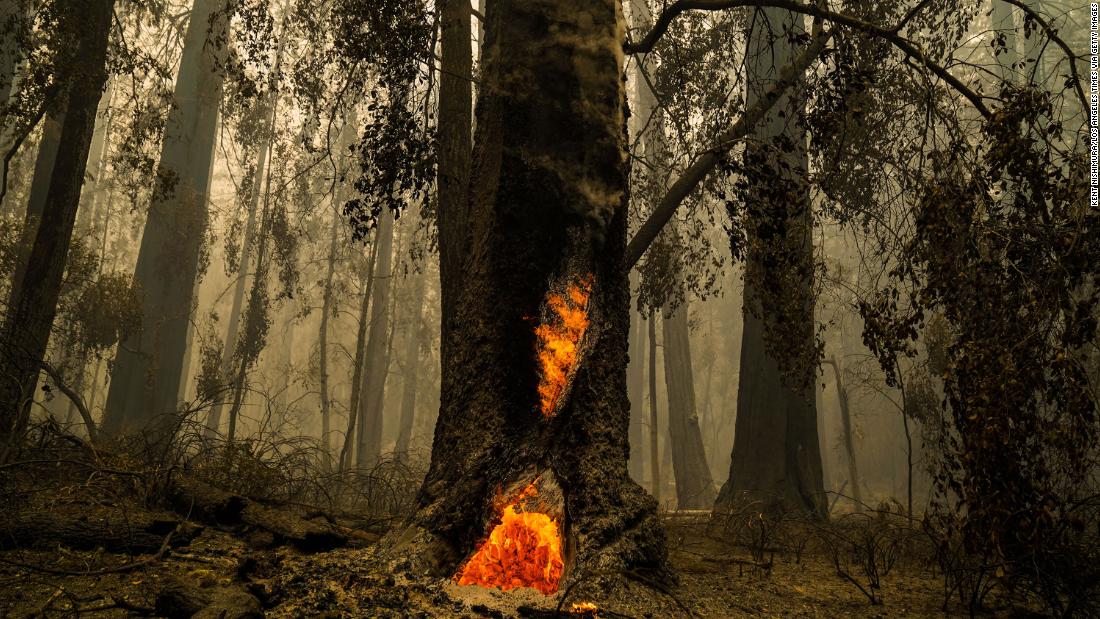 Photos: Wildfires burning in the WestSmoke hangs low in the air at the Big Basin Redwoods State Park as some redwoods burn in Boulder Creek on August 22.Hide Caption 38 of 76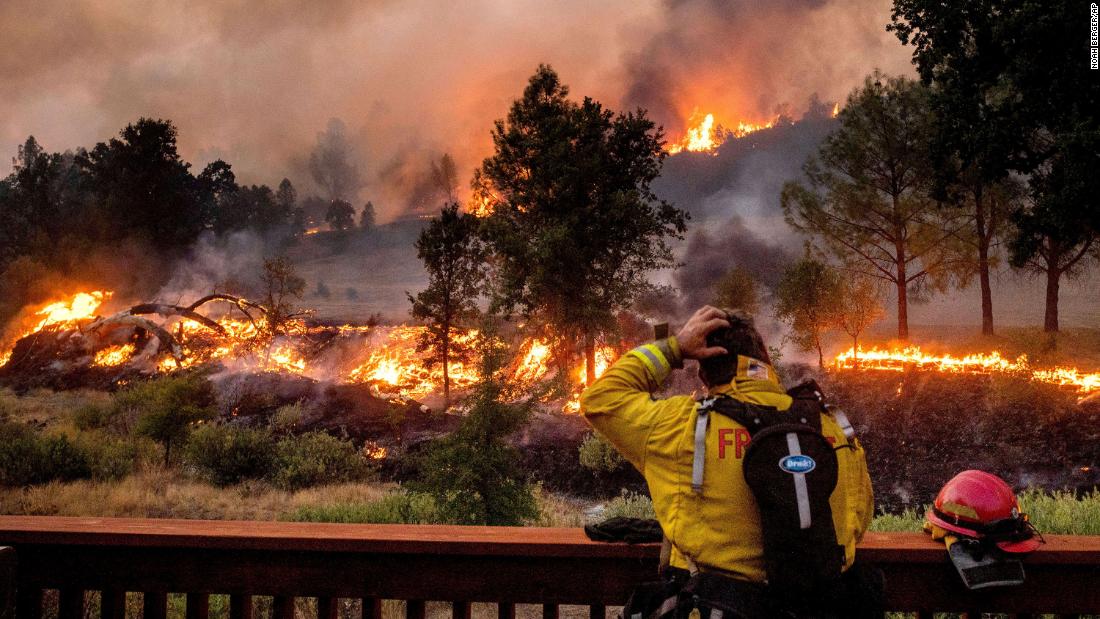 Photos: Wildfires burning in the WestA firefighter watches the LNU Lightning Complex fires spread through the Berryessa Estates neighborhood in Napa County on August 21.Hide Caption 39 of 76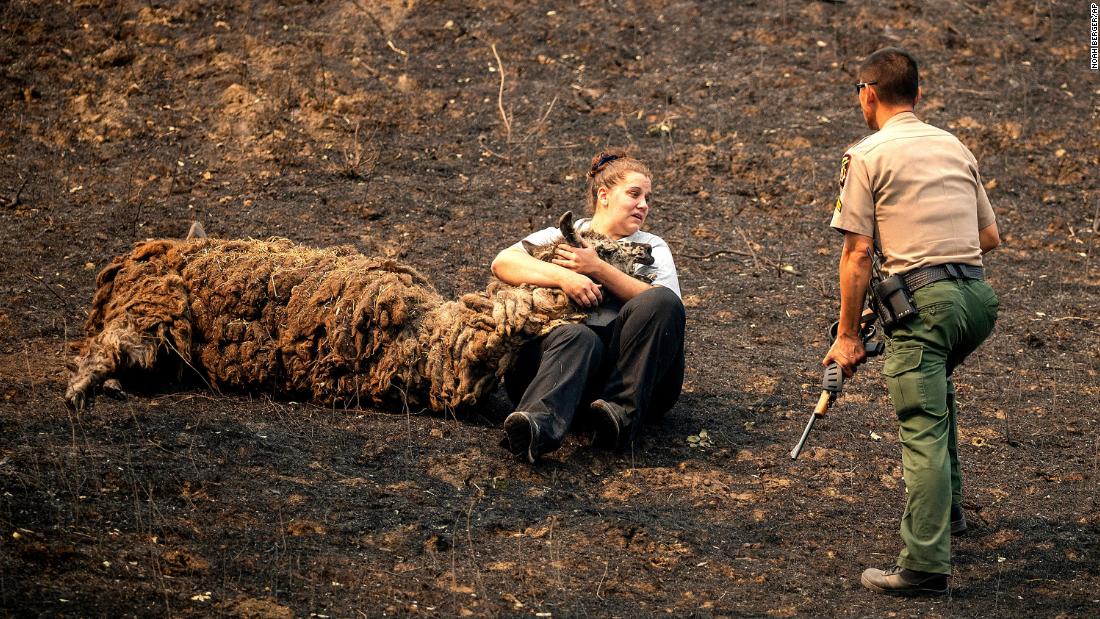 Photos: Wildfires burning in the WestVeterinary technician Brianna Jeter comforts a llama injured by a fire in Vacaville on August 21. At right, animal control officer Dae Kim prepares to euthanize the llama.Hide Caption 40 of 76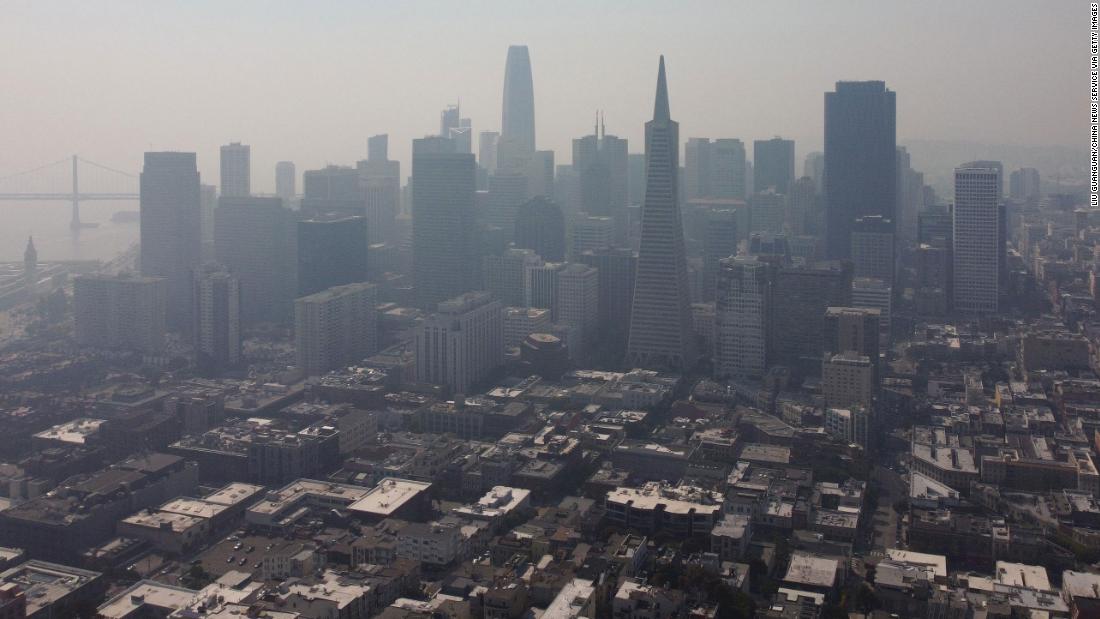 Photos: Wildfires burning in the WestSmoke from nearby wildfires hangs over San Francisco on August 21.Hide Caption 41 of 76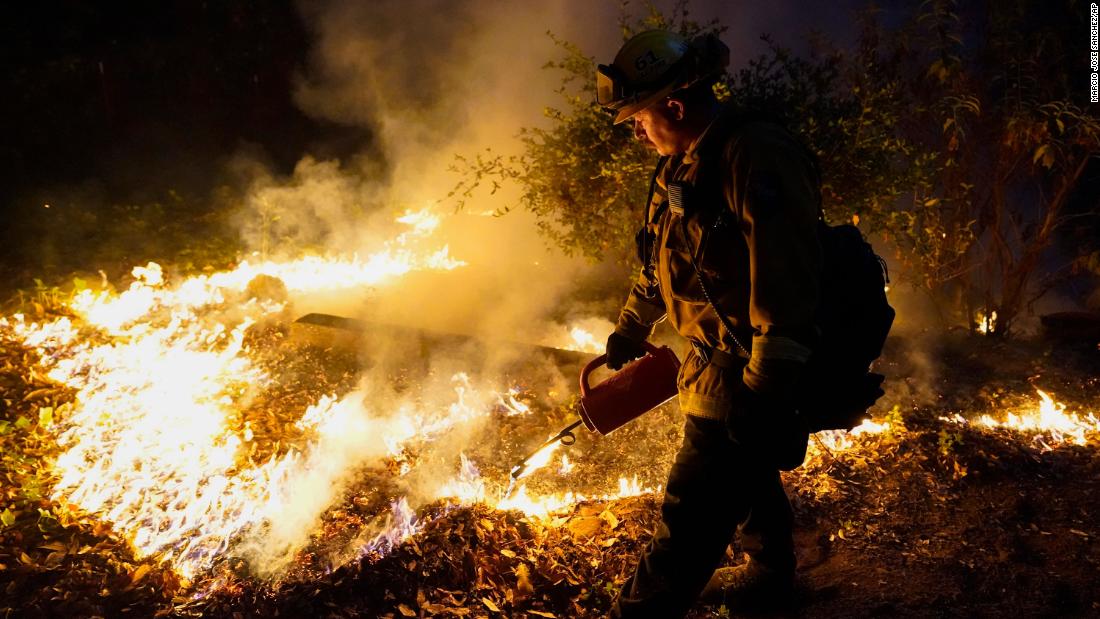 Photos: Wildfires burning in the WestA firefighter monitors the advance of a fire in Boulder Creek on August 21.Hide Caption 42 of 76
Photos: Wildfires burning in the WestMembers of the US Forest Service discuss their next moves to battle the Grizzly Creek Fire near Dotsero, Colorado, on August 21.Hide Caption 43 of 76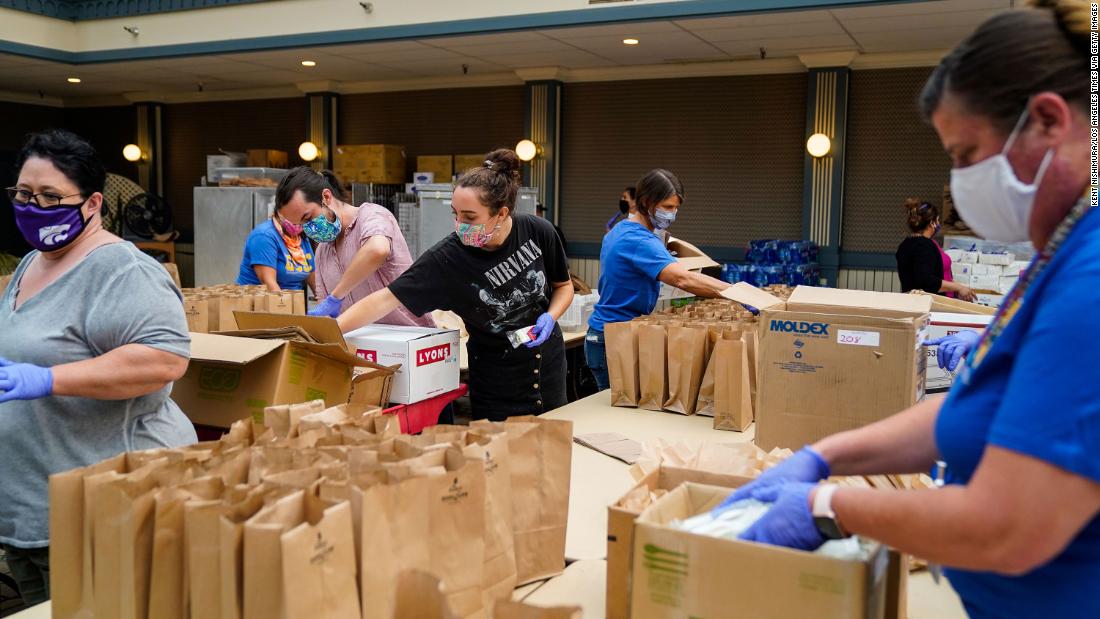 Photos: Wildfires burning in the WestPeople pack brown-bag lunches at an evacuation center in Santa Cruz, California, on August 21.Hide Caption 44 of 76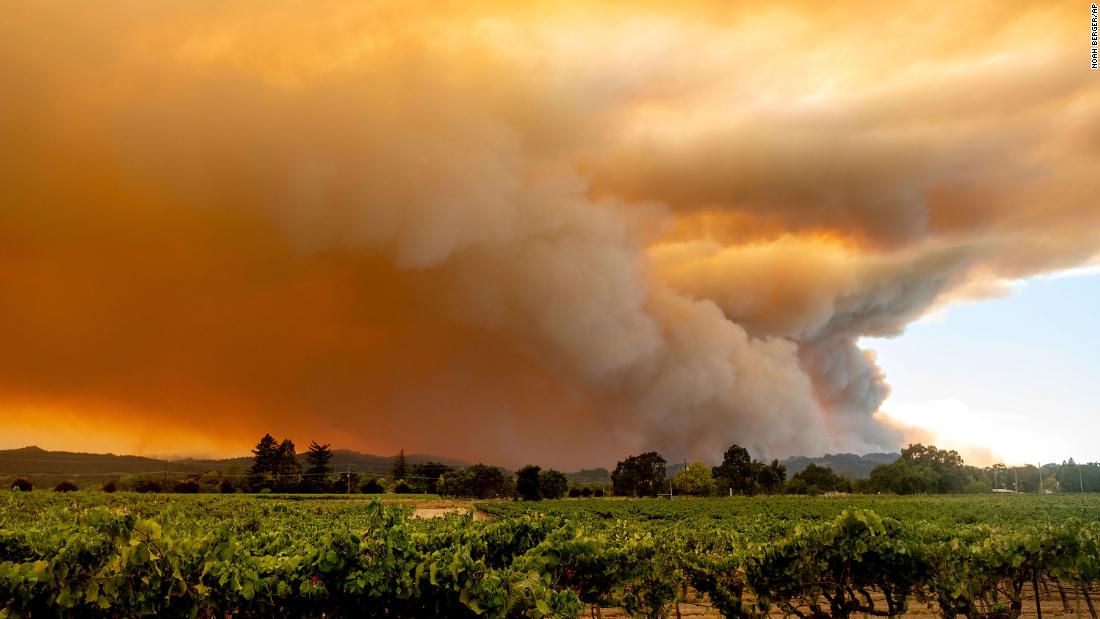 Photos: Wildfires burning in the WestA smoke plume from the LNU Lightning Complex fires billows over Healdsburg, California, on August 20.Hide Caption 45 of 76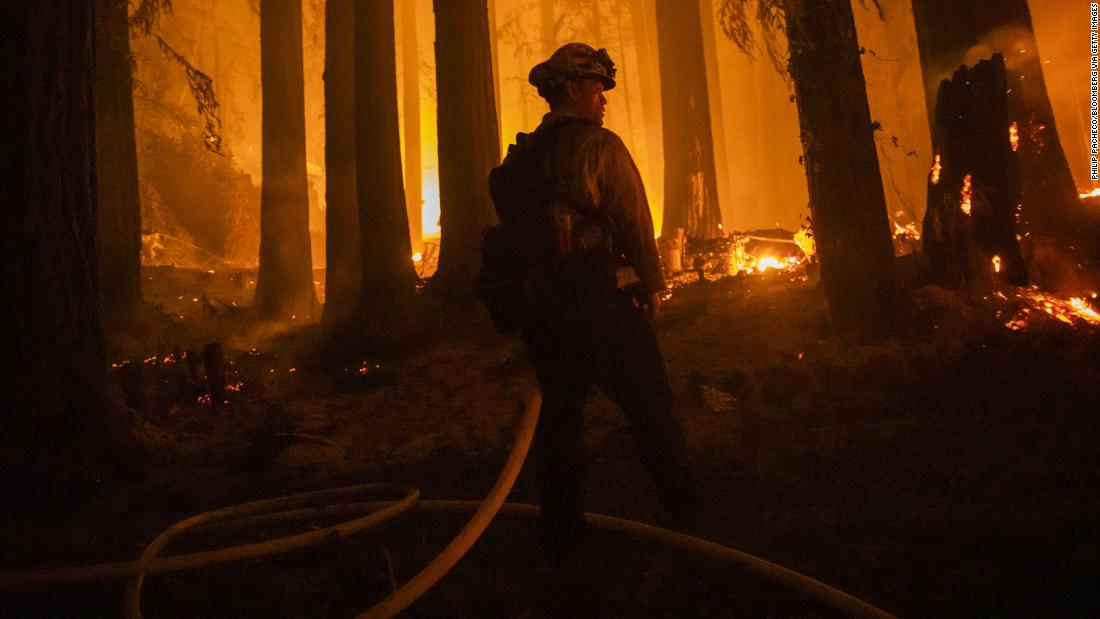 Photos: Wildfires burning in the WestA firefighter battles flames in Santa Cruz County, California, on August 20.Hide Caption 46 of 76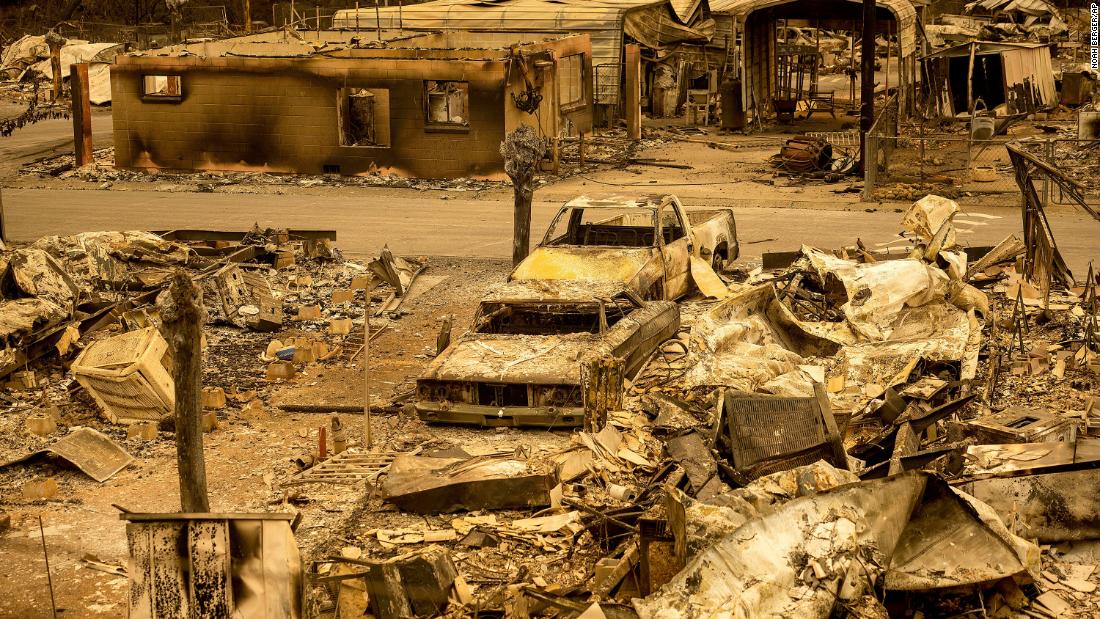 Photos: Wildfires burning in the WestOnly scorched homes and vehicles remain in the Spanish Flat Mobile Villa in Napa County, California, on August 20.Hide Caption 47 of 76
Photos: Wildfires burning in the WestPeter Koleckar reacts after seeing multiple homes burned in his neighborhood in Bonny Doon, California, on August 20.Hide Caption 48 of 76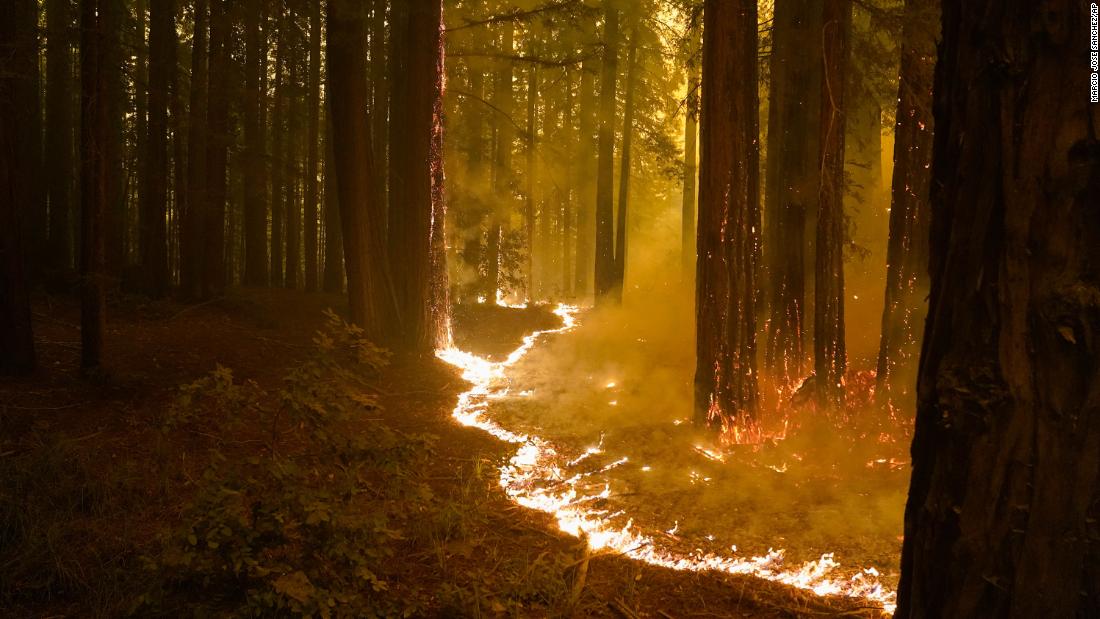 Photos: Wildfires burning in the WestA forest burns in Bonny Doon on August 20.Hide Caption 49 of 76
Photos: Wildfires burning in the WestA man looks at a tree blocking his way after a fire ravaged Vacaville, California, on August 20.Hide Caption 50 of 76
Photos: Wildfires burning in the WestA melted plastic fence lies on the charred ground after fire swept through Vacaville on August 20.Hide Caption 51 of 76
Photos: Wildfires burning in the WestSarah Hawkins searches through rubble after her Vacaville home was destroyed on August 20.Hide Caption 52 of 76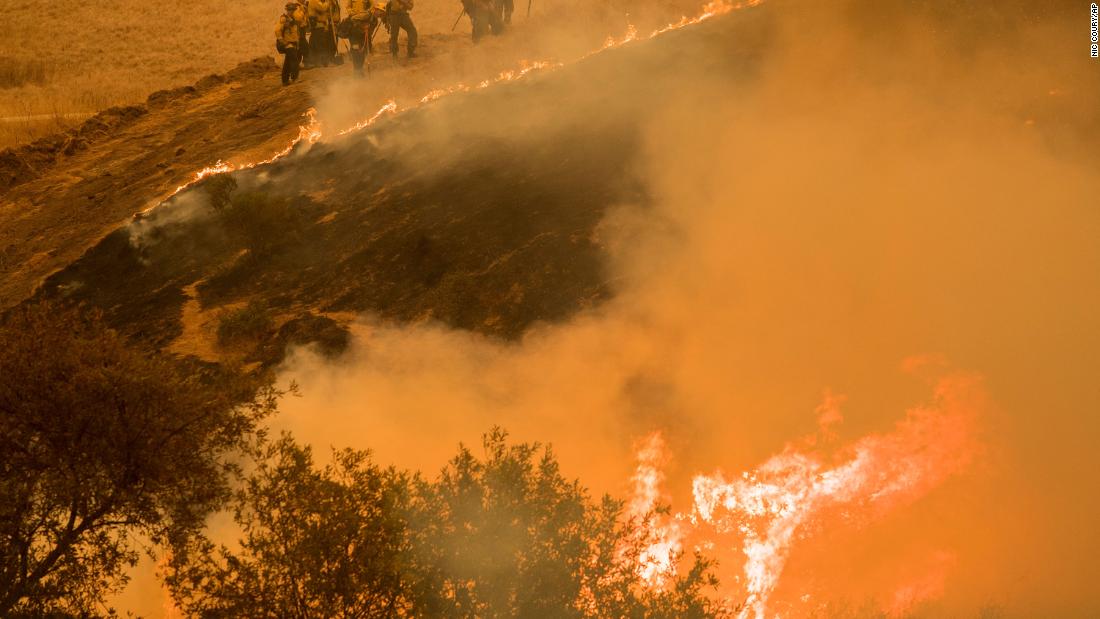 Photos: Wildfires burning in the WestFire crews maintain a backburn to control the River Fire near the Las Palmas neighborhood in Salinas, California, on August 19.Hide Caption 53 of 76
Photos: Wildfires burning in the WestGina Santos cries in her car after evacuating Vacaville on August 19.Hide Caption 54 of 76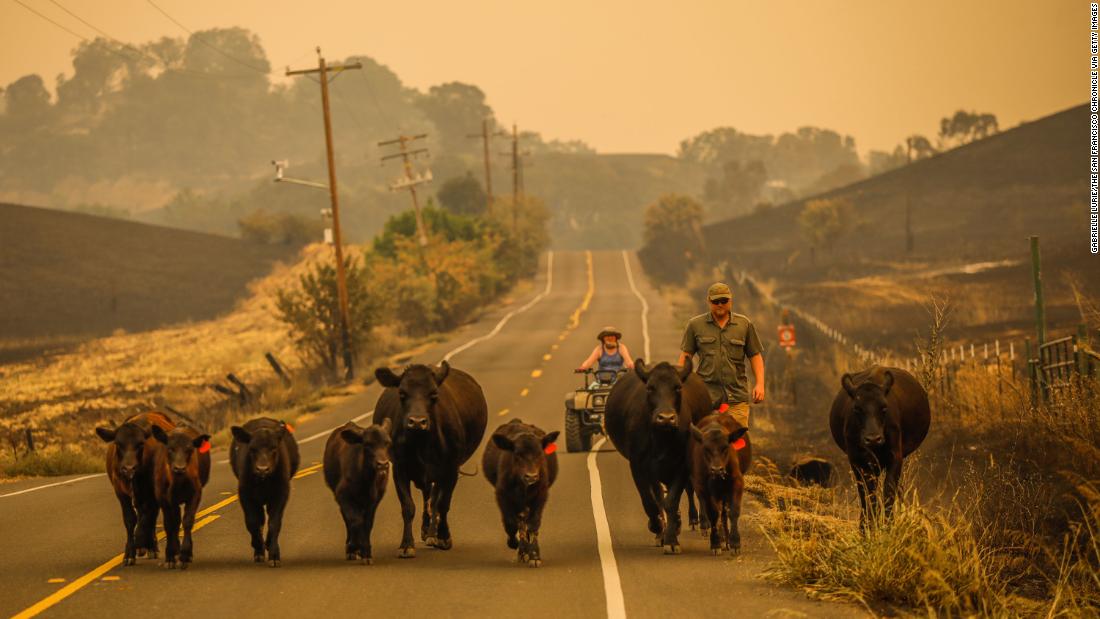 Photos: Wildfires burning in the WestPeople herd cows down Pleasants Valley Road in Vacaville on August 19.Hide Caption 55 of 76
Photos: Wildfires burning in the WestFlames consume a home in Napa County, California, on August 19.Hide Caption 56 of 76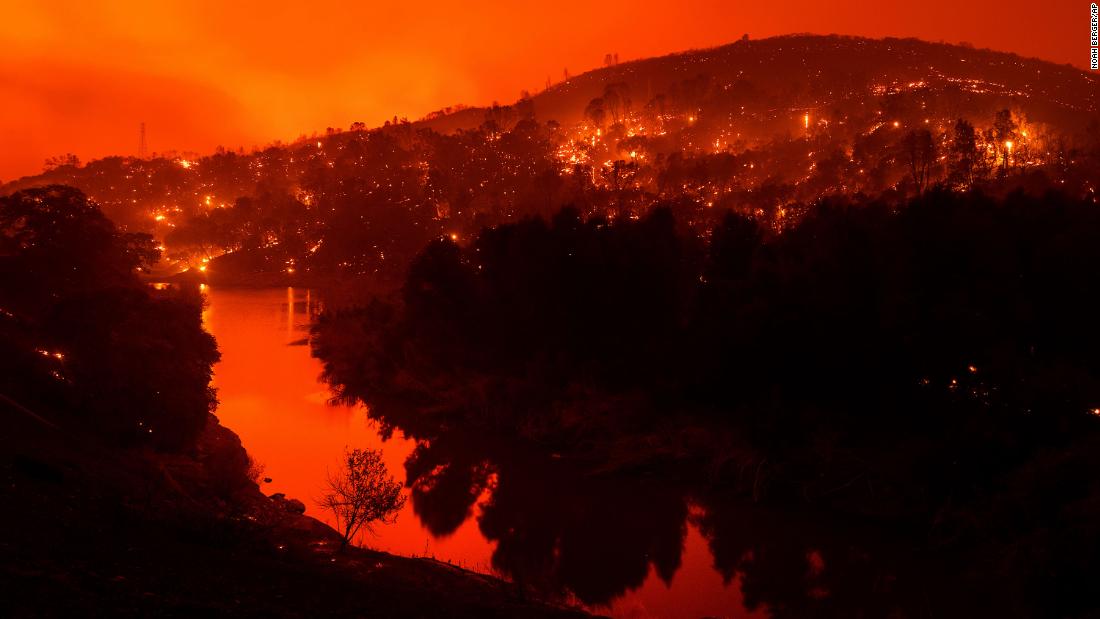 Photos: Wildfires burning in the WestEmbers burn along a hillside above Lake Berryessa as the LNU Lightning Complex fires tear through Napa County on August 18. This image was taken with a long exposure.Hide Caption 57 of 76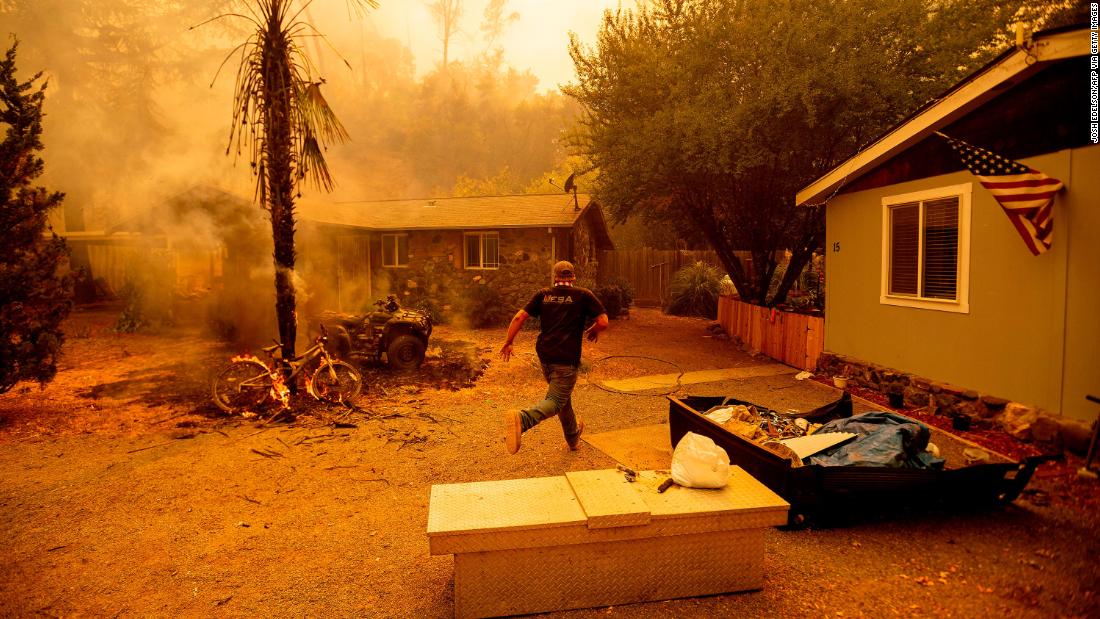 Photos: Wildfires burning in the WestA resident runs into a home to save a dog while flames from the Hennessy Fire close in near Lake Berryessa on August 18.Hide Caption 58 of 76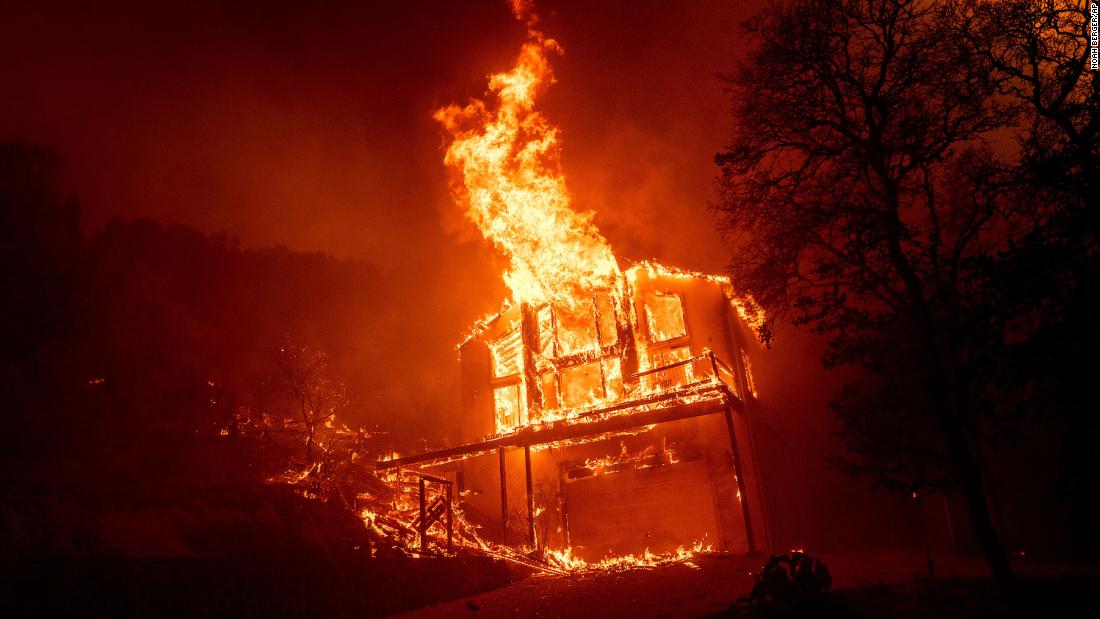 Photos: Wildfires burning in the WestA home burns as the LNU Lightning Complex fires tear through the Spanish Flat community in Napa County on August 18.Hide Caption 59 of 76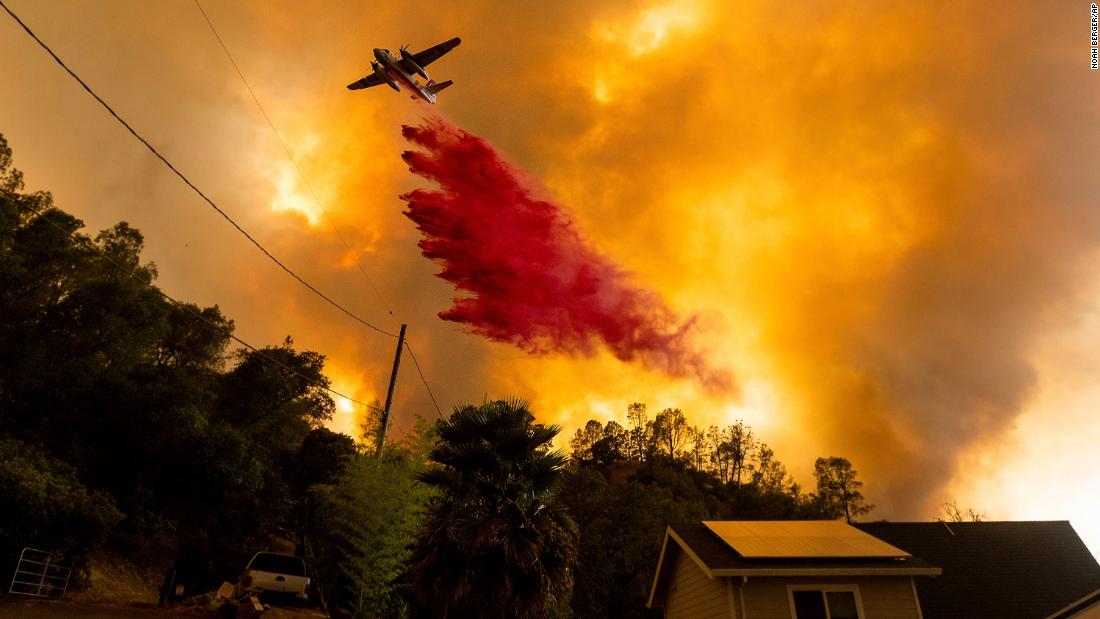 Photos: Wildfires burning in the WestAn air tanker drops retardant on fires in the Spanish Flat community of Napa County on August 18.Hide Caption 60 of 76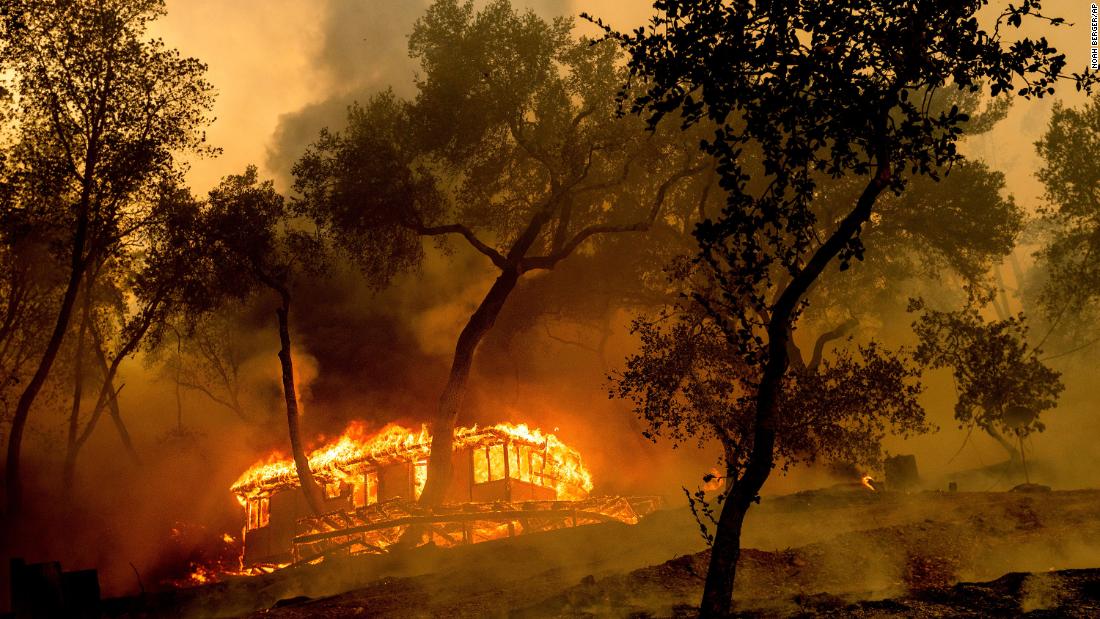 Photos: Wildfires burning in the WestFlames from the Hennessy Fire consume a cabin at the Nichelini Family Winery in Napa County on August 18.Hide Caption 61 of 76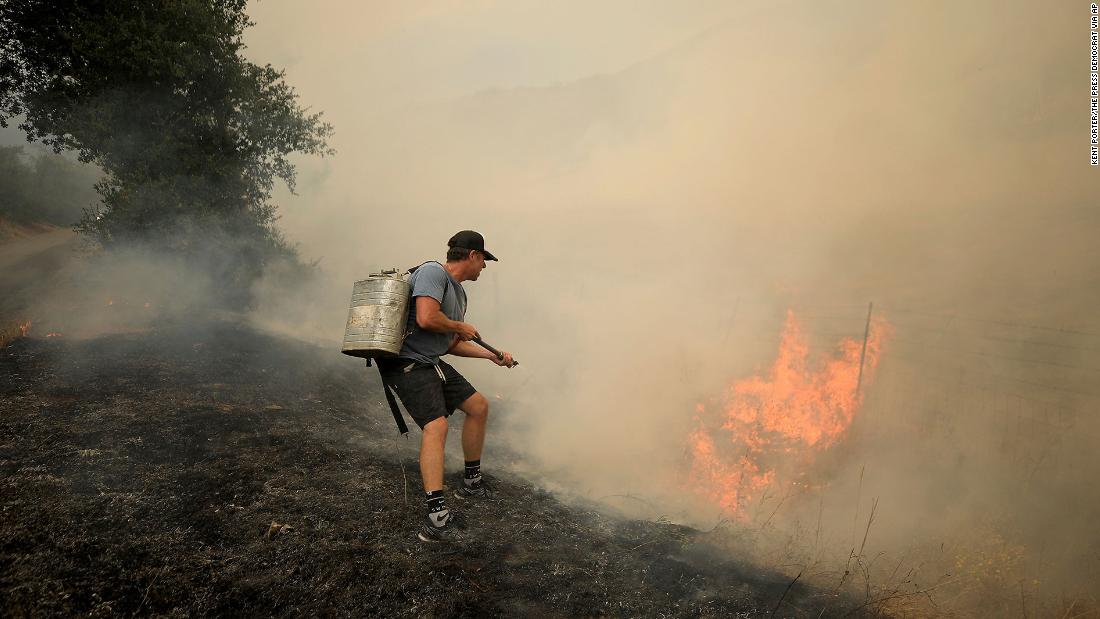 Photos: Wildfires burning in the WestTony Leonardini works on a spot fire as thunderstorm winds fan the Hennessy Fire in Napa County on August 17.Hide Caption 62 of 76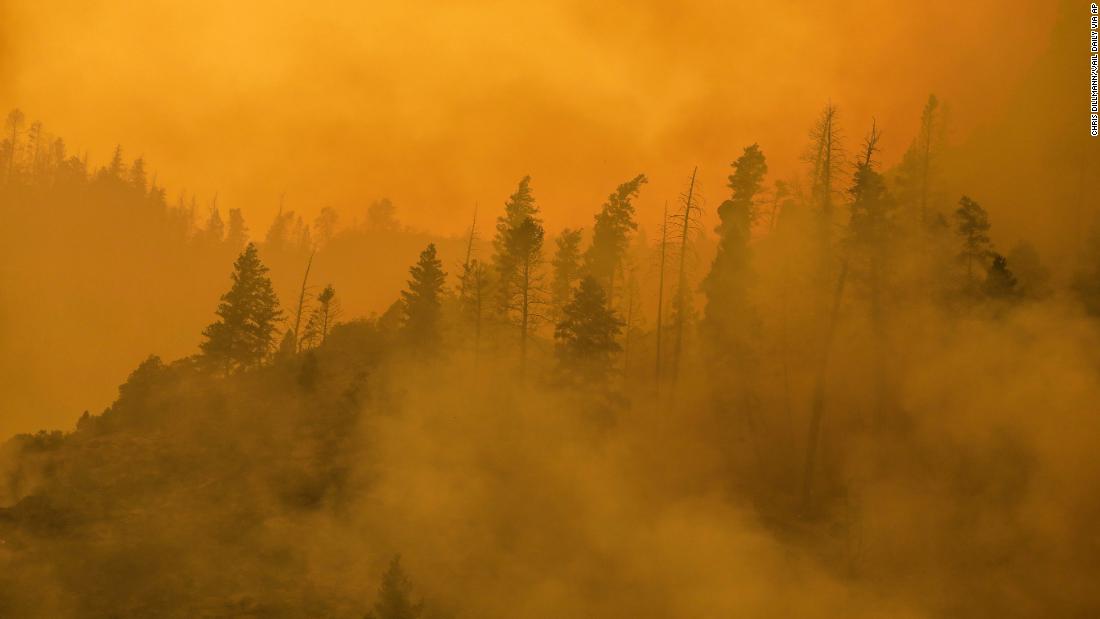 Photos: Wildfires burning in the WestSmoke from the Grizzly Creek Fire is thick in Glenwood Canyon, near Glenwood Springs, Colorado, on August 16.Hide Caption 63 of 76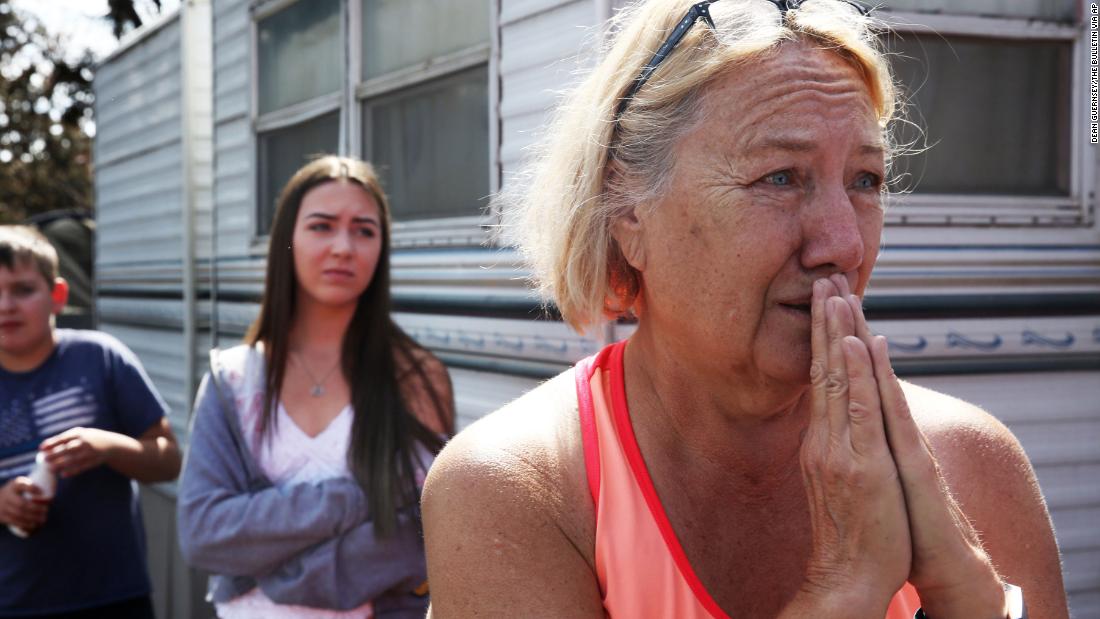 Photos: Wildfires burning in the WestKathy Mathison looks at the still-smoldering wildfire on August 16 that, just a day before, came within several feet of her home in Bend, Oregon.Hide Caption 64 of 76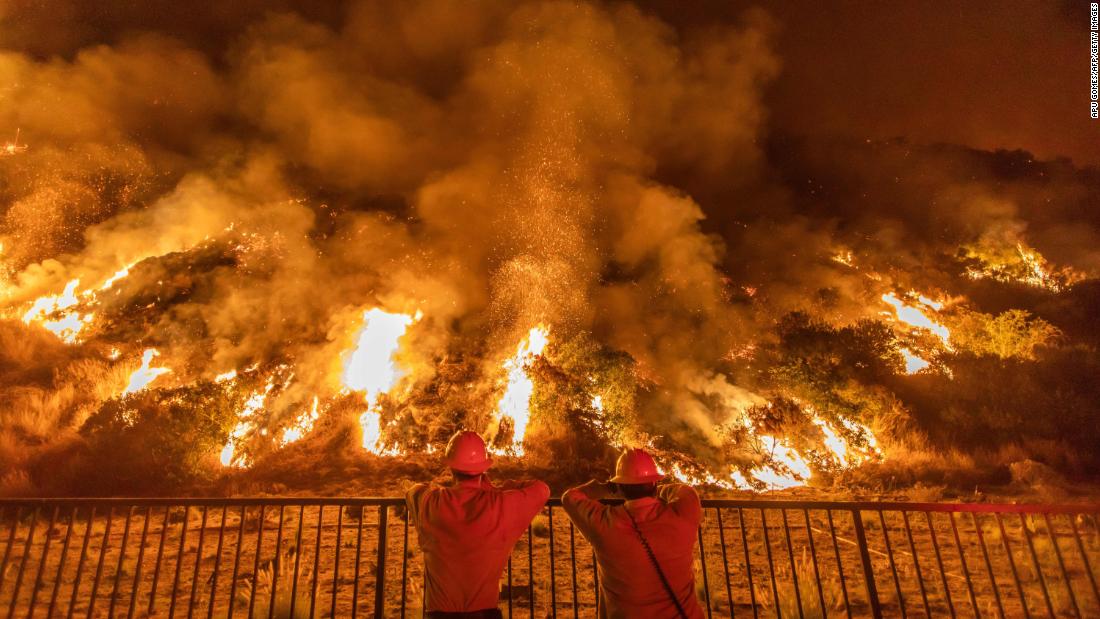 Photos: Wildfires burning in the WestFirefighters look at smoke and flames rising from the Ranch2 Fire in the San Gabriel Mountains, east of Los Angeles, on August 14.Hide Caption 65 of 76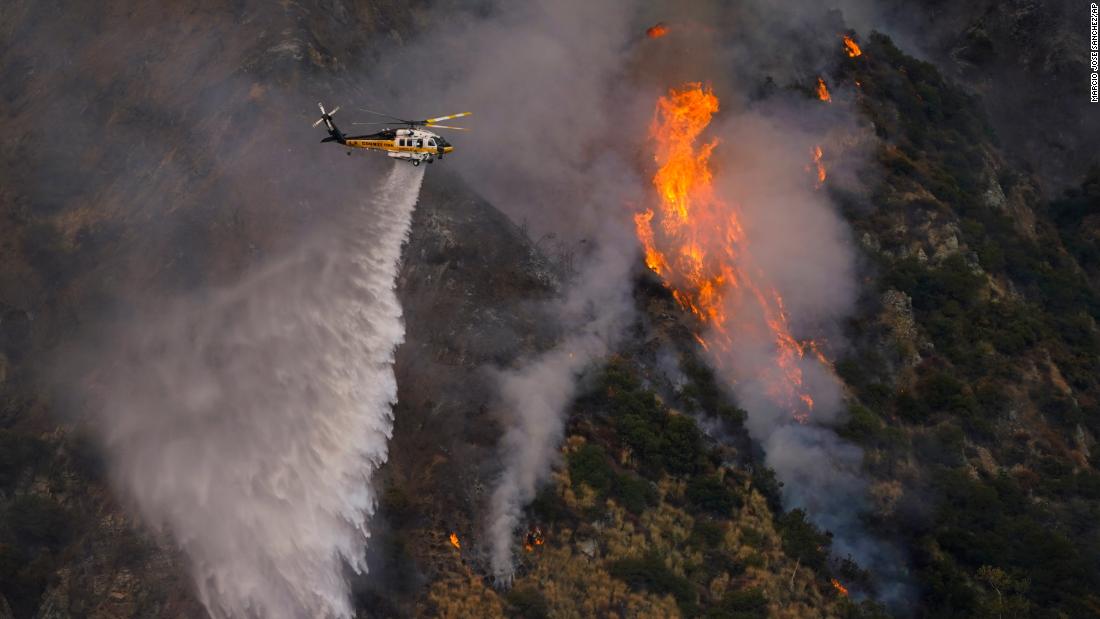 Photos: Wildfires burning in the WestA helicopter makes a water drop over the Ranch2 Fire in Azusa, California, on August 13.Hide Caption 66 of 76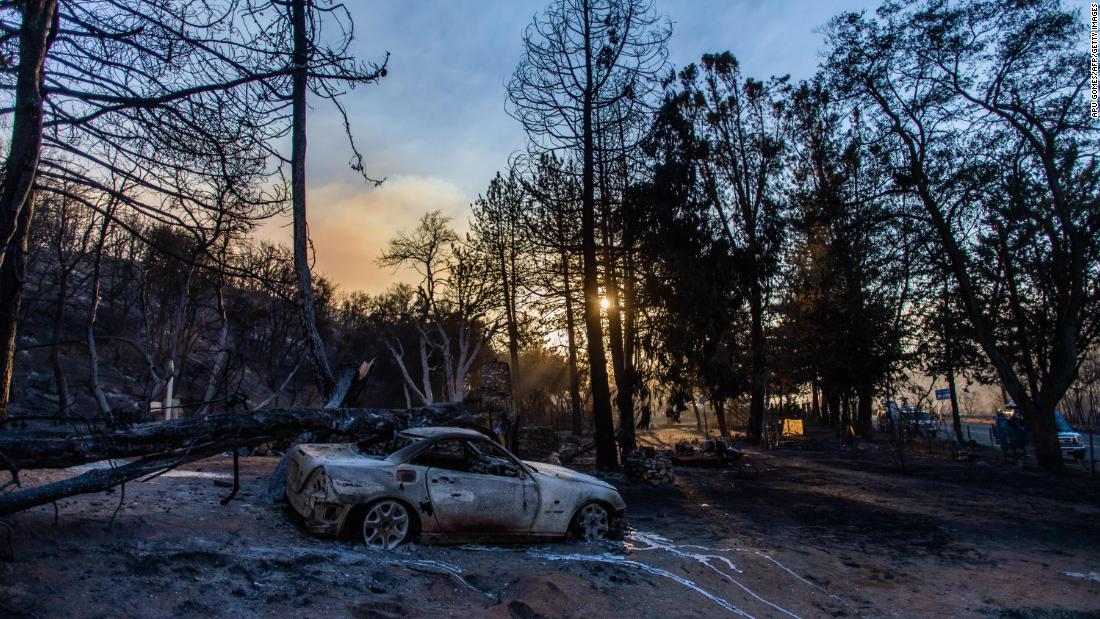 Photos: Wildfires burning in the WestA car is charred by the Lake Fire near Lake Hughes, 60 miles north of Los Angeles, on August 13.Hide Caption 67 of 76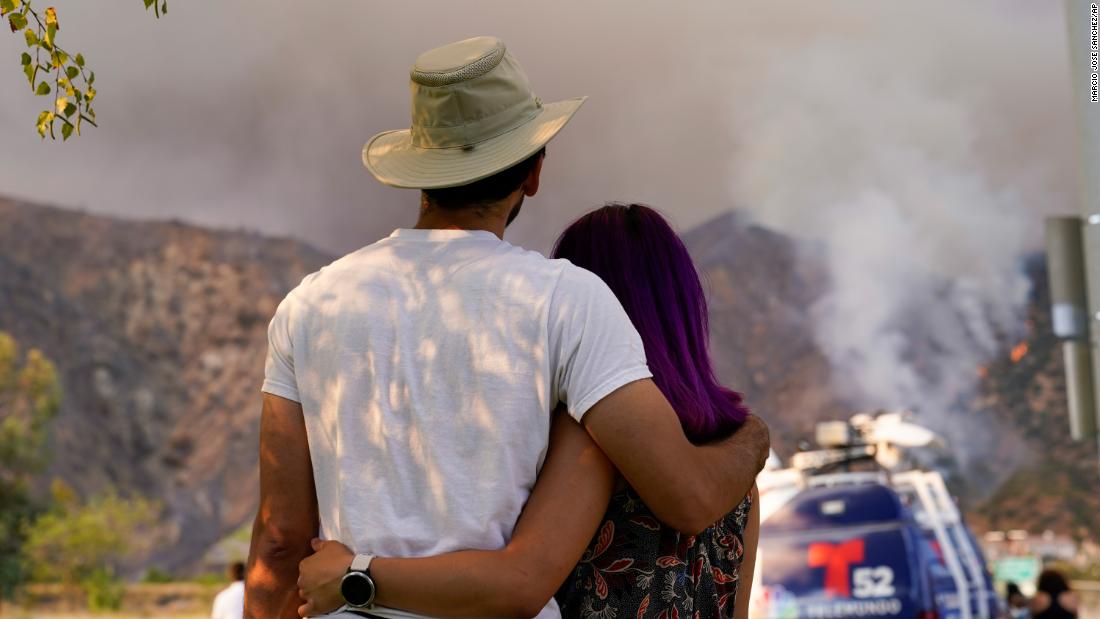 Photos: Wildfires burning in the WestA couple watches the Ranch2 Fire from a distance on August 13.Hide Caption 68 of 76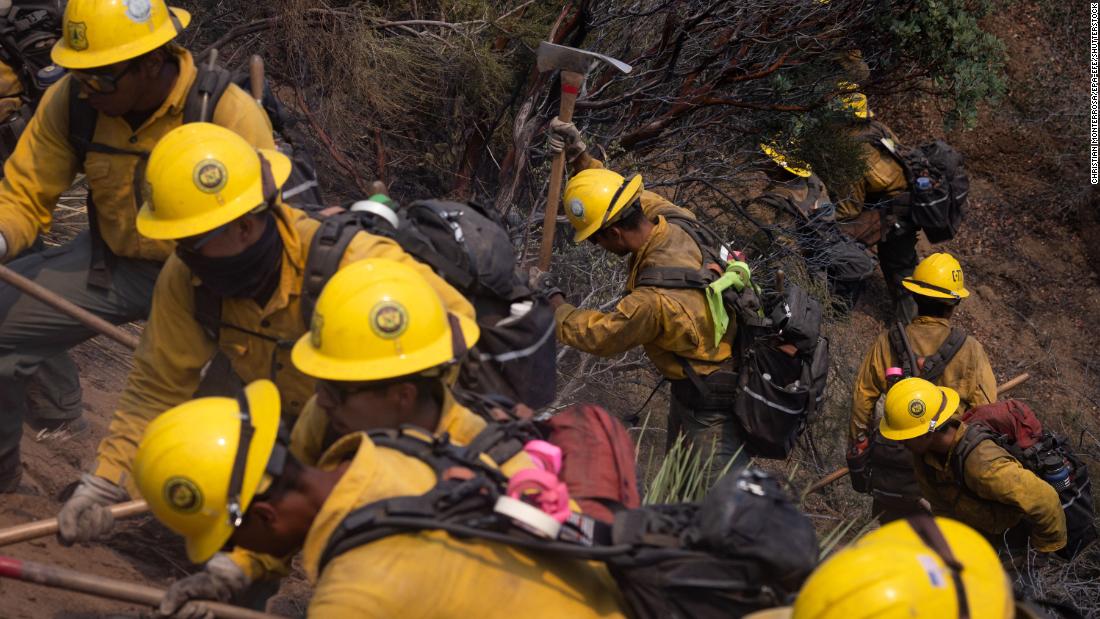 Photos: Wildfires burning in the WestA firefighter crew works in Lake Hughes on August 13.Hide Caption 69 of 76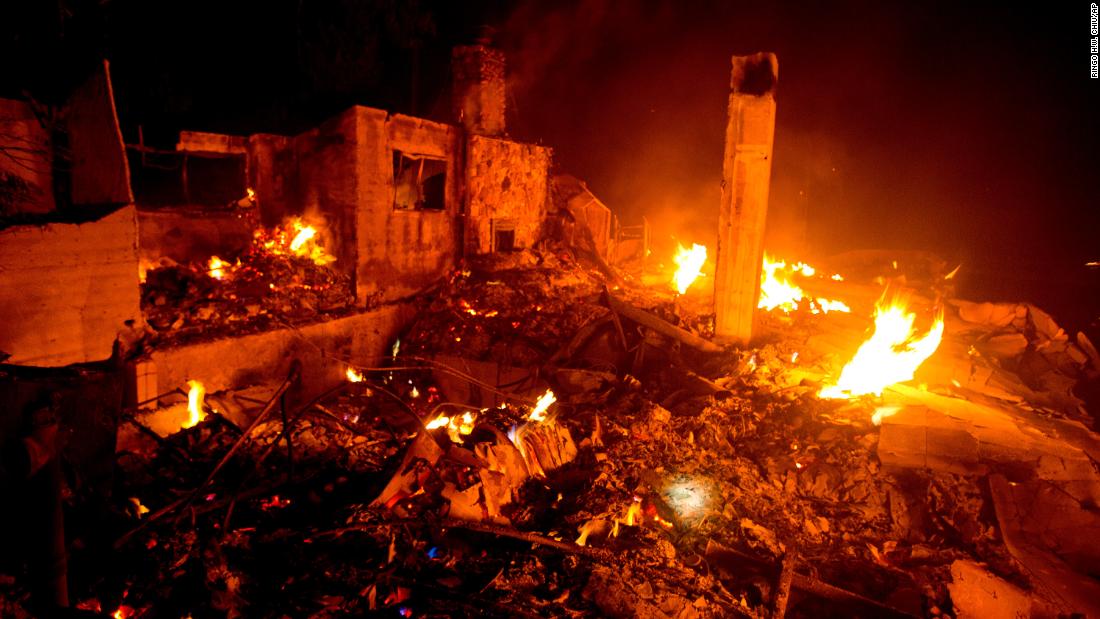 Photos: Wildfires burning in the WestThe Lake Fire burns a home in Angeles National Forest on August 13.Hide Caption 70 of 76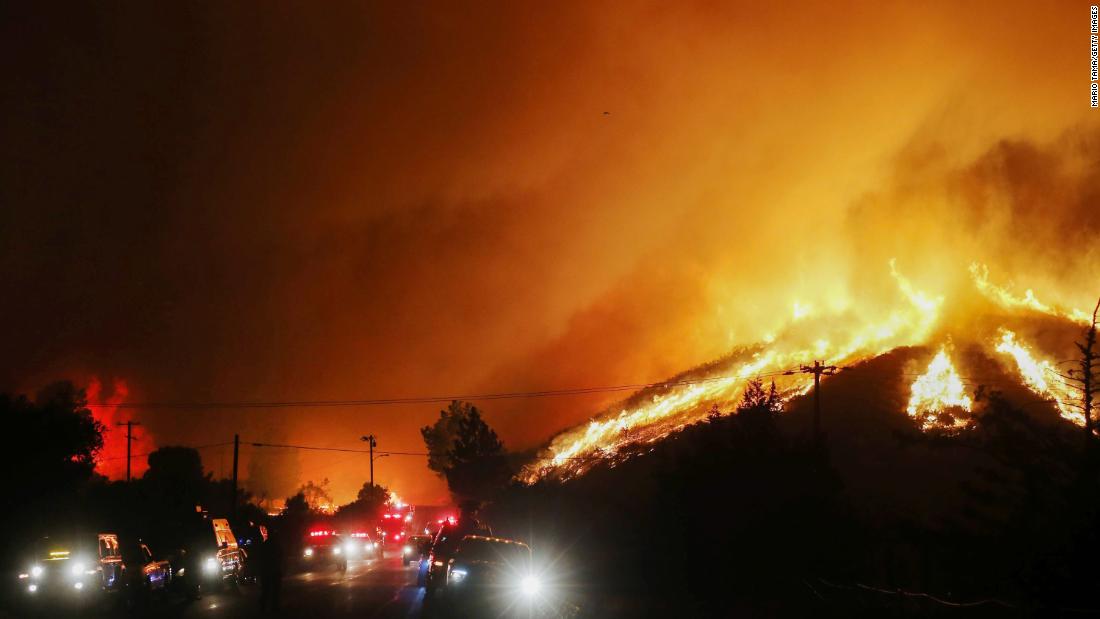 Photos: Wildfires burning in the WestFlames and smoke from the Lake Fire rise on Wednesday, August 12.Hide Caption 71 of 76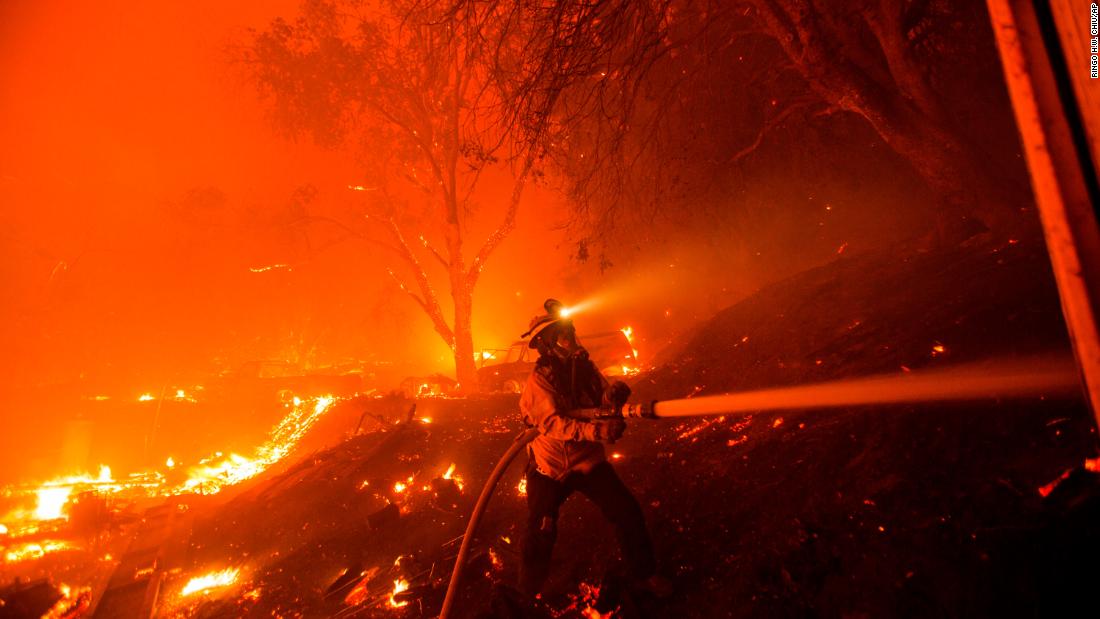 Photos: Wildfires burning in the WestA firefighter works against the Lake Fire on August 12.Hide Caption 72 of 76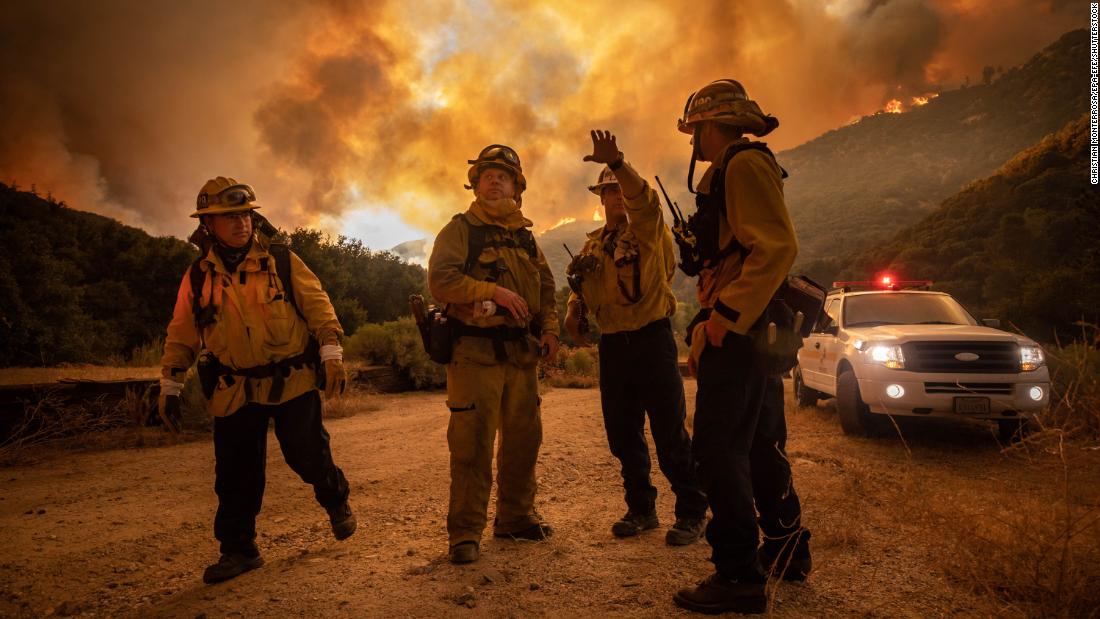 Photos: Wildfires burning in the WestFirefighters make an escape plan as the Lake Fire burns a hillside on August 12.Hide Caption 73 of 76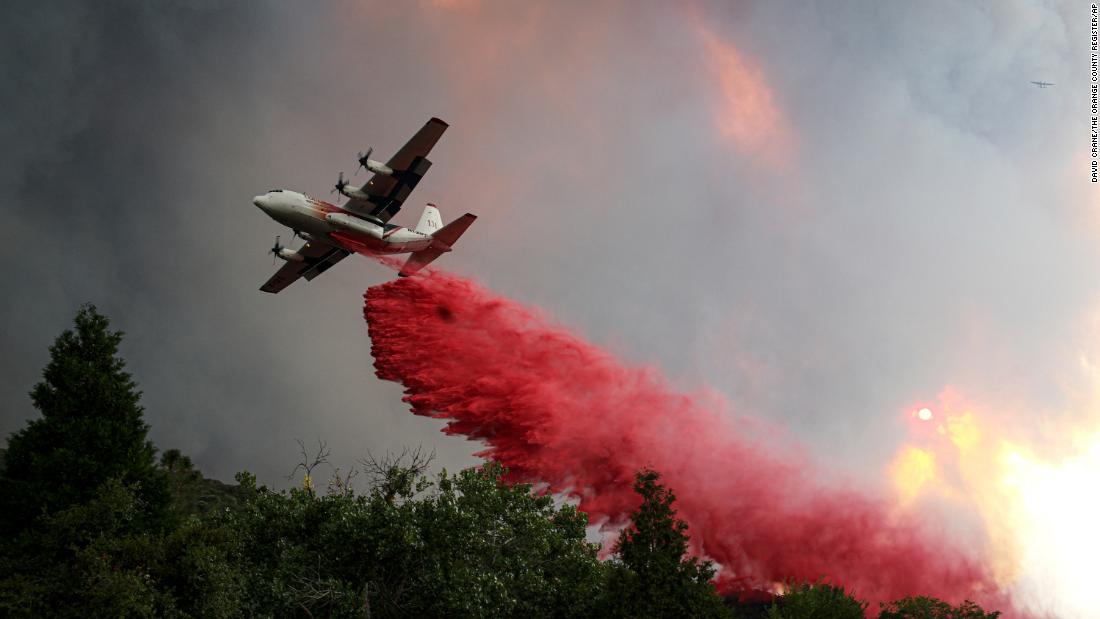 Photos: Wildfires burning in the WestA tanker makes a drop on the Lake Fire on August 12.Hide Caption 74 of 76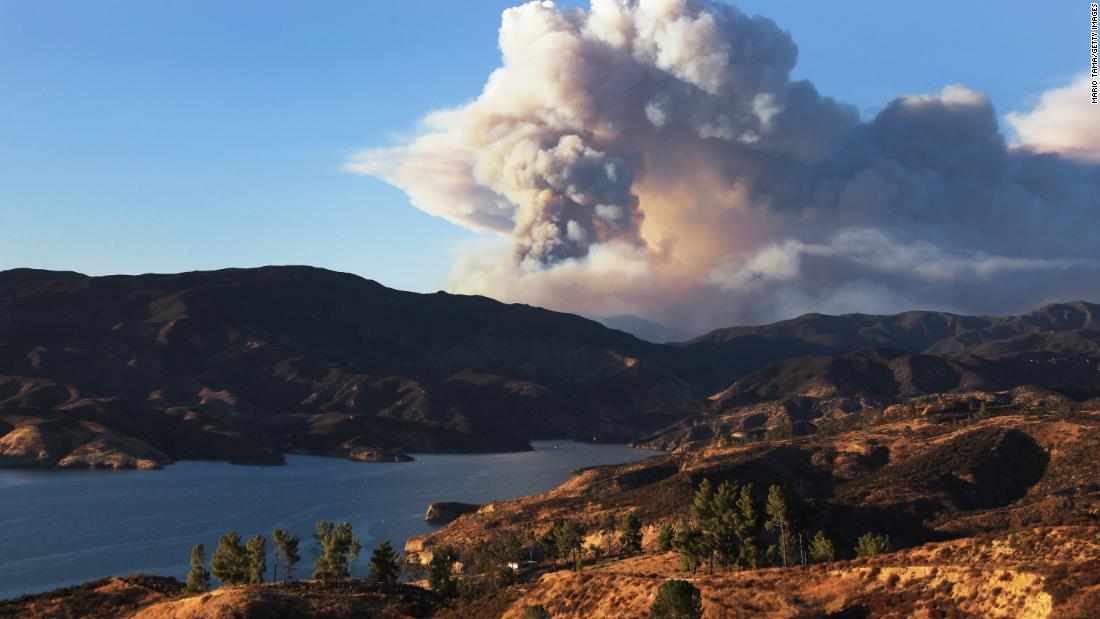 Photos: Wildfires burning in the WestA plume of smoke rises from the Lake Fire on August 12.Hide Caption 75 of 76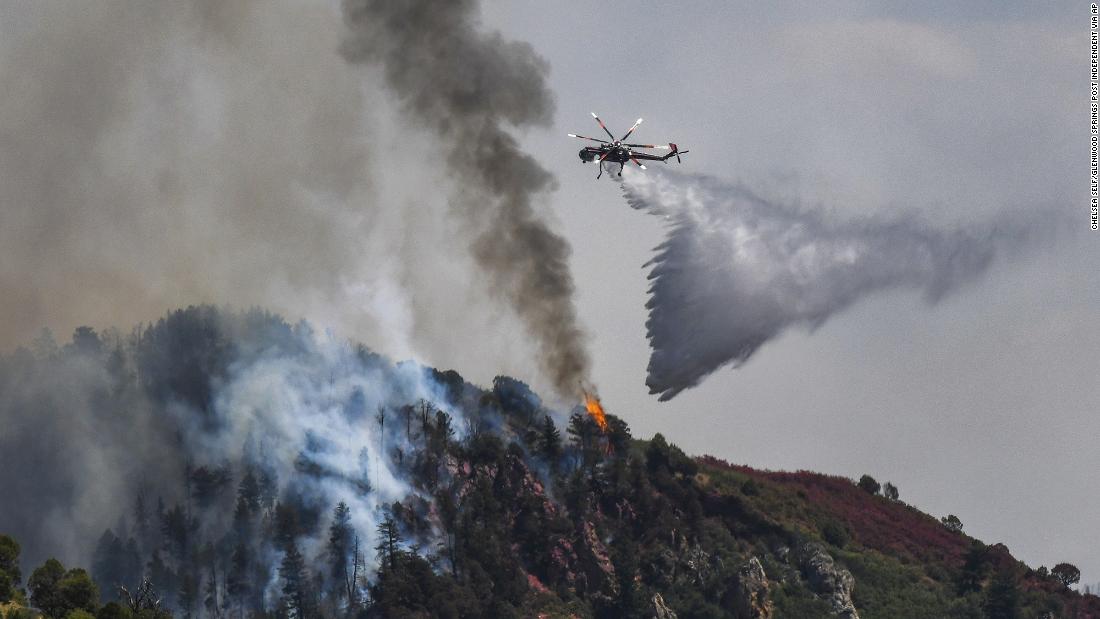 Photos: Wildfires burning in the WestFire crews battle the Grizzly Creek Fire near Glenwood Springs, Colorado, on August 11.Hide Caption 76 of 76






































































"We sometimes lose members to cancer and plant trees in their memory," Malak said. Presently, the group doesn't know whether that memory grove was spared."There are definitely a lot of memories made there, but the magic of Okizu is the people," Malak said.The threat of Covid-19 among a population of campers with compromised immune systems has left the camp empty during what would otherwise be a busy summer season. Okizu got creative, making what they call 'Happy Camper Kits' for each family, including ingredients for s'mores, T-shirts, and arts & crafts materials. They delivered the kits to each family and have been hosting virtual camps online since spring. "Our hearts have been in our throats all day, and we've been following every news report, hoping against hope for a miracle," the organization said in a news release. "There is nothing we can possibly say except that Okizu is a family, and as in any family, it is the people who matter most. We each carry Okizu within us, and that is something no fire can destroy."
Source Link:
https://www.cnn.com/2020/09/11/us/california-fires-the-okizu-camp-trnd/index.html
400 Bad Request
Request Header Or Cookie Too Large
Comments
comments