(CNN)Some Hurricane Dorian survivors evacuated to the United States from the Bahamas are arriving with little more than their harrowing stories of the storm, the devastation of its aftermath, and the desperation of those left behind.
Natasha Harvey, from Freeport on Grand Bahama, landed in Florida on Saturday aboard the cruise ship Grand Celebration. Shock and sadness are still evident in her face two days later. She breaks down crying often when she speaks of the ordeal, and of her daughter, her 12 brothers and sisters and other relatives left behind."People need help right now. People need to get out now," she told CNN, sobbing when she adds that she had to leave her family behind. "A lot of people lost their lives. No shelter. They are fighting for water to bathe. Water to drink. Food," she said of the island she just left. "Everything was damage(d)."Read More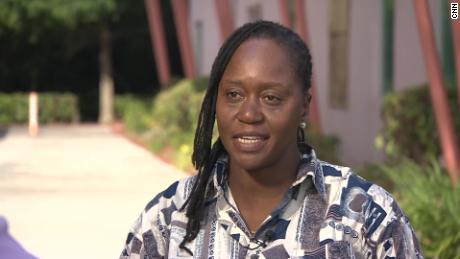 Natasha Harvey spoke to CNN's Rosa Flores about Hurricane Dorian and its aftermath.Dorian, the strongest hurricane to ever hit the Bahamas, left 70,000 people homeless on Grand Bahama and the Abaco Islands. At least 50 are dead, and government officials warn that the final death toll will be much higher. Cars are underwater, clothing and furniture scattered through the streets, Harvey said. People were scrounging for clothes and hanging them out to dry to have something to wear.Everyone wanted on the boat out, she said, but there wasn't enough room, and many didn't have the right documentation, such as police records, which were impossible to get, she said. The police station was under water and closed, she said. "I just ran away with what I had," Harvey said. "I came out with $60. That's all I had."People were pushing to get on the boat, she said, "because they know there ain't nothing there to stay for. There ain't nothing there to stay for."There were people who had spent days in trees after the storm, trying to survive, and didn't have any documentation, she said.Harvey and her extended family survived by going to a shelter, she said.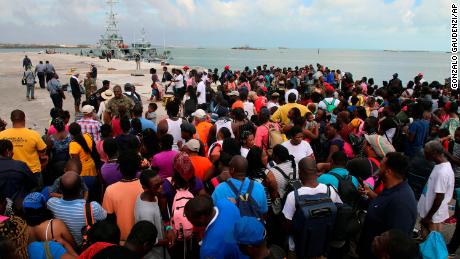 Dozens of Bahamas evacuees were told to get off a ferry headed to the US. CBP blames the ferry operator."Thank God that the water didn't start in the night because everybody would have been dead," she said.A friend of hers hadn't seen her children since the storm hit, she said. Edward Christian Sawyer III told CNN he and his family survived on Abaco by tying themselves together with an electrical cord and making their way together up a hill through the wind and water to get to his sister's house on a hill, from his mother's house nearby."If we hadn't done that, a few of us could have blown away," he said. His mother's house was destroyed, knocked off its foundation and flattened, he said.Sawyer said he went four days without food, and woke up every day just "praying to God you get off that rock," he said. "It was hell."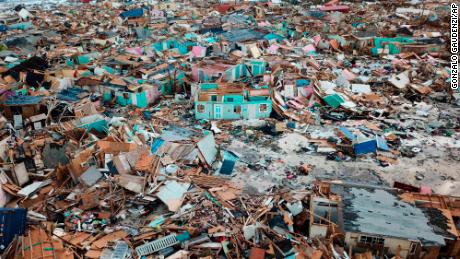 Hurricane Dorian's path and destructionSawyer, who said he volunteers with a search and rescue team on Abaco, first got out with the US Coast Guard, but he went back for his family and his fiancee, who has a muscle disorder. A helicopter pilot flew him and his fiancee out as a medical evacuation, and the rest of his family is now on undamaged Nassau, he said. Ceva Seymour, 56, also arrived in Florida aboard the Grand Celebration with more than a dozen relatives.Calling the storm "very intense," she said she could see it lifting the roof of the house she was in at the time. "I prayed a lot and asked God to calm the storm," she said.Harvey said the rest of her family had tried to get out, but couldn't. She's been able to speak to one of her sisters, who has Wi-Fi and can charge her battery in the car, she said. There's "only so much people can handle," she said of the people fighting to get off the island. "And we need help, we need all the help. Please, please somebody help us."
Source Link:
https://www.cnn.com/2019/09/09/americas/bahamas-dorian-survivors-evacuees/index.html
[-0.49593]
Comments
comments