Louis P. Masur is Distinguished Professor of American Studies and History at Rutgers University and the author of "The Sum of Our Dreams: A Concise History of America." The opinions expressed in this commentary are his own. View more opinion articles on CNN.
(CNN)In a speech delivered in Pittsburgh on Monday, Joe Biden asked, "Does anyone believe there will be less violence in America if Donald Trump is reelected?" By taking that line of attack, he is indicating that he will be following the successful strategy employed by former President Franklin Delano Roosevelt in campaign speeches delivered through the summer and fall of 1932.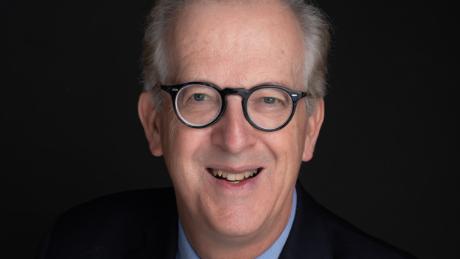 Louis MasurDuring that period, Roosevelt, then governor of New York, continuously denounced incumbent Herbert Hoover. Roosevelt reminded voters, "The crash came in October, 1929. The President had at his disposal all the instrumentalities of Government. From that day to December 31st of that year, he did absolutely nothing to remedy the situation. Not only did he do nothing, but he took the position that Congress could do nothing." Hoover, a believer in small government, had waited too long to act and then, when he did, his policies failed to improve the economy.One of Roosevelt's last campaign speeches, on a trail that saw him travel some 9,000 miles by train around the country, is especially noteworthy because of its uncanny echoes with this moment. If the past can speak to the present, Roosevelt in 1932 offers a model for how to confront an opponent who fails as a leader, attacks democratic norms, and disgraces the office of President.When he accepted the nomination in Chicago on July 2 (the first nominee to do so in person), he pledged himself "to a new deal for the American people."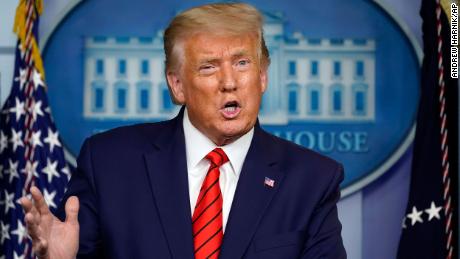 What Benjamin Franklin warned us aboutDozens of speeches and several months later, as Election Day on November 8 approached, Roosevelt had distilled his message to its essentials. On October 31, he was in Boston. He began by acknowledging that in the morning he had visited Harvard, his alma mater. He did not name the school and joked that it was the place "where, I am told, I got some kind of culture." The patrician Roosevelt knew how to connect to the average American. He also understood what it meant to suffer. He was stricken with polio at age 39. "If you spent two years in bed trying to wiggle your big toe, after that anything else would seem easy," he once confessed. Read MoreRoosevelt announced, "we have a united party — a party which, in securing a great victory on November 8th, will be supported not only by democrats, but by free-spirited Republican and independent voters."At its recent convention, the Democratic party took pains to show that it too was united as moderates and progressives, Republicans and independents joined the chorus of praise for Biden. If anything, Democrats are more united today than in 1932, when Norman Thomas ran as a socialist and garnered nearly 900,000 votes.In his Boston speech, Governor Roosevelt accused Hoover of besmirching "the dignity of the office of the President of the United States" and abandoning "argument for personalities." Hoover had accused Roosevelt of lying and misrepresentations, but the governor said he refused "to yield to the temptation to which the president yielded" and participate in personal attacks.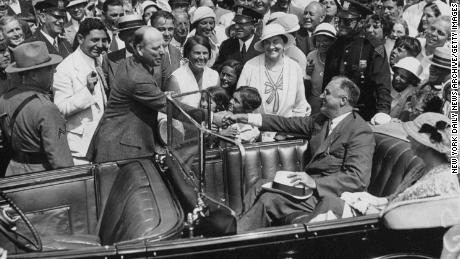 Franklin Delano Roosevelt during his presidential campaign, Sept. 01, 1932 (Photo by NY Daily News Archive via Getty Images) Roosevelt said he would not be deterred from speaking the truth about national affairs, as much as it might aggravate Hoover to hear it. He condemned Hoover for warning people not to vote for Democrats and threatening their jobs if they did. "The ballot," Roosevelt affirmed, "is the indispensable instrument of a free people . . . . And the autocratic will of no man — be he President, or General, or Captain of Industry –shall ever destroy the sacred right of the people themselves to determine for themselves who shall govern them."With authoritarianism on the rise, Roosevelt zealously defended the democratic system of the United States. Roosevelt indicted the Republican party for having "descended to an outpouring of misstatements, of threats and intimidation." He lamented that the "administration attempts to undermine reason through fear," and described the Republican leadership as "bankrupt, not only in ideals but in ideas." He drew laughter by reversing an historical anecdote: "I read somewhere in a history book about a Roman senator who threw himself into a chasm to save his country. These gentlemen who represent us are a new breed. They are willing to throw their country into a chasm to save themselves."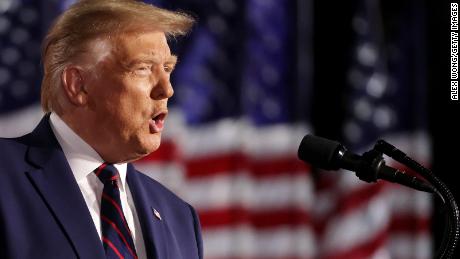 Trump can still win this electionRoosevelt then pointed out that the consequences of the administration's failure to act were not just of the day, but would reach into the future: "undernourishment, poor standards of living and inadequate medical care of today will make themselves felt among our children for fifty years to come." Future generations would continue to pay the price for Hoover's lack of leadership, said Roosevelt. The speech moved from condemning Hoover to reviewing Roosevelt's New Deal, which, contrary to Hoover's accusations, would not deviate from fundamental American principles. Rather, the New Deal aimed "to bring those principles into effect," said Roosevelt. Immediate economic relief by providing work was the need of the moment. Local, public and private charities had a role to play. The states too, of course. But when those resources failed, "the Federal government owes the positive duty of stepping into the breech." As he had as governor, Roosevelt promised to get things done "by treating the Republican members of the legislature like human beings and as my associates in government." In contrast, Hoover, a Republican, had "quarreled with a Republican Congress and he quarreled with a half-Republican Congress," Roosevelt said. "The present leadership in Washington stands convicted," he thundered, "not because it did not have the means to plan, but fundamentally because it did not have the will to do. That is the reason the American people on November 8th will register their firm conviction that this administration has utterly and entirely failed — failed to meet the great emergency."Roosevelt promised to act. "I decline to accept present conditions as inevitable or beyond control" and he pledged to "make things better," repeating the phrase four times in closing.Get our free weekly newsletter
Sign up for CNN Opinion's new newsletter.
Join us on Twitter and Facebook
A week later, over 22 million Americans voted for him. He received 57.3% of the vote and dominated the electoral college 472-59. It is important to note, however, that despite the cataclysm of depression, 39% (more than 15 million people) cast ballots for Hoover (a slightly higher percentage of Americans currently say they favor Donald Trump.)Biden has work ahead of him. He needs to continue on the attack, much as Roosevelt never relented, and not fear calling Trump an autocratic, undignified, lying, do-nothing president. Then Biden can only hope that, on November 3 of 2020, at least 60% of the American people will agree.
Source Link:
https://www.cnn.com/2020/09/01/opinions/biden-winning-campaign-model-fdr-masur/index.html
Bad Request
Your browser sent a request that this server could not understand.
Size of a request header field exceeds server limit.
Comments
comments