Birmingham, England (CNN)Haniya Aadams wasn't always a Muslim. She grew up in a Sikh household in central England and converted to Islam a decade ago, at the age of 25.
Since then, she has chosen to wear a niqab. So she knows about what it's like to be treated differently."If I compare my life to what it was before, yes, I think there is a prejudice against Muslims … People are reluctant to speak to women like me, especially (wearing) a niqab, because of the stereotype that maybe we're extremist, that we're oppressed, that we can't speak English," Aadams told CNN.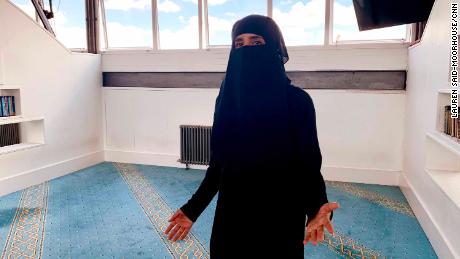 Haniya Aadams, a spokesperson for the Green Lane Masjid, says: "It takes the minority and the very few at the top to make awful comments that then filter down to everyone else."Niqabs and burqas were at the center of a controversy that involved the UK's new Prime Minister Boris Johnson last year when he likened Muslim women who wear veils to "letter boxes" and "bank robbers" in his column for the Daily Telegraph newspaper. When Johnson made that comparison, he had been trying to defend a woman's right to wear a veil, but his choice of language sparked widespread anger and condemnation, and led many across politics and public life to question Johnson's character and accuse him of worsening anti-Muslim sentiment.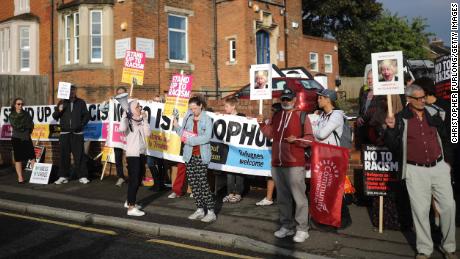 Protesters at an August 2018 demonstration in Uxbridge, England, following comments made by Boris Johnson about Muslim women wearing full-face veils.Read MoreHe has since partially apologized, saying at the launch of his bid to become Prime Minister: "In so far as my words have given offense over the last twenty or thirty years when I've been a journalist and people have taken those words out of my articles and escalated them. Of course, I am sorry for the offense they have caused."Johnson added, however, that: "I will continue to speak as directly as I can." In July, he was confronted with renewed accusations of Islamophobia after a 2007 essay was unearthed in which he claimed Islam left Muslim countries "centuries behind" the Western world.Johnson is now running a country where life for Muslims has become more hostile in recent years. Shifting to the rightAadams is a spokesperson for Green Lane Masjid and Community Center in Birmingham, a city that is home to one of the largest Muslim communities in the UK. Mosques like Green Lane Masjid often sit at the heart of the community. Parents come to pray while their children play downstairs. Posters on the walls advertise the new football team or the after-school Budding Believers Club. There's also a food bank, open to all regardless of faith.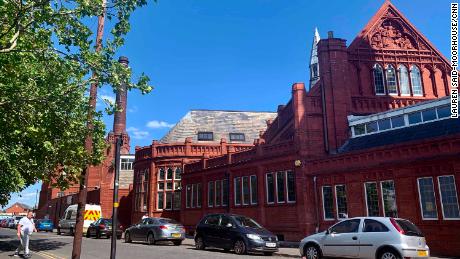 Green Lane Masjid and Community Centre in the Small Heath area of Birmingham.In March, however, vandals targeted five mosques in a series of attacks, leaving Birmingham's Muslim community on edge. Behind the gated entrance at the Green Lane Masjid, there are noticeable signs of heightened security. Numerous cameras monitor every coming and going, while signs warn worshipers of what to do "in the rare event of a firearms or weapons attack."Britain's Muslim community received hundreds of anonymous letters over a two-year period starting in June 2016 calling for violence and abuse against Muslims. Authorities subsequently arrested a man who pled guilty to the racist letter campaign.
"Punish A Muslim Day" letters are being sent to families in East London. The letter details a point system for each action & a reward. For example pulling a Muslim women's hijab is 25 points, throwing acid is 50 points and burning or bombing a mosque is a whole 1,000 points. pic.twitter.com/6kmCrDrXt0
— Rowaida Abdelaziz (@Rowaida_Abdel) March 9, 2018 Muslim worshipers were targeted in a June 2017 attack when a van plowed into a group of pedestrians who had attended late-night prayers at London's Finsbury Park Mosque, killing one man and injuring 11 people. Mosques nationally have been attacked and set on fire. Official statistics back up anecdotal evidence. Despite accounting for less than 5% of the UK's 66 million-strong population, 52% of religious hate crime offenses committed in England and Wales between 2017 and 2018 targeted Muslims, the UK Home Office revealed in 2018.This tallies with a growth in overall hate crimes. Between 2017 and 2018, there were 94,098 offences, up 17% from the year before. The Office for National Statistics has attributed some of the increase over the years to improvements in police recording of hate crimes. Islamophobia is not a new phenomenon in the UK, but it has recently been exploited by far-right groups and activists. A 2019 report by anti-racism organization Hope Not Hate stated: "Anti-Muslim prejudice has replaced immigration as the key driver of far-right growth." When anti-Muslim attitudes go mainstreamIn this atmosphere, Aadams believes that media and politicians have a heavy responsibility for the continued growth in anti-Muslim sentiment in the UK. "It has a direct effect on Islamophobic attacks," she says. "You cannot make it legitimate (even if) you want to brush it off as a light-hearted comment."Following Johnson's 2018 comments there was an increase in hate incidents The Times reported citing data collated by Tell MAMA, an independent NGO that monitors anti-Muslim attacks in England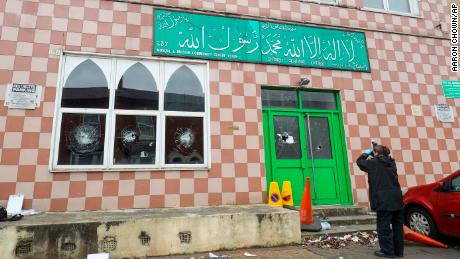 A police forensic officer documents damage to a mosque in Birmingham after several mosques were vandalized in the city in March.Some academics agree that individuals like Johnson should take more care with their language. "There's a low-level concern about the way in which Muslims in the community group are portrayed, discussed and understood by politicians and by the media," Abdul-Azim Ahmed, a research associate at the Centre for the Study of Islam in the UK at Cardiff University, says.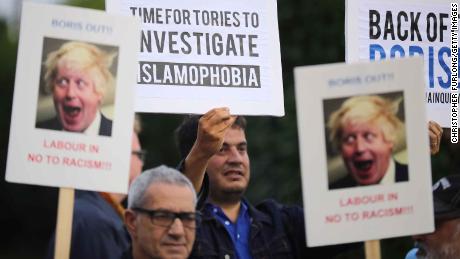 Protesters outside the Hillingdon Conservative Association office in 2018 in Boris Johnson's constituency of Uxbridge, England."While Boris Johnson's incoming premiership does seem concerning given his history, it's also in many ways just a continuation of the policies of (previous Prime Minister) Theresa May (and) of a shift towards the right," Ahmed says, referring to May's hardline approach to immigration. "It doesn't feel like a watershed moment in any way but it does definitely raise some … concerning trends within government. I think the general sense on the ground is very apprehensive," he adds.CNN reached out to the Prime Minister's office and was referred to the Cabinet Office for comment over the concerns and calls for him to engage with Muslim communities but did not receive a response by publication. In Birmingham, around the corner from the Green Lane mosque, the high street is lined with halal butchers, restaurants and market stalls. Iqra Bashir, 20, is with her mother enjoying the British summer. She reveals she was "not happy" about Johnson becoming PM given his remarks."I think if somebody is saying that about Muslim women, I think 'What's the future going to be like for us?'" she explains."I think the government could stand up for us a bit and say 'Not all Muslims are terrorists.' Yeah you get one or two but that doesn't mean the whole of the community is bad."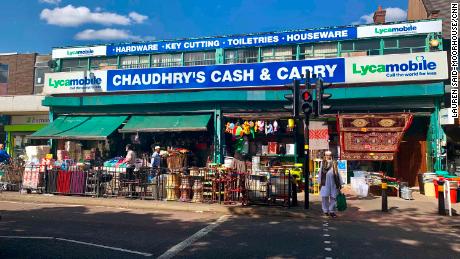 A man waits at a cross walk on Coventry Road in the Small Heath area of Birmingham.Moments later, 34-year-old Salih Scully bounds over. He has been listening to the conversation and says that while he disagreed with Johnson's previous comments, he also wants to make it clear that his daily experiences of being a Muslim in Britain are "generally quite good." "The government allows me to have free speech and to exercise my beliefs in a peaceful, amicable way."Every system is flawed, I'm flawed myself so if the government would like to approach the Muslims … then we will be there with dialogue," he adds.'We are part of the fabric of society'At London's Baitul Fatuh mosque, one of the largest in Western Europe, a broad consensus of people also believes that Johnson's past remarks should not be a barometer for how he will perform in his new role. People here remember Johnson — who was Mayor of London between 2008 and 2016 — as a friend of the mosque, someone who visited on multiple occasions and worked effectively with the community.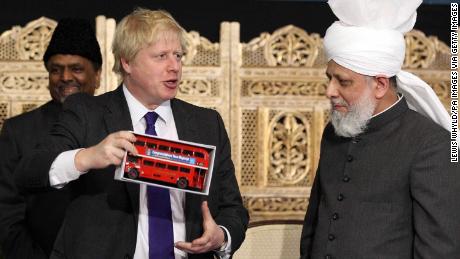 Boris Johnson meets members of the Baitul Fatuh Mosque during the National Peace Symposium in 2012, while he was London Mayor.Syed Yusuf Ahmed, a medical student and volunteer at the mosque, recalls: "He came to Baitul three times … He really did engage with the Muslim community — we felt he was a good mayor for us." "All the women felt offended by that comment but (with Johnson) you always like to give him the benefit of the doubt that maybe he didn't mean it — that it was a mistake," explains Mahmood Rafiq, head of external relations at the mosque. "If I look at his track record and that one comment, it did seem a bit of a blip."Instead, like many in the Muslim community, Rafiq wants to leave the past where it is, saying that "we are looking towards the future."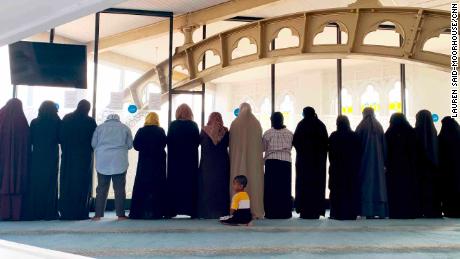 Women congregate for prayers at Green Lane Masjid."We want to work with the government and support them anyway we can — against Islamophobia, against all hate crimes," he explains.Dialogue is at the top of the list of things many in the Muslim community would like the new Prime Minister to now engage in."Johnson needs to sit down with people that are doing research — that have got the facts and figures — and see what he can do as Prime Minister to support the Muslim community," Aadams says."The most important thing is we're not different to anyone else in society," she concludes."We're not different to our neighbors. We're not different to the Christians, or the Jewish or those of no faith — we're all the same. We're British people. We are part of the fabric of society."
Source Link:
https://www.cnn.com/2019/08/18/uk/uk-islamophobia-boris-johnson-gbr-intl/index.html
[-0.377844]
Comments
comments