As a child, A-dae Romero-Briones eagerly awaited the government truck that delivered her family's monthly food box to the designated drop-off spot at New Mexico's Cochiti Indian Reservation. A "good" package included real butter and cheese. A "bad" package was filled with powdered eggs and some kind of canned meat that reminded her of "dog food." She had to dig through layers of gelatinous goo to reach the actual protein.
But it was the powdered milk that Romero-Briones, 36, dreaded the most.
When she came down to the kitchen in the morning and saw her grandmother preparing oatmeal or cereal with the flaky milk, Romero-Briones couldn't help but cringe. It felt like the rest of her day would bring only more disappointment.
"It was like eating cereal with water," she said. "Tasting real milk was almost like candy to us."
An attorney with expertise in agricultural law, Romero-Briones is now the director of native food and agricultural programs at the First Nations Development Institute. The Lodi, California-based organization provides grants to groups that work to improve food access, health and nutrition for Native American families.
Romero-Briones and her family received the food deliveries as part of the Food Distribution Program on Indian Reservations (FDPIR), a project of the U.S. Department of Agriculture. Established in the 1970s, the program was conceived as an alternative to the Supplemental Nutrition Assistance Program (SNAP), still often called food stamps, that would serve low-income households living on or near reservations. The delivery of uniform food boxes was presented as an option for reservations located in remote rural areas with few supermarkets. Recipients could choose whether they wanted to participate in FDPIR or SNAP.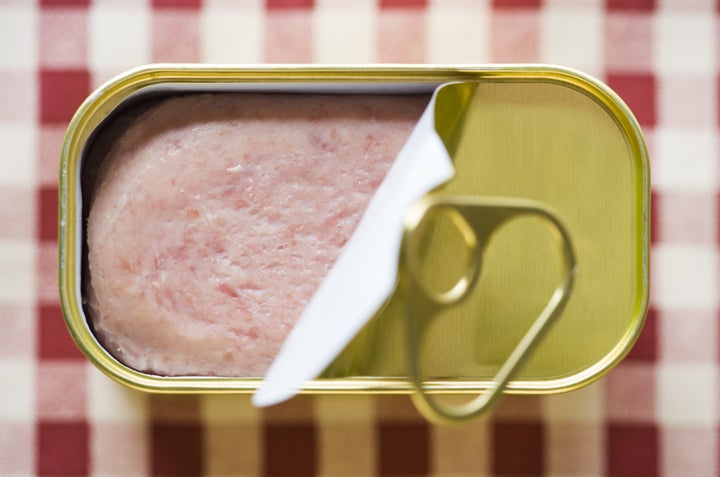 FDPIR remains an option for Native Americans, although it is now administered locally by tribal organizations and state agencies. The program got $151 million in federal funding last year and serves about 90,000 low-income households every month. In 2009, the average FDPIR box was valued at about $78 per recipient per month.
The quality of the food and the way it's distributed have improved on a number of reservations since Romero-Briones was a child, said Janie Hipp, director of the Indigenous Food and Agriculture Initiative at the University of Arkansas. But food security advocates contend the program still has a number of problems: Many of the products are high in salt and sugar, and there are few fresh fruits and vegetables. This is of particular concern in native communities, which face high rates of heart disease and obesity.
And now those problems could extend to millions of other low-income Americans if the Trump administration successfully overhauls SNAP as it proposed in its 2019 budget outline last week. The proposal calls for a 25 percent spending cut to SNAP and would partially replace food stamps with boxes of canned goods in a way that looks rather like the less desirable aspects of the program Romero-Briones remembers.
There are currently 42 million SNAP recipients, who receive an average voucher of $125 per person per month. Those vouchers can be redeemed for almost any food product in a grocery store, excluding things like liquor and hot, prepared meals. The program is credited with reducing the poverty rate from 15.4 percent to 12.8 percent in 2015, according to an Urban Institute report.
Under the Trump administration's proposed program, households getting more than $90 per month in SNAP benefits would receive a portion of those benefits in the form of a food package, dubbed the "Harvest Box."
White House budget director Mick Mulvaney likened the boxed food program to Blue Apron, a high-end subscription food service that delivers ingredients with recipes to people's homes. But for those well-versed in government commodity programs, the proposal rings more of the problematic efforts of yesteryear.
Hipp said the idea is riddled with problems. In addition to the nutrition concerns and the fact that the boxed program wouldn't give recipients much autonomy over their food choices, she noted there are logistical issues when it comes to moving this much food to this many people. FDPIR services about 90,000 households a month, a tiny fraction of the number that SNAP supports. There are also questions about how the boxed food program would handle recipients' individual dietary restrictions.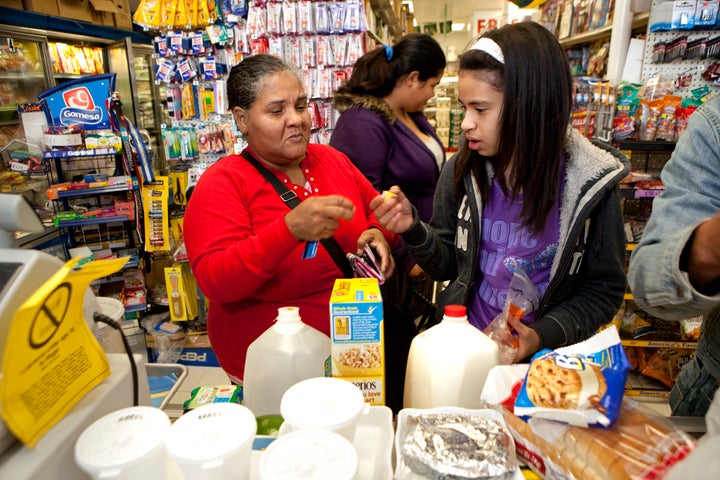 Native American advocates have been working to move away from the delivered boxes and instead to set up FDPIR food sites that resemble grocery stores. They're also trying to incorporate more staples of the native diet, such as wild rice, bison, salmon and blue corn.
The Trump proposal listed a number of foods that a standard Harvest Box would include such as peanut butter, shelf-stable milk, beans and pasta. But it didn't explain how it would tailor the boxes to, say, someone who has specific dietary needs.
"What do you do with people who have allergies or who can't have gluten or who can't have dairy?" Hipp asked. "The 'one size fits all' idea ― it's not even regressive. It's not matching up with what we already know in the science around how different people's physiologies react to different foods."
In the last decade, a number of tribes have transitioned from the delivered-box service to a supermarket-style program. An initiative in the Cherokee Nation of Northeastern Oklahoma serves about 11,000 recipients who have access to seven FDPIR locations that are modeled after grocery stores, said Chuck Hoskin Jr., the secretary of state for the Cherokee Nation.
The updated program gives people more control over their food choices, and the options themselves have improved over the years. Recipients can pick cartons of milk instead of just powdered milk, for example. They're getting frozen or fresh pork chops, hamburger and bison instead of canned meat. There are also fresh fruits and vegetables, instead of the canned versions.
These food sites are strategically located near health centers, so that recipients can learn about the medical options available to them, and the sites host food seminars to teach people about healthy eating. At one recent event, 150 participants in Tahlequah, Oklahoma, received free blenders and smoothie recipes in exchange for attending the monthly workshop and tracking their exercise and nutrition.
"You can't put that opportunity in a box," Hoskin said.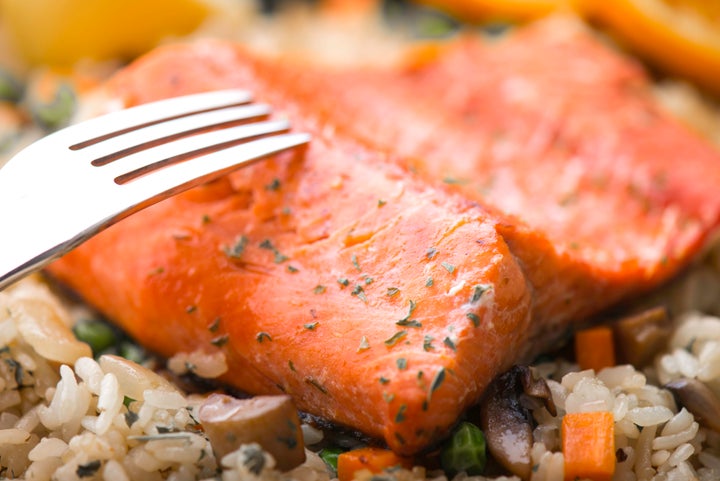 The Trump administration argues that its proposed changes to SNAP would be a huge money-saver, shaving about $21 billion a year from the federal deficit over the next decade.
But Hipp wonders how such savings could even be possible, considering the logistical challenges and expense involved in getting these packages to people's homes or drop-off locations. Delivering the food in a timely manner would be key, since perishables will expire. FDPIR has struggled with these issues over the years, prompting ongoing negotiation between the tribes and the federal government, Hipp said.
FDPIR still serves a critical purpose in rural areas where it's simply not feasible to get to a supermarket that participates in SNAP. On the Pine Ridge Indian Reservation in South Dakota, for example, there are about 40,000 residents spread over some 3,500 square miles and just three supermarkets. Prices in those stores are often very high. The stores bring in goods from Rapid City or neighboring Nebraska, and store owners say fuel costs force them to set higher prices.
The FDPIR grocery-like sites that native advocates would prefer would require additional funding and infrastructure, which aren't expected anytime soon, Hipp said.
The Harvest Box concept might not have much chance of moving forward in Congress, and Trump administration officials have suggested it was really meant to rile up liberals. But the proposal may have served to emphasize just how serious the administration is about pushing forward with $85 billion in other cuts to food assistance programs. Food security experts are urging advocates to focus less on the Harvest Box proposal and more on the bigger issue: the steep cuts to SNAP.
"I worry that all the attention to the Harvest Box distracts from the fact that this administration has proposed to shrink SNAP," said Stacy Dean, vice president for food assistance policy at the Center on Budget and Policy Priorities. "It's important for us to focus on that vision, one where millions of people lose benefits and benefits are slashed for those who remain. That's deeply worrying."
Source Link:
https://www.huffingtonpost.com/entry/trump-snap-canned-goods-native-americans_us_5a8c403de4b0e1acb11d833a
[-0.0395491]
Comments
comments