New York (CNN)If the Trump administration has riveted the world — a family saga of unexpected power, spiked with geopolitical tension and market upheaval — the latest twist has international observers wary and agog as Democrats pursue an impeachment inquiry into the President.
After almost three years of turbulence that include presidential tweets insulting foreign leaders, abrupt withdrawals from international pacts and policy reversals as US officials say one thing and Trump emphatically says another, observers are almost inured to the chaos. But current and former diplomats tell CNN that this chapter stands out, as much for what's at stake within the US as the potential fallout around the world. "It's always something with this administration," said one European diplomat, "but this feels different."Wag the dog?Read MoreCNN spoke to current and former envoys based in the United States as well as diplomats gathered from around the world for the 74th United Nations General Assembly to hear their countries' views and concerns as the impeachment drama unfolds. Some said the turmoil could mean that US global leadership — seen as waning under Trump — will fade ever further. Others argue the President may try to draw attention from his domestic troubles by making a splash on the global stage, though few see a "wag the dog" scenario of war. Some worried about the ripple effects — that their leaders' call transcripts with Trump could also be released or that global markets could eventually be destabilized. Several said they see the impeachment battle ultimately strengthening Trump, while others marveled at just how far political discourse in the US has fallen, and how fast. "It's fascinating to see in two years, the level of American political discussion has today collapsed," said Gerard Araud, former French ambassador to the US. Referring to Trump's discussions with Ukrainian President Volodymyr Zelensky that lie at the heart of the scandal, Araud said that, "two years ago, what he said would be constituted as a major crisis. … Now there is a new story and new falsehood every day."More than half the US House of Representatives now support an impeachment investigation amid a growing controversy after the White House released a transcript of Trump's July 25 call with Zelensky.
Pompeo subpoenaed by House committees for failure to produce Ukraine documentsThe President delayed aid to Ukraine before he pressed Zelensky to investigate former Vice President Joe Biden's son, Hunter. There has been no evidence of wrongdoing by either Joe or Hunter Biden. Senior White House officials then endeavored to conceal records of the call, according to the complaint by a whistleblower.Araud said Trump's apparent quid pro quo demand in the call with Zelensky is "totally appalling." He added that it also means foreign leaders now know that "whatever they say to Trump may be made public." "Foreign governments are now more than ever convinced that you have to be cautious with Trump, because will he make the call public. And he is totally unpredictable," Araud said. Russian Foreign Minister Sergei Lavrov made clear Friday that his country finds the transcript release totally unacceptable. "My mom was bringing me up and she said that reading other people's letters is inappropriate and it's indecent," Lavrov said in answer to a CNN question at a press conference. "Letters of two people elected by their nations to be at the helm of the country, their traditions, their manners, including diplomatic manners that suppose a certain level of confidentiality." 'Being so vociferous'"Bringing all of the issues to the public, being so vociferous, saying that this or other administration, if they don't show a certain memo, a memo to relatives, to some partners, then this administration will be brought to its knees … what kind of democracy is that?" Lavrov asked. "How can you work in such conditions?"Many envoys said they now expect foreign policy to take a back seat. "They are going to be totally distracted — foreign policy priorities aren't going to be on the top of their mind," the European diplomat said. A diplomat from an allied government worried that "if Trump is distracted, he will not be able to make decisive decisions on important issues like non-proliferation." That envoy said his government had been expecting the US to turn inward — "the distractions would have come anyway because of the 2020 campaign" — but they're now coming earlier and will last longer. One diplomat from the Asia Pacific hinted that his country wouldn't mind if the US was less engaged in international affairs. Trump "presented himself as being some sort of peacemaker … but we don't believe he will achieve anything in North Korea, we're very unhappy with the course of things in Iran," the diplomat said. "We feel US policy has exacerbated tensions with Iran and we don't see how the US or Israel is safer than it was before." While some envoys raised the prospect that Trump might turn inward, one Western diplomat suggested the President might try to change the subject by looking overseas.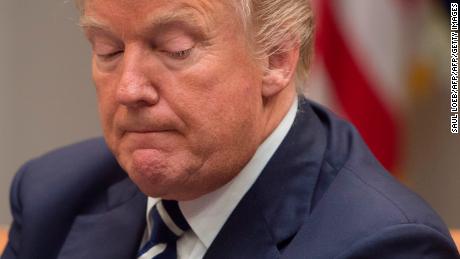 Whistleblower timeline: Team Trump contacts and Ukraine"At some point, he could turn the focus to foreign policy, as a diversion," the diplomat said of Trump, ruling out the possibility of intentional conflict. "Sometimes you might have people who like to create tension, be combative, go to war to divert attention," the diplomat said. "This is not that President. He's proven in three years that he's reluctant to go to war. He might try to make a breakthrough with North Korea, or try to do something with Iran."Publicly, senior foreign officials have been circumspect about Trump's woes. When Iranian President Hassan Rouhani was asked whether Iran's best hope was to see Trump impeached or defeated in next year's election, he offered a careful response. "Our best hope is for the United States government to pursue right policies, whomever that person may be heading the executive branch or from whichever party," Rouhani said Thursday. 'A big impact'Several diplomats from smaller countries said they saw little immediate impact, but pointed to a hazard for economies of all sizes. "US domestic turmoil here has very little impact," said Mari-Cruz Evuna, director general of International Organizations for Equitorial Guinea. "But at the end of the day, if there's a big worldwide drop in markets or oil prices, it could have a very big impact. That's especially true for small countries like us." More coverage of the whistleblower complaint
The whistleblower complaint, annotated
The Point: The 1 piece of the whistleblower complaint that poses the biggest threat to Trump
Source Link:
https://www.cnn.com/2019/09/28/politics/trump-impeachment-saga-diplomats-world/index.html
[-0.455706]
Comments
comments