David Gergen has been a White House adviser to Presidents Richard Nixon, Gerald Ford, Ronald Reagan and Bill Clinton, in addition to being a senior political analyst at CNN. A graduate of Harvard Law School, he is a professor of public service at the Harvard Kennedy School, where he founded the Center for Public Leadership. The opinions expressed in this commentary are his own. View more opinion on CNN.
(CNN)In 1979, just days before Sen. Ted Kennedy announced his campaign for President, Roger Mudd famously asked him, "Senator, why do you want to be President?" Kennedy hesitated, fumbled and lost his campaign before it even started.
Some 40 years later, in his quest to unseat Sen. Ed Markey, Congressman Joe Kennedy III stepped into the footsteps of his late great uncle. He failed to answer the question at the crux of every campaign: Why me? Voters these days are looking for more than a storied name; they want candidates who have a strong message and can deliver real change. Markey made the sale very effectively.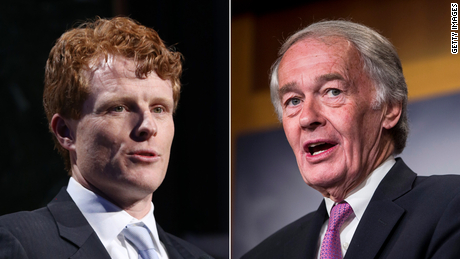 Sen. Ed Markey defeats a Kennedy in MassachusettsEarly in the race, it appeared that the biggest difference between them was age: Markey went to Congress before Kennedy was born. The progressive wing of the party would have been pleased to have both of them in the Senate. Youthful and charismatic, Kennedy jumped out front and appeared headed toward victory. But his team either forgot or never appreciated how good Markey can be as a political leader. In the months that followed, Markey took over the progressive lane, pushing Kennedy to the side and painting him as the candidate of the establishment. Somehow, he maintained his stature as a senior, respected leader of Democrats while also creating strong ties with New York Rep. Alexandria Ocasio-Cortez and her ideological allies. A wide array of Democratic figures flocked to his banner. Meanwhile, Markey's television ads were far superior, showing the senator as a strong, effective and relatable leader. With Covid-19 ruling out much face-to-face campaigning, Markey also mobilized an army of digital supporters. And he did the unimaginable in Massachusetts: He attacked the Kennedy family legacy, criticizing the creation of a super-PAC supported by family members, and deftly contrasted it with his own working-class roots as the son of a Malden milk truck driver. Read MoreWhile this was a sui generis election of sorts, the race serves as a lesson in the importance of political fundamentals. Markey's campaign was anything but conventional, yet he delivered on fundraising, communications and organization. What was there to dislike in his campaign? Not much. In truth, Kennedy has been a solid member of the House and was growing into one of its bright stars. While he is out of elective politics for a while, he can still have a meaningful impact in changing the country's direction. The Kennedys will still shine bright in history, but Tuesday night they did lose some of their luster. Get our free weekly newsletter
Sign up for CNN Opinion's new newsletter.
Join us on Twitter and Facebook
Clearly, the moment belongs to Markey. Without abandoning his principles or priorities, after running a clean race and delivering the first ever defeat of a Kennedy in a Massachusetts election, Markey returns to the Senate with more influence than ever. There are a good number of folks in Massachusetts (where I am living these days) who have been despondent about our politics. Markey's victory will give them fresh hope.
Source Link:
https://www.cnn.com/2020/09/02/opinions/markey-kennedy-massachusetts-senate-opinion-gergen/index.html
[0,"neutral"]
Comments
comments