(CNN)For Rebecca Rusch, the danger of losing her fingers and toes to Iceland's hostile landscape compelled her to take on one of her most challenging expeditions to-date — a 327-mile biking trail and 25,600 vertical-foot climb across Iceland's snowfields and glaciers.
Despite passing active volcanoes and treading near arctic tundras, Rusch says the prospect of braving below freezing temperatures was what captivated her. "I was really scared of the environment," she tells CNN Sport. "The cold was really the last frontier for me."From becoming the first person to ride the entire length of the Ho Chi Minh Trail in 2015 to achieving the status of seven-time world champion in multiple sports, the 52-year-old ultra-endurance athlete has crossed many an uncharted territory.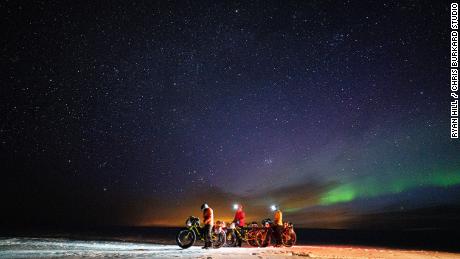 Rebecca Rusch completed a self-supported expedition in Iceland earlier this year alongside photographer Chris Burkard and former pro cyclist and filmmaker Angus Morton.Following her childlike curiosityRead MoreBefore setting her sights on pristine landscapes, Rusch has memories of running through the woods in Chicago's sprawling suburbia. "There was always this explorer curiosity aspect to what I was doing, even as a child," she says. "I was born with that." Her first entry into endurance sports was through her high school cross-country team. "I felt like I really belonged somewhere for the first time."She built up her confidence and later moved out west, combining her business marketing degree with her love of indoor sports to open a chain of rock climbing gyms in California.
At the age of 52, Rusch has cemented her legacy as an adventure athlete, seven-time world champion, best-selling author, activist and Emmy winner. In the 1990s, she discovered adventure racing, a fringe endeavor that grew in popularity with the birth of Eco-Challenge. Produced by Mark Burnett of Apprentice and Survivor fame, the reality TV show followed athletes who raced across 300 mile courses in harsh terrains from Fiji to Maine to Morocco, in which Rusch was a participant. "I never thought I would be a professional athlete, it wasn't in my career plan," she says. "I was just doing something that made me feel whole and inspired me." A twist of fateWhen the show went off-air in 2002, the sport of adventure racing lost sponsorship and funding. Rusch's career as a professional athlete was in flux. She eventually made the decision to move to Idaho and got a part-time job as a volunteer firefighter, something she still does to this day. But her journey was far from over.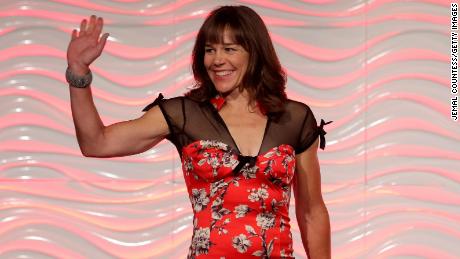 Rusch attends the 36th Annual Salute to Women In Sports at Cipriani Wall Street in October 2015 in New York City. A friend recommended she take up mountain biking, and Rusch went on to win multiple events including three 24-hour solo mountain bike World Championships, Idaho's Short Track state championship and a state Cyclocross title. Nearly 15 years later, she's just as committed to her sense of adventure. "Being an ultra-endurance athlete? It is my life."Blood Road In 2015, Rusch took her pursuit of self-discovery to a new level when she set out to ride 1,200 miles across the Ho Chi Minh Trail. Infamously dubbed "Blood Road," the pathway was used by Vietnamese troops to shuttle supplies during the Vietnam War — an event Rusch and her family are all too familiar with.On March 7, 1972, her father — Stephen Rusch — was flying a strike mission over Laos to bomb trucks when his plane was shot down in the village of Ta Oy. He died when Rebecca was three years old."Growing up, it was hard to mourn for somebody that I didn't know," she says. "It really wasn't until I rode the Ho Chi Minh Trail and went to the place that he died that I felt him for the first time."Since then, she's inherited memories of her father from meeting people who knew of him, including the son of the man who buried her father all those years ago. "We were extremely bonded," she says.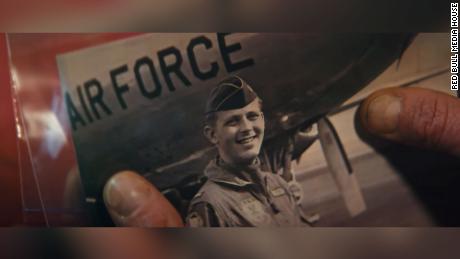 In 1972, Rusch's father died in the Vietnam War. She honors his legacy through the Be Good Foundation, using her bicycle as a catalyst for healing, empowerment and evolution.Rusch also forged a close relationship with her Vietnamese riding partner Huyen Nguyen, a decorated cross-country cyclist whose father was facing American resistance during the war. "We didn't need language to communicate," she says. "The two of us came together to heal and to forgive, and using the bike as that tool was a really special journey."Now, Rusch commemorates her father through the Be Good Foundation, a humanitarian organization named in memory of his wartime letters, which he would sign with the phrase "be good."She uses the foundation to create opportunities for outdoor exploration, personal discovery and humanitarian service at local, national and global levels. "I distinctly feel that he brought me to allow us on that journey … to show me that I could use my bicycle for more than podiums and awards," she says. "I do feel like he's teaching me, he's fathering me, even though he's not physically sitting here with me right now."'No one will ever know what we experienced'From riding in Vietnam with Nguyen to ploughing through Iceland alongside nature photographer Chris Burkard and former professional cyclist and filmmaker Angus Morton, Rusch is used to working with fellow athletes to maximize her potential. "I find in teams, often your actions, instead of words […] are the most powerful tools."She only had two weeks to recover between her win at Alaska's 350-mile Iditarod Trail Invitational in the self-supported category and the Iceland expedition. With little contact with Burkard and Morton before meeting them at the airport, Rusch was nervous.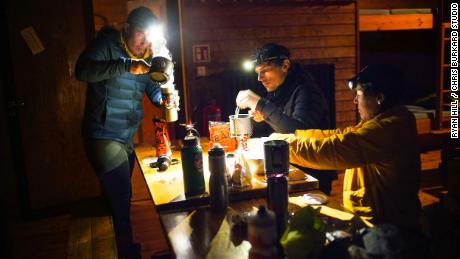 Rusch preparing a meal with her Iceland expedition partners Angus Morton (center) and Chris Burkard (left). "I knew where they were coming from as people, what I didn't know is how they would respond in moments of stress."Ultimately, their shared memories of triumph will outlive their moments of crisis. "No one will ever know what we experienced in crossing Iceland in winter, other than Chris and Angus and myself," she says. "No picture could actually tell all of the story."A lifetime of preparationRusch is living proof that midlife can be a time when a woman can hit her stride. She may have been carrying an amethyst as her lucky charm in Iceland, but she acknowledges that successfully completing "the best performances" of her career ultimately requires years of physical resilience and emotional intelligence. "You're not deteriorating as you get older, you're actually growing," she says. "Alaska and Iceland couldn't have happened without decades of experience in knowing myself, knowing my body."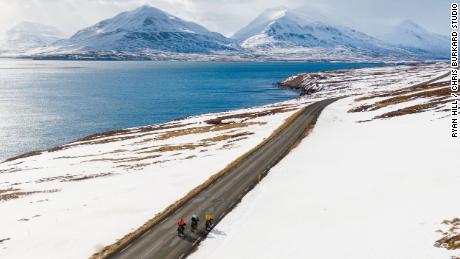 Rusch's Iceland trek involved a 90% snow and ice covered route. Perhaps Rusch's ability to put her body through excruciating physical challenges and emerge a stronger athlete is why Adventure Sports magazine dubbed her the "Queen of Pain" in 2004. "It's doing something hard with a goal that you don't know what the reward is on the other side of it, but yet you still keep going."'We share this earth together'Taking part in grueling expeditions and spending time away from home requires balance. Having met on a bike ride in Idaho and been an endurance athlete his entire life, Rusch's husband, Greg Martin, understands the responsibilities that come with her career. "We do a lot of these adventures together, but it is a commitment to be away," she says. Over the past year, she's had the opportunity to re-evaluate her relationship with nature. "I've really, really understood the importance of me having my feet on the dirt, on the ground."In May 2020, 36% of people responding to the People and Nature Survey by Natural England said they were spending more time outside during the pandemic than before. A similar report found that nearly a third of Americans were considering moving to less populated areas, according to a Harris Poll survey. "Nature is therapy for people," she says. "Part of my responsibility is showing people these beautiful places in hopes that they fall in love and understand the importance of protecting them.""The one thing we all share in the entire world is that we stand on the ground […] and we share this earth together."
Source Link:
https://www.cnn.com/2021/05/28/sport/rebecca-rusch-queen-of-pain-cmd-spt-intl/index.html
Bad Request
Your browser sent a request that this server could not understand.
Size of a request header field exceeds server limit.
Comments
comments