(CNN)The Philippines is now the deadliest country in the world for land and environmental defenders, with 34 killed in 2018, according to new research.
Worldwide, a total of 164 people were killed in related violence — an average of more than three per week — according to the "Enemies of the State?" report from NGO Global Witness. Mining conflicts were responsible for the largest share of the deaths.But in the Philippines, disputes linked to agribusiness led to half of the killings, according to the research. Such conflicts have increased in the Southeast Asian nation due to President Rodrigo Duterte's plans to hand 1.6 million hectares of land over to industrial plantations.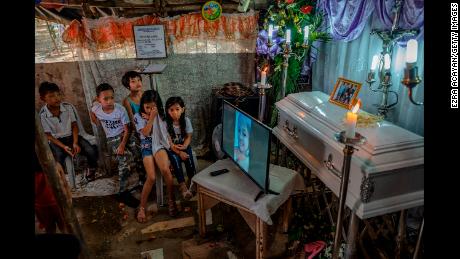 Philippines: UN decision to probe drug war 'straight from the mouth of the Queen in Alice in Wonderland'At the same time, Duterte's "war on drugs," which has led to thousands of extrajudicial killings, is creating a "culture of fear," according to the NGO.Despite the increased focus on environmental issues the world over, the proliferation of strongmen leaders is bringing greater danger for those trying to defend their rights, Global Witness says. And the situation is likely to deteriorate in 2019, it predicts.Read MoreThe report reveals that Guatemala saw the sharpest increase in fatalities, which increased fivefold from 2017 to 2018. Central America's most populous nation saw 16 people killed while protecting land or the environment, making it one of the world's deadliest countries per capita.Latin America was the worst-affected continent, with over 50% of the worldwide killings taking place there in 2018. The region has held this unwelcome title since Global Witness started its reports in 2012.Colombia saw 24 environmental defenders killed, followed by India on 23 and Brazil on 20.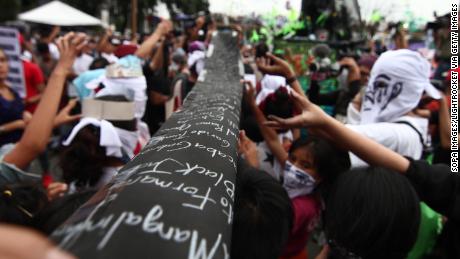 Duterte's time in office has seen a huge wave of killings as part of an ongoing war on drugs."Vicious attacks against land and environmental defenders are still happening, despite growing momentum behind environmental movements the world over," said Alice Harrison, Senior Campaigner at Global Witness."As we hurtle towards climate breakdown, it has never been more important to stand with those who are trying to defend their land and our planet against the reckless destruction being meted out by the rich and powerful."Mining conflicts were behind 43 killings, followed by 21 related to agribusiness, 17 to disputes over water and dams, and 13 to logging .A spike in killings of those defending water sources is concerning, rising from 4 in 2017 to 17 in 2018.Those killed included longtime activists as well as individuals embroiled in specific disputes — for example, a forest guard who was killed by loggers in Senegal.The number of confirmed killings dropped from 201 in 2017, the deadliest year on record, to 164 in 2018. However Global Witness emphasizes that each year the true number may be much higher.Another area of growing concern is the criminalization of environmental activists, who are increasingly subject to oppression through the courts and legal system.The report says the "rise of populist strongmen" around the world has led to increased use of anti-terror and national security legislation to stifle protest, according to the report.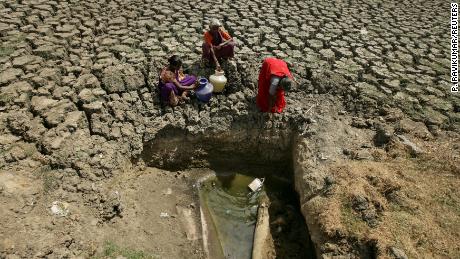 India has just five years to solve its water crisis, experts fear. Otherwise hundreds of millions of lives will be in danger"It is a brutal irony that while judicial systems routinely allow the killers of defenders to walk free, they are also being used to brand the activists themselves as terrorists, spies or dangerous criminals," said Harrison."Both tactics send a clear message to other activists: the stakes for defending their rights are punishingly high for them, their families and their communities."The leaders of various countries are rolling back environmental and human rights protections, Global Witness says.One example is Brazil's far-right President Jair Bolsonaro, who has spoken about opening indigenous reserves to exploitation.Amazon deforestation accelerated more than 60% in June over the same period last year, in what environmentalists say is a sign that Bolsonaro's policies are starting to take effect. This has driven conflict with groups that want to protect the forest. On July 23 the body of Emyra Wajapi, a leader of the Wajapi tribe from the northern Brazilian Amazon, was found in an indigenous area where heavily-armed gold miners had been spotted by locals, according to NGO Survival International.In a statement, the Coordination of Indigenous Organizations of the Brazilian Amazon (COIAB) said such invasions are "encouraged by the irresponsible, authoritarian and prejudiced stance of the current government — especially President Bolsonaro — and its attack on the rights of this country's first peoples."
Source Link:
https://www.cnn.com/2019/07/30/world/global-witness-environment-scli-intl/index.html
[-0.776826]
Comments
comments