(CNN)Another photo of a parent and child near the river that divides the United States and Mexico has sparked an outcry — online and in halls of power.
This isn't the tragic image of a father and daughter who drowned in the Rio Grande. But it shows a different side of a new reality taking shaping south of the US-Mexico border.As a mother and daughter bolt toward the Rio Grande, a man dressed in military fatigues follows closely.He reaches out and grabs the woman's backpack, yanking her away from the river she is steps away from reaching. Another man wearing camouflage and holding a large gun blocks their path.Read MoreThe men in the photograph are members of Mexico's new National Guard. And the photo, taken several days ago in Ciudad Juárez, Mexico, by photographer Hérika Martínez for Agence France-Presse, circulated swiftly on social media after the news agency tweeted it. Nighttime news shows discussed it. Reporters grilled Mexico's President about it during his daily press briefing.The photo shows several migrants from Nicaragua who troops intercepted Friday as they tried to cross the border, Martínez told CNN. One woman had been traveling with her husband and two daughters. They made it across the river. She didn't. Reactions to the photo are mixedMartínez, who's been a journalist in Juárez for more than a decade, said the changing dynamic in the border city is palpable with the recent surge in troops there."It's very different than what we're used to," she said. "And very visible."Reactions to the photograph — and what it represents — have been mixed."There are as many comments in favor of it as against it," Martínez said.Many critics weighed in with a common reaction: Mexico is becoming Trump's border wall.An editorial cartoonist drew his own version of the photograph, replacing the troops' faces with those of Mexican President Andrés Manuel López Obrador and Mexican Foreign Minister Marcelo Ebrard. In the background, the US President watches, peering over a border wall. "National Guard … of Trump," the cartoon's caption reads.
La fotografía de @HerikaMartinez7 para @AFP me inspiró para este cartón… claro y también me inspiró @lopezobrador_ & @m_ebrard … los nuevos Guardias Nacionales… de Trump! Gocen👇🏼@eleconomista #Frontera #Migración #Border #Mañaneras #moneros #cartoon pic.twitter.com/2eQBI9OfLR
— Chavo del Toro 🖌️ (@chavodeltoro) June 24, 2019 Mexican columnist Denise Dresser shared the photo and others in the series with a biting description: "Here the National Guard demonstrates it's 'civil' character, its 'respect for human rights,' its 'training' to conduct police work, and its plain conversion in Border Patrol now in the service of Donald Trump."
Aquí la Guardia Nacional demostrando su carácter "civil", su "respeto a los derechos humanos", su "entrenamiento" para llevar a cabo tareas policiales, y su plena conversión en Border Patrol/Patrulla Fronteriza ahora al servicio de Donald Trump. pic.twitter.com/1FR0f52i6p
— Denise Dresser (@DeniseDresserG) June 23, 2019 "It's the first time I've ever seen Mexican authorities detaining people who are leaving. … It's dramatic that this is happening," photographer Ulises Castellanos told Milenio TV. During the Mexican President's morning news briefing Tuesday, reporters peppered López Obrador with questions about what the photo showed."Can the National Guard detain migrants so they don't cross into the United States?" one journalist asked. "Because you could even see that they were separating a family. It's very severe. … I wanted to ask you to respond to those who say Mexico is building a wall with these 15,000 troops from the National Guard on the border.""It's not like that," López Obrador replied. "It's more than anything regulating the entrance in the south. If these cases occurred, they were not instructed to do this. It's work that corresponds to immigration agents, not to the military. But it could have happened."Mexico is getting tougher on immigration Debate over the photo comes weeks after Mexican officials agreed to step up immigration enforcement as the Trump administration threatened them with tariffs.An immigration crackdown has been increasingly visible on Mexico's southern border, on its northern border and in between. This month, a CNN team observed migrants begging for help inside a detention center in southern Mexico.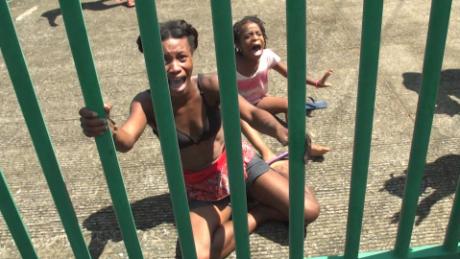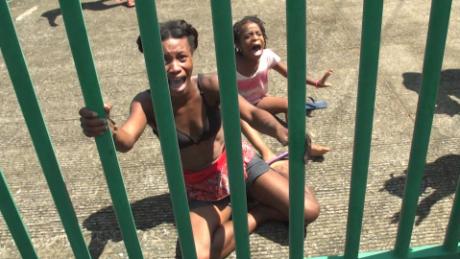 JUST WATCHEDAfrican migrants denounce conditions at Mexico borderReplayMore Videos …MUST WATCH
African migrants denounce conditions at Mexico border 02:08On Monday, Mexico's defense secretary announced that nearly 15,000 troops had been deployed to the US-Mexico border. And authorities have said that deportations from Mexico are on the rise.
Military officers surround migrants protesting outside a shelter in Tapachula, Mexico, on June 18.Immigrant rights advocates in Mexico have warned that the government's increased enforcement violates migrants' rights and contradicts López Obrador's one-time campaign promise that he wouldn't do the United States' "dirty work."López Obrador maintains that he's had no choice but to negotiate."We have to avoid a confrontation with the United States government," he said this week. "We have to act with moderation."
Source Link:
https://www.cnn.com/2019/06/26/americas/mexico-immigration-crackdown/index.html
[-0.673389]
Comments
comments