(CNN)The mysterious disappearance of a tree planted in the White House grounds last week by US President Donald Trump and French President Emmanuel Macron has been solved: It's in quarantine.
Rumors swirled after a picture taken by Reuters photographer Yuri Gripas appeared to show a yellow spot on the South Lawn of the White House where the tree had previously stood. Late Sunday, the French ambassador to the US, Gerard Araud, said the tree's "disappearance" was only temporary. "It is in quarantine which is mandatory for any living organism imported to the US. It will be replanted afterwards," Araud tweeted.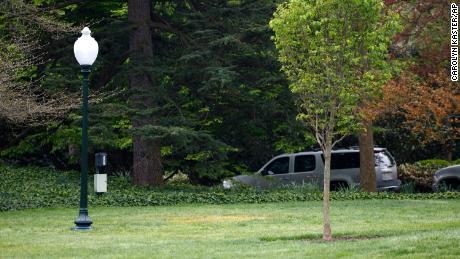 This photo, taken Saturday, shows an empty area where the tree was planted last week. The young tree was planted in the area between the light on the left and the tree on the right.Araud said its roots "were enclosed in a plastic protection" and "remained carefully isolated."Stephanie Grisham, spokeswoman for first lady Melania Trump, who coordinated the ceremonial aspects of the Macron visit, told CNN Monday the plan was always to quarantine the tree.Read MoreReuters reported that the tree would be inspected for parasites, which could spread to other trees nearby if left unchecked.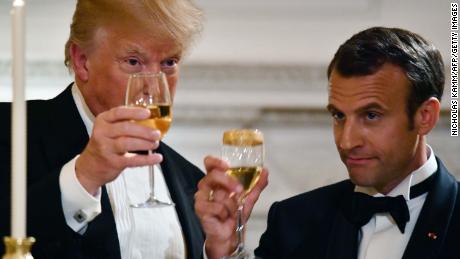 Why Macron couldn't keep his hands off TrumpAccording to US Customs and Border Protection regulations, all plants brought into the country must be declared and inspected by agriculture specialists. While some plants can be brought into the US without advance permission, "certain plants and ANY plant parts intended for growing (propagative) require a foreign phytosanitary certificate in advance." Watched by their wives and the world's press, the two leaders planted the tree on the South Lawn of the White House shortly after Macron's arrival.The European sessile oak, which is about four feet and five inches tall and five to 10 years old, was a gift from the French President. It came from Belleau Wood, a historic landmark of American involvement in World War I, the White House said in a statement."Over 9,000 American marines died in the Belleau Wood battle in June 1918 and the forest is a memorial site and important symbol of the sacrifice the United States made to ensure peace and stability in Europe," the White House said.Posting a video of the tree-planting ceremony on Twitter, Macron said the oak would be a "reminder, in the heart of the White House, of this bond that unites us."
Il y a 100 ans, des soldats américains se battaient en France, à Belleau pour défendre notre liberté.Ce chêne (mon cadeau à @realDonaldTrump) sera un rappel, au cœur de la Maison Blanche, de ce lien qui nous unit. pic.twitter.com/7uJcAclPBR
— Emmanuel Macron (@EmmanuelMacron) April 24, 2018
Source Link:
https://www.cnn.com/2018/04/30/politics/trump-macron-tree-quarantine/index.html
[-0.155321]
Comments
comments