(CNN)The title to the classic 1970s hit "It Never Rains in Southern California" has nothing to do with climate change or even precipitation for that matter, but it couldn't be more appropriate for the massive drought hitting the entire state this spring.
All of California is in drought, ranging from moderate (level D1) to exceptional (level D4). The last time this happened was in October 2014.The drought has intensified, with the worst level now covering 14% of the state, up from 5% last week."Moving into dry season, California is expecting drought impacts to intensify during the summer months," this week's US Drought Monitor summary explains.
All of CA is now in moderate drought or worse (D1). The last time the whole state was D1 was in October 2014. Drought also intensified, with exceptional drought (D4) now covering 14% of California, up from 5% the week before. #USDroughtMonitor #CAdrought pic.twitter.com/pDxdSRsc7d
— Drought Center (@DroughtCenter) May 13, 2021 The winter rain and snow were again well below average and the long-term water deficit over the West is creating the potential for another devastating wildfire season. Read More"There's no sugar coating it. It looks like fire season 2021 is going to be a rough one in California, and throughout much of the West, unfortunately," warns Daniel Swain, climate scientist for UCLA and The Nature Conservancy."A combination of factors — including short-term severe to extreme drought and long-term climate change — are in alignment for yet another year of exceptionally high risk across much of California's potentially flammable landscapes," Swain says.Fire has now become a way of life in the Western states, just like severe weather is in the Plains. It is no longer if it occurs, but when, where and how bad.The 2020 fire season was the worst in the state's history and 2021 could potentially be worse.As of May 5, California has already seen seven times the amount of acres burned, compared to the same time frame last year.
California has already experienced a significant increase in the number of wildfires and acres burned compared to this time last year. Now more than ever it's critical that all Californians are prepared for wildfires. Learn more: https://t.co/9pM4R3eJxj. #WildfirePreparednessWeek pic.twitter.com/1D4DrVHBTH
— CAL FIRE (@CAL_FIRE) May 5, 2021 Gov. Gavin Newsom this week issued an emergency declaration for much of the state to deal with the drought crisis.The declaration directs state agencies to take action to increase drought resilience, modify reservoir releases to conserve water, and allows for more flexible water transfers between rights holders. Swain explains why this year's fire season is so concerning:Some aspects of fire season are predictable, such as the state of the vegetation leading into it and temperature projections for the summer to come. Both of those point in the direction of an elevated risk.Since vegetation conditions are currently setting new records for dryness and flammability, and because the seasonal outlook continues to call for a warmer than average summer/autumn across most of California, it's easy to see why many folks are concerned."Each year is unique. Drought helps set the stage," says Amanda Sheffield with the federal National Integrated Drought Information System.Not enough snow to provide adequate water"California and many parts of the West rely on snowpack for water resources. The poor snowpack, plus rapid spring snow melt has left areas of the West with not just low snow water equivalent (SWE) compared to normal for this date, but almost no SWE at all, including California at just 6% of normal and the Lower Colorado at just 4% of normal," says Sheffield, the California-Nevada regional drought information coordinator with the agency.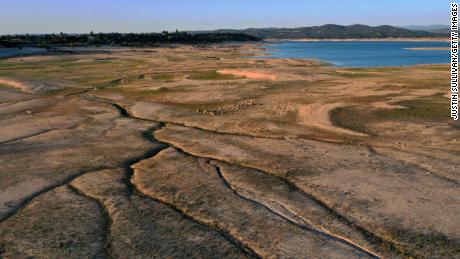 Drought emergency declared in most of California amid 'acute water supply shortfalls'"There's essentially no snowpack left in the mountains," confirms Swain. "What's amazing to me as a climate scientist is to see the snow melt occur and then to see the rivers lakes and steams not responding. The soil under the snow is so dry that there is no runoff.""This is one of the reasons why I think the highest increase in risk for wildfires will probably be in the forests. The risk of big true forest fires is going to be especially elevated in California," says Swain. He predicts the Sierra Nevada, the foothills ringing the Central Valley and the coastal forests including the redwoods are very much at risk.Other states in the West also are dealing with extreme water shortages. The snowpack in all of the states west of the Continental Divide is below normal and early-season warm weather is melting much of what's there."Severe and still-worsening drought, extremely dry vegetation, plus strong expectation of a hotter-than-average summer are deeply concerning," says Swain.The record 2020 wildfire season was not all human-induced. Millions of acres burned due to lightning strikes alone.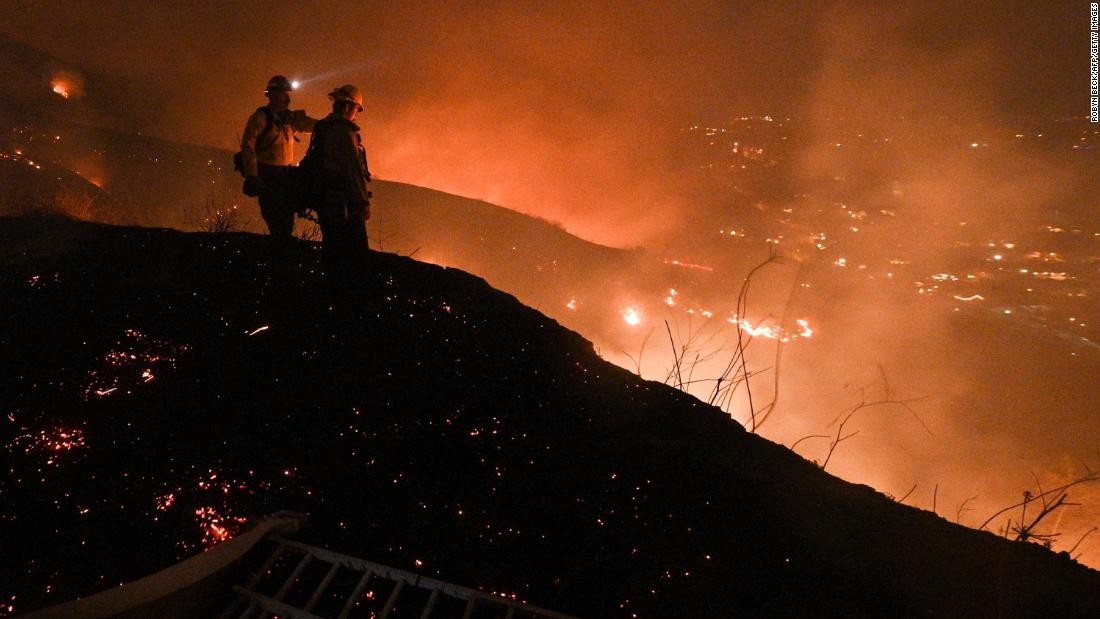 Photos: Wildfires burning in the WestFirefighters look out over a burning hillside as they fight the Blue Ridge Fire in Yorba Linda, California, on Monday, October 26.Hide Caption 1 of 124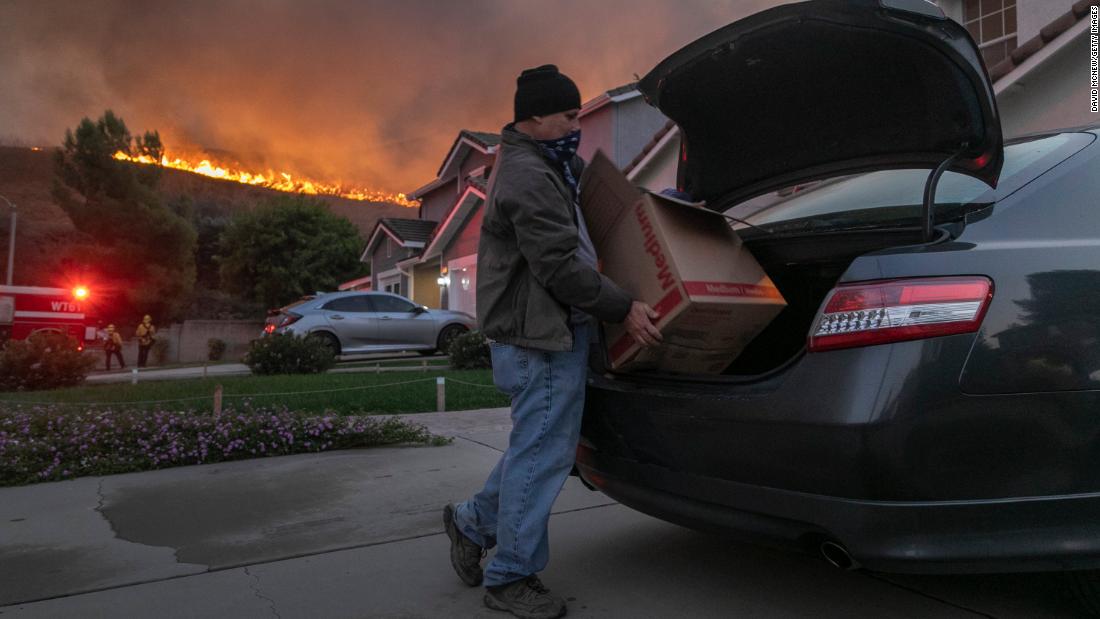 Photos: Wildfires burning in the WestA man evacuates his home as flames from the Blue Ridge Fire approach in Chino Hills, California, on Tuesday, October 27.Hide Caption 2 of 124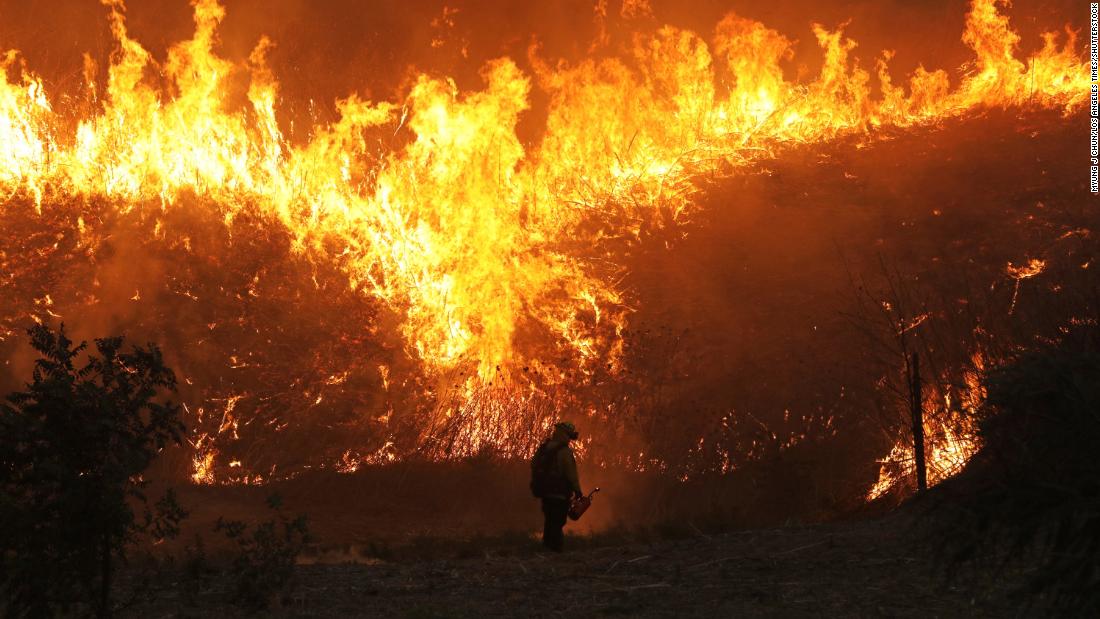 Photos: Wildfires burning in the WestFirefighters conduct a backfire operation in Chino Hills on October 27.Hide Caption 3 of 124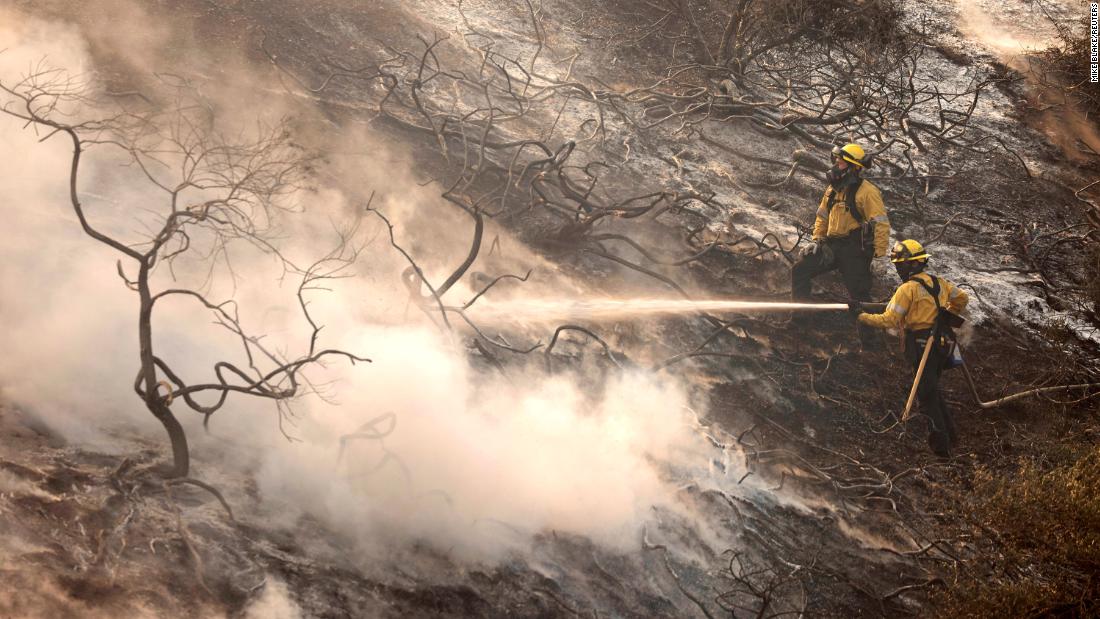 Photos: Wildfires burning in the WestA firefighter uses a hose as the Silverado Fire approaches near Irvine, California.Hide Caption 4 of 124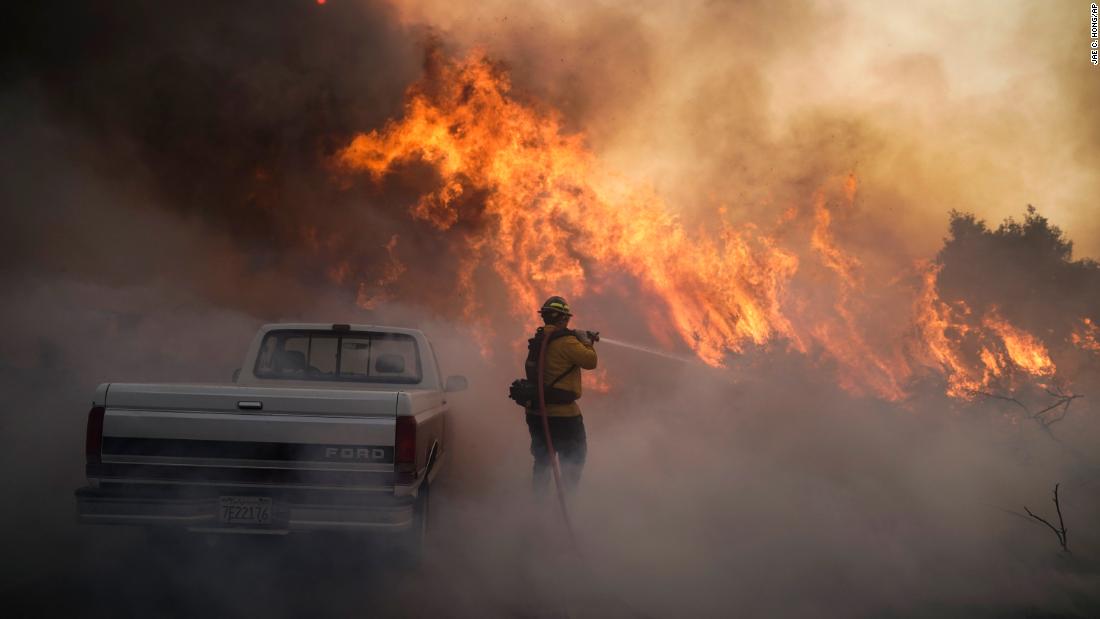 Photos: Wildfires burning in the WestFirefighter Raymond Vasquez battles the Silverado Fire in Irvine on Monday, October 26.Hide Caption 5 of 124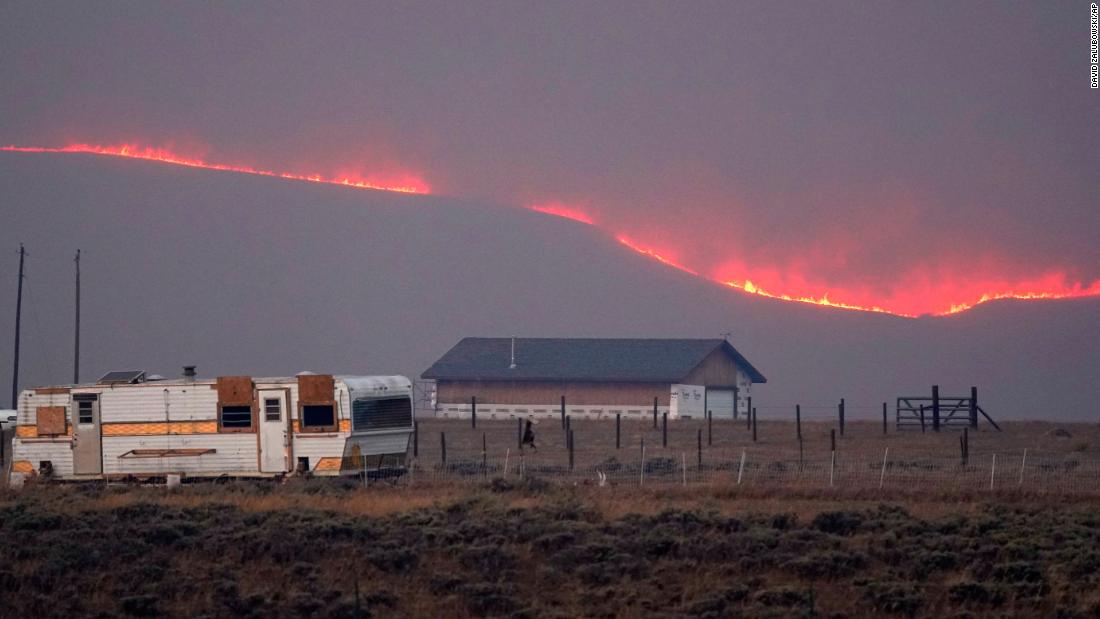 Photos: Wildfires burning in the WestFlames rise from mountain ridges near a farmstead as a wildfire burns near Granby, Colorado, on Thursday, October 22.Hide Caption 6 of 124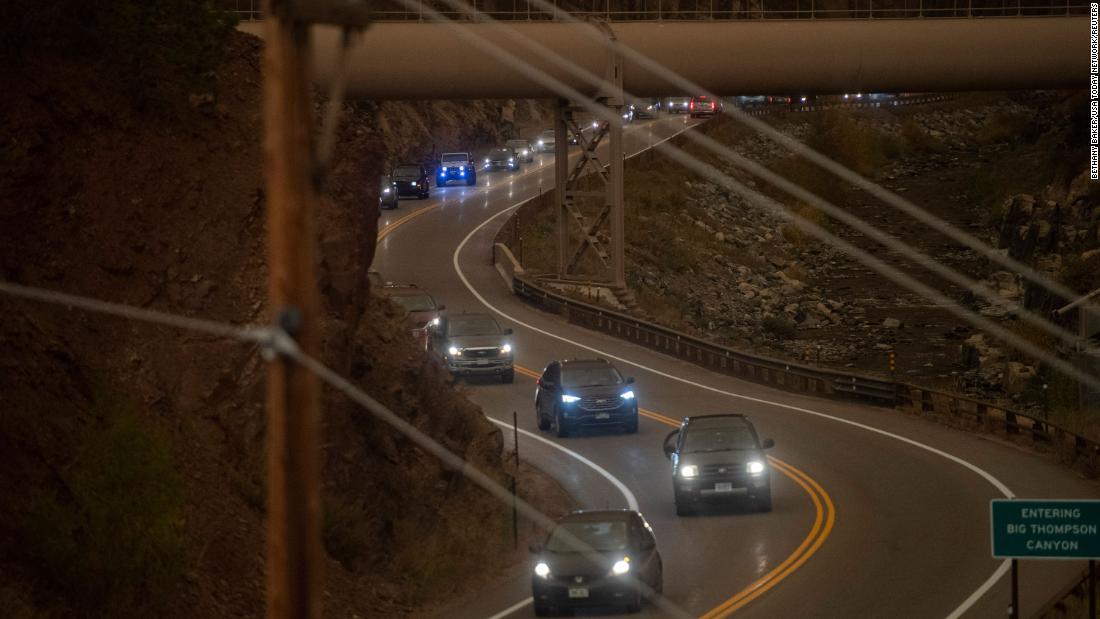 Photos: Wildfires burning in the WestEvacuees drive through a traffic jam exiting Big Thompson Canyon as the East Troublesome Fire forced residents out of Estes Park, Colorado, on October 22.Hide Caption 7 of 124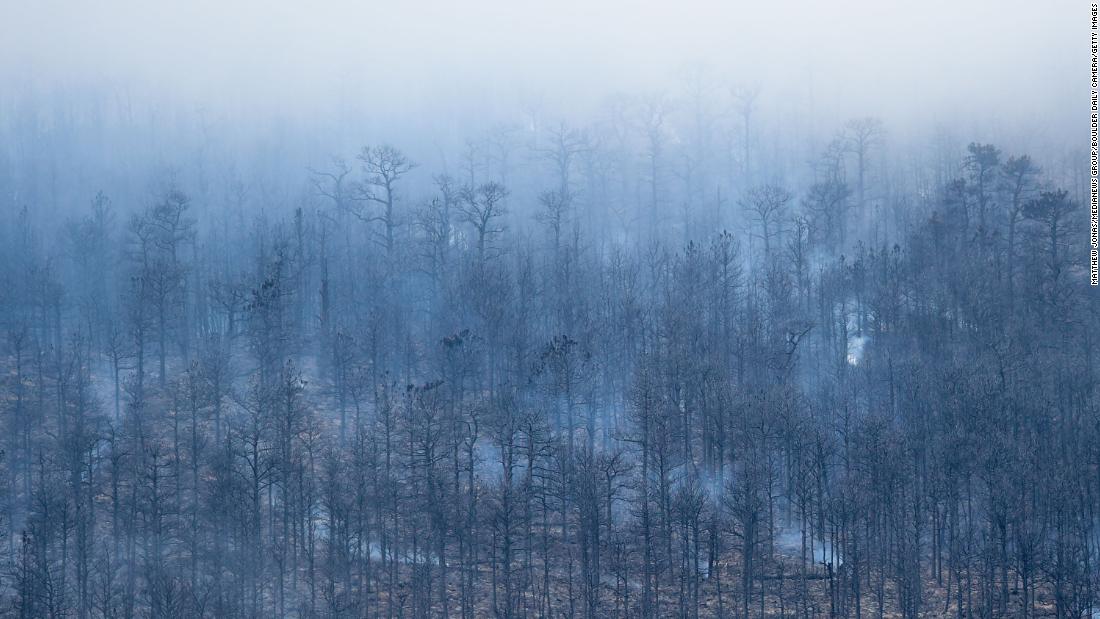 Photos: Wildfires burning in the WestStructures burned by the Cal-Wood Fire are seen in Boulder County, Colorado, on October 18.Hide Caption 8 of 124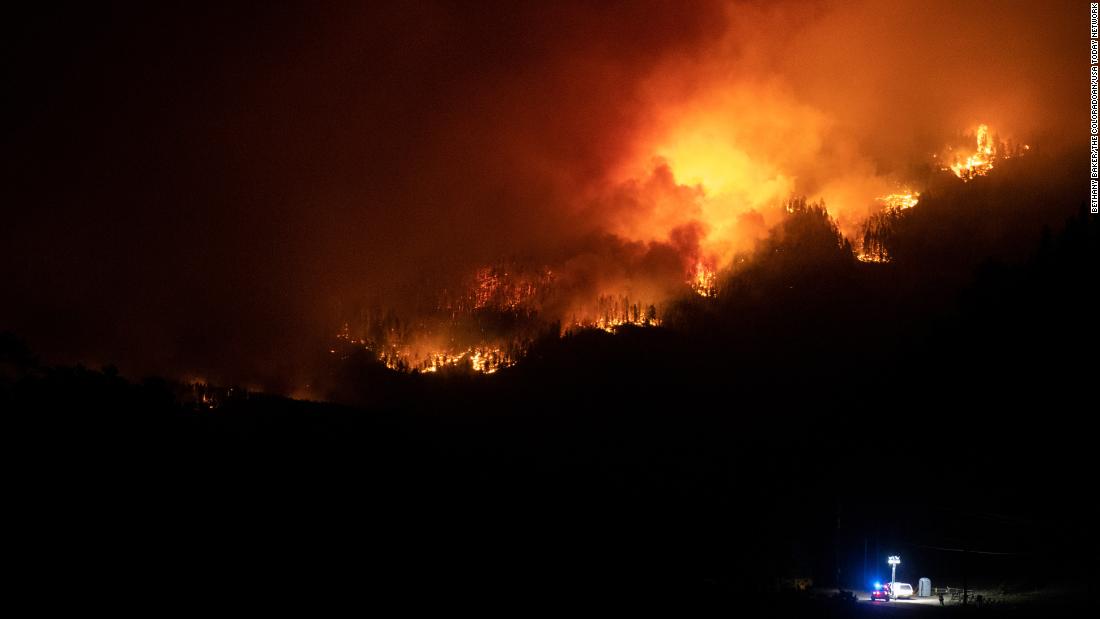 Photos: Wildfires burning in the WestFlames from the Cameron Peak Fire, the largest wildfire in Colorado history, work their way along a ridge outside Estes Park on October 16.Hide Caption 9 of 124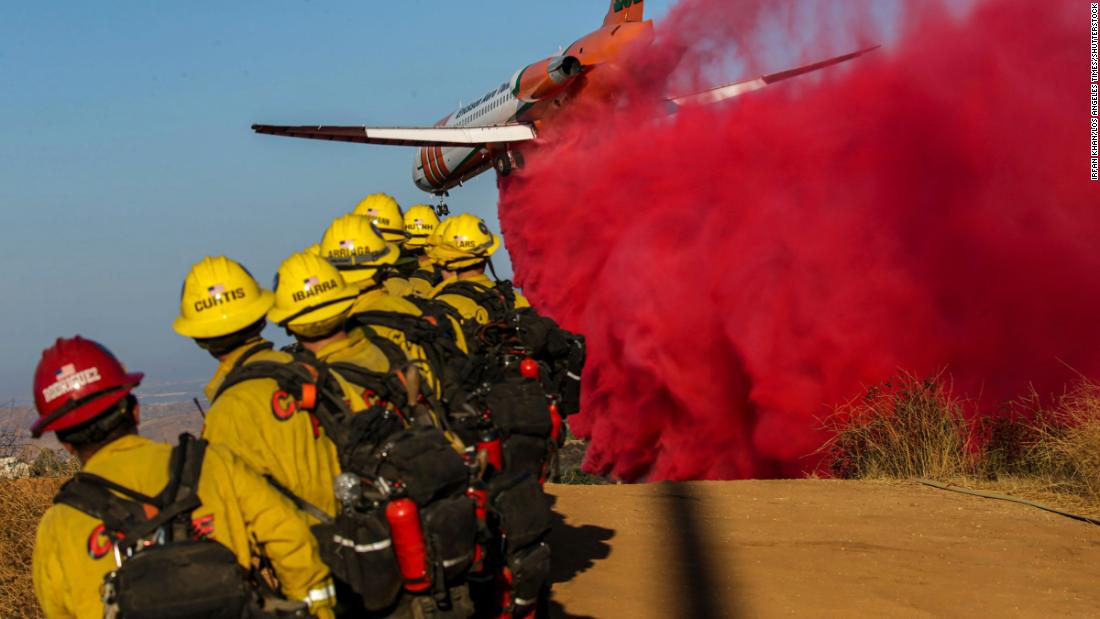 Photos: Wildfires burning in the WestAn airplane drops fire retardant on the Bruder Fire in Redlands, California, on October 15.Hide Caption 10 of 124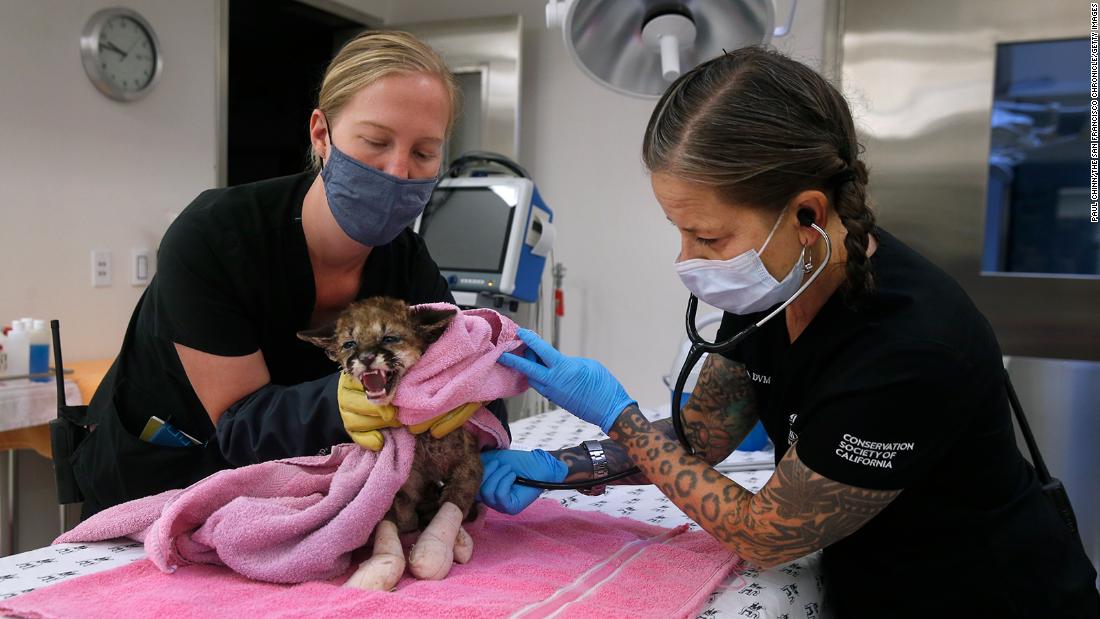 Photos: Wildfires burning in the WestDr. Alex Herman, right, and veterinary technician Linden West examine Captain Cal, a 6-week-old mountain lion cub recovering from severe burn injuries at the Oakland Zoo Hospital in Oakland, California. The zoo later took in two more cubs rescued from the same fire.Hide Caption 11 of 124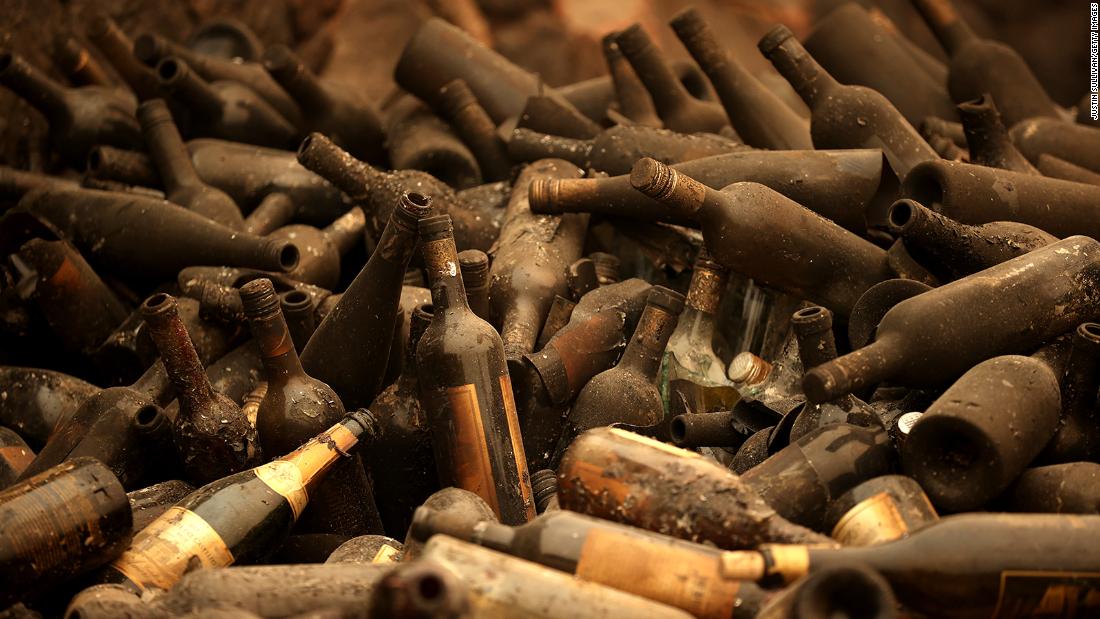 Photos: Wildfires burning in the WestBurned bottles of wine sit in a pile at the Castello di Amorosa winery, which was destroyed by the Glass Fire in Calistoga, California, on October 1. Wildfires have damaged and destroyed dozens of the region's famed wineries, many of them family-owned businesses.Hide Caption 12 of 124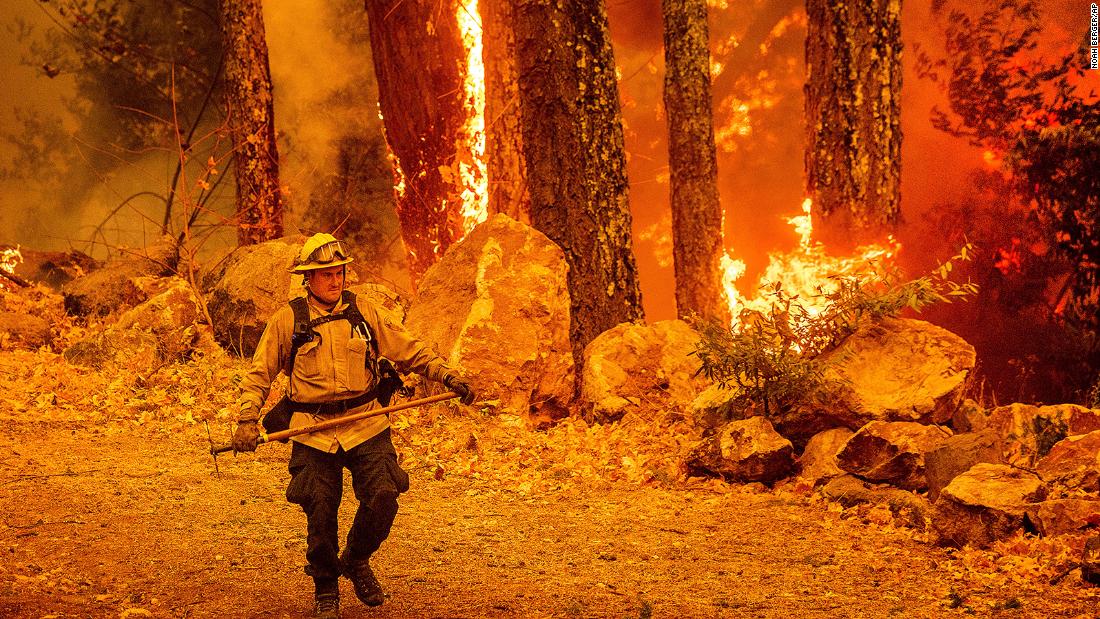 Photos: Wildfires burning in the WestA firefighter walks along a path as the Glass Fire burns in Calistoga, California, on October 1.Hide Caption 13 of 124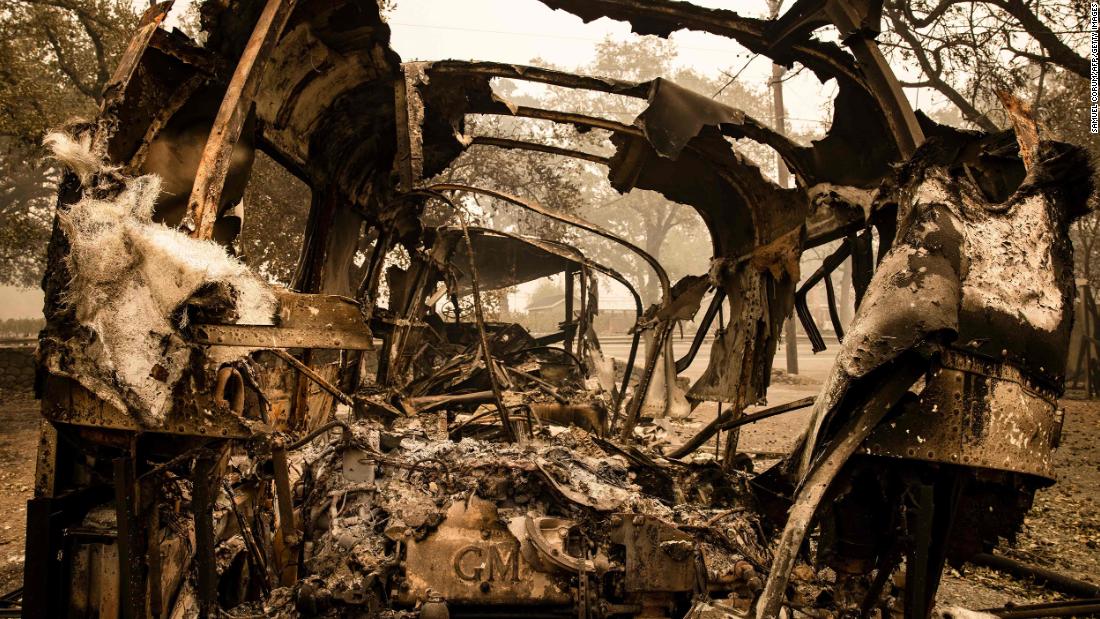 Photos: Wildfires burning in the WestVehicles burned in the Glass Fire sit outside of a home that survived in Calistoga on September 30.Hide Caption 14 of 124
Photos: Wildfires burning in the WestThe remains of guest houses smolder at Calistoga Ranch after the Glass Fire passed through on September 30.Hide Caption 15 of 124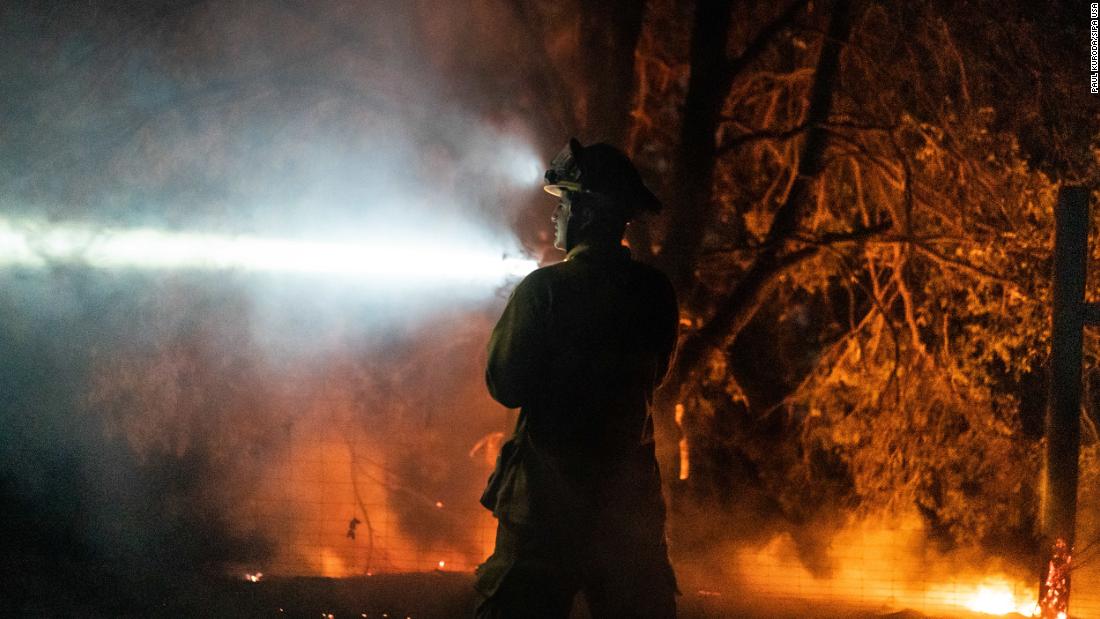 Photos: Wildfires burning in the WestFirefighter Abraham Garcia signals a water truck in Angwin, California, on September 29.Hide Caption 16 of 124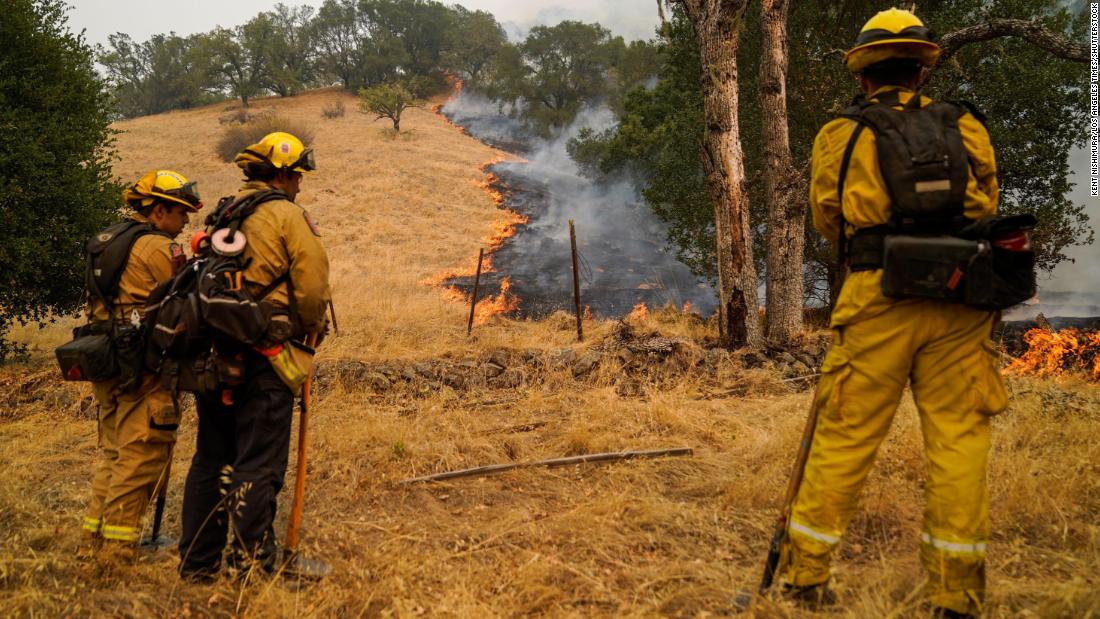 Photos: Wildfires burning in the WestFirefighters watch the Glass Fire slowly creep across a clearing near Calistoga on September 29.Hide Caption 17 of 124
Photos: Wildfires burning in the WestDamaged wine barrels sit stacked at the Fairwinds Estate Winery in Calistoga on September 29.Hide Caption 18 of 124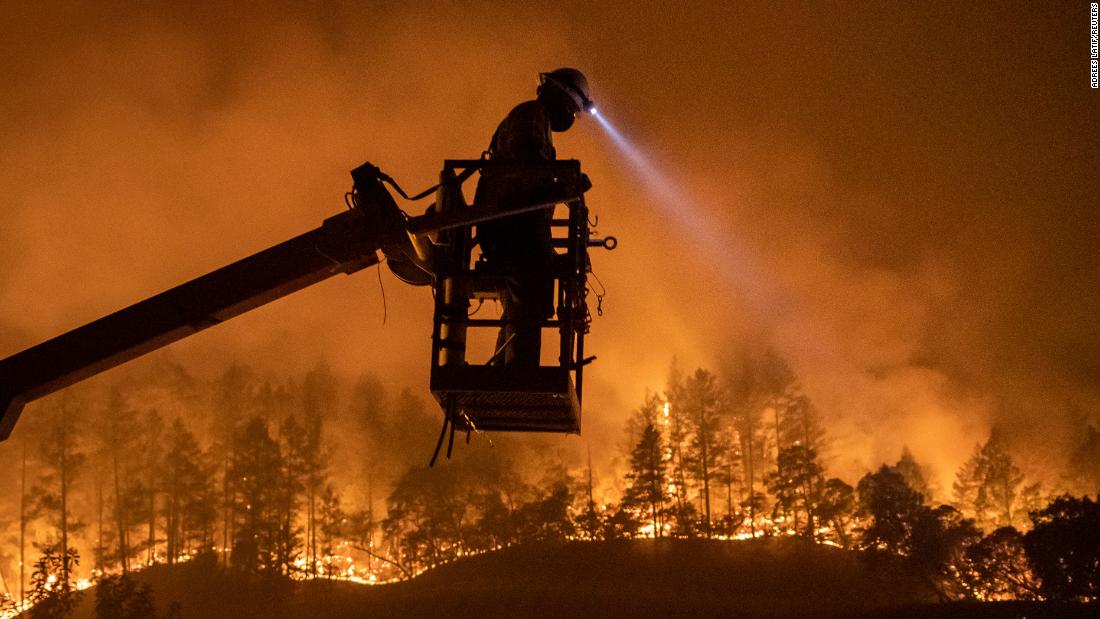 Photos: Wildfires burning in the WestThe Glass Fire burns in the background as Josh Asbury, an employee of CableCom, installs fiber-optic cable in Calistoga on September 28.Hide Caption 19 of 124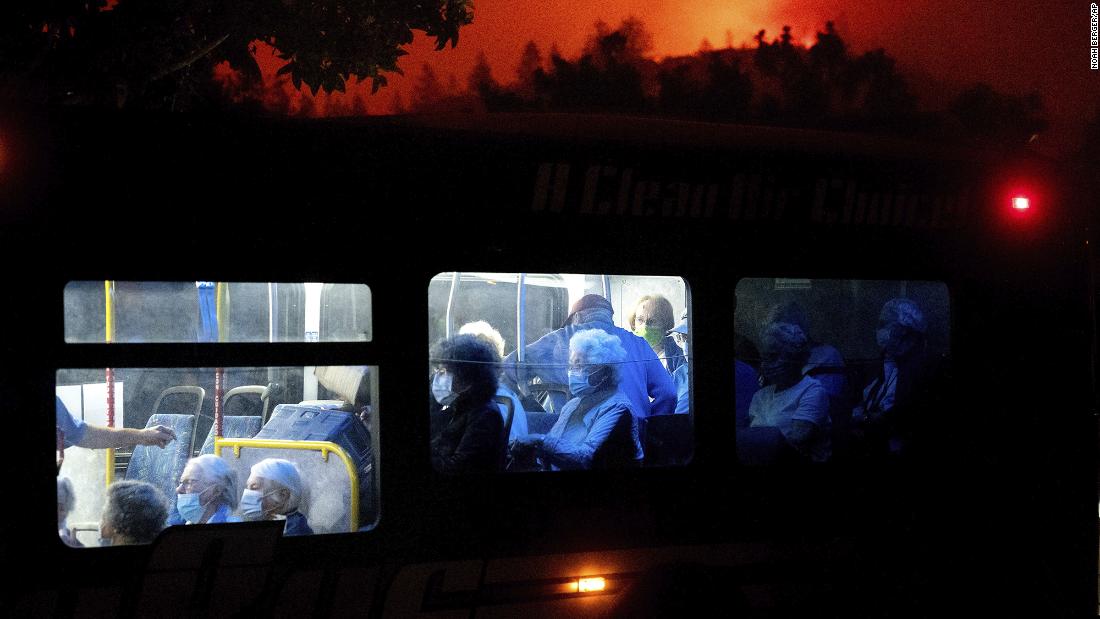 Photos: Wildfires burning in the WestResidents of the Oakmont Gardens senior home are transported to safety as the Shady Fire approaches in Santa Rosa on September 28.Hide Caption 20 of 124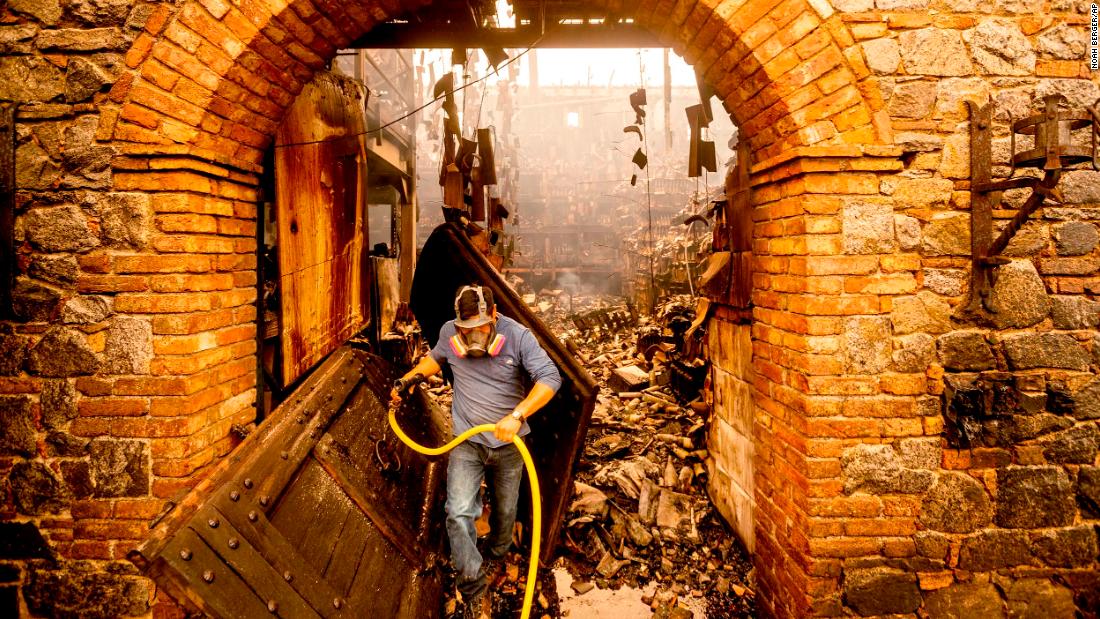 Photos: Wildfires burning in the WestCellar worker Jose Juan Perez extinguishes hotspots at Castello di Amorosa, a Calistoga winery that was damaged in the Glass Fire.Hide Caption 21 of 124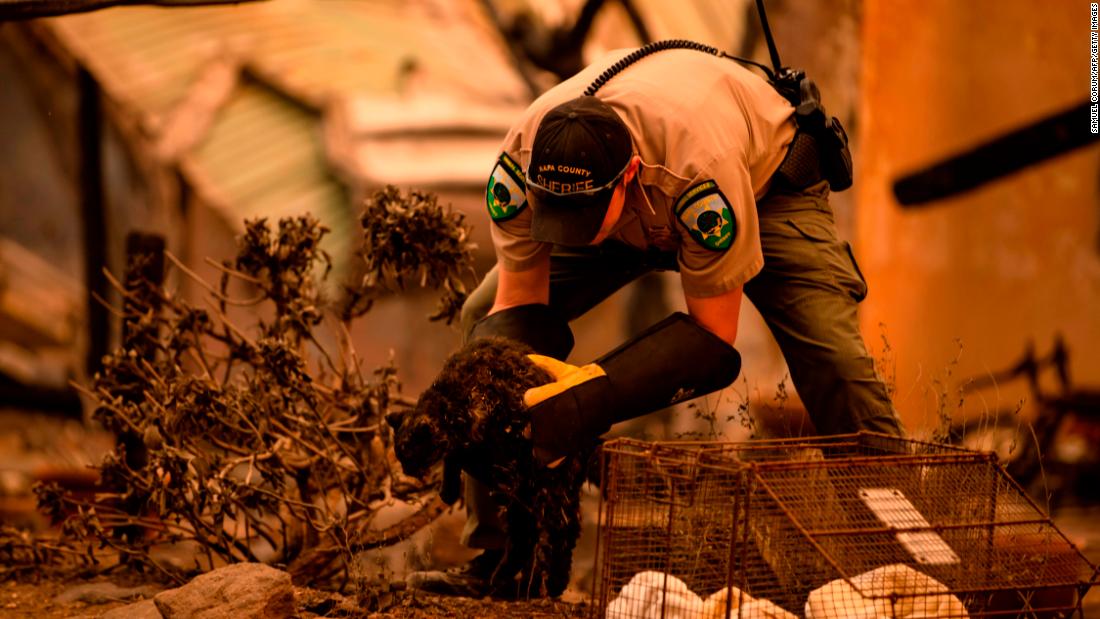 Photos: Wildfires burning in the WestAn officer with Napa County Animal Control rescues a cat after the Glass Fire passed through Napa Valley, California, on September 28.Hide Caption 22 of 124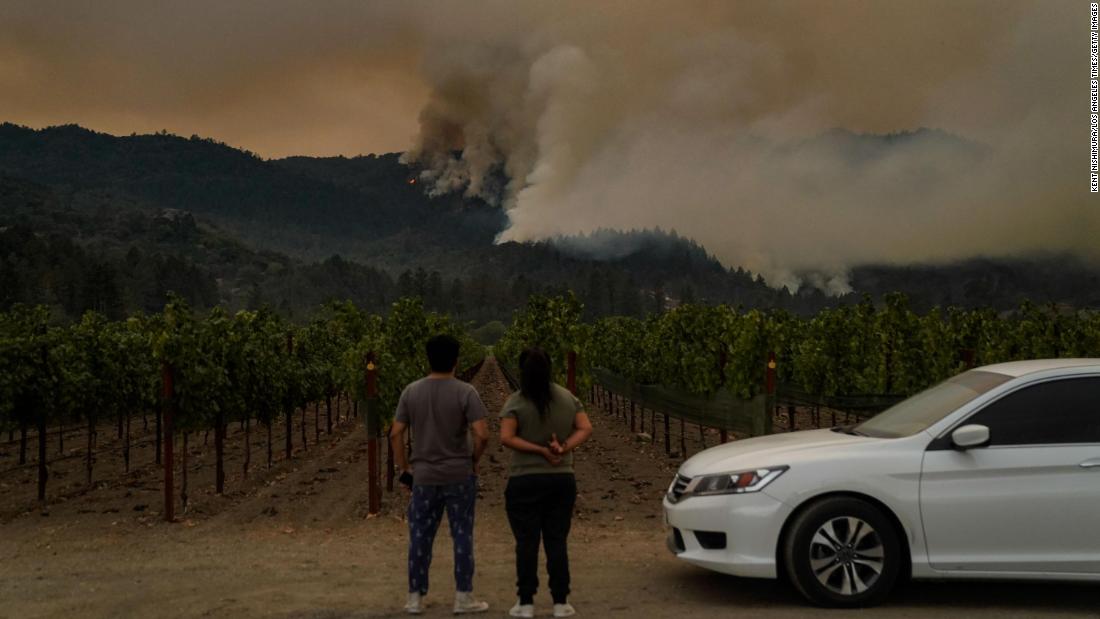 Photos: Wildfires burning in the WestThe Glass Fire burns on a Napa County mountainside on September 28. Hide Caption 23 of 124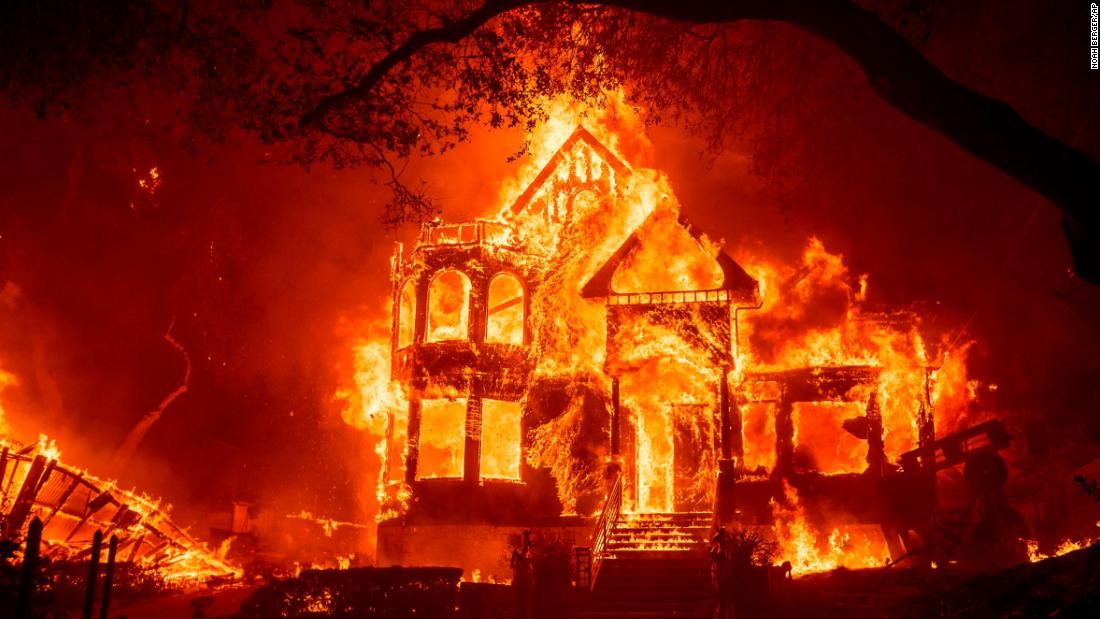 Photos: Wildfires burning in the WestFlames from the Glass Fire consume the Black Rock Inn in St. Helena, California, on September 27.Hide Caption 24 of 124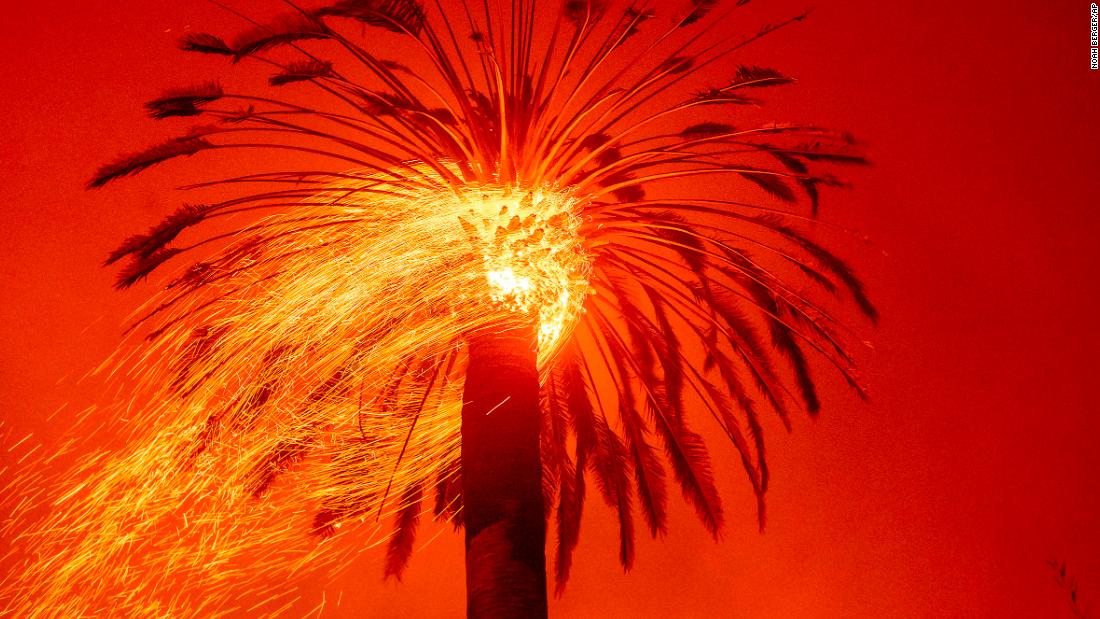 Photos: Wildfires burning in the WestEmbers fly from a tree as the Glass Fire burns in St. Helena on September 27.Hide Caption 25 of 124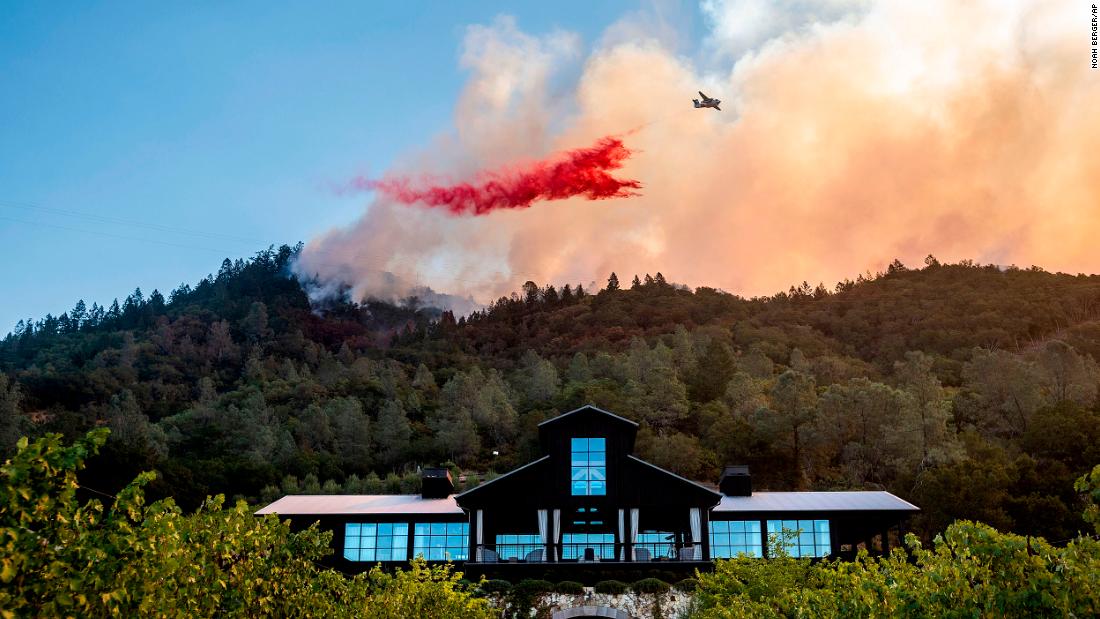 Photos: Wildfires burning in the WestAn air tanker drops fire retardant on the Glass Fire, which was burning near the Davis Estates winery in Calistoga on September 27. Hide Caption 26 of 124
Photos: Wildfires burning in the WestCal Fire Capt. Jesse Campbell works to save the Louis Stralla Water Treatment Plant as the Glass Fire burns in St. Helena.Hide Caption 27 of 124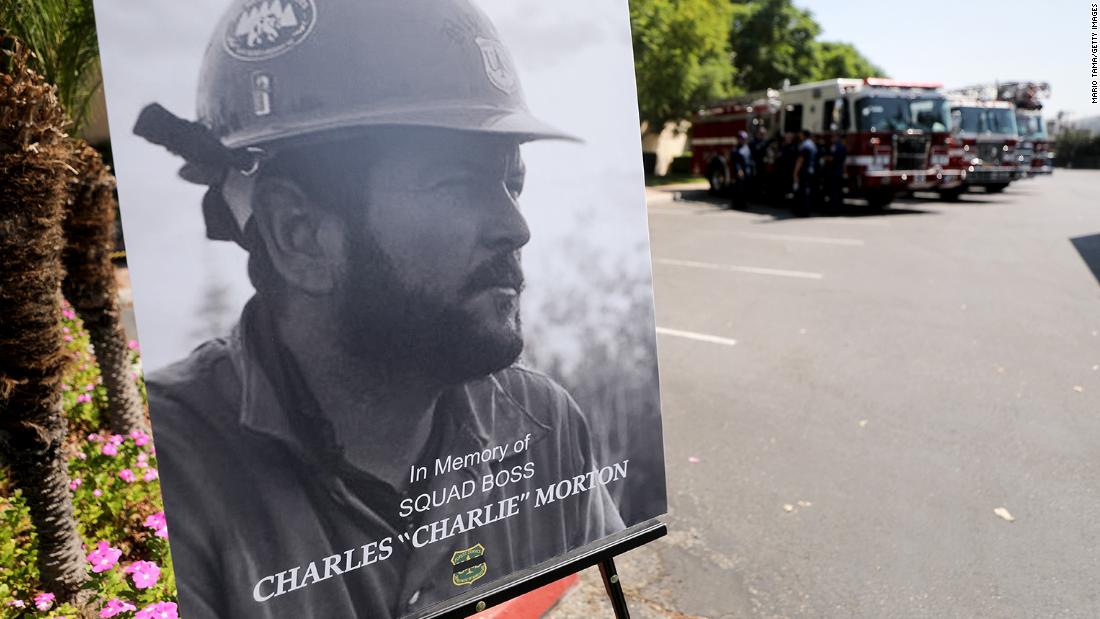 Photos: Wildfires burning in the WestA photograph of Charles Morton, a firefighter killed battling the El Dorado Fire, is displayed at a memorial service in San Bernardino, California, on September 25. Morton, 39, was a 14-year veteran of the US Forest Service and a squad boss with the Big Bear Hotshot Crew of the San Bernardino National Forest.Hide Caption 28 of 124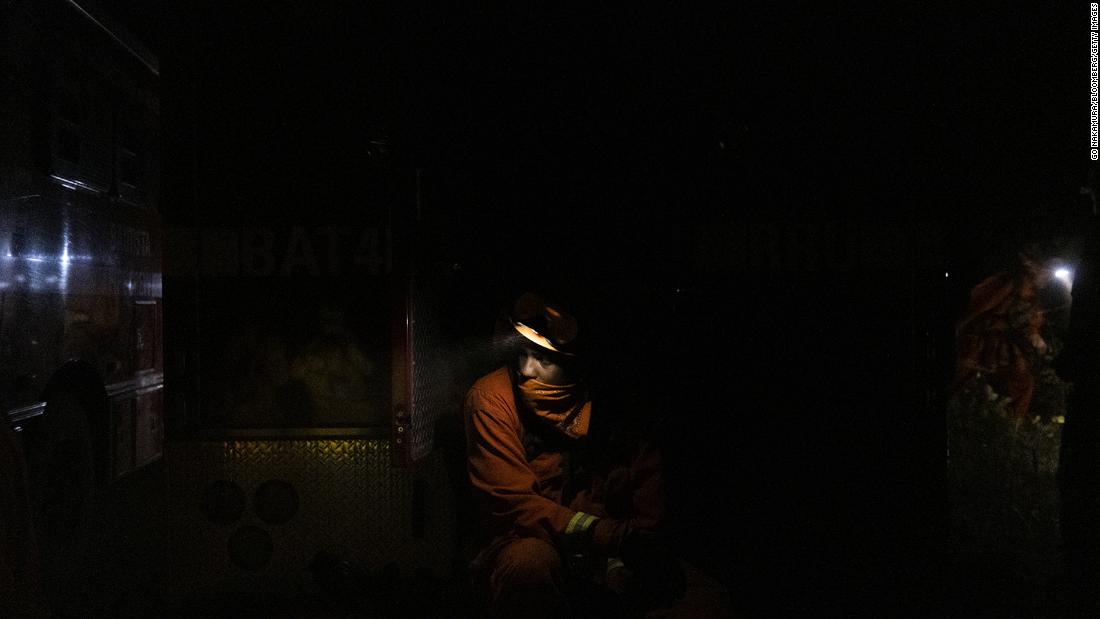 Photos: Wildfires burning in the WestAn inmate firefighter takes a break while working to contain the Bear Fire in Oroville, California, on September 24.Hide Caption 29 of 124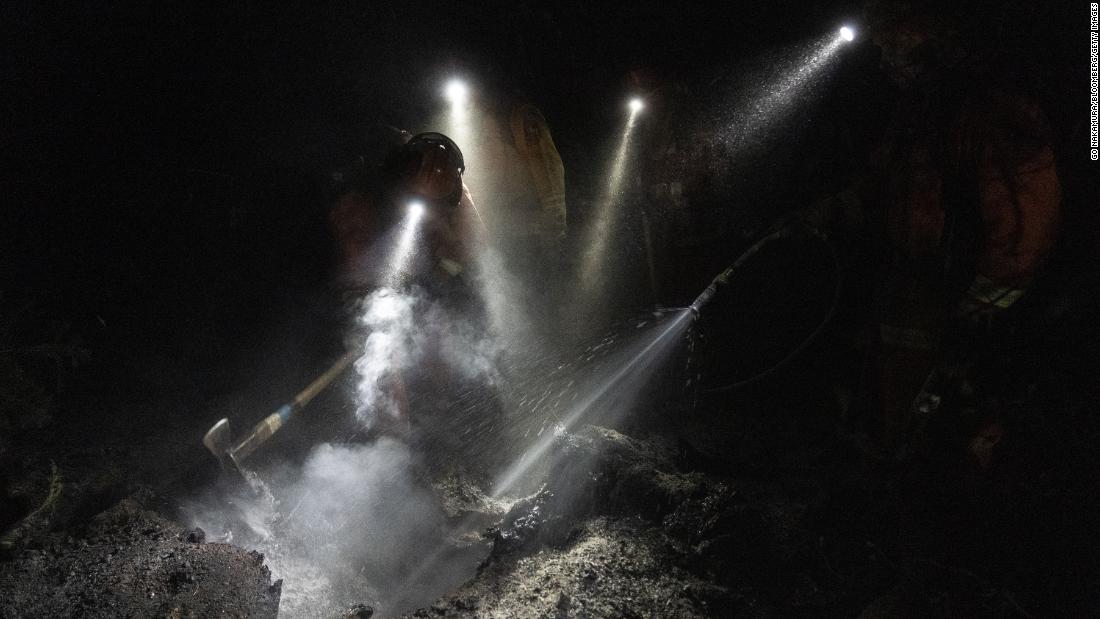 Photos: Wildfires burning in the WestInmate firefighters extinguish hot spots while working to contain the Bear Fire on September 24.Hide Caption 30 of 124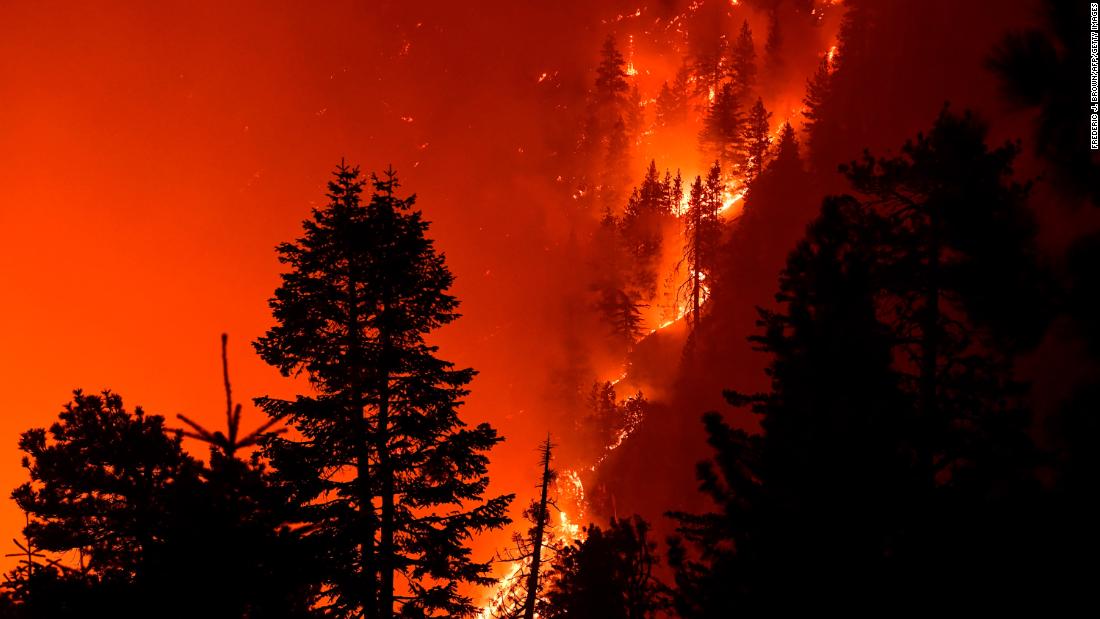 Photos: Wildfires burning in the WestThe Bobcat Fire burns near Cedar Springs, California, on September 21.Hide Caption 31 of 124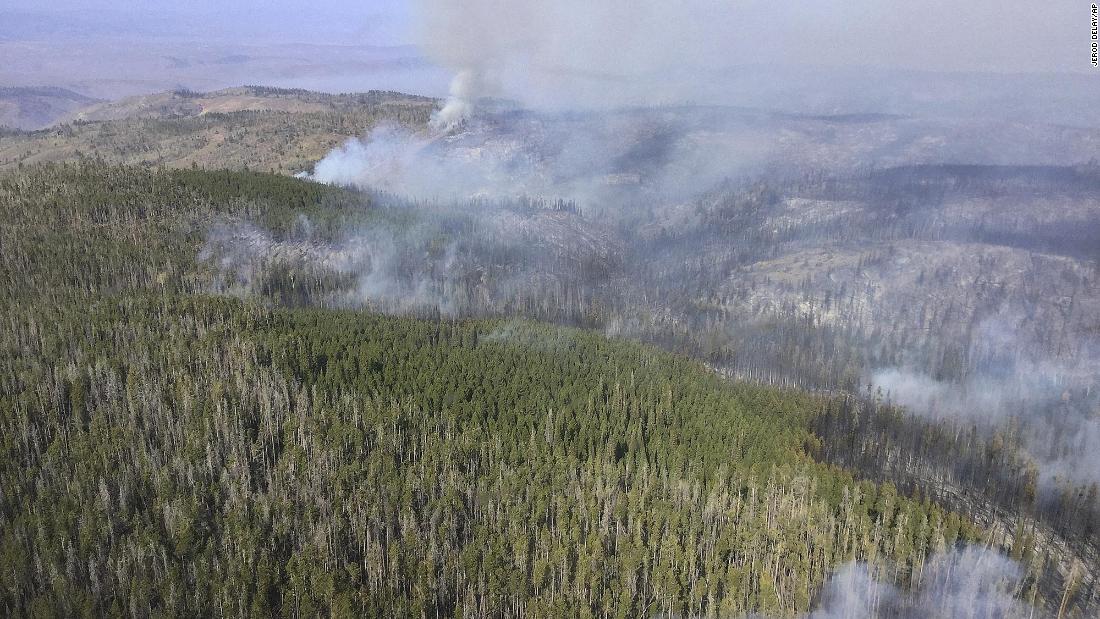 Photos: Wildfires burning in the WestWildfire smoke rises in Medicine Bow National Forest in southeastern Wyoming on September 21.Hide Caption 32 of 124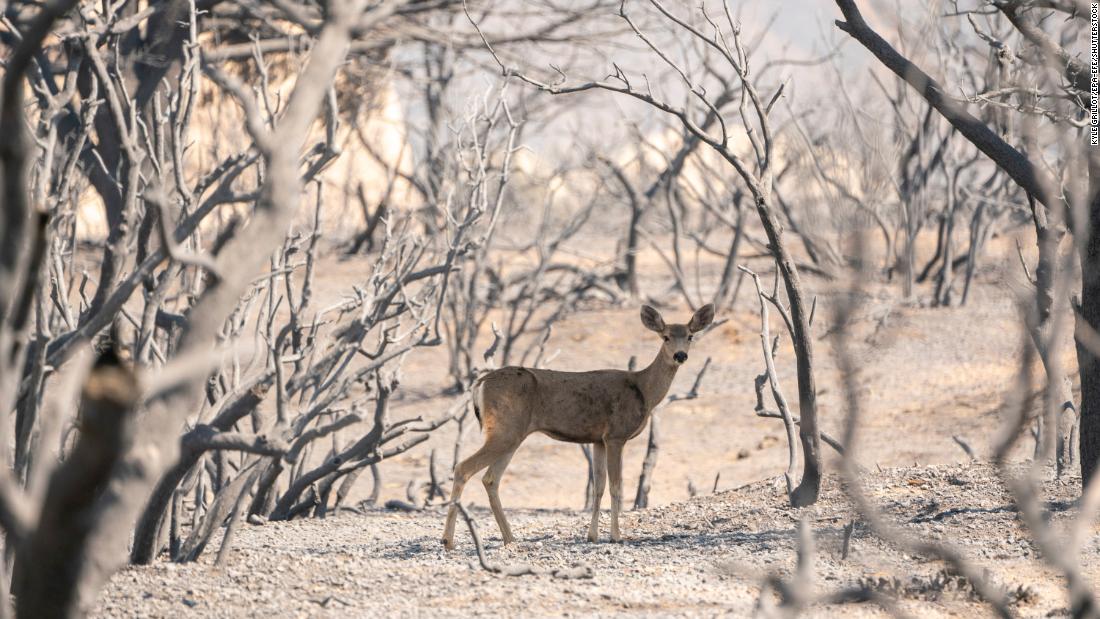 Photos: Wildfires burning in the WestA deer looks for food in an area burned by the Bobcat Fire in Pearblossom, California.Hide Caption 33 of 124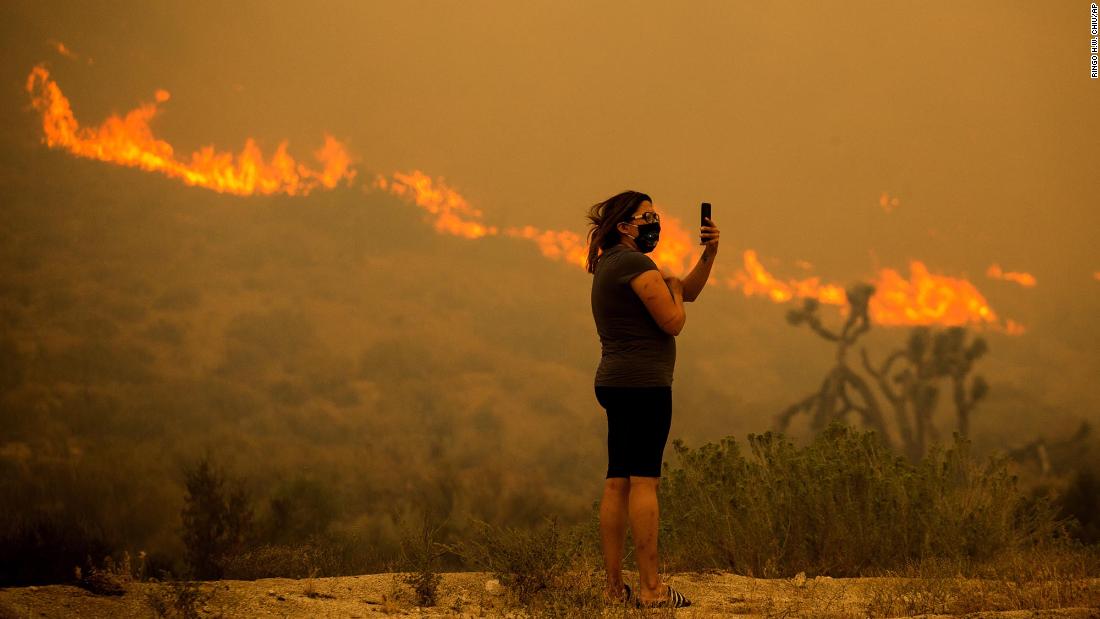 Photos: Wildfires burning in the WestA woman takes photos as the Bobcat Fire burns in Juniper Hills, California, on September 18.Hide Caption 34 of 124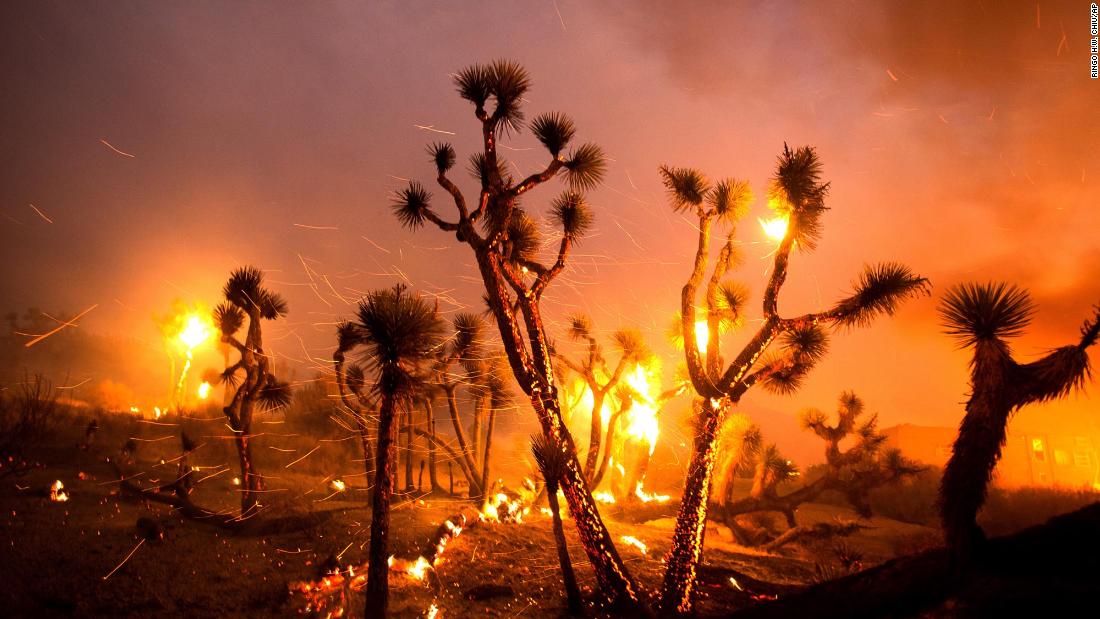 Photos: Wildfires burning in the WestWind whips embers from Joshua trees burned by the Bobcat Fire in Juniper Hills on September 18.Hide Caption 35 of 124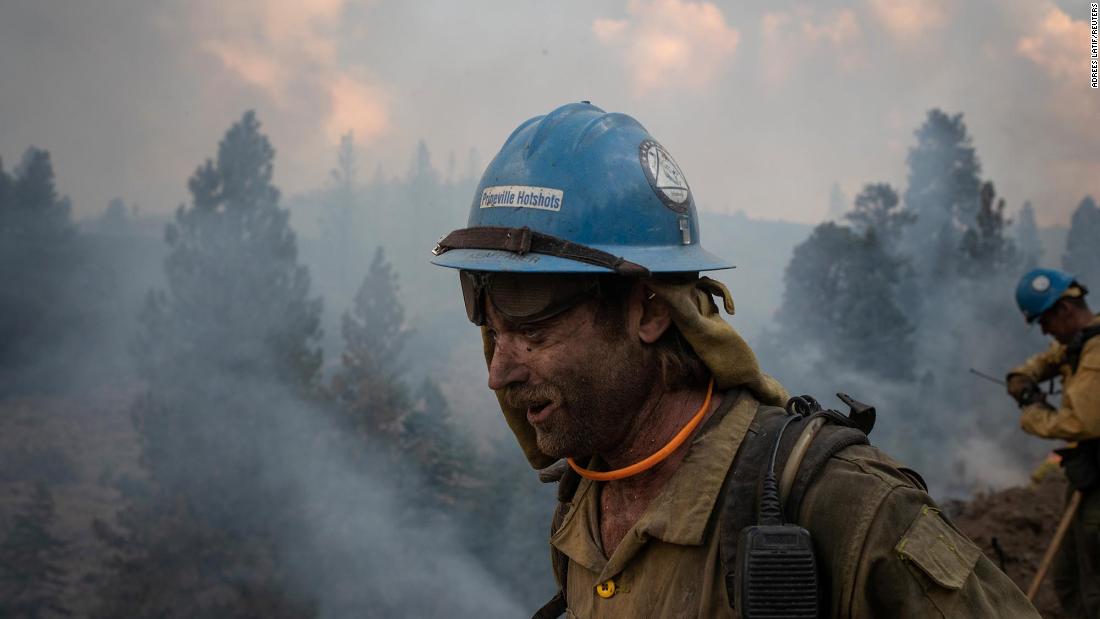 Photos: Wildfires burning in the WestFirefighter Kirk McDusky walks past smoke rising from the Brattain Fire in Paisley, Oregon, on September 18. Hide Caption 36 of 124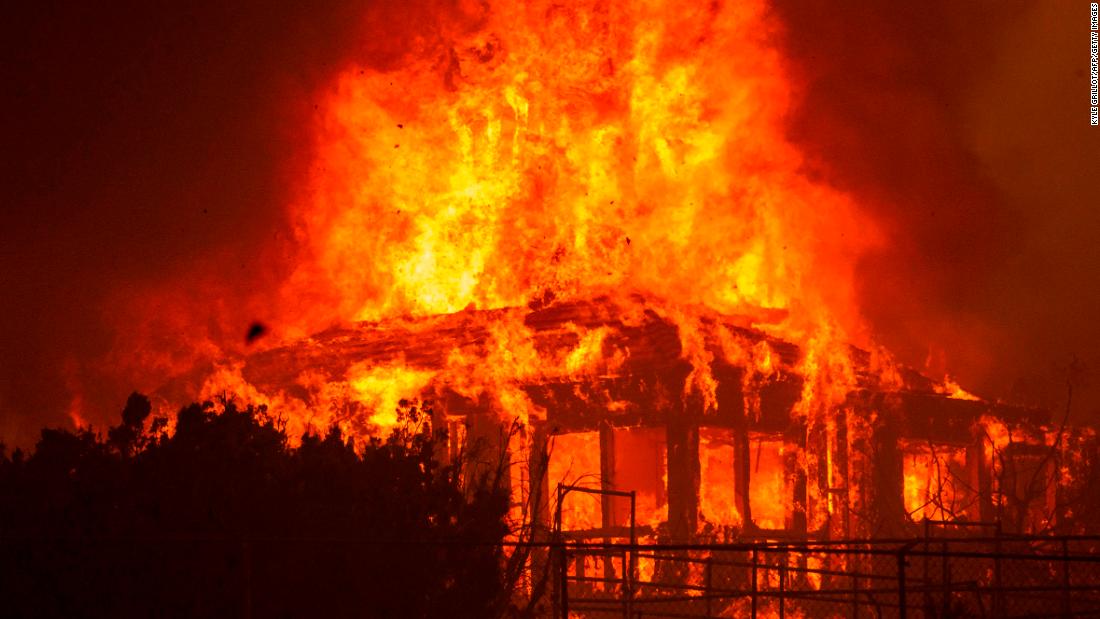 Photos: Wildfires burning in the WestA Juniper Hills home burns during the Bobcat Fire on September 18.Hide Caption 37 of 124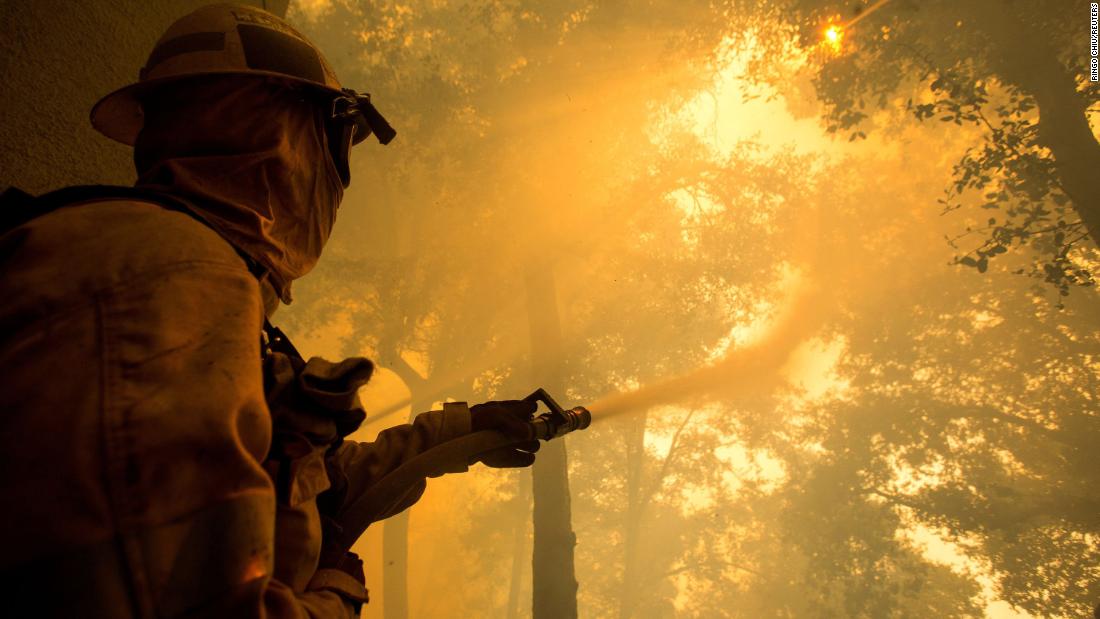 Photos: Wildfires burning in the WestA firefighter battles the Bobcat Fire while defending the Mount Wilson observatory in Los Angeles on September 17.Hide Caption 38 of 124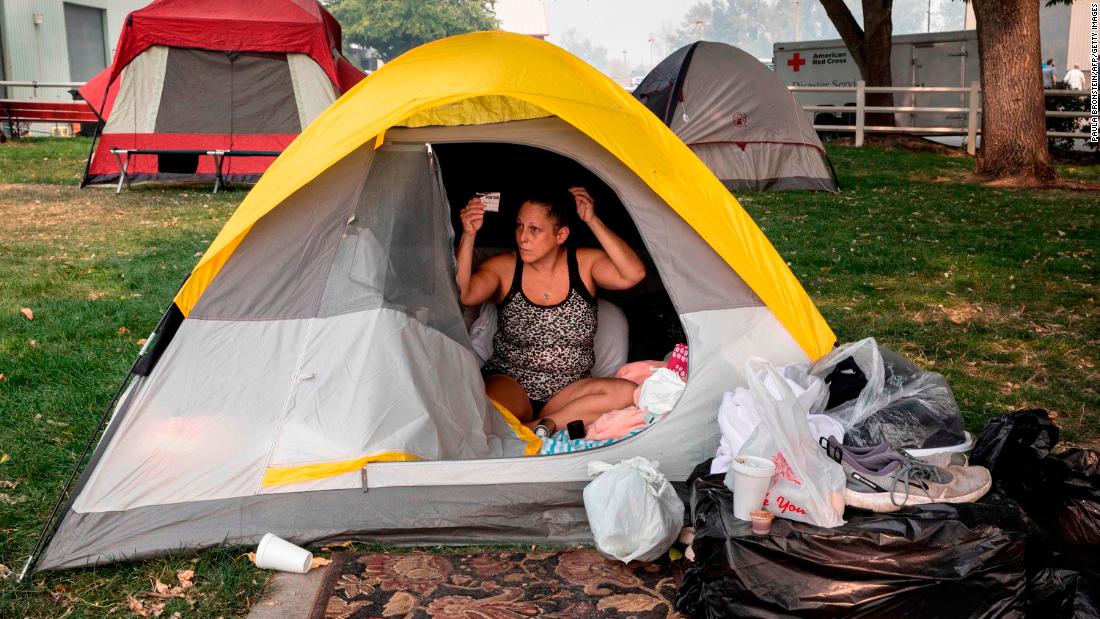 Photos: Wildfires burning in the WestStacey Kahny fixes her hair inside her tent at the evacuation center at the Jackson County Fairgrounds in Central Point, Oregon, on September 16. Kahny lived with her parents at a trailer park in Phoenix, Oregon, that was destroyed by fire.Hide Caption 39 of 124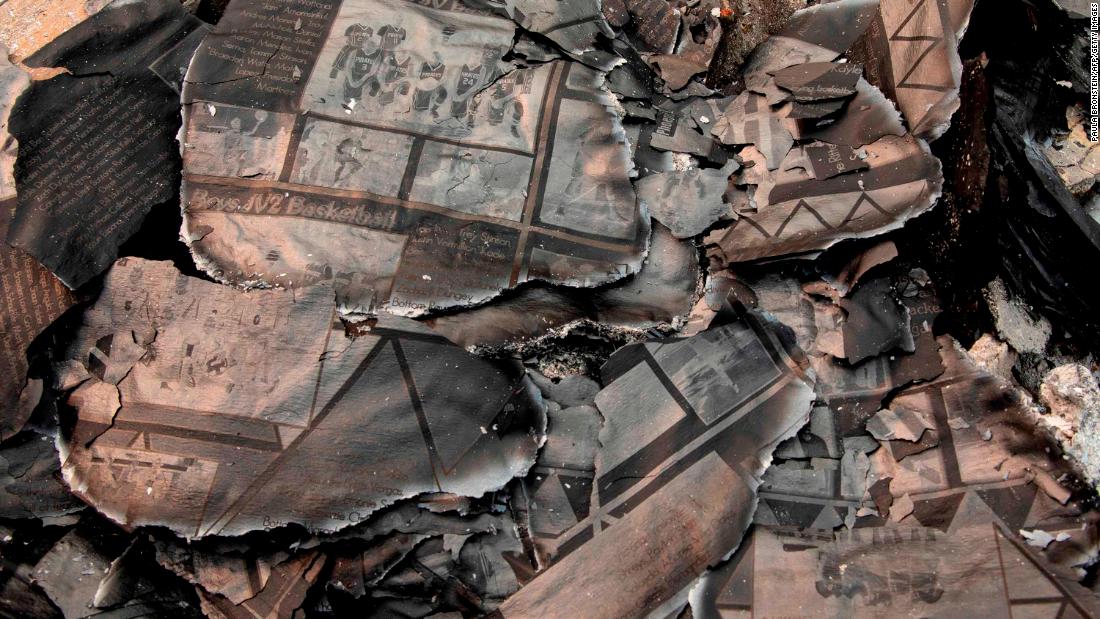 Photos: Wildfires burning in the WestA charred yearbook lies in the debris as Fred Skaff and his son Thomas clean up their home in Phoenix, Oregon, on September 16.Hide Caption 40 of 124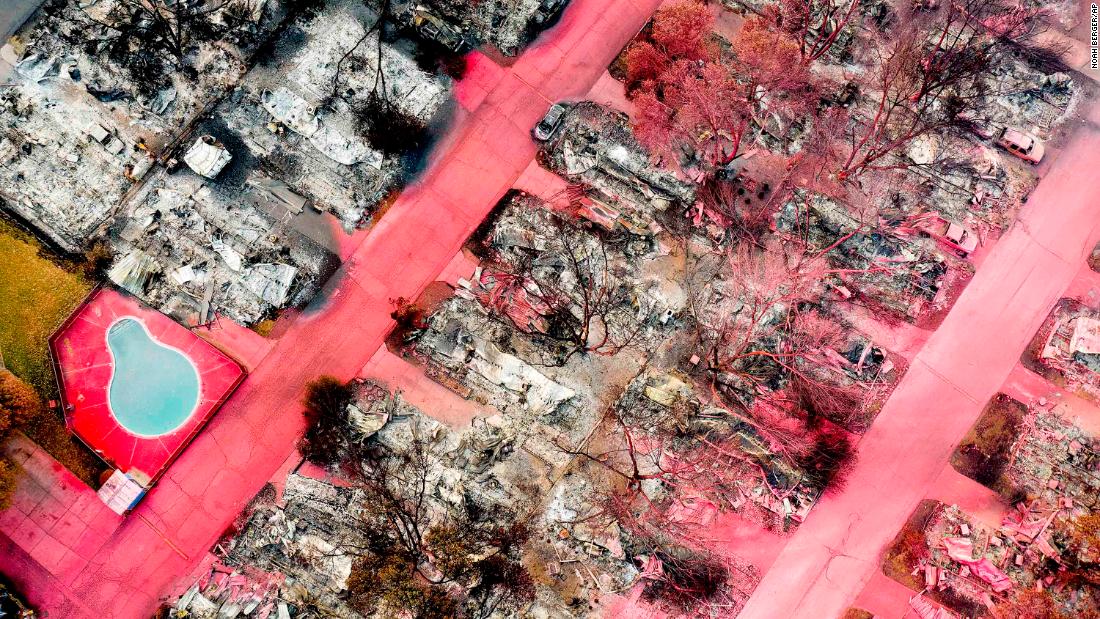 Photos: Wildfires burning in the WestIn this aerial photo taken with a drone, red fire retardant sits on leveled homes in Talent, Oregon, on September 15.Hide Caption 41 of 124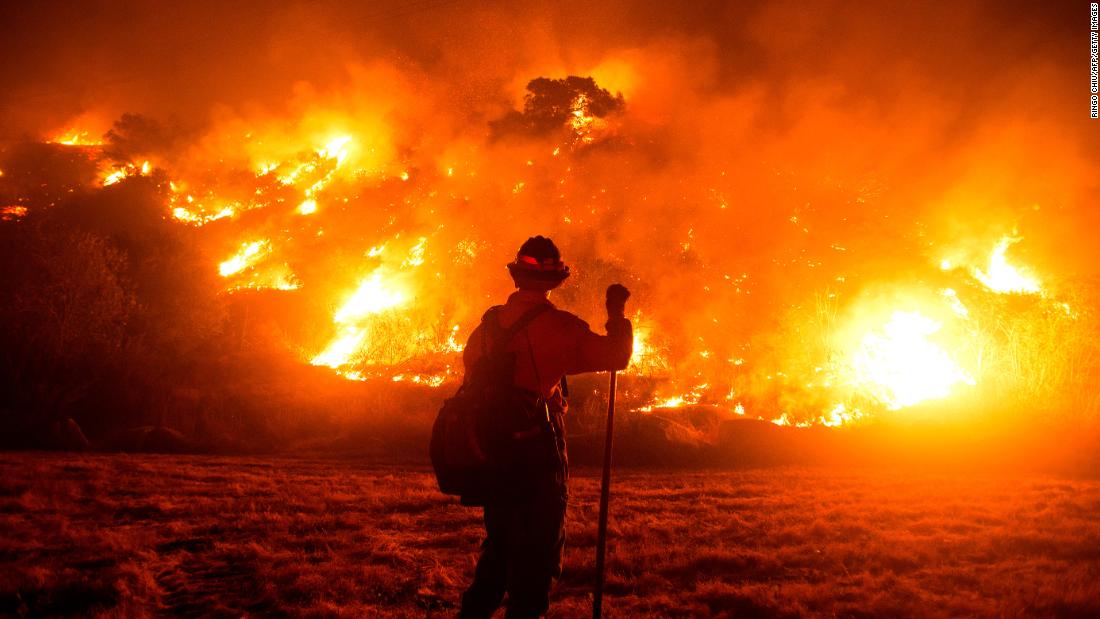 Photos: Wildfires burning in the WestA firefighter works at the scene of the Bobcat Fire burning on hillsides near Monrovia, California, on September 15.Hide Caption 42 of 124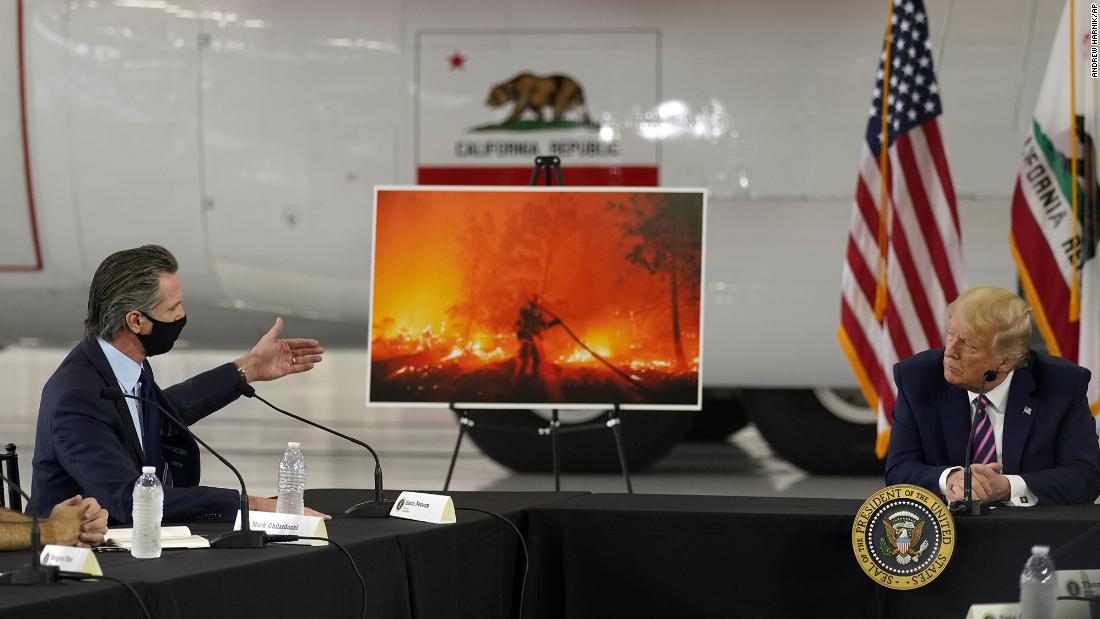 Photos: Wildfires burning in the WestPresident Donald Trump listens as California Gov. Gavin Newsom speaks about the wildfires during a briefing on September 14.Hide Caption 43 of 124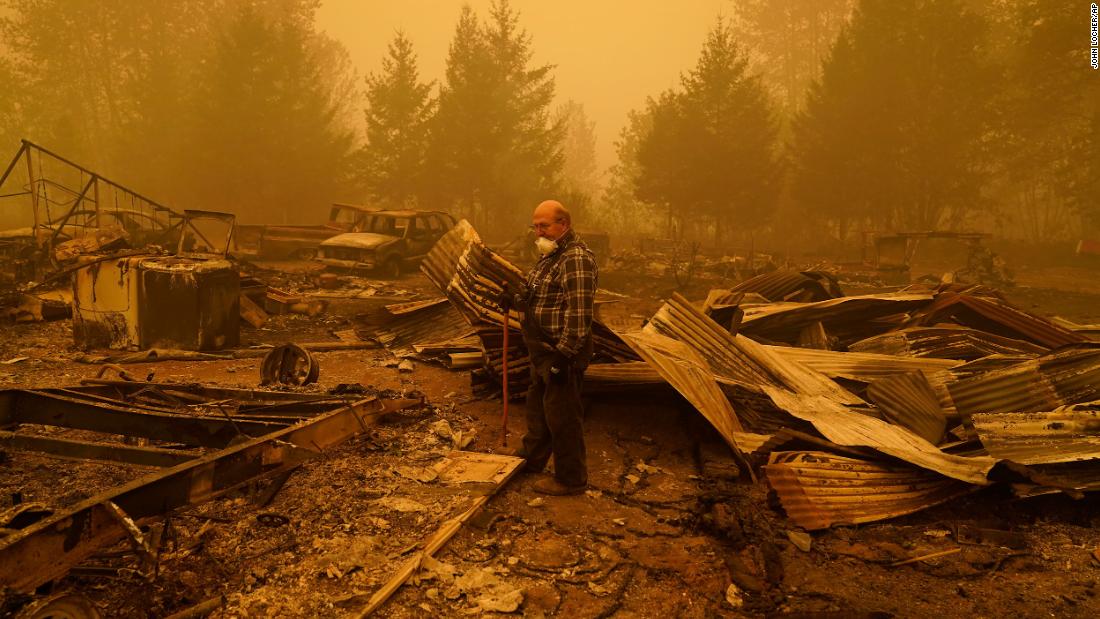 Photos: Wildfires burning in the WestGeorge Coble walks through his destroyed property in Mill City, Oregon, on September 12.Hide Caption 44 of 124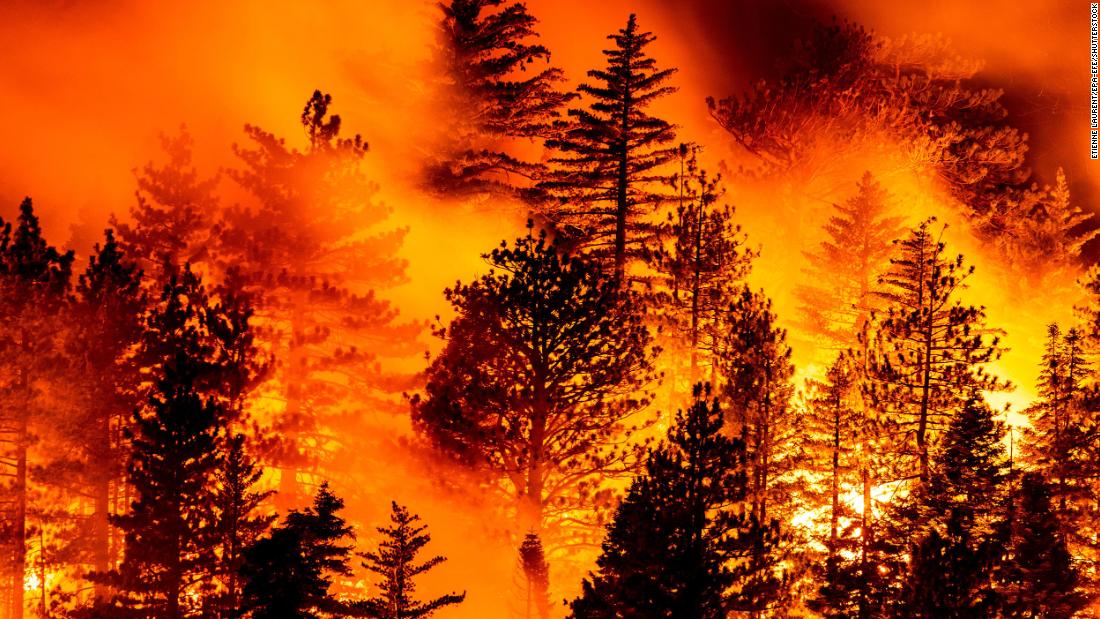 Photos: Wildfires burning in the WestThe Bobcat Fire burns in Angeles National Forest, north of Monrovia, California, on September 11.Hide Caption 45 of 124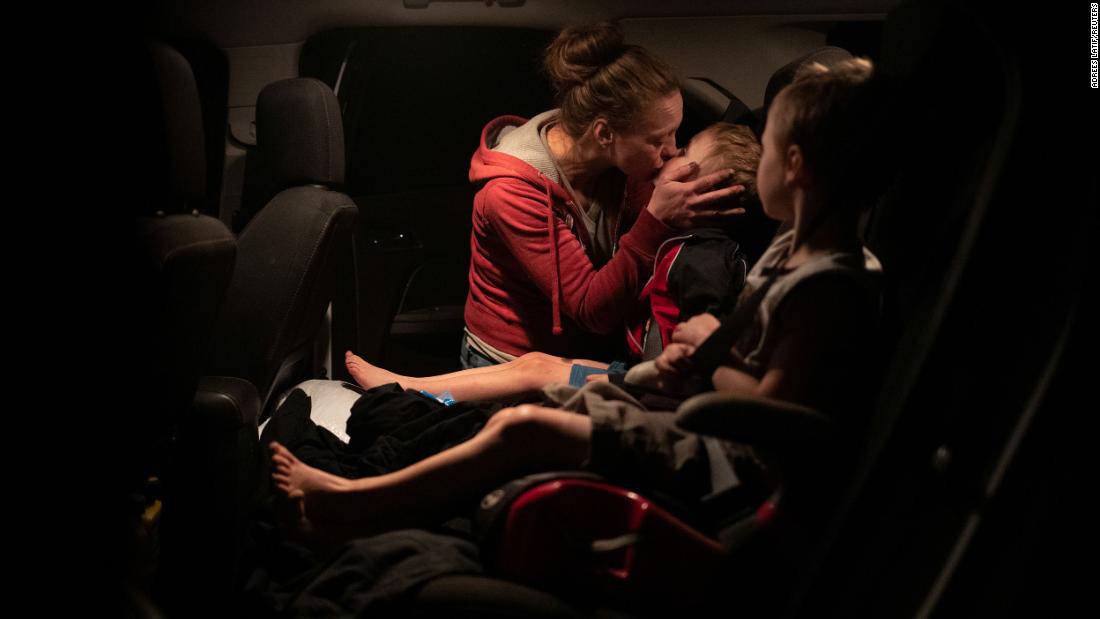 Photos: Wildfires burning in the WestCrystal Sparks kisses her 4-year-old twins, Chance and Ryder Sutton, as they escape the Obenchain Fire in Butte Falls, Oregon, on September 11.Hide Caption 46 of 124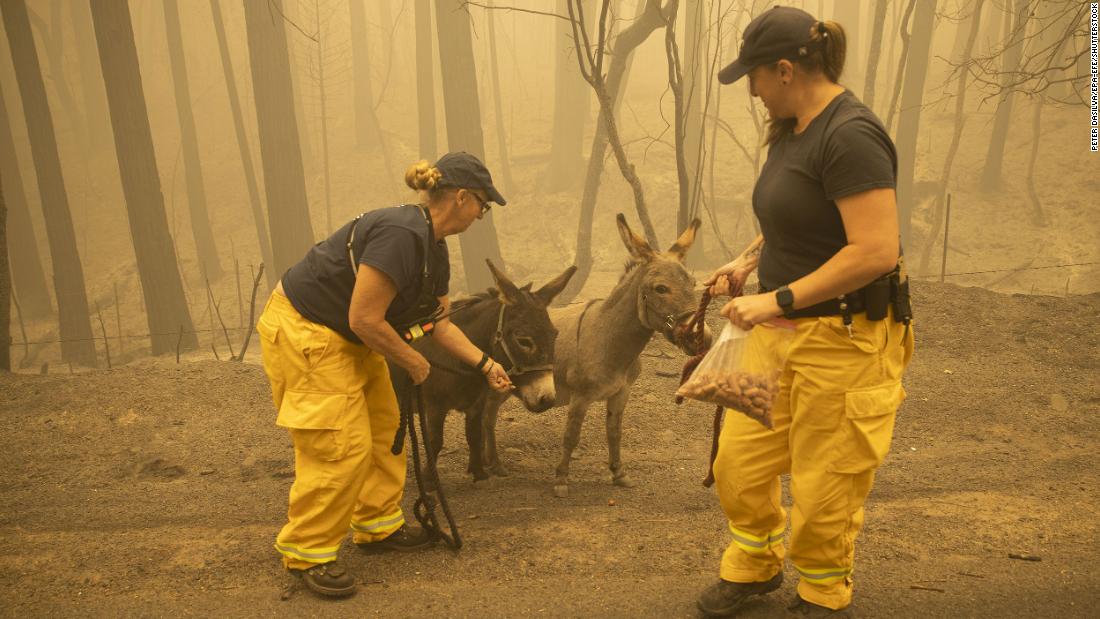 Photos: Wildfires burning in the WestNorth Valley Disaster Group member Kari Zeitler and Butte County Animal Control officer Linda Newman bridle up two donkeys wandering along a roadside in Berry Creek, California, on September 11. The donkeys were displaced by the Bear Fire.Hide Caption 47 of 124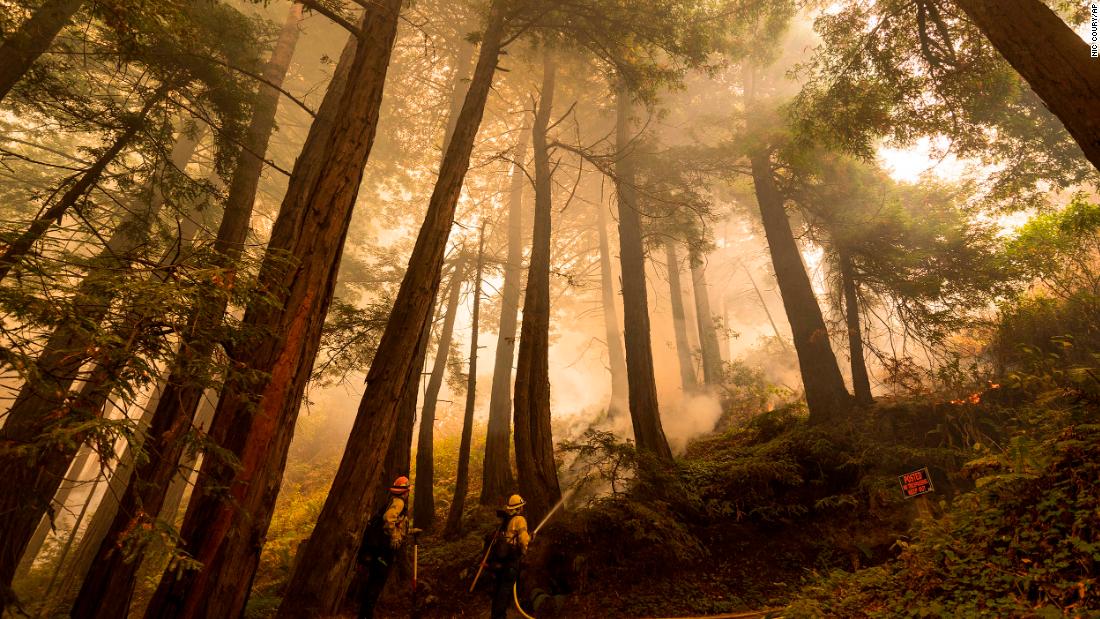 Photos: Wildfires burning in the WestA firefighter shoots an incendiary device during a back burn to help control the Dolan Fire in Big Sur, California, on September 11. Hide Caption 48 of 124
Photos: Wildfires burning in the WestDora Negrete is consoled by her son Hector Rocha after seeing their destroyed mobile home in Talent, Oregon, on September 10.Hide Caption 49 of 124
Photos: Wildfires burning in the WestThis aerial photo shows a destroyed mobile-home park in Phoenix, Oregon, on September 10.Hide Caption 50 of 124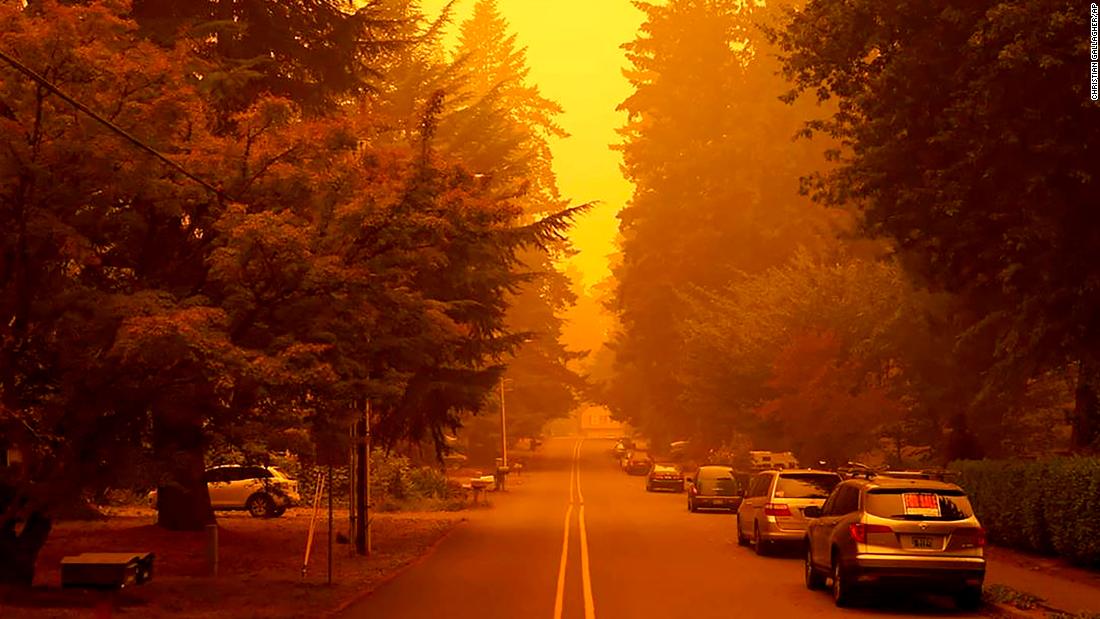 Photos: Wildfires burning in the WestA street is shrouded by smoke from wildfires in West Linn, Oregon, on September 10.Hide Caption 51 of 124
Photos: Wildfires burning in the WestA tanker jet drops fire retardant to slow the Bobcat Fire in the Angeles National Forest north of Monrovia, California, on September 10.Hide Caption 52 of 124
Photos: Wildfires burning in the WestLooking up San Francisco's Columbus Avenue, the Transamerica Pyramid and Salesforce Tower are covered with smoke from nearby wildfires on September 9. This photo was taken in the late morning.Hide Caption 53 of 124
Photos: Wildfires burning in the WestVisitors of San Francisco's Dolores Park are seen under an orange sky darkened by smoke on September 9.Hide Caption 54 of 124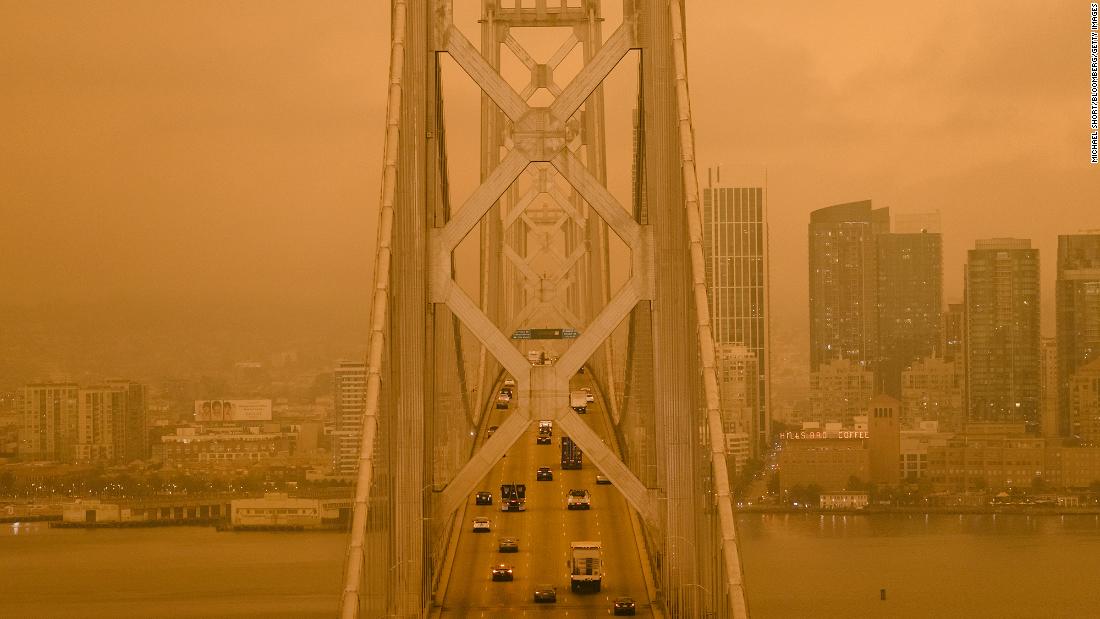 Photos: Wildfires burning in the WestWildfire smoke hangs over the San Francisco-Oakland Bay Bridge on September 9. Hide Caption 55 of 124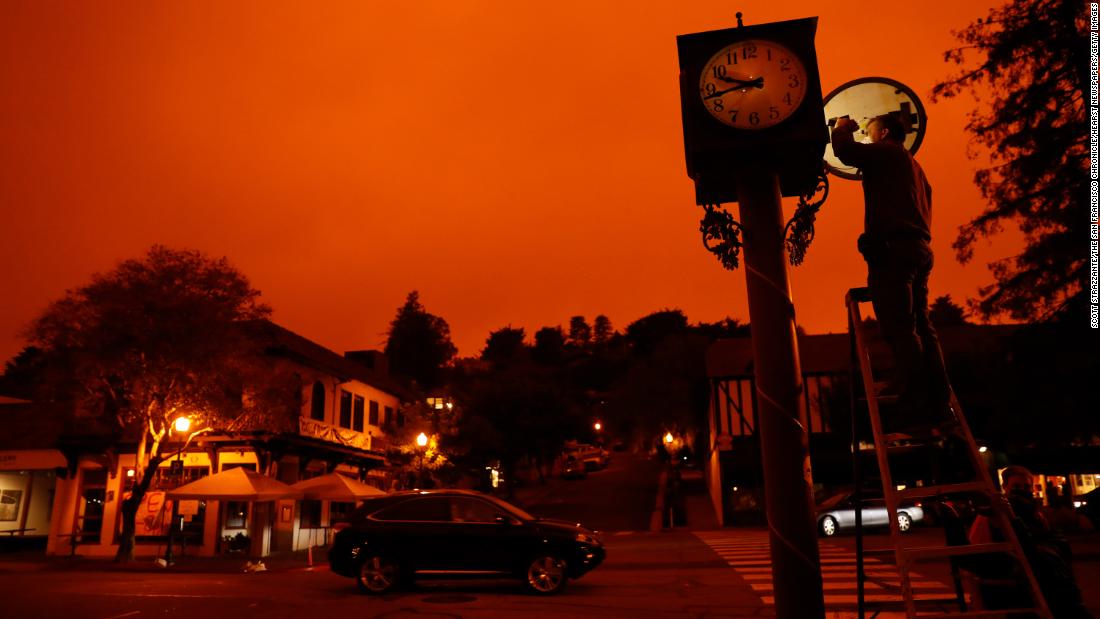 Photos: Wildfires burning in the WestBejhan Razi, a senior building inspector in Mill Valley, California, checks out repairs on a lamp-post clock as the sky is illuminated by nearby wildfires.Hide Caption 56 of 124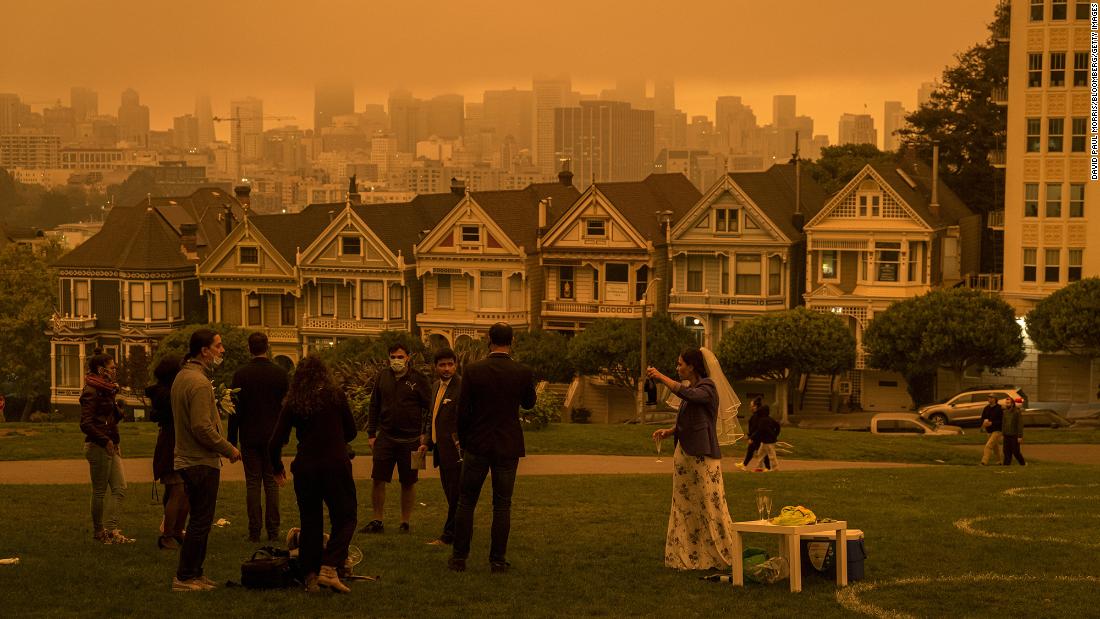 Photos: Wildfires burning in the WestPeople stand in Alamo Square Park as smoke hangs over San Francisco on September 9. Hide Caption 57 of 124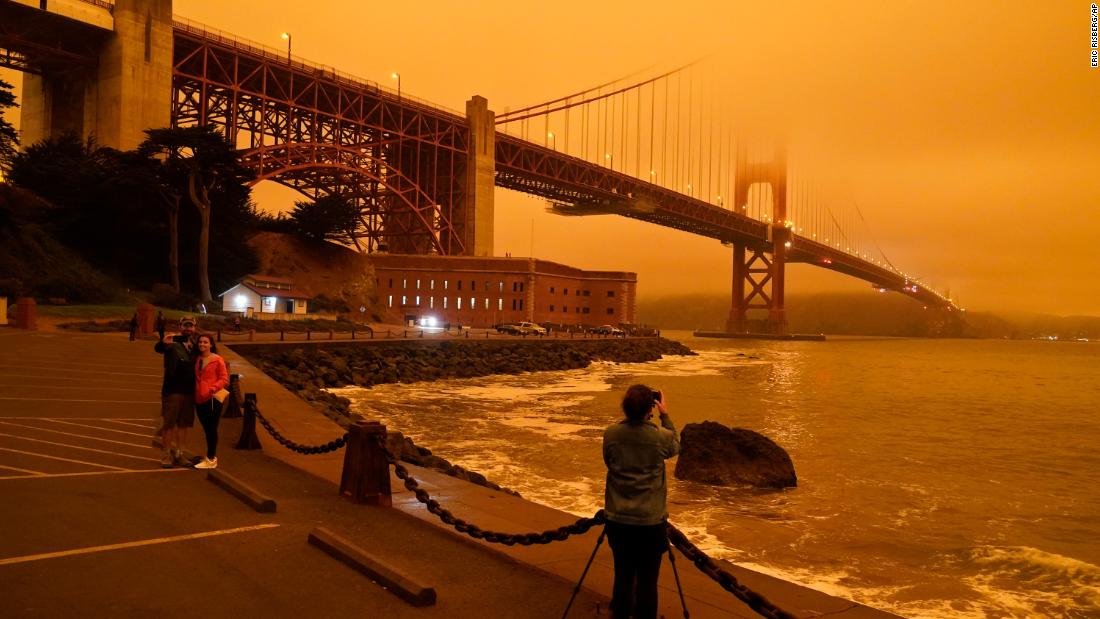 Photos: Wildfires burning in the WestPeople stop to take pictures of the Golden Gate Bridge as it is affected from smoke by nearby wildfires on September 9.Hide Caption 58 of 124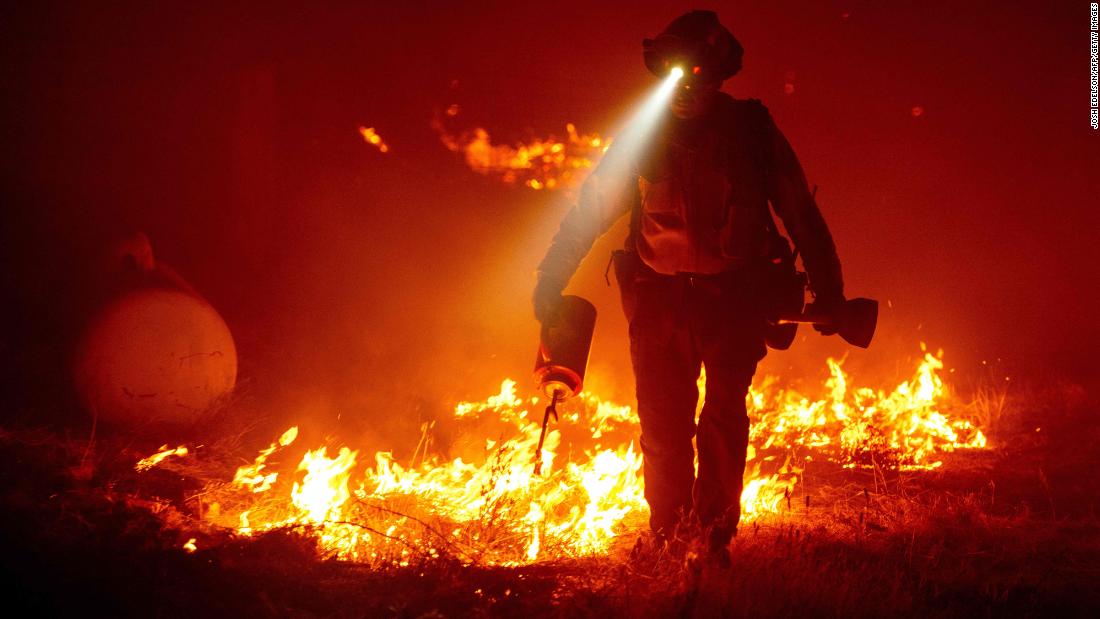 Photos: Wildfires burning in the WestFirefighters cut defensive lines and light backfires to protect structures in Butte County, California, on September 9.Hide Caption 59 of 124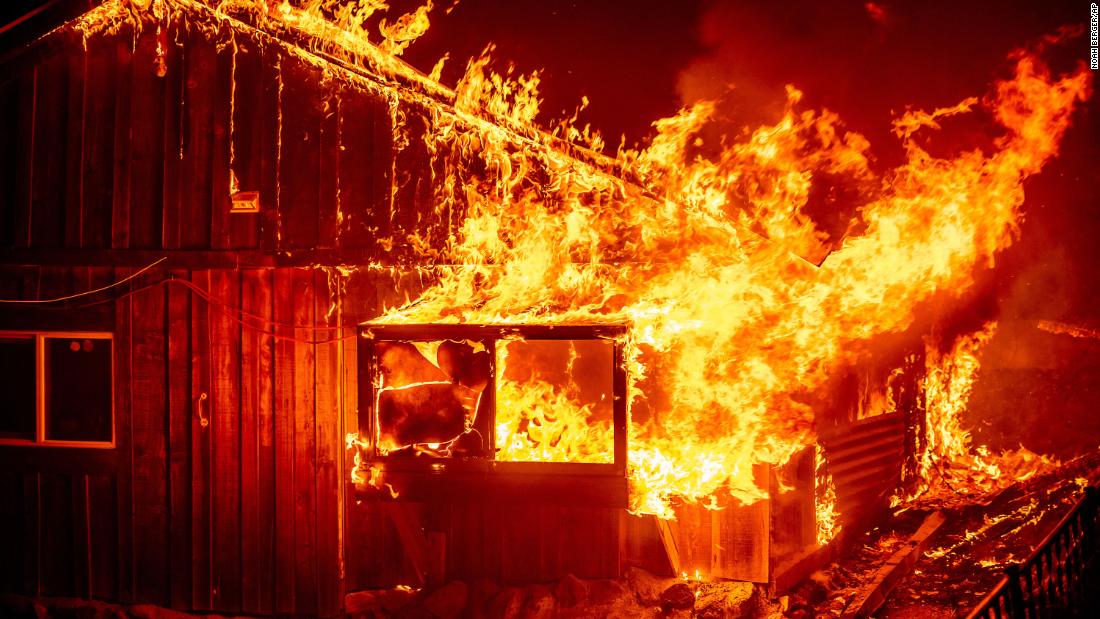 Photos: Wildfires burning in the WestFlames shoot from a home in Butte County.Hide Caption 60 of 124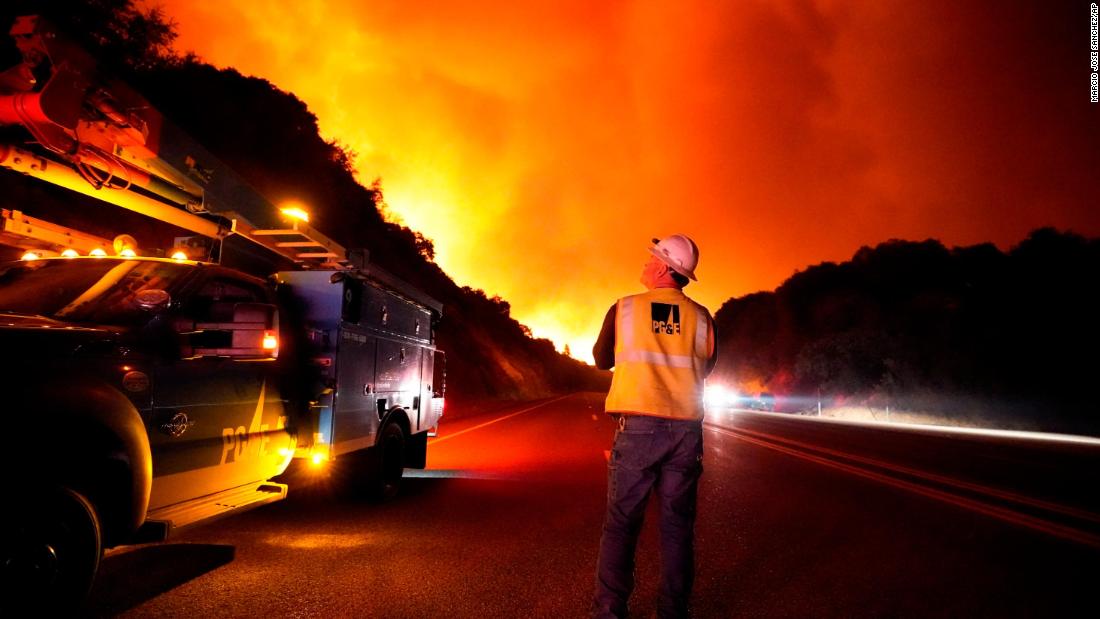 Photos: Wildfires burning in the WestA Pacific Gas and Electric worker looks up at the advancing Creek Fire near Alder Springs, California, on September 8.Hide Caption 61 of 124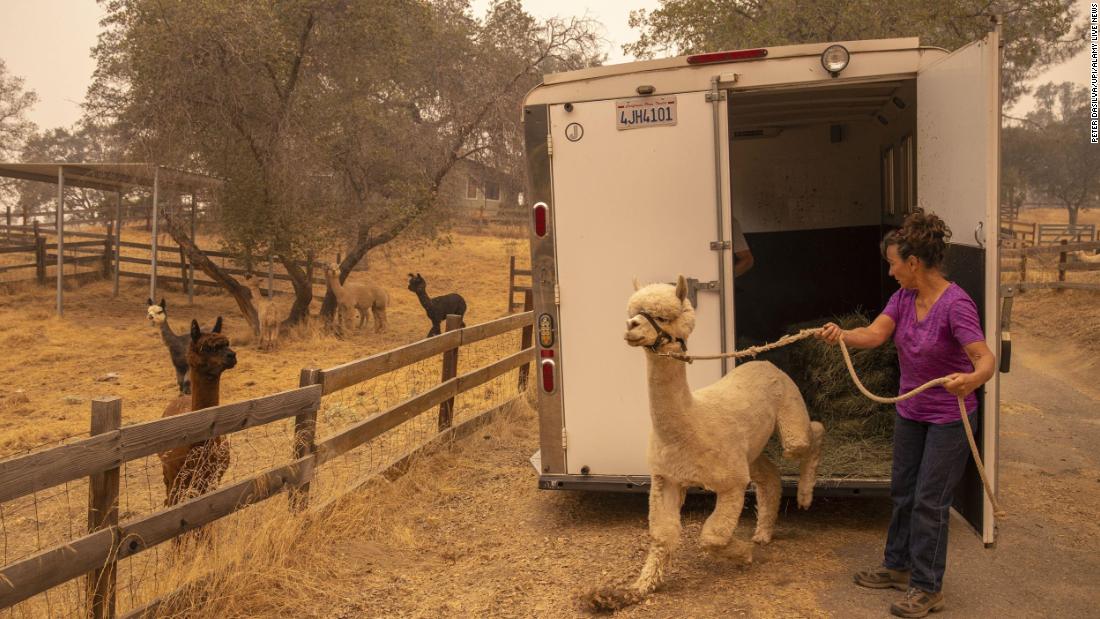 Photos: Wildfires burning in the WestLisa Theis unloads the last of her 44 alpacas after she evacuated her ranch in North Fork, California.Hide Caption 62 of 124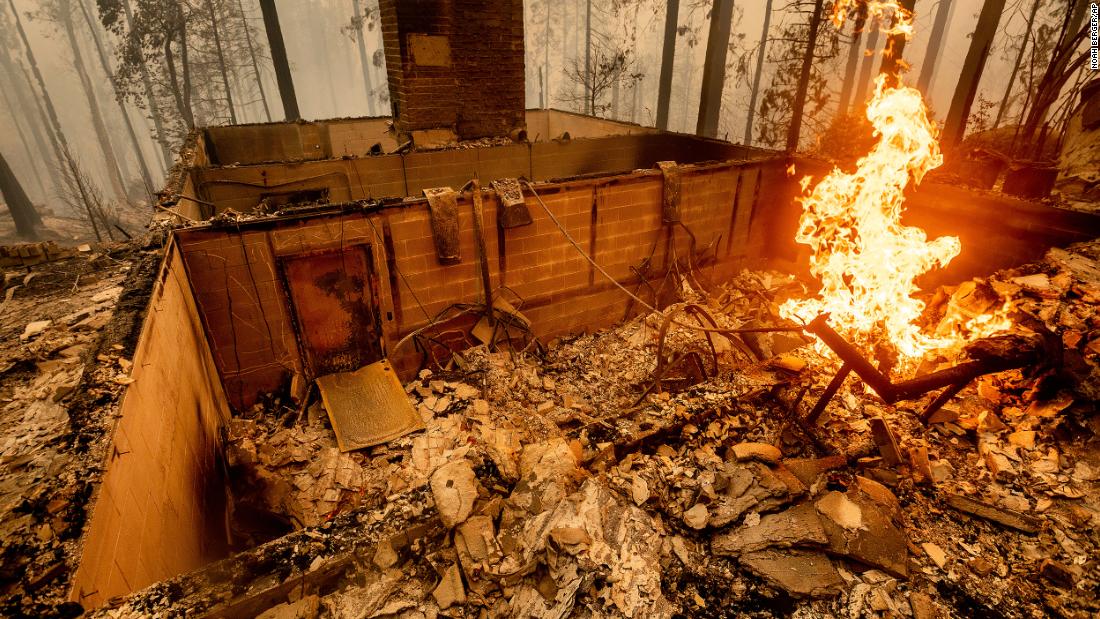 Photos: Wildfires burning in the WestFlames burn at a home leveled by the Creek Fire in Fresno County, California.Hide Caption 63 of 124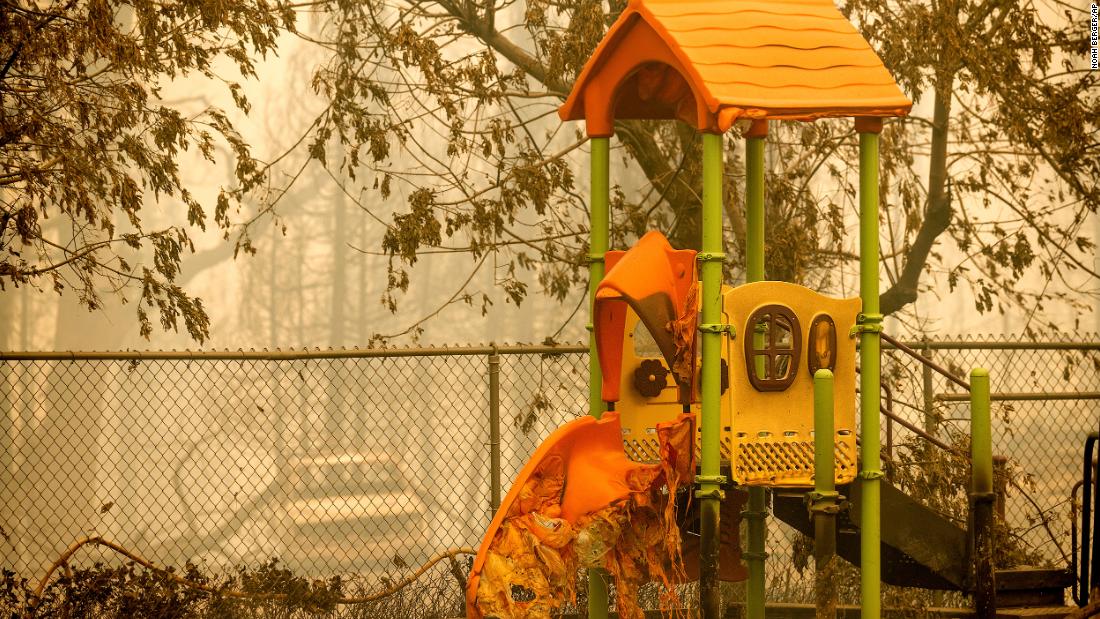 Photos: Wildfires burning in the WestA slide is melted at a school playground in Fresno County.Hide Caption 64 of 124
Photos: Wildfires burning in the WestRubble is seen on September 7 after a wildfire left the small town of Malden, Washington, in ruins. The fire destroyed about 80% of the homes and buildings in Malden, which is about 35 miles south of Spokane.Hide Caption 65 of 124
Photos: Wildfires burning in the WestFirefighter Nick Grinstead battles the Creek Fire in Shaver Lake, California, on September 7.Hide Caption 66 of 124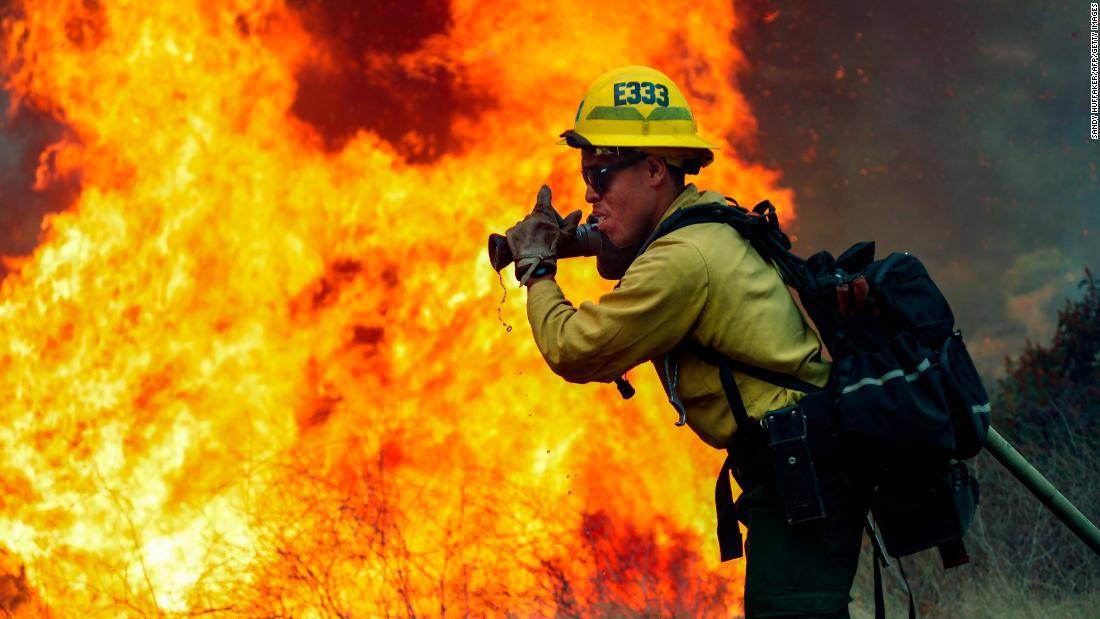 Photos: Wildfires burning in the WestA firefighter in Jamul, California, battles the Valley Fire on September 6.Hide Caption 67 of 124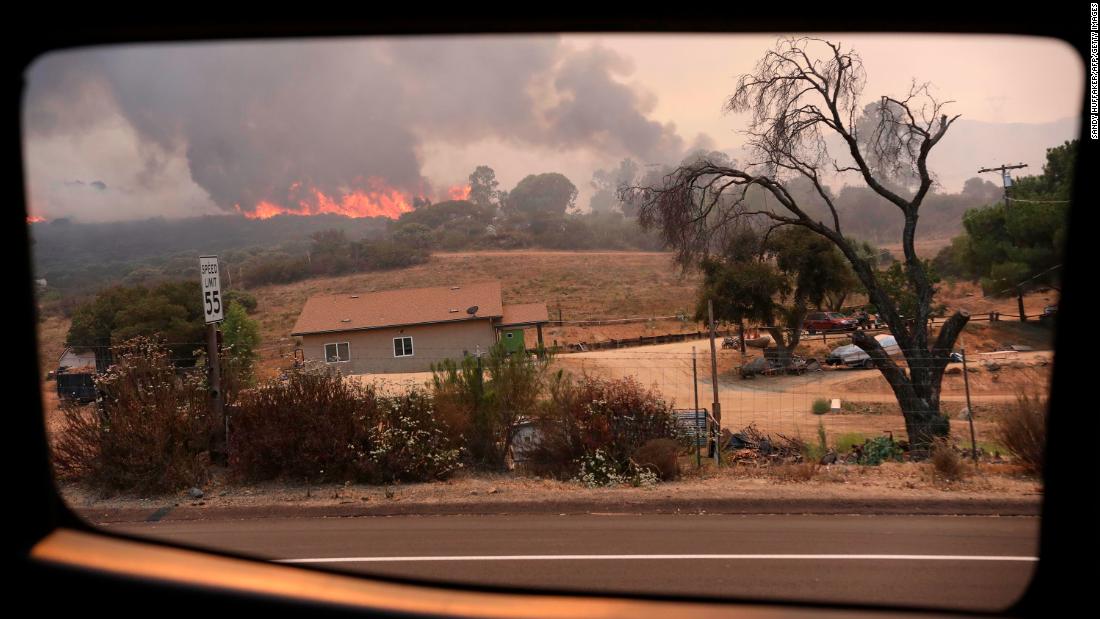 Photos: Wildfires burning in the WestA fire encroaches Japatul Road in Jamul on September 6.Hide Caption 68 of 124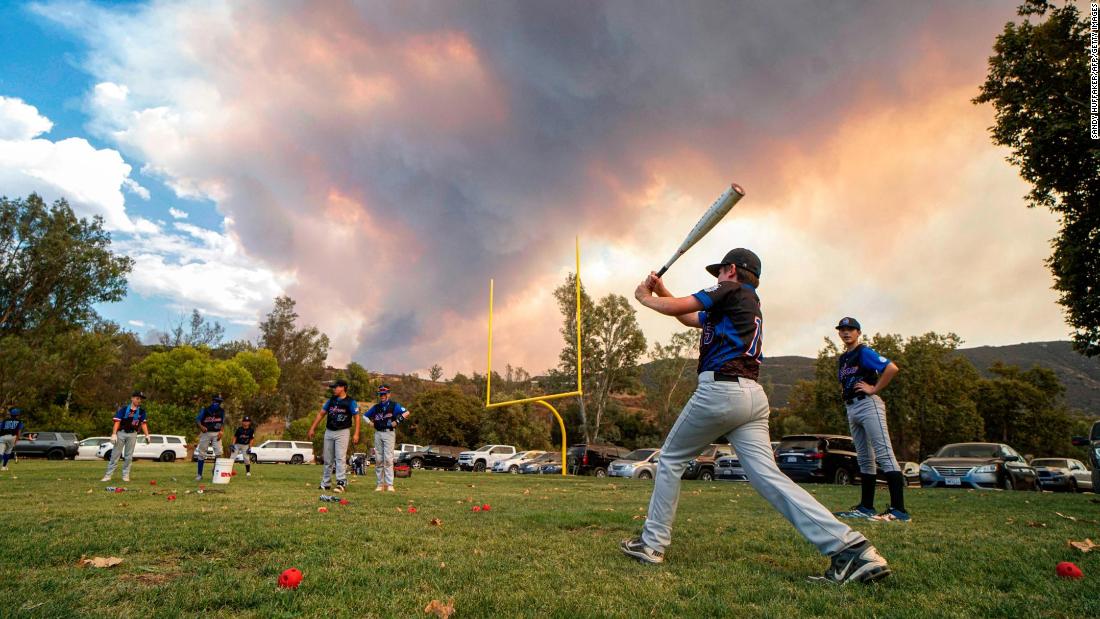 Photos: Wildfires burning in the WestLittle League baseball players warm up for a game near Dehesa, California, as the Valley Fire burns on September 6.Hide Caption 69 of 124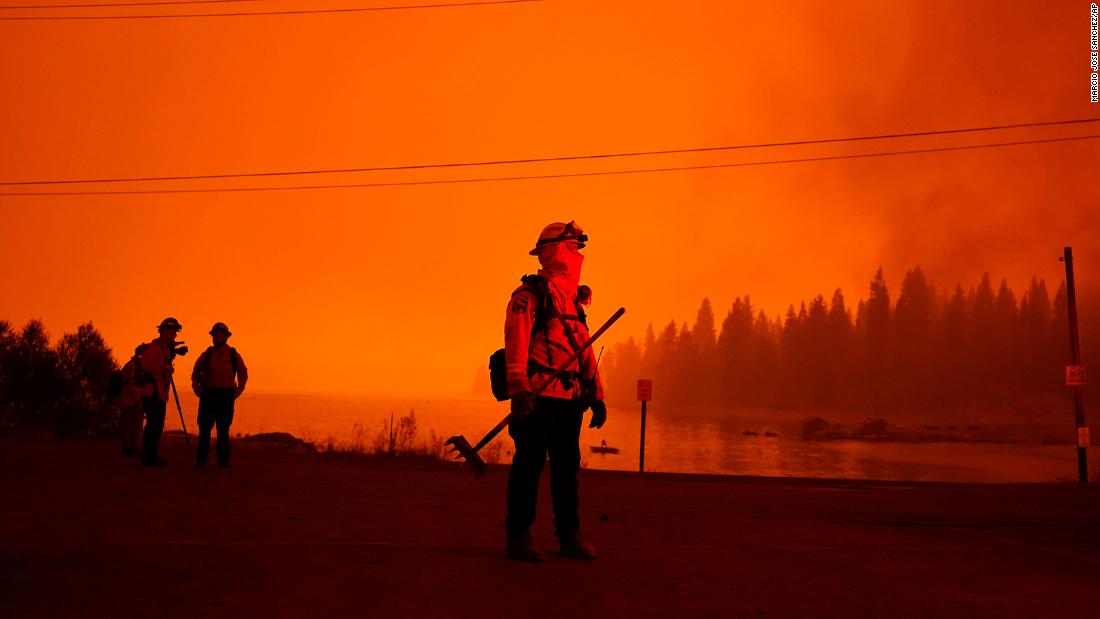 Photos: Wildfires burning in the WestA firefighter watches the advancing Creek Fire in Shaver Lake.Hide Caption 70 of 124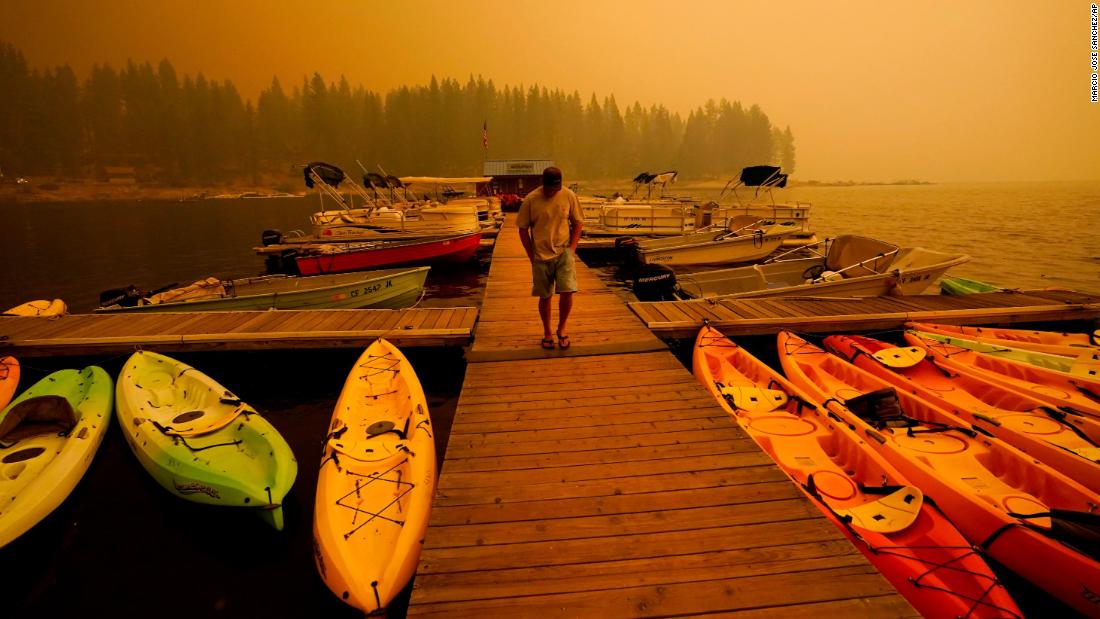 Photos: Wildfires burning in the WestA business owner in Shaver Lake walks next to kayaks he rents as smoke from the Creek Fire fills the sky on September 6.Hide Caption 71 of 124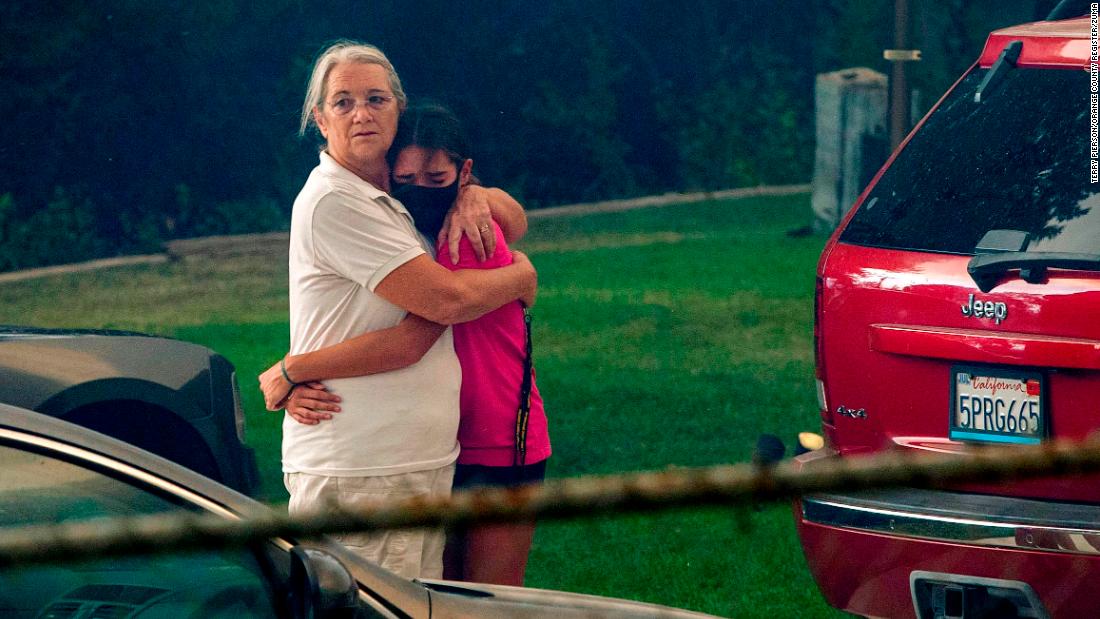 Photos: Wildfires burning in the WestFamily members comfort each other as the El Dorado Fire moves closer to their home in Yucaipa, California, on September 6.Hide Caption 72 of 124
Photos: Wildfires burning in the WestA firefighter sets a controlled burn with a drip torch while fighting the Creek Fire in Shaver Lake.Hide Caption 73 of 124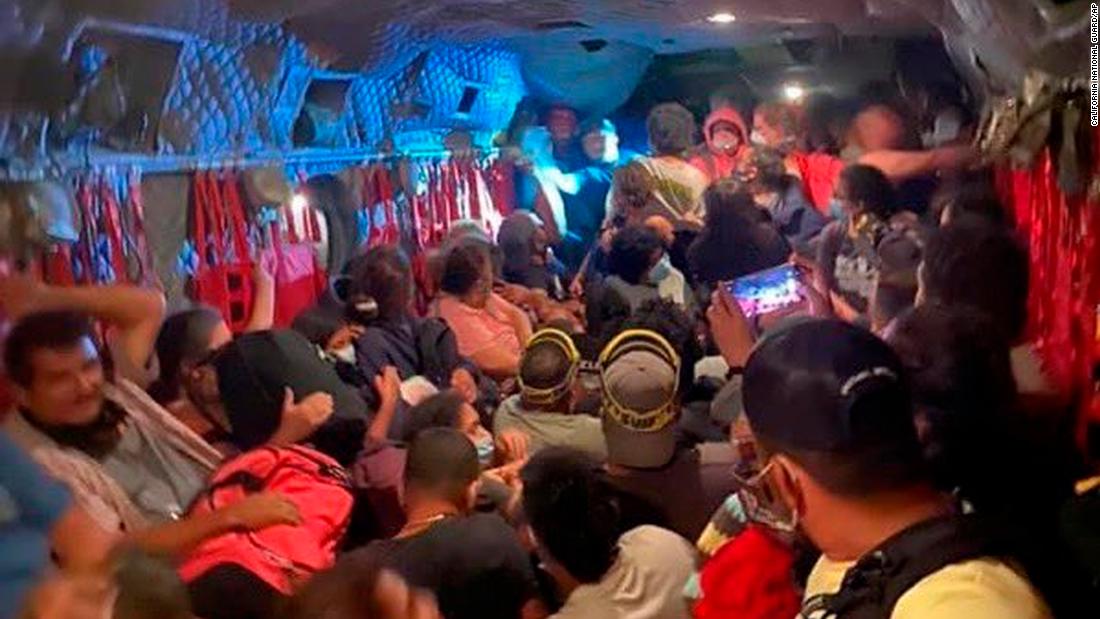 Photos: Wildfires burning in the WestDozens of evacuees are airlifted to safety on a California National Guard helicopter on September 5. The Creek Fire had left them stranded in a popular camping area in the Sierra National Forest.Hide Caption 74 of 124
Photos: Wildfires burning in the WestFirefighters walk in a line in Yucaipa on September 5.Hide Caption 75 of 124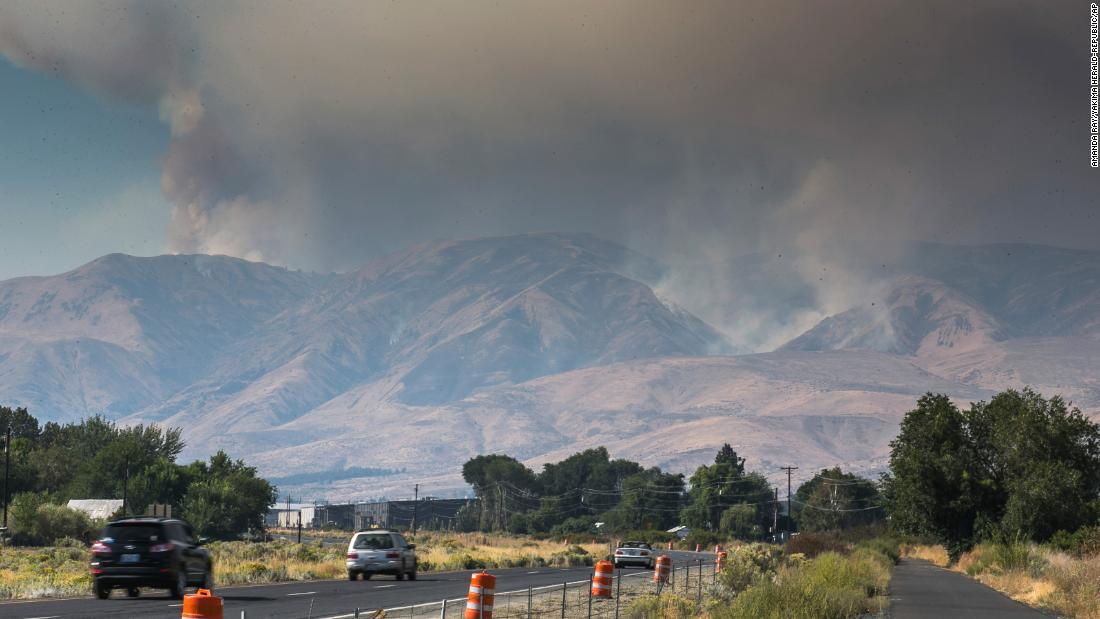 Photos: Wildfires burning in the WestHaze and smoke blanket the sky near Naches, Washington, as the Evans Canyon Fire burns on September 3.Hide Caption 76 of 124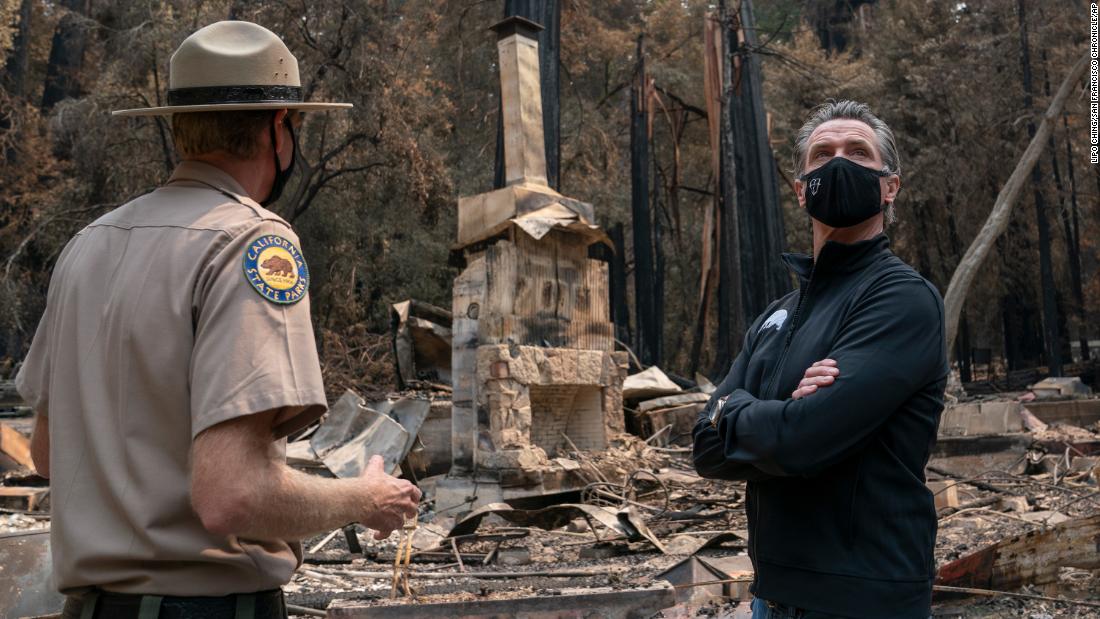 Photos: Wildfires burning in the WestCalifornia Gov. Gavin Newsom, right, listens as Santa Cruz State Park Superintendent Chris Spohrer talks about the fire damage to the Big Basin Redwoods State Park.Hide Caption 77 of 124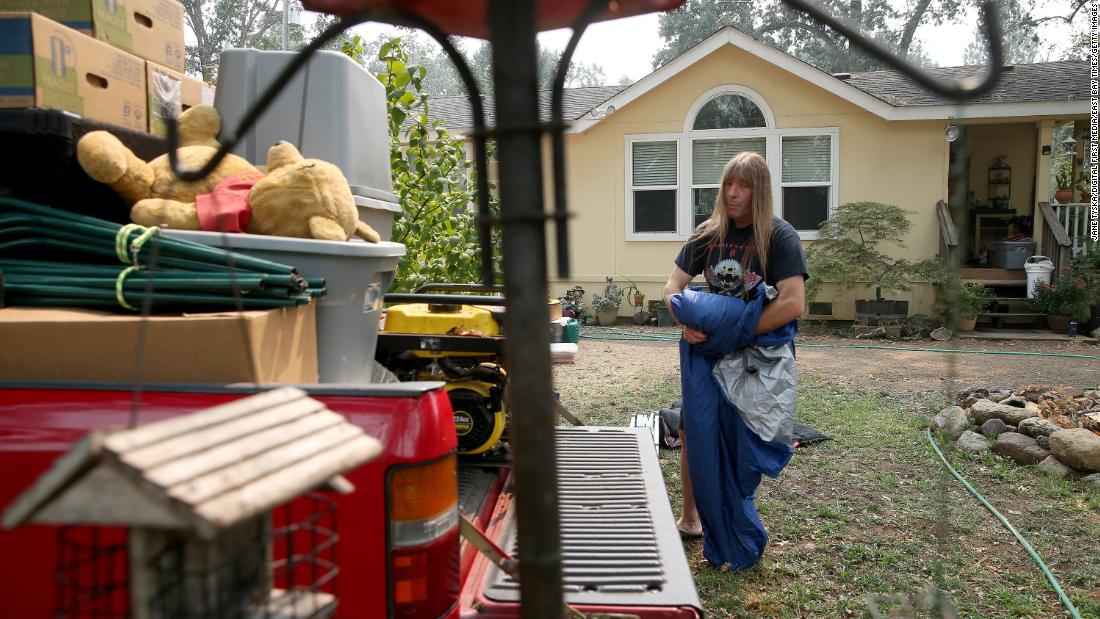 Photos: Wildfires burning in the WestRandy Hunt packs up his belongings, including his daughter Natasha's first Pooh bear, left, in case he and his wife Sheli had to evacuate the home they rent in Middletown, California, on August 26.Hide Caption 78 of 124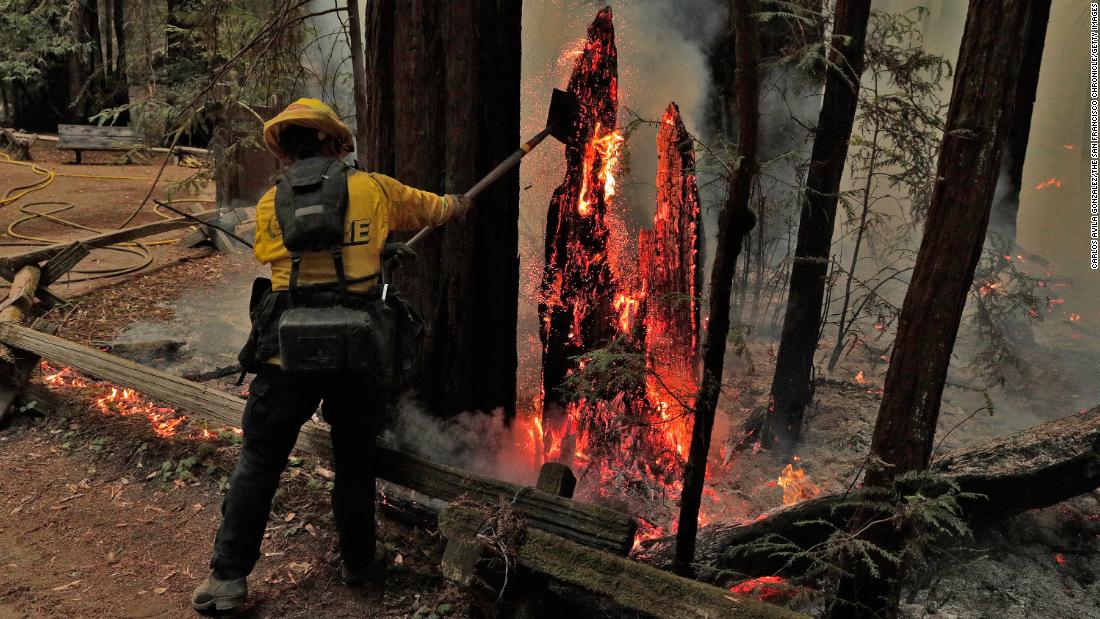 Photos: Wildfires burning in the WestFirefighter Juan Chavarin pulls down a burning tree trunk in Guerneville, California, on August 25.Hide Caption 79 of 124
Photos: Wildfires burning in the WestA sign reading "Vaca Strong" adorns a charred hillside in Vacaville, California, on August 24.Hide Caption 80 of 124
Photos: Wildfires burning in the WestAustin Giannuzzi cries while embracing relatives at the burned remains of their Vacaville home on August 23.Hide Caption 81 of 124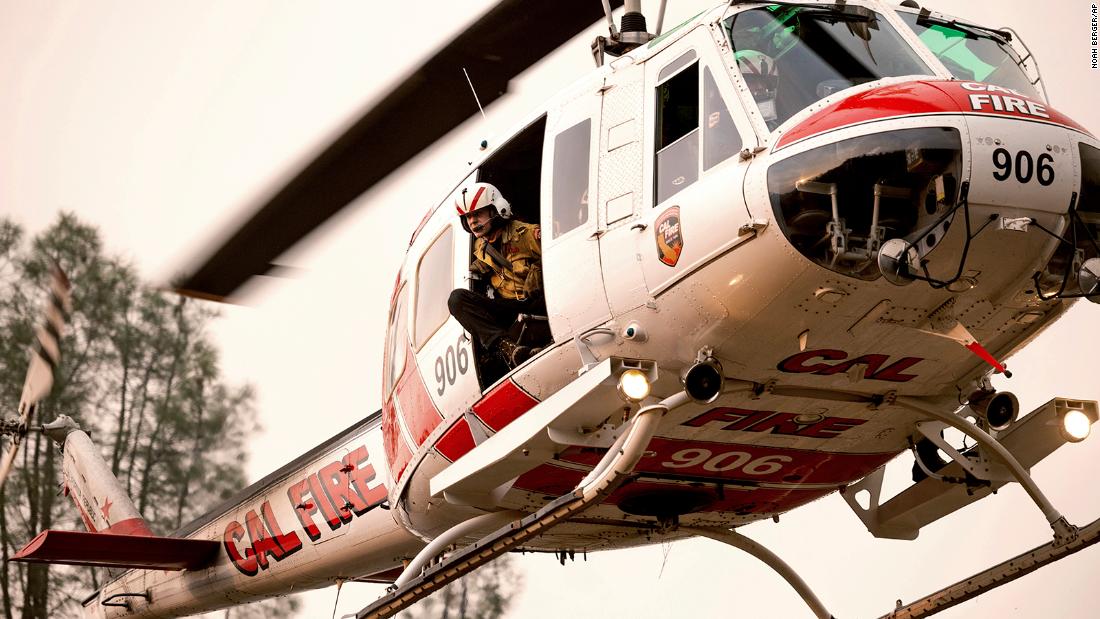 Photos: Wildfires burning in the WestA firefighter looks out from a helicopter while battling the LNU Lightning Complex fires in Lake County, California.Hide Caption 82 of 124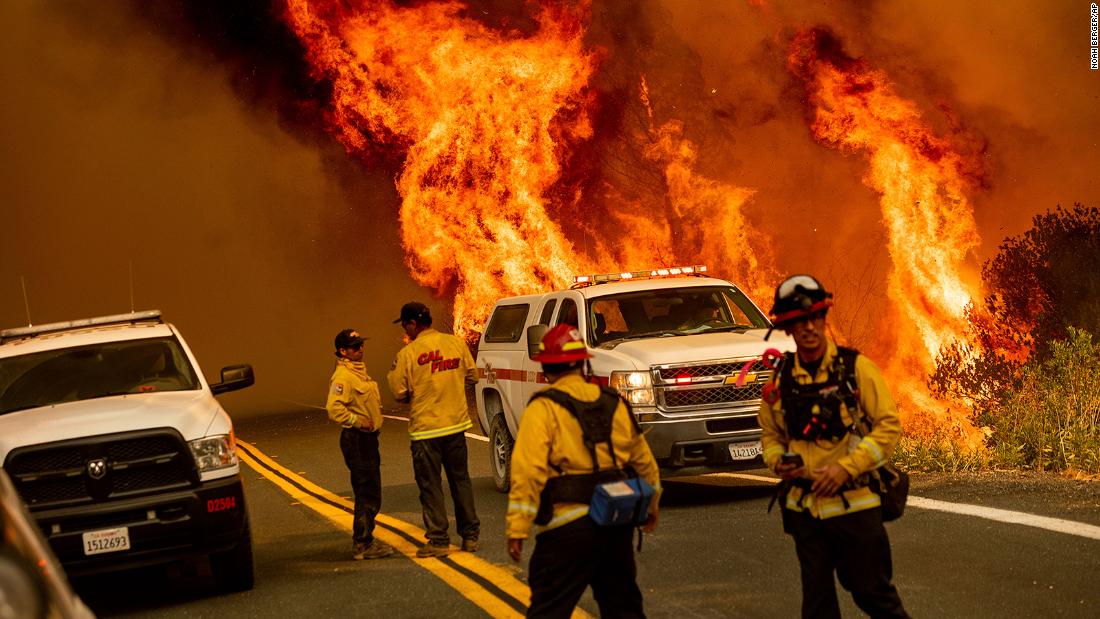 Photos: Wildfires burning in the WestFlames from the LNU Lightning Complex fires leap above Butts Canyon Road in Lake County on August 23.Hide Caption 83 of 124
Photos: Wildfires burning in the WestKarol Markowski of the South Pasadena Fire Department hoses down hot spots while battling the CZU Lightning Complex fires in Boulder Creek, California, on August 22.Hide Caption 84 of 124
Photos: Wildfires burning in the WestA burned-out vehicle is left in front of a destroyed residence as smoke fills the sky in Boulder Creek on August 22.Hide Caption 85 of 124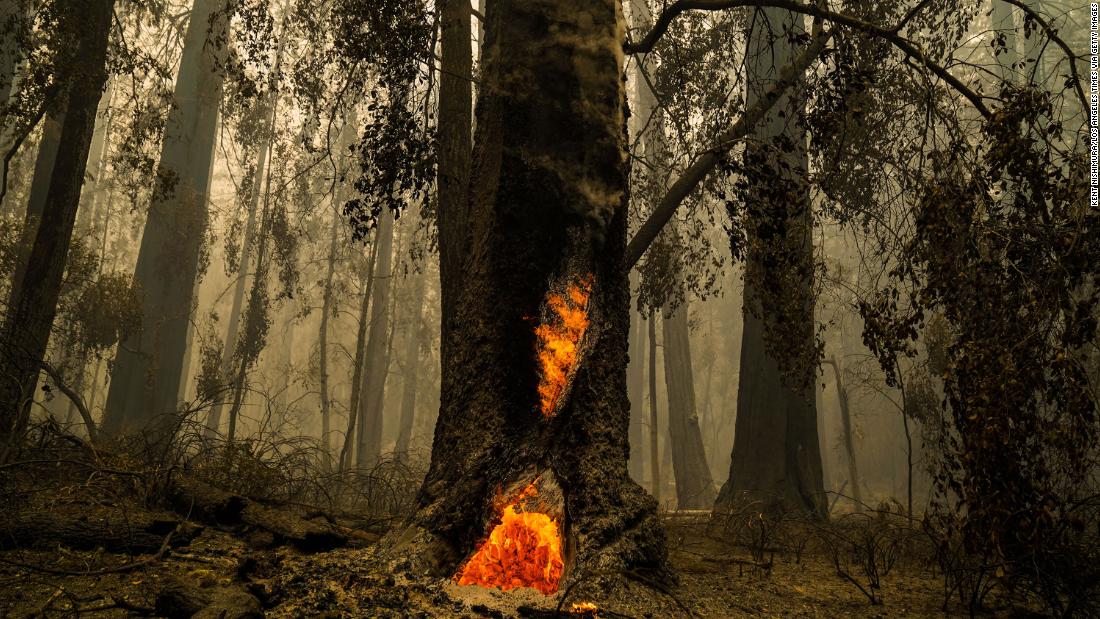 Photos: Wildfires burning in the WestSmoke hangs low in the air at the Big Basin Redwoods State Park as some redwoods burn in Boulder Creek on August 22.Hide Caption 86 of 124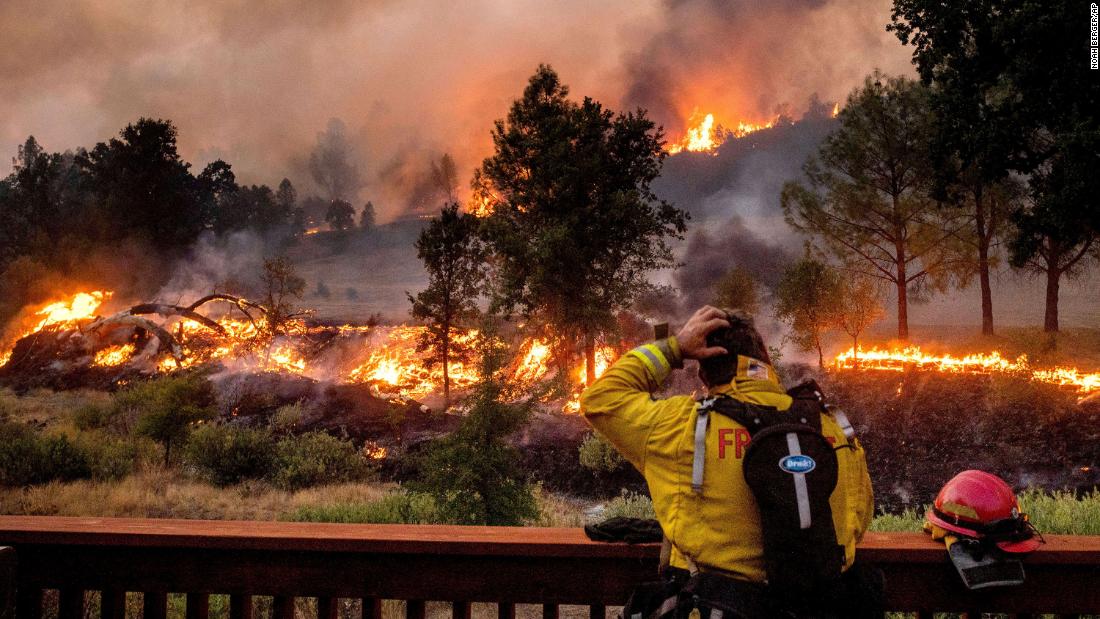 Photos: Wildfires burning in the WestA firefighter watches the LNU Lightning Complex fires spread through the Berryessa Estates neighborhood in Napa County on August 21.Hide Caption 87 of 124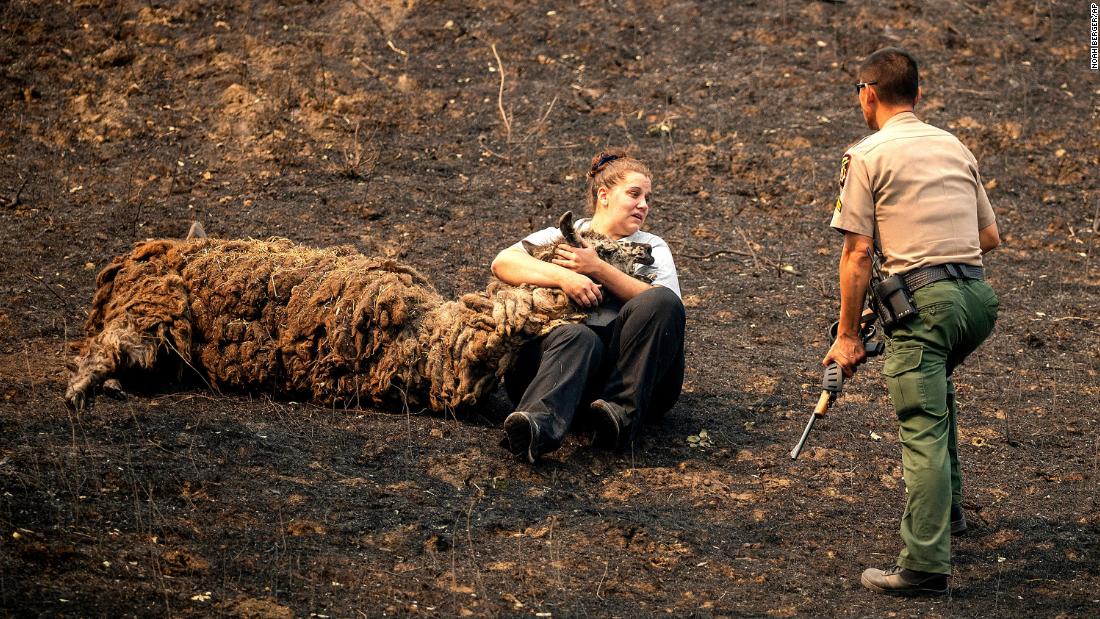 Photos: Wildfires burning in the WestVeterinary technician Brianna Jeter comforts a llama injured by a fire in Vacaville on August 21. At right, animal control officer Dae Kim prepares to euthanize the llama.Hide Caption 88 of 124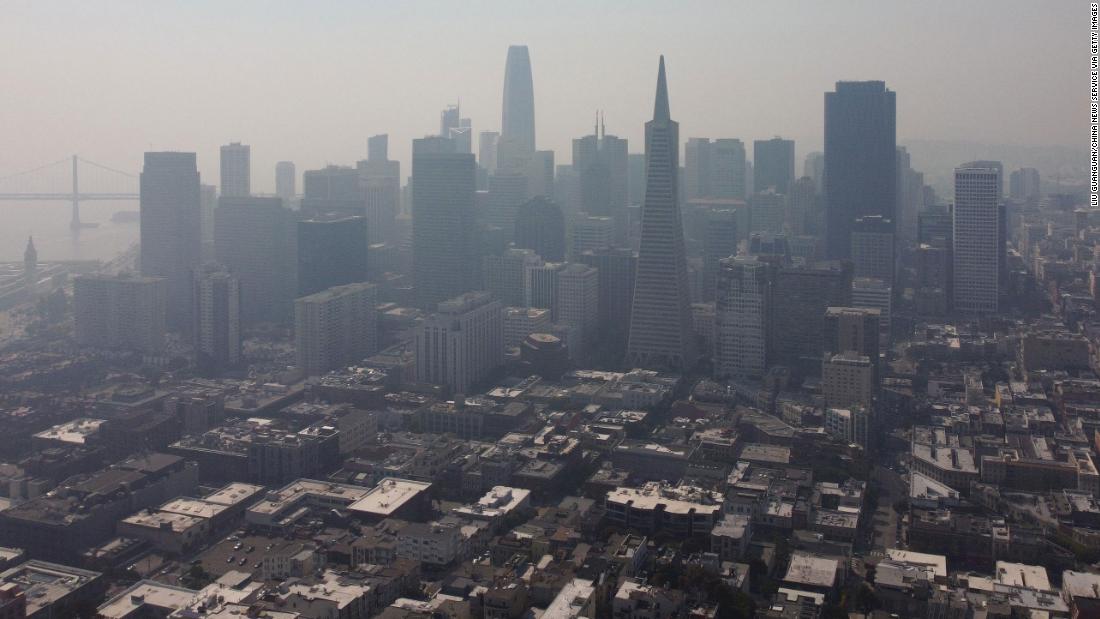 Photos: Wildfires burning in the WestSmoke from nearby wildfires hangs over San Francisco on August 21.Hide Caption 89 of 124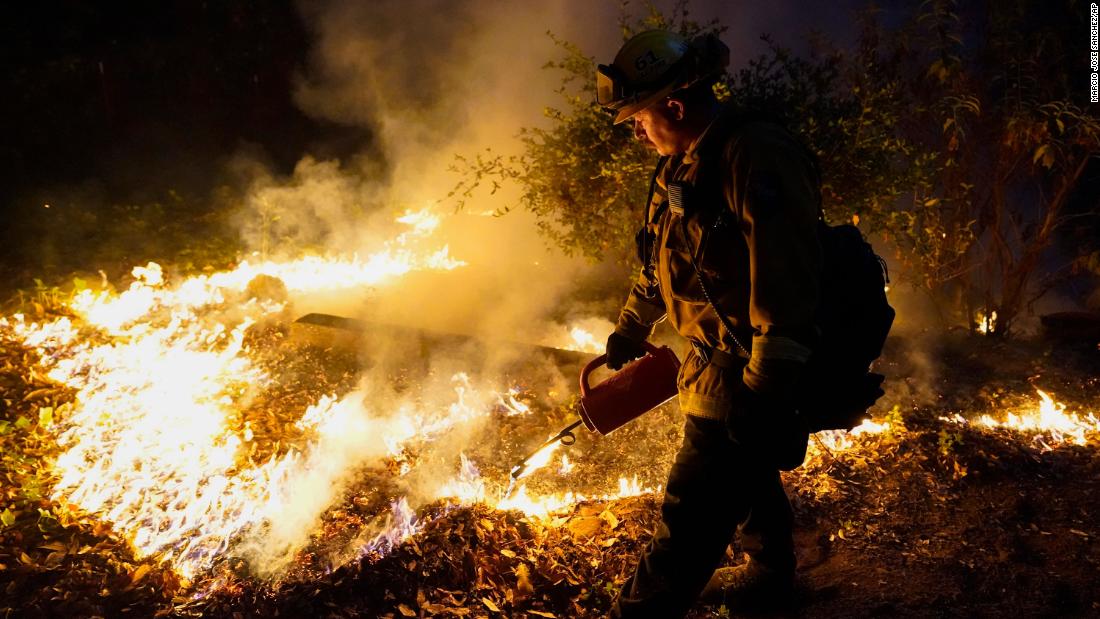 Photos: Wildfires burning in the WestA firefighter monitors the advance of a fire in Boulder Creek on August 21.Hide Caption 90 of 124
Photos: Wildfires burning in the WestMembers of the US Forest Service discuss their next moves to battle the Grizzly Creek Fire near Dotsero, Colorado, on August 21.Hide Caption 91 of 124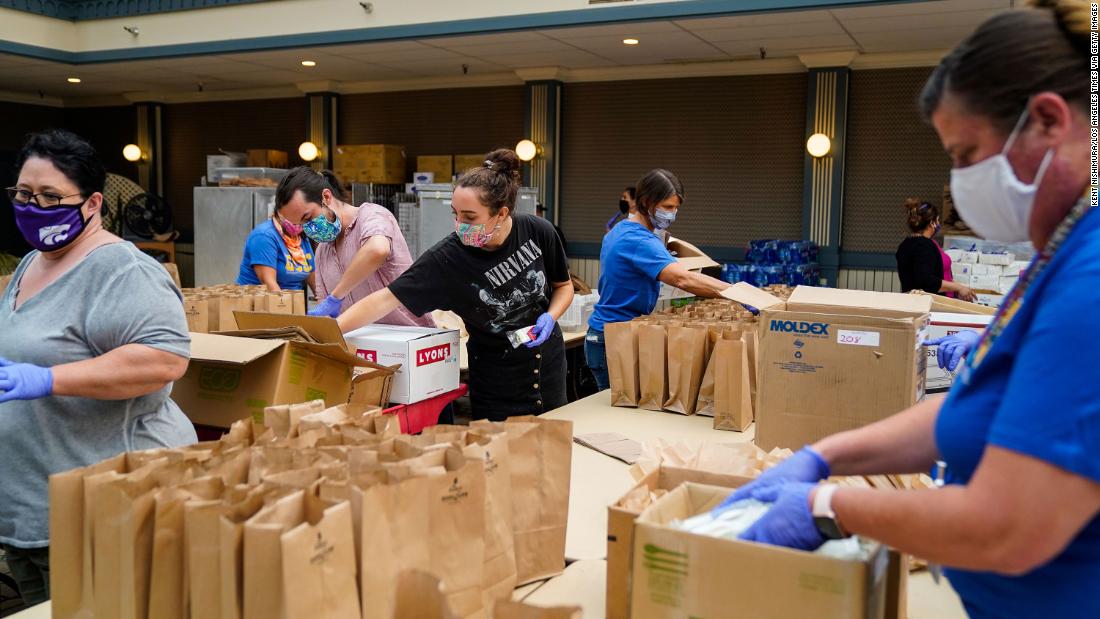 Photos: Wildfires burning in the WestPeople pack brown-bag lunches at an evacuation center in Santa Cruz, California, on August 21.Hide Caption 92 of 124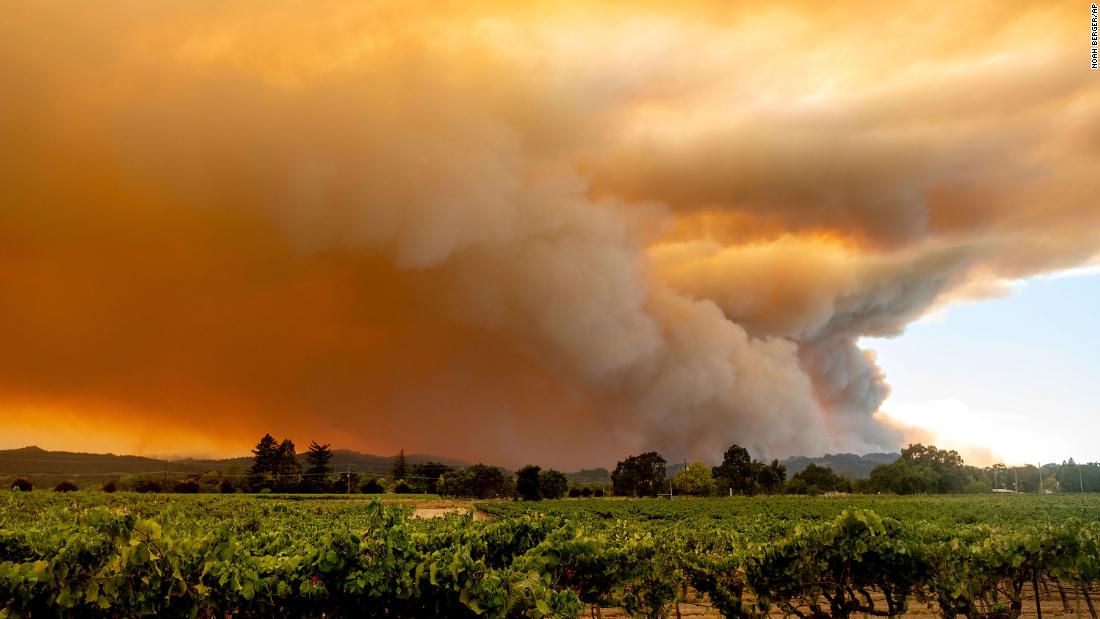 Photos: Wildfires burning in the WestA smoke plume from the LNU Lightning Complex fires billows over Healdsburg, California, on August 20.Hide Caption 93 of 124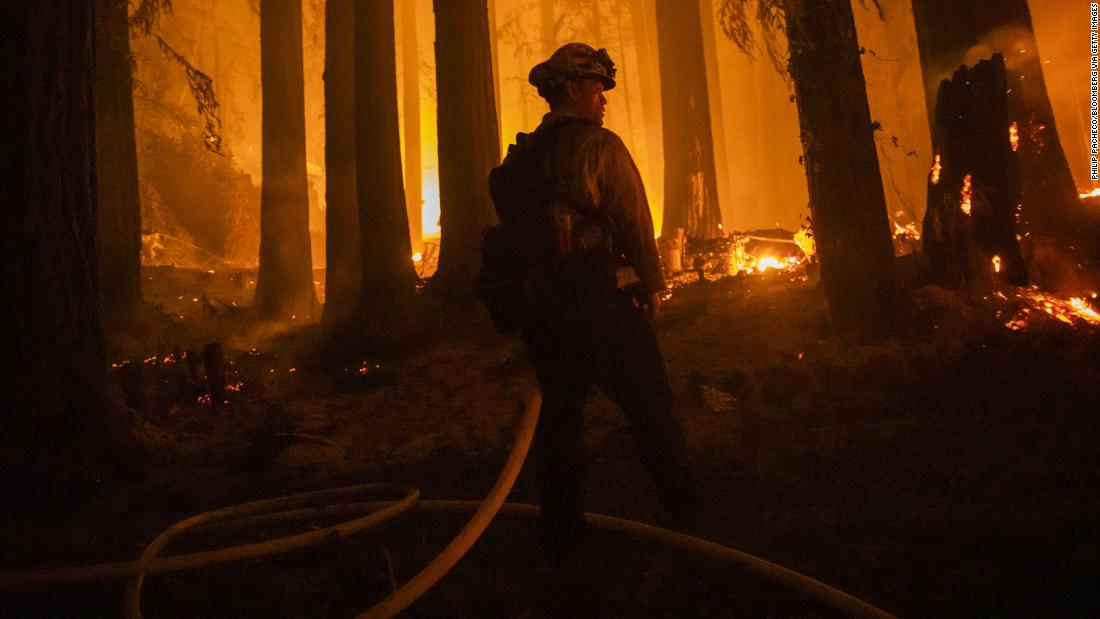 Photos: Wildfires burning in the WestA firefighter battles flames in Santa Cruz County, California, on August 20.Hide Caption 94 of 124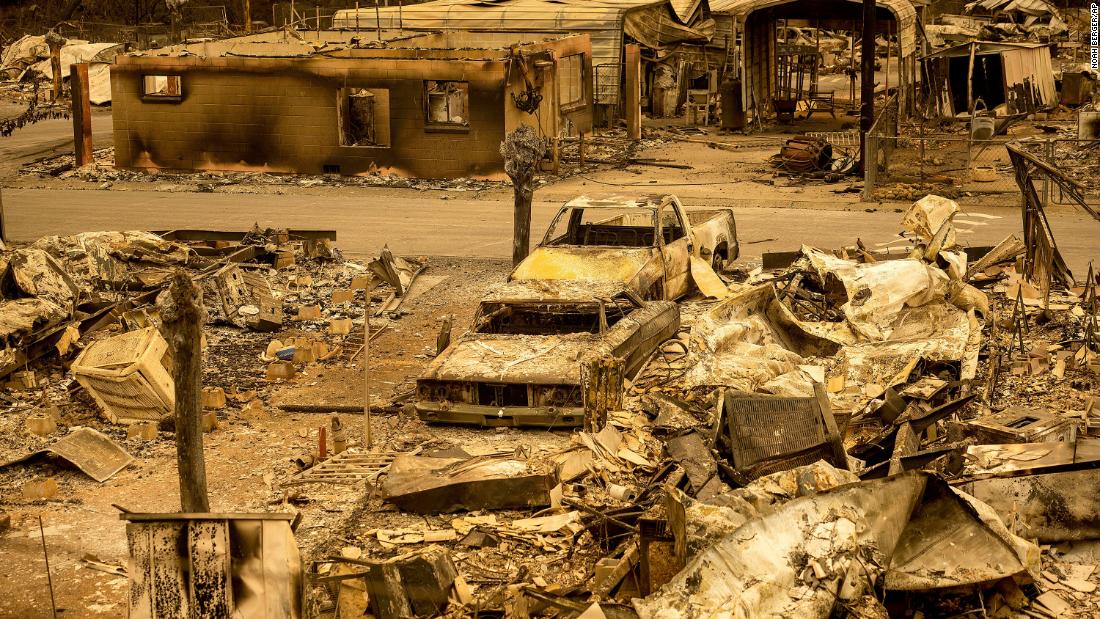 Photos: Wildfires burning in the WestOnly scorched homes and vehicles remain in the Spanish Flat Mobile Villa in Napa County, California, on August 20.Hide Caption 95 of 124
Photos: Wildfires burning in the WestPeter Koleckar reacts after seeing multiple homes burned in his neighborhood in Bonny Doon, California, on August 20.Hide Caption 96 of 124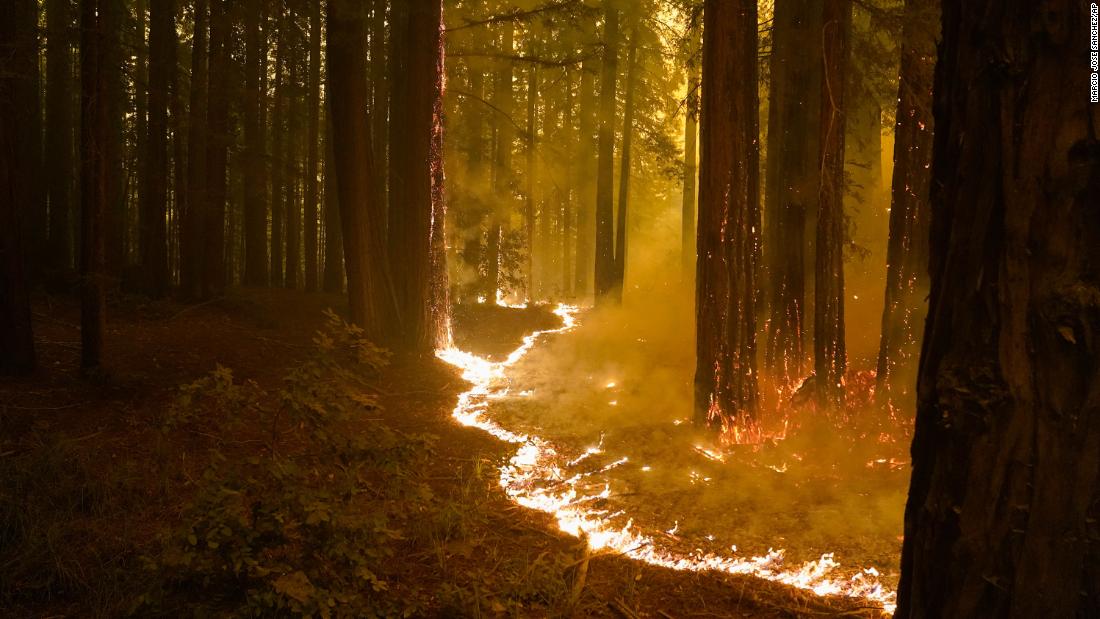 Photos: Wildfires burning in the WestA forest burns in Bonny Doon on August 20.Hide Caption 97 of 124
Photos: Wildfires burning in the WestA man looks at a tree blocking his way after a fire ravaged Vacaville, California, on August 20.Hide Caption 98 of 124
Photos: Wildfires burning in the WestA melted plastic fence lies on the charred ground after fire swept through Vacaville on August 20.Hide Caption 99 of 124
Photos: Wildfires burning in the WestSarah Hawkins searches through rubble after her Vacaville home was destroyed on August 20.Hide Caption 100 of 124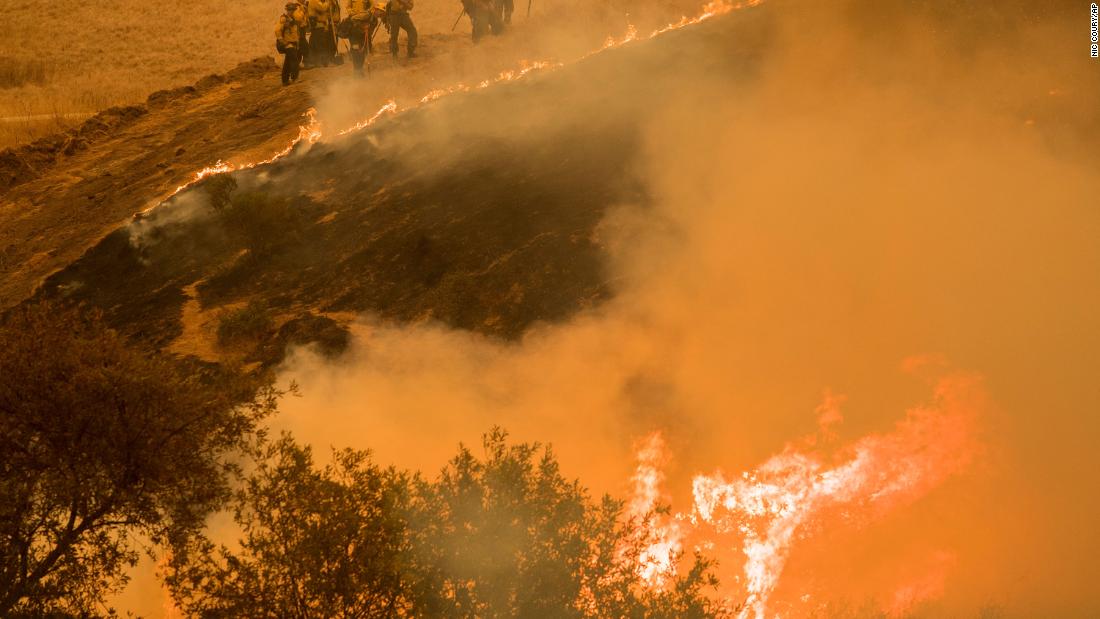 Photos: Wildfires burning in the WestFire crews maintain a backburn to control the River Fire near the Las Palmas neighborhood in Salinas, California, on August 19.Hide Caption 101 of 124
Photos: Wildfires burning in the WestGina Santos cries in her car after evacuating Vacaville on August 19.Hide Caption 102 of 124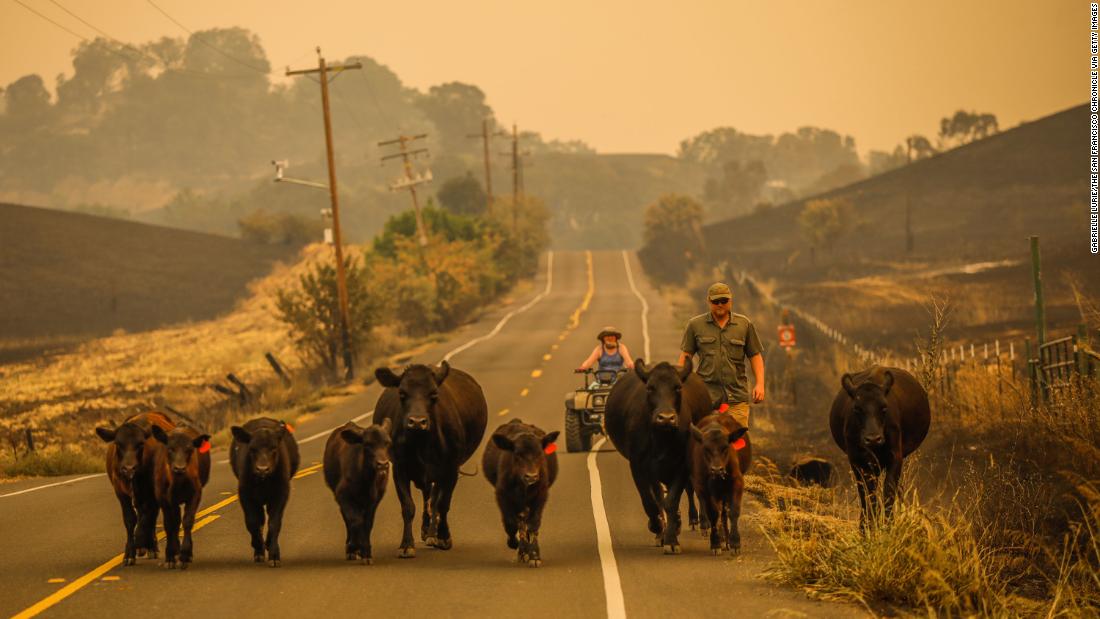 Photos: Wildfires burning in the WestPeople herd cows down Pleasants Valley Road in Vacaville on August 19.Hide Caption 103 of 124
Photos: Wildfires burning in the WestFlames consume a home in Napa County, California, on August 19.Hide Caption 104 of 124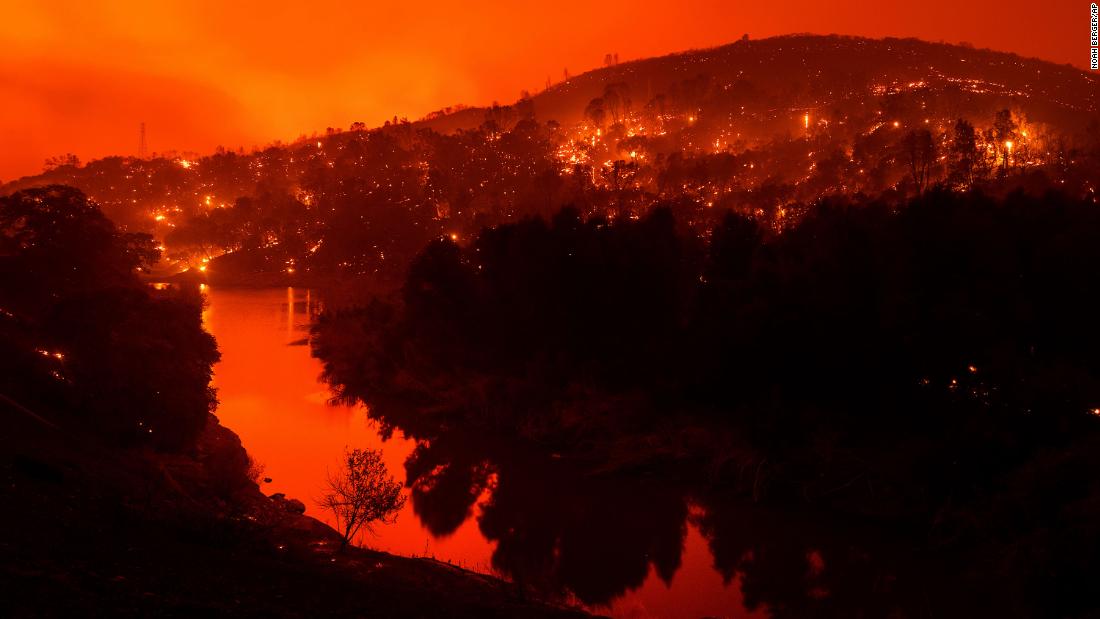 Photos: Wildfires burning in the WestEmbers burn along a hillside above Lake Berryessa as the LNU Lightning Complex fires tear through Napa County on August 18. This image was taken with a long exposure.Hide Caption 105 of 124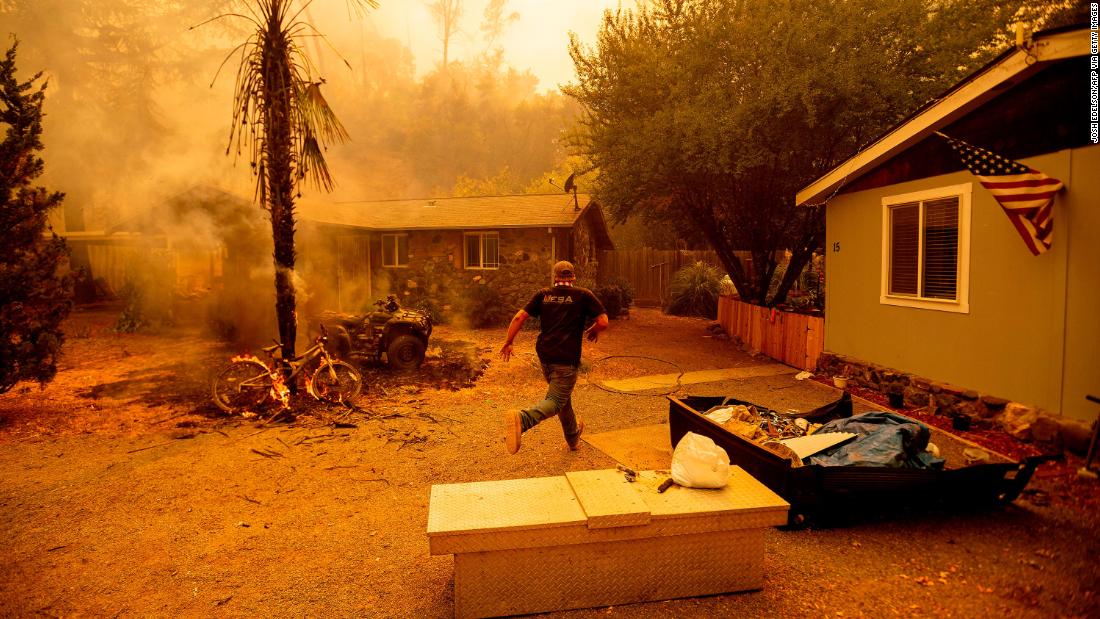 Photos: Wildfires burning in the WestA resident runs into a home to save a dog while flames from the Hennessy Fire close in near Lake Berryessa on August 18.Hide Caption 106 of 124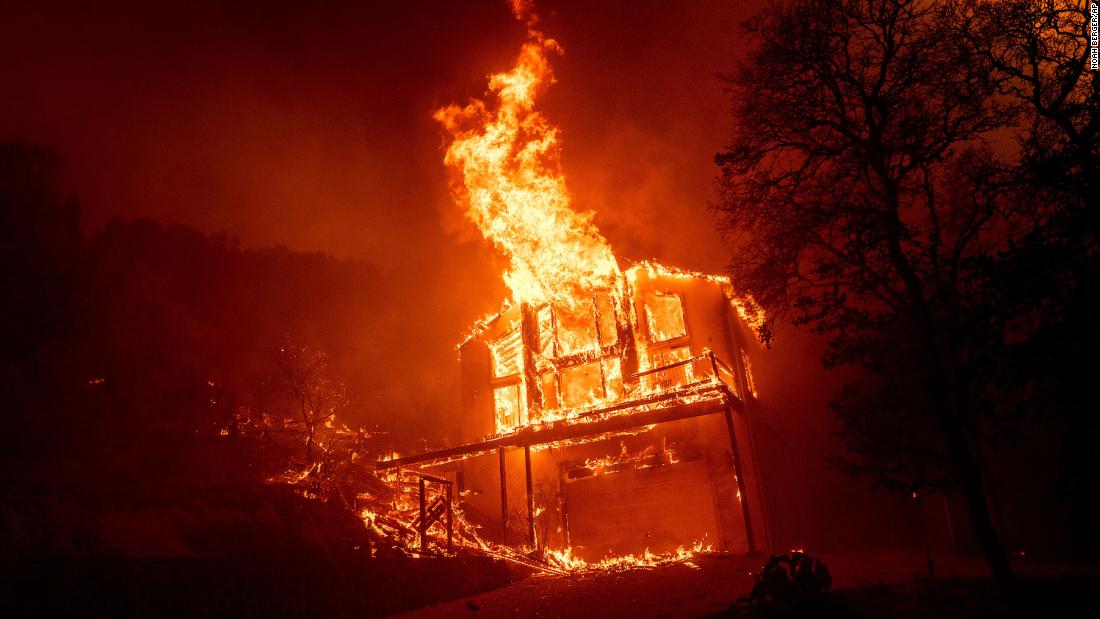 Photos: Wildfires burning in the WestA home burns as the LNU Lightning Complex fires tear through the Spanish Flat community in Napa County on August 18.Hide Caption 107 of 124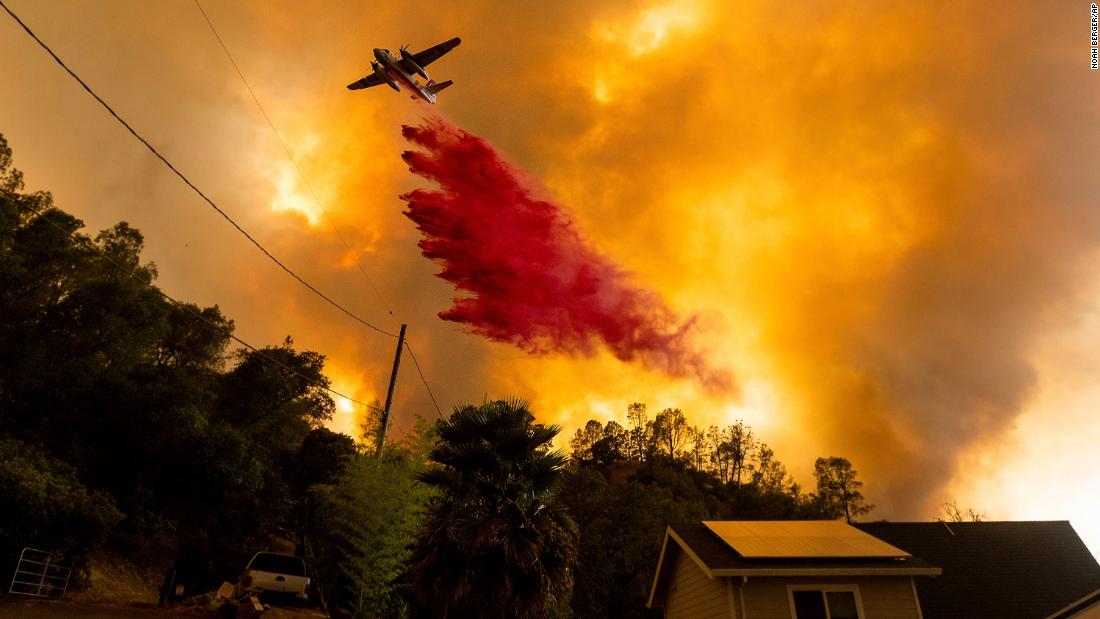 Photos: Wildfires burning in the WestAn air tanker drops retardant on fires in the Spanish Flat community of Napa County on August 18.Hide Caption 108 of 124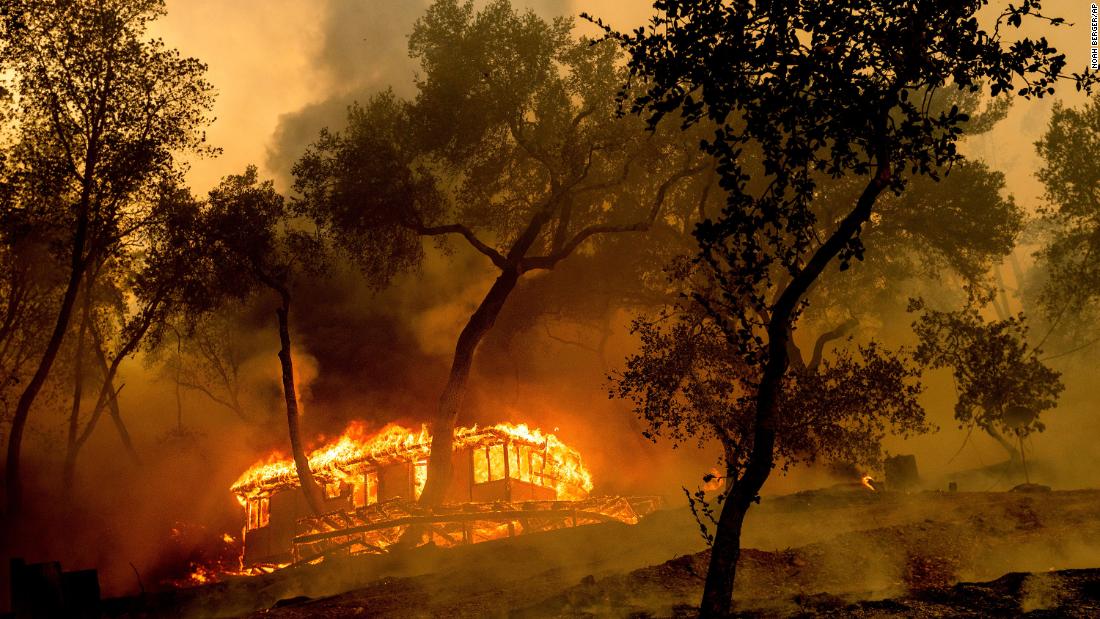 Photos: Wildfires burning in the WestFlames from the Hennessy Fire consume a cabin at the Nichelini Family Winery in Napa County on August 18.Hide Caption 109 of 124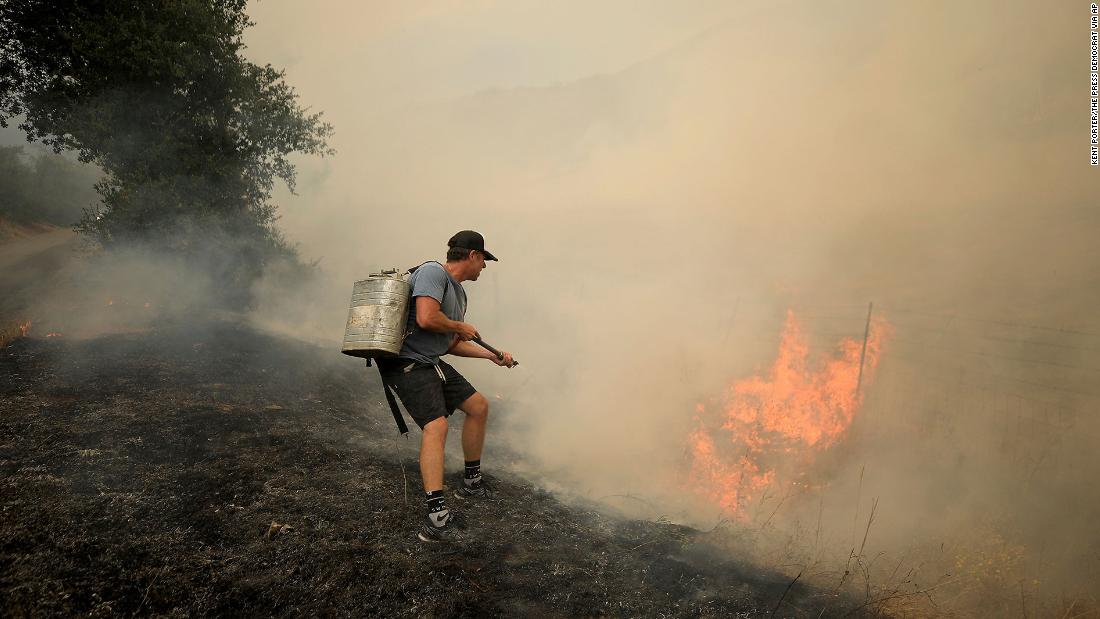 Photos: Wildfires burning in the WestTony Leonardini works on a spot fire as thunderstorm winds fan the Hennessy Fire in Napa County on August 17.Hide Caption 110 of 124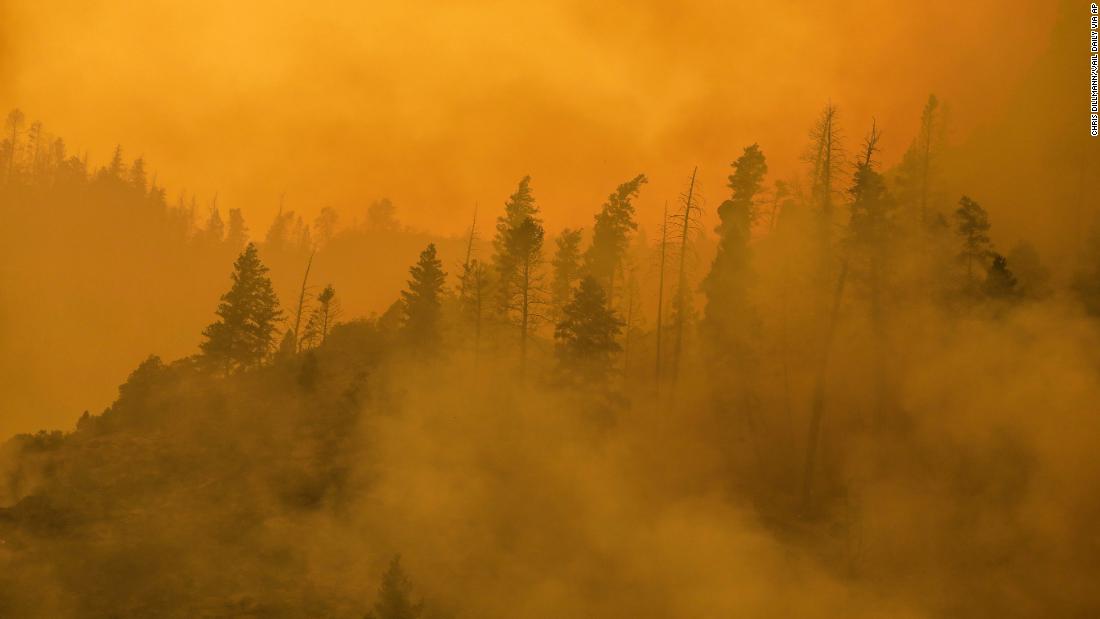 Photos: Wildfires burning in the WestSmoke from the Grizzly Creek Fire is thick in Glenwood Canyon, near Glenwood Springs, Colorado, on August 16.Hide Caption 111 of 124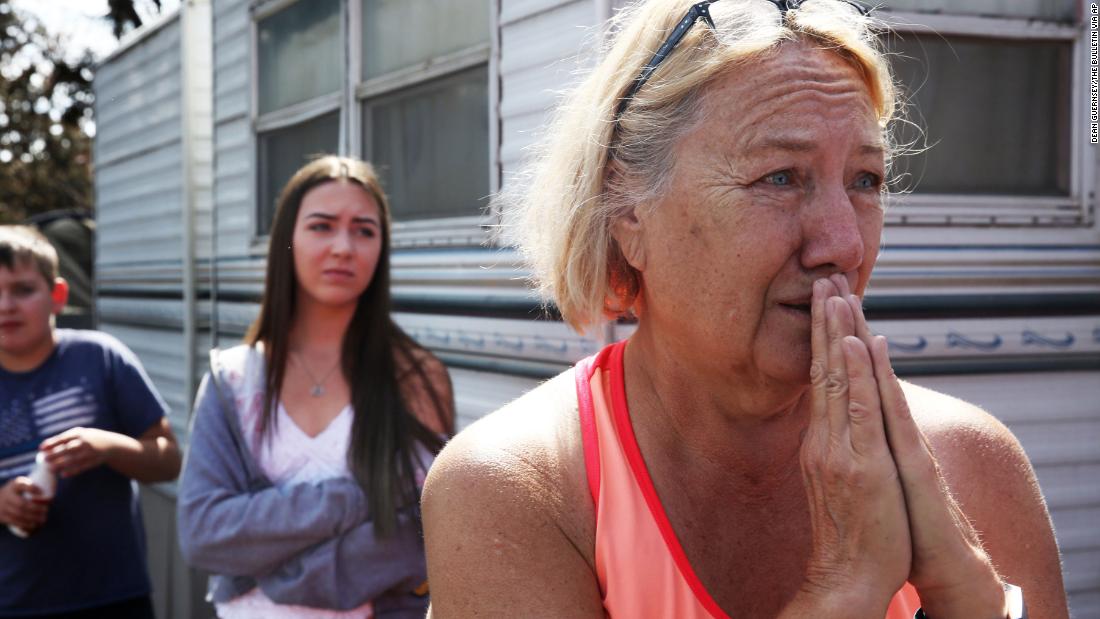 Photos: Wildfires burning in the WestKathy Mathison looks at the still-smoldering wildfire on August 16 that, just a day before, came within several feet of her home in Bend, Oregon.Hide Caption 112 of 124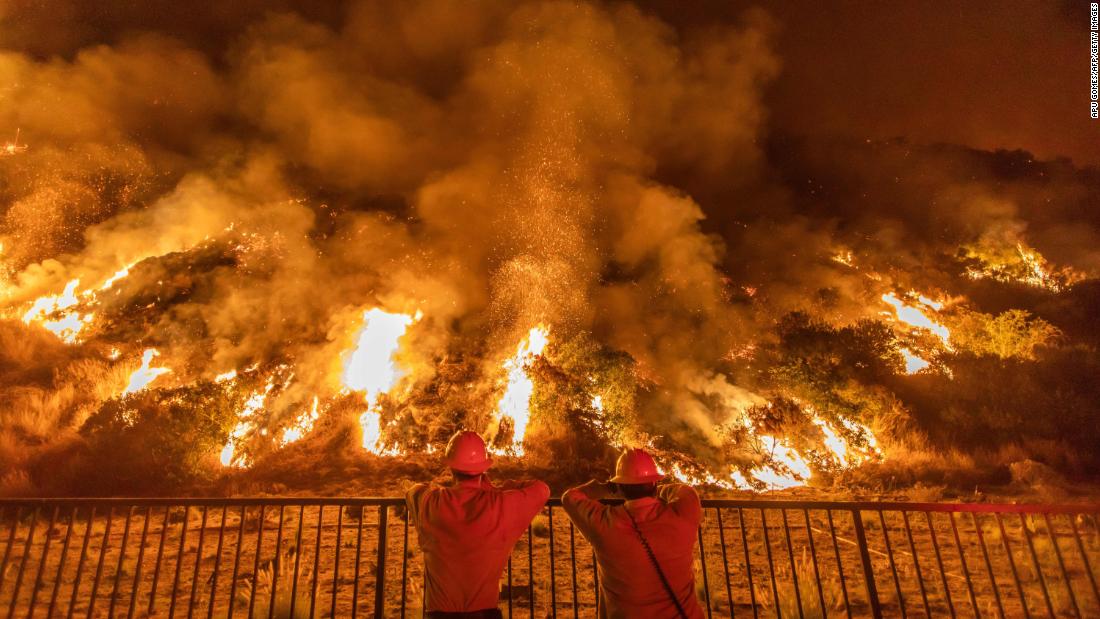 Photos: Wildfires burning in the WestFirefighters look at smoke and flames rising from the Ranch2 Fire in the San Gabriel Mountains, east of Los Angeles, on August 14.Hide Caption 113 of 124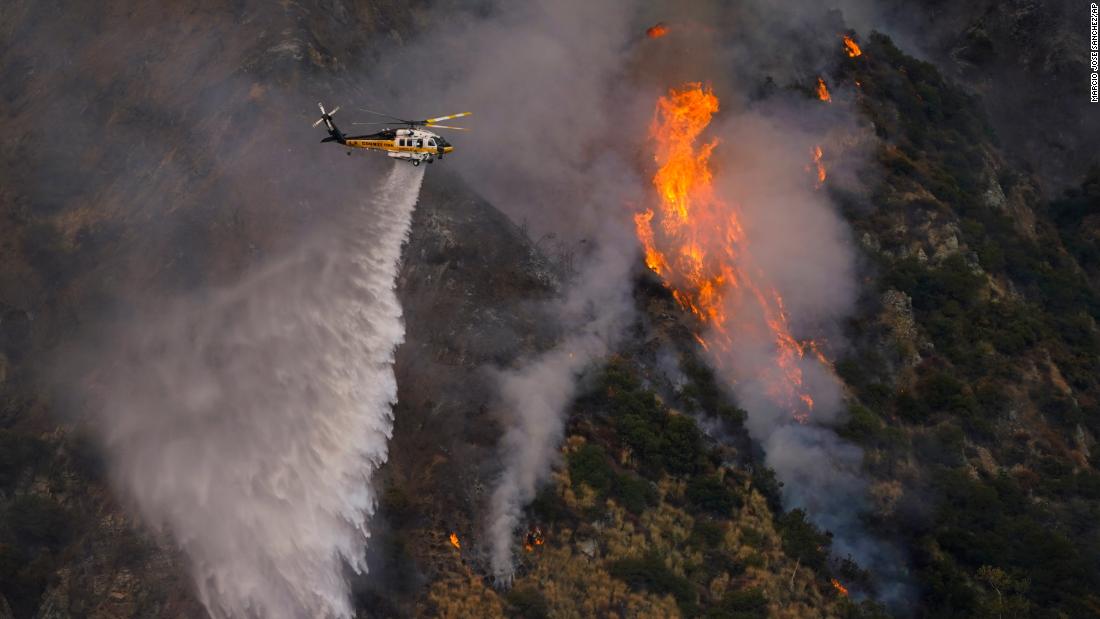 Photos: Wildfires burning in the WestA helicopter makes a water drop over the Ranch2 Fire in Azusa, California, on August 13.Hide Caption 114 of 124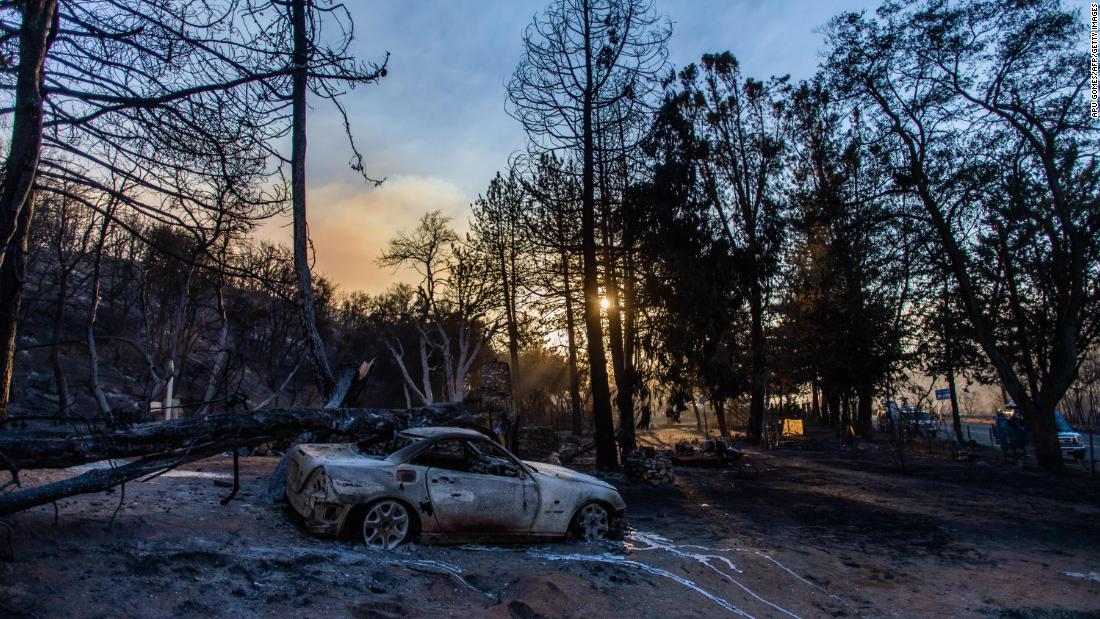 Photos: Wildfires burning in the WestA car is charred by the Lake Fire near Lake Hughes, 60 miles north of Los Angeles, on August 13.Hide Caption 115 of 124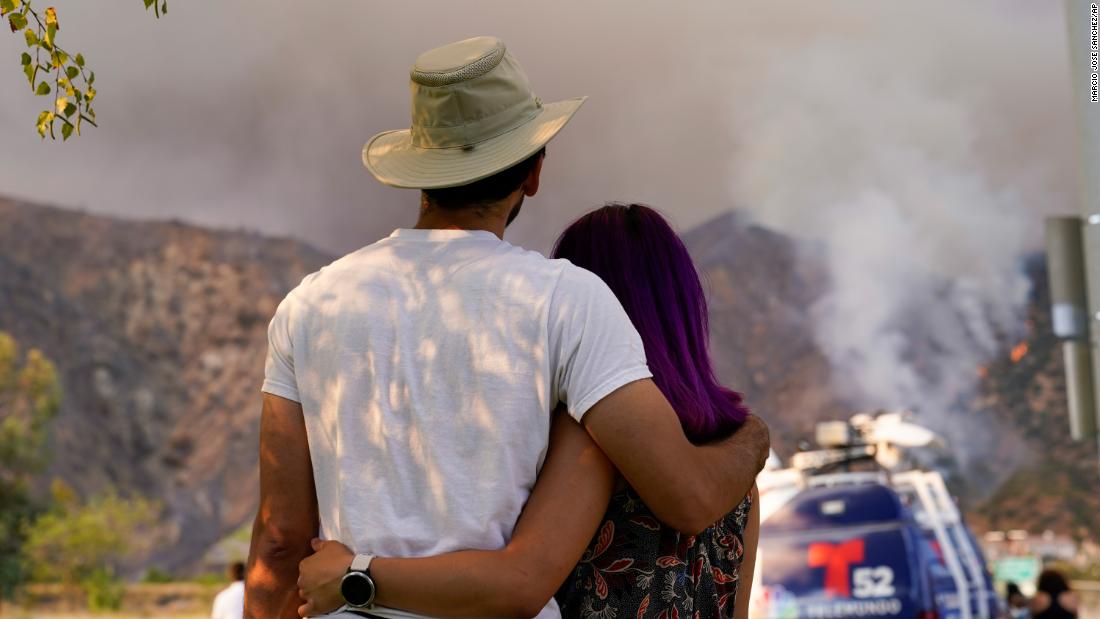 Photos: Wildfires burning in the WestA couple watches the Ranch2 Fire from a distance on August 13.Hide Caption 116 of 124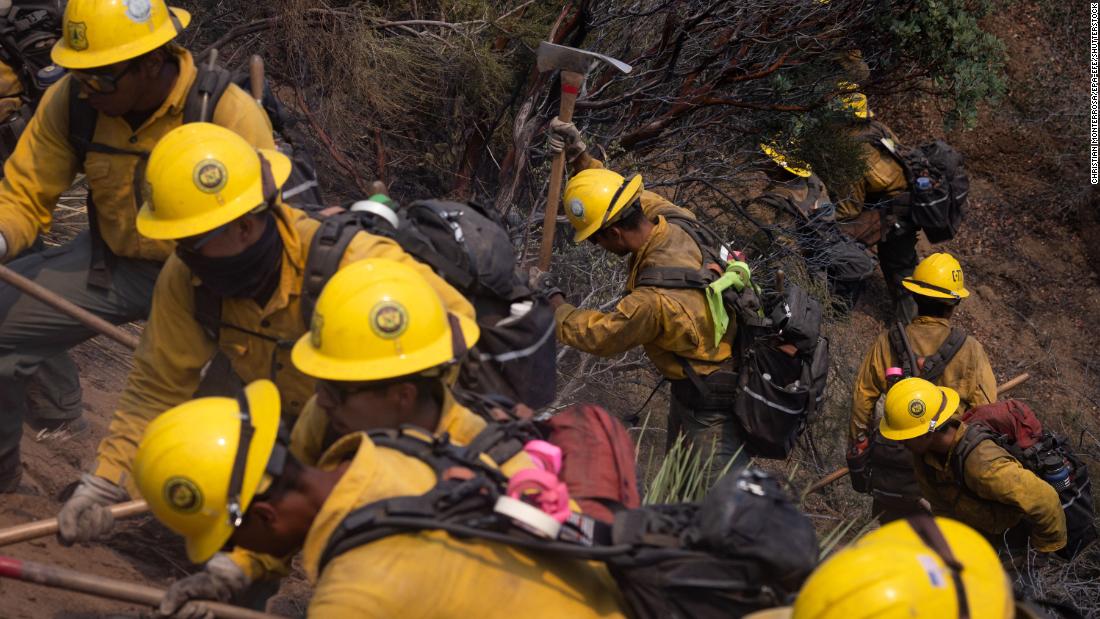 Photos: Wildfires burning in the WestA firefighter crew works in Lake Hughes on August 13.Hide Caption 117 of 124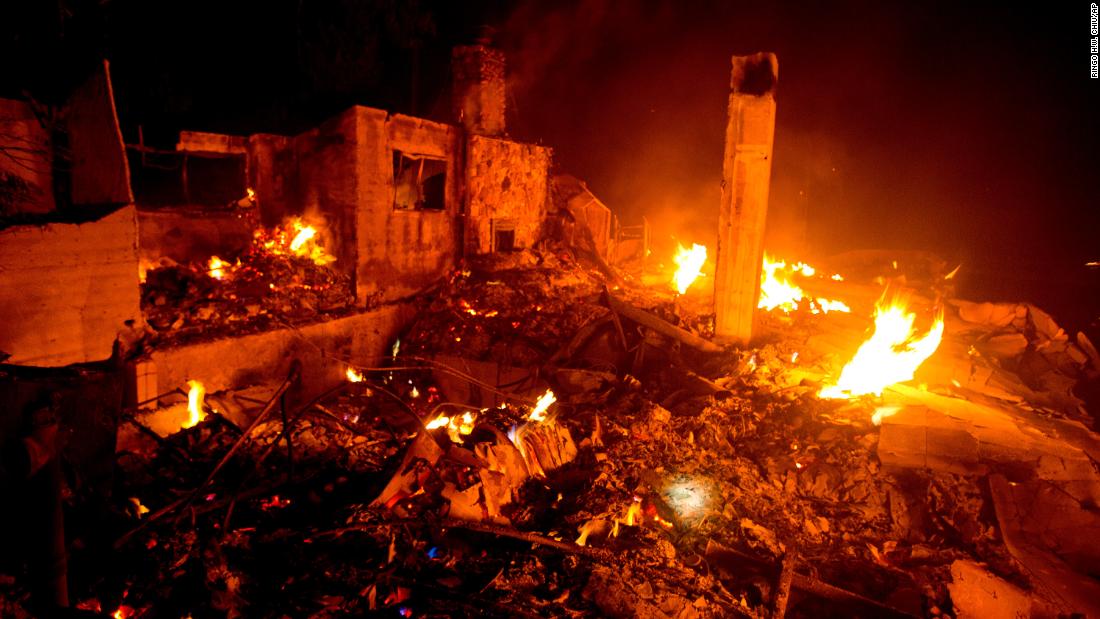 Photos: Wildfires burning in the WestThe Lake Fire burns a home in Angeles National Forest on August 13.Hide Caption 118 of 124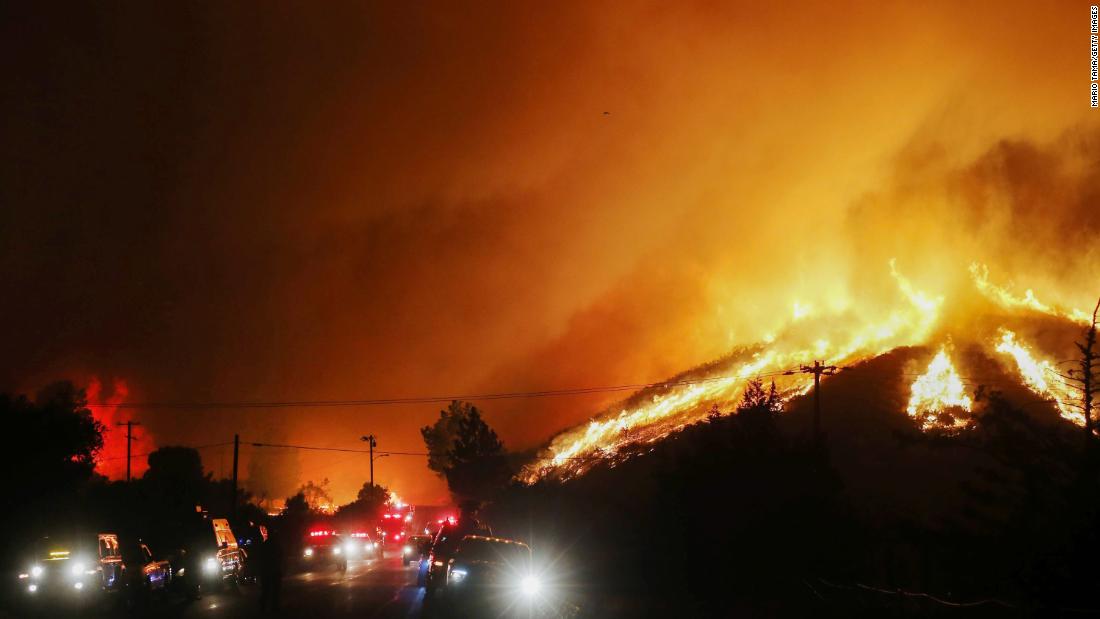 Photos: Wildfires burning in the WestFlames and smoke from the Lake Fire rise on Wednesday, August 12.Hide Caption 119 of 124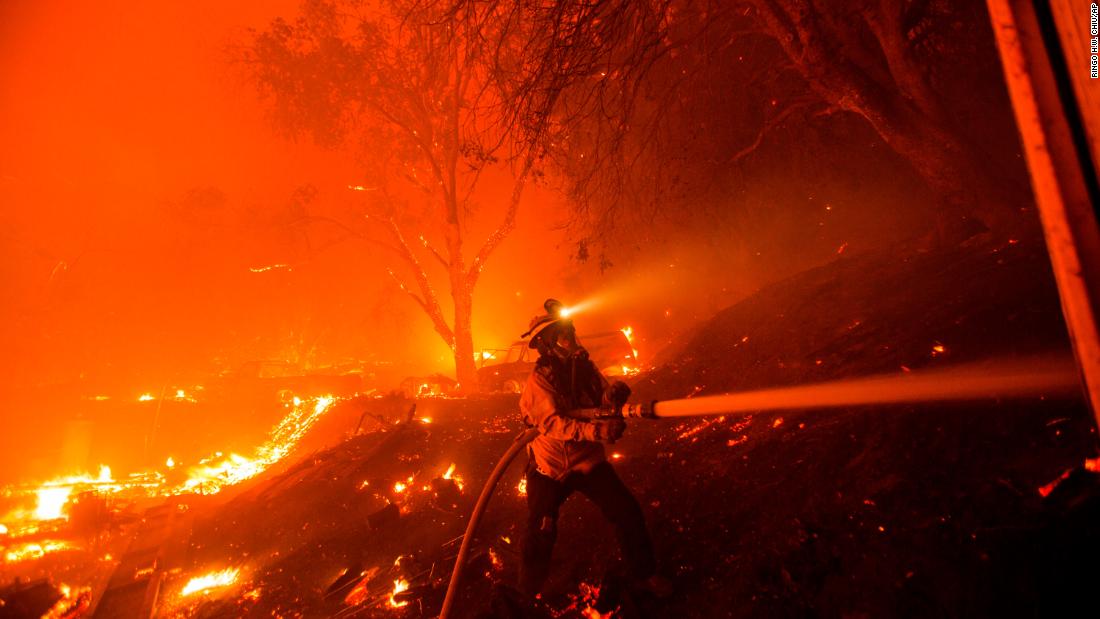 Photos: Wildfires burning in the WestA firefighter works against the Lake Fire on August 12.Hide Caption 120 of 124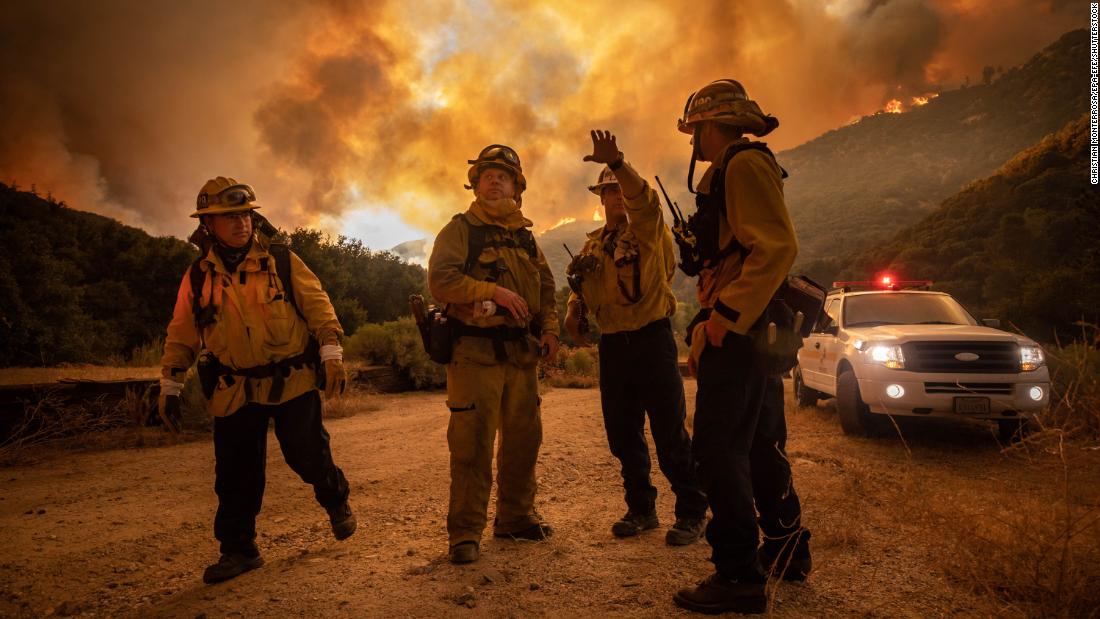 Photos: Wildfires burning in the WestFirefighters make an escape plan as the Lake Fire burns a hillside on August 12.Hide Caption 121 of 124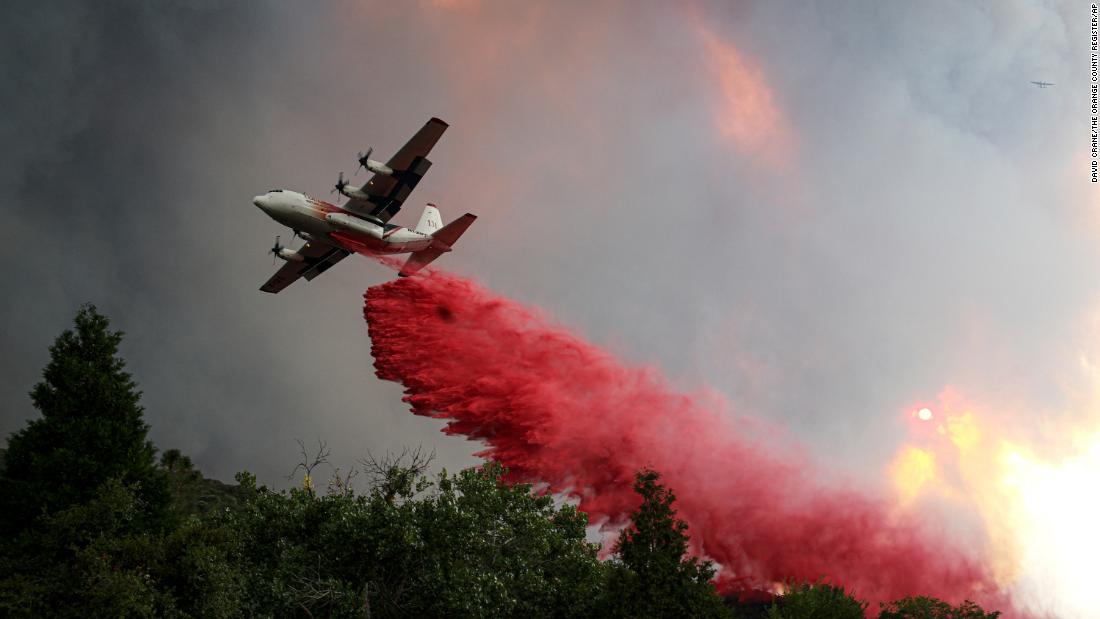 Photos: Wildfires burning in the WestA tanker makes a drop on the Lake Fire on August 12.Hide Caption 122 of 124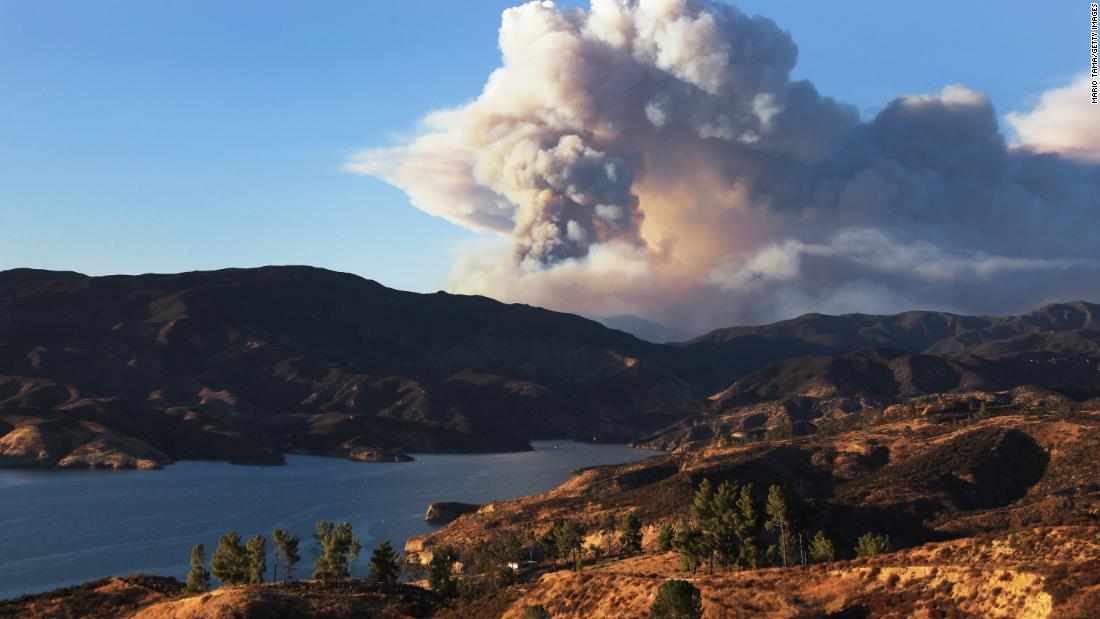 Photos: Wildfires burning in the WestA plume of smoke rises from the Lake Fire on August 12.Hide Caption 123 of 124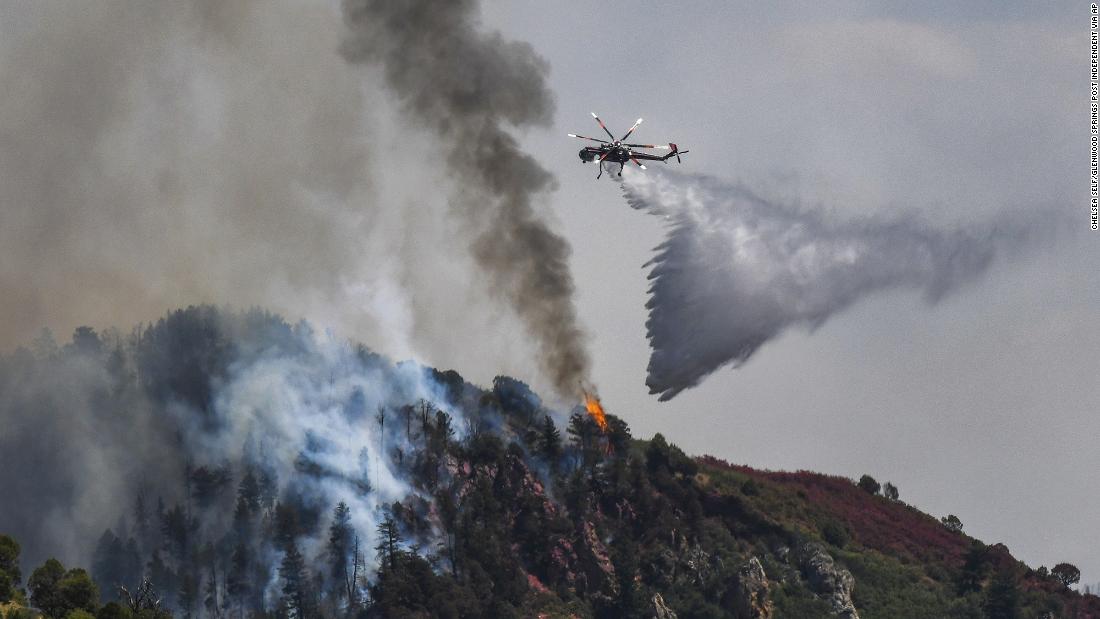 Photos: Wildfires burning in the WestFire crews battle the Grizzly Creek Fire near Glenwood Springs, Colorado, on August 11.Hide Caption 124 of 124













































































































"Pretty much everything that happened between August and September (2020) was lightning activity throughout the state," says Isaac Sanchez, Cal Fire battalion chief of communications. "It was an unprecedented event that lead to a thousand, if not more, fire ignitions." The SCU Lightning Complex, LNU Lightning Complex and North Complex fires — all ignited by lighting — consumed over a million acres last year. Affected counties included Santa Clara, Alameda, Contra Costa, San Joaquin, Stanislaus, Napa, Sonoma, Lake, Yolo, Solano, Plumas , Butte and Yuba.Lightning-induced fires typically start in remote and hard-to-fight areas in the Sierras, but often are blown by wind into cities and towns in the fire's path.Firefighting assets may be stretchedWith all of California in some level of drought, lightning again may contribute a significant percentage of burned acreage in 2021."I wish there was one item that we could point to and say, here it is, if we could just fix this one thing, everything would be better. But it's a combination of things," says Sanchez. "Primarily, what we are seeing is the increased window in which a destructive wildfire will burn. It's starting earlier in the year and lasting deeper into the year."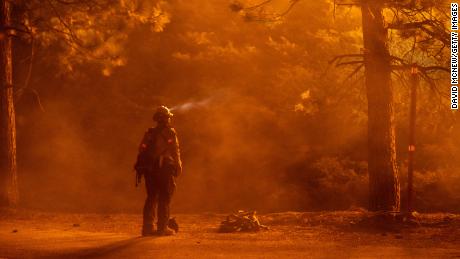 The wildfire season is coming quickly and it's coming earlier, California forecasters warn"The results are drier conditions sooner than we've ever had them before, which once a spark is introduced into the environment, it's just a hop, skip and a jump before it turns into a large destructive fire." Sanchez adds.Firefighting efforts in the West often rely on mutual aid. Assets are moved from one area not experiencing fire to other areas that are. That concentrated effort may be in jeopardy this year with widespread fires occurring in many states."Everything from the Rocky Mountain continental divide westward, including Colorado, Utah, Nevada, Arizona and New Mexico have fire conditions that look really, potentially explosive. The drought is even worse in those places than in California," says Swain. "It looks pretty likely that it will be a severe fire season across most of the West."
Source Link:
https://www.cnn.com/2021/05/13/weather/california-drought-wildfire-season/index.html
400 Bad Request
Request Header Or Cookie Too Large
Comments
comments