Moscow (CNN)Russian President Vladimir Putin set the tone for debate at the G20 meeting in Osaka during a sit-down interview with the Financial Times by making a provocative point: Western liberalism, he said, had run its course.
"There is also the so-called liberal idea, which has outlived its purpose," he said in a wide-ranging discussion of global affairs. "Our Western partners have admitted that some elements of the liberal idea, such as multiculturalism, are no longer tenable."Putin, it seemed, was channeling US President Donald Trump's former White House chief strategist Steve Bannon as he expounded on the surge in populist movements in Europe and the unexpected rise of Trump, whom he met on the sidelines of the summit Friday. "What is happening in the West?" he said. "What is the reason for the Trump phenomenon, as you said, in the US? What is happening in Europe as well? The ruling elites have broken away from the people. The obvious problem is the gap between the interests of the elites and the overwhelming majority of the people."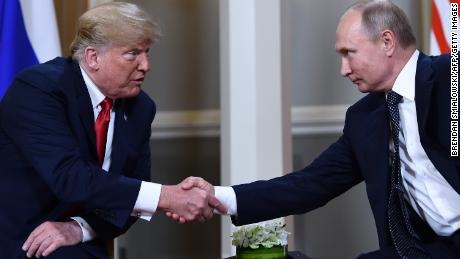 Trump gives Putin light-hearted warning: 'Don't meddle in the election'Leave aside for the moment that Putin's Russia is actually a diverse, multicultural state with substantial Muslim, Jewish and Buddhist communities: Putin's disdain for liberalism touched a nerve. He seemed to be suggesting ahead of a meeting of world leaders that the forces of autocracy and populism were on the ascent.Read More"I strongly disagree with President Putin that liberalism is obsolete," said European Council President Donald Tusk, on Twitter. "What I find really obsolete are authoritarianism, personality cults, the rule of oligarchs."That was an awkward point for Tusk to make, perhaps, while sharing a stage at the G20 with Putin, Chinese President Xi Jinping, Brazil's far-right President Jair Bolsonaro and Saudi Arabia's Crown Prince Mohammed bin Salman. But Putin certainly has used the G20 meetings as highly visible forum to present himself — and his brand of managed democracy — as occupying an equal place with Western democracies.
I strongly disagree with President Putin that liberalism is obsolete. What I find really obsolete are authoritarianism, personality cults, the rule of oligarchs.My press statement at #G20OsakaSummit: https://t.co/4AxPbNnB1X pic.twitter.com/7IGDJpxtmY
— Donald Tusk (@eucopresident) June 28, 2019 How quickly things changeBack in 2014, Putin was a pariah on the world stage following Russia's annexation of the Black Sea peninsula of Crimea and its backing of separatists in eastern Ukraine. Putin left the November 2014 G20 summit in Brisbane, Australia, after a scolding by other world leaders.Nearly five years later, Putin seems to sense an opening. Earlier this week, the Parliamentary Assembly of the Council of Europe approved a resolution making it possible for Russia to return to the body after it was stripped of its voting rights in the wake of Moscow's annexation of the Black Sea peninsula of Crimea from Ukraine in 2014.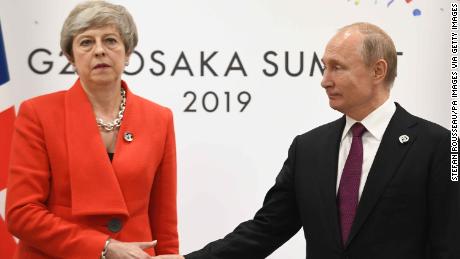 Photo reveals awkward first meeting between Theresa May and Vladimir Putin since Salisbury poisoningRussian state media went into overdrive, casting the vote as a major crack in the resolve of the West, which introduced economic sanctions on Moscow over Crimea and Ukraine.Those sanctions now appear baked in to the Russian economy, and Putin seems to be counting for a more sympathetic audience in Europe — or at least in Britain. At the G20, UK Prime Minister Theresa May confronted Putin, telling the Kremlin that Britain wants to see the people who carried out the Salisbury nerve-agent attack last year brought to justice, and saying Russia must stop "irresponsible and destabilizing activity," Downing Street told CNN.But by granting an interview to the FT, the UK's top business paper, the Kremlin may have been seeking a different audience: the next occupant of Downing Street."This spy story, as we say, it is not worth five kopecks," he said, referring to the Salisbury poisonings. "Or even five pounds, for that matter."But whether other leaders buy that line, or Putin's obituary for liberalism, is a different matter.
Source Link:
https://www.cnn.com/2019/06/28/europe/g20-putin-end-of-liberalism-intl/index.html
[-0.656004]
Comments
comments