(CNN)Heat from California's Creek Fire is creating dangerous thunderhead clouds rising over 45,000 feet high.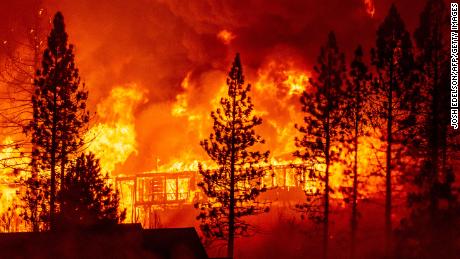 Hundreds of thousands of acres are burning in Oregon, California and Washington, and weather conditions are no helpThe wildfire has already scorched 152,833 acres in its four days of burning through the Sierra National Forest. It's been generating weather, which is in turn is fueling its growth. Imagery from NOAA's GOES-17 satellite is showing just how big the Creek Fire thunderhead got.
UPDATE: @NOAA's #GOES17🛰️ has been monitoring California's #CreekFire, which grew explosively today after igniting in the Sierra National Forest on Friday. In this loop, you can see the fire's extraordinary #Pyrocumulonimbus cloud, which reached an estimated 45,000+ ft high. pic.twitter.com/pcWwnrA2zs
— NOAA Satellites – Public Affairs (@NOAASatellitePA) September 6, 2020 These wildfire-created thunderhead clouds, or pyrocumulonimbus clouds, occur because the fire-heated air rises and carries water vapor up, causing the thunderheads. Common sense would suggest rain clouds would help firefighters knock down the blaze.But the rain creates wind that gives more oxygen to fuel the fire and can cause it to jump fire lines.Read More
SATELLITE SPOTLIGHT: This @NOAA #GOES17🛰️ loop from last Saturday shows how quickly Fresno County's #CreekFire grew after being sparked Friday evening. As of this afternoon, @CAL_FIRE says the #wildfire has grown to 144,000 acres and is 0% contained. #CaliforniaFires #CAwx pic.twitter.com/T8qLQkrwu9
— NOAA Satellites – Public Affairs (@NOAASatellitePA) September 8, 2020 Thunderheads are also well known for their lightning, which can create new fires.
Source Link:
https://www.cnn.com/2020/09/09/weather/creek-fire-weather-thunderheads-trnd/index.html
[0,"neutral"]
Comments
comments