(CNN)A shot off the hips, or a shot from the lips — in cricket, one can be as brutal as the other.
Follow @cnnsport As England and Australia's players gather in Birmingham for the start of the 71st Ashes series on Thursday, the sporting rivalry between the two nations will once again be on show to the watching world.Few sporting series elicit as much emotion as the Ashes where winning is an obsession and getting to the point of victory often means using anything at your disposal to defeat your opponent — including sledging.Verbal barbs designed to put off the opposition in the heat of battle, sledging has long been part of cricket, but the intense rivalry between England and Australia has often taken it to a different level.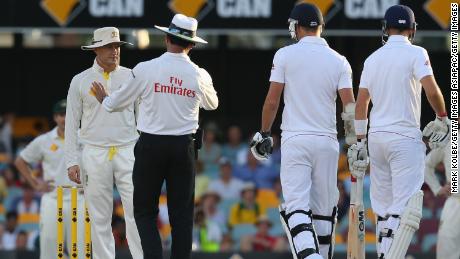 Michael Clarke of Australia speaks to Umpire Aleem Dar as James Anderson of England looks on after a verbal altercation.Some of it witty, some of it less so, the verbal jousting between England and Australia has produced some rather memorable lines during the tussle to hold that precious small urn.Read MoreThat urn, so small, yet so very precious. First presented in 1882, the tiny trophy has become one of the most lusted after trophies in sporting history, lighting fire in the hearts of each player who has taken part in an Ashes series.Take this episode involving Australia's Rod Marsh and England's combative all-rounder Ian Botham in 1981.Attempting to put Botham off his batting, Marsh said: "So how's your wife and my kids?" Botham, not one for holding back, retorted: "The wife's fine — the kids are retarded."Then there was Australian fast bowler Merv Hughes, whose devastating deliveries were almost as frightening as his verbal volleys.
Australian fast bowler Mervyn Hughes liked to offer some verbal advice to his opponents.Taking aim at Graeme Hick in the heat of battle after the England batsman had failed to connect with a number of balls, Hughes stopped to offer his opponent some advice during the 1993 series."Mate, if you just turn the bat over you'll find the instructions on the other side."Even the crowd got in on the act, as Phil Tuffnell, the England bowler found out to his cost during the 1990-91 tour to Australia when a spectator yelled: "Oi Tuffnell! Can I borrow your brain? I'm building an idiot."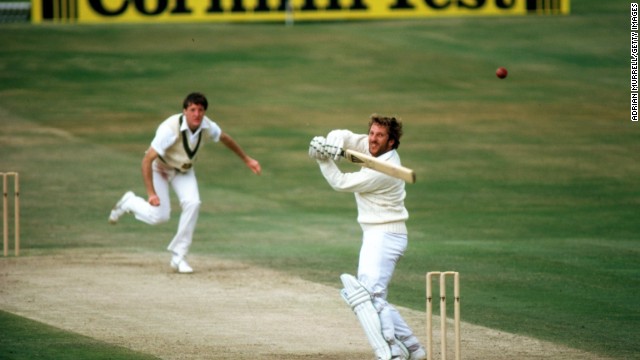 England batsman Ian Botham was never one to shy away from confrontation.READ: Gabriel given four-match ban for alleged homophobic commentREAD: How to solve cricket's ball-tampering problem?READ: After a week of bad headlines, is it time for a reckoning in Australian cricket?For former Australian bowler Glenn McGrath, who often enjoyed interactions with England fans while fielding on the boundary, sledging is just another part of the game."You tried to interact with the crowd and turn it around and have a bit of fun," McGrath said with a smile in an interview with CNN Sport on Monday."Luckily for me, the Australian team was always playing well over here. It was only that 2005 series and the last day of the final Test when it was out of our reach that you could really feel it a bit more."You try and have a bit of fun. I always take it as a compliment. If an opposition crowd is giving you a hard time it's because they respect you. If they didn't' care about you they wouldn't even worry about it. That's the way I try and turn it into a positive."
Glenn McGrath is carried by his teammates after winning the final test and wrapping up the 2007 Ashes series 5-0. For England supporters, three Australians in particular, will represent a very attractive target for some repartee and no shortage of booing.And while Australia will be at pains to point out that is moved on from one of the most shameful episodes in its cricket history, others are not so forgiving.David Warner, then captain Steve Smith and Cameron Bancroft were all banned from top level cricket for ball tampering during a Test match against South Africa in March 2018.Warner and Smith, two of the world's most well known players, were banned for a year. Bancroft was hit with a nine-month suspension. Now all three men walk into the middle of an Ashes storm — a contest that is already high octane enough without paraffin being thrown into the mix.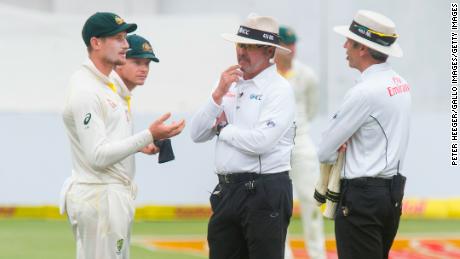 Umpires Nigel Llong and Richard Illingworth confront Australia's Cameron Bancroft during day three of the third Test match between South Africa and Australia."It was a long time ago, it's in the past," McGrath told CNN Sport of the sandpaper episode."They've moved past it, they've moved on. But here, in front of the English crowd, they'll let them remember as often as they can. A lot of it will depend on how they start. "If they start well and they're playing well, it will have very little impact. If you're not playing well then those things can really get in. "They're fairly mentally tough players, on song, Smith and Warner are two of the best players in the world, they'll be keen to get back and let the bat do the talking. If they can do that that will give them the confidence to handle whatever's thrown at them and I think there will be a fair bit thrown at them."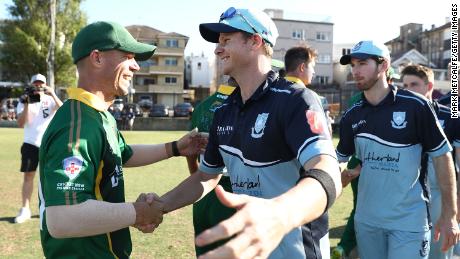 Warner and Smith embrace after facing each other in a club match in Sydney in November. The duo were permitted to play, with their bans only relating to international and state-level cricket.READ: Not cricket: How Australia cheating scandal harms national psycheREAD: Shane Warne 'expecting huge things' as Australians ball-tampering bans come to an endMcGrath, who took 563 wickets in 124 Test matches for Australia before retiring in 2007, may not have always been popular with the English public but he was hugely respected.The fast bowler took 157 wickets against England at an average of 20.92, striking fear into the hearts of England batsmen and fans alike.But, it was his role in the 2005 series, or lack of role perhaps, that sticks in the minds of many.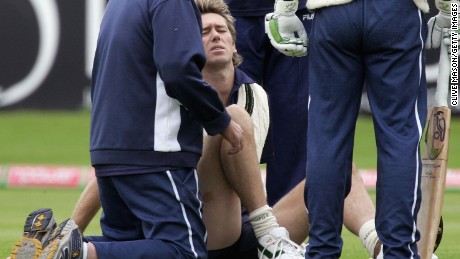 Glenn McGrath of Australia after hurting himself in training before day one of the secon Test in 2005.Having inspired Australia to a huge 239-run victory in the first Test at Lord's by taking nine wickets, McGrath arrived at Edgbaston for the second Test full of confidence. But in a moment that would not only change the series but also transform the fortunes off English cricket, McGrath suffered an injury in the warm-up, ruling him out of the contest.England would go on to win that particular Test match in the most dramatic of circumstances, triumphing by just two runs to ignite one of cricket's most memorable series.Buoyed by winning at Edgbaston, England then went on to win the series 2-1 and lift the famous old urn for the first time since 1987.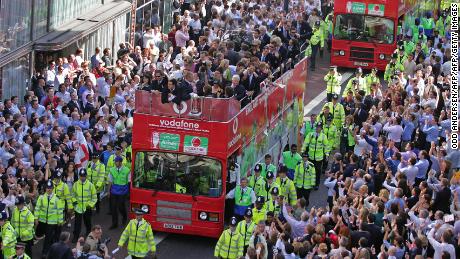 England's cricket team rides in an open top double decker bus through London after winning the 2005 Ashes.England's triumph led to its players being feted as national heroes, parading through the streets of London on an open top bus with thousands turning out to celebrate in the center of the city.Even now, some 14 years later, McGrath says he can't escape being asked about that particular series."Here in England they probably bring it up on average a couple of times a day," he jokes about the 2005 series.Few had expected England to recover after a comprehensive defeat at Lord's in that first Test, especially after it made such an encouraging start.Led by fast bowler Steve Harmison, who claimed five wickets on the opening day to dismiss Australia to 190 all out, England appeared in the ascendancy.But Australia had other idea, skittling England out for 155 before putting on 384 in its second innings. In response, England was blown away with McGrath and Shane Warne each taking four wickets as the home side finished on 180 all out."That was an incredible series the way that first Test match started … there was some amazing cricket there."The thing that I remember most, probably more off the field than on it, was people on the street coming up to me saying that they've never watched cricket before but now they love it and can't miss a ball just because the impact that series was having. "To me, that's great for the game and more people coming along. Hopefully this series can be very similar."
Source Link:
https://www.cnn.com/2019/07/31/world/ashes-england-australia-cricket-spt-intl/index.html
[-0.30003]
Comments
comments