Chiang Rai, Thailand (CNN)Dive operations at a cave in northern Thailand, where 12 young soccer players and their coach are missing, have been halted due to heavy rain, the regional governor told CNN.
Chiang Rai Governor Narongsak Osatanakorn said a team of US military rescuers arrived at the site late Wednesday but had been unable to safely enter the flooded cave."They went straight to the cave but due to the heavy rain and the cave's flooding, their team and ours had to pull out," Osatanakorn said. "As far as I know they have come with set of underwater equipment with sonar system, which also can dive down underwater."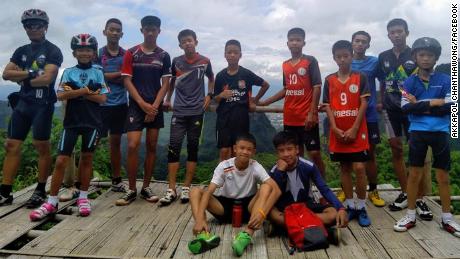 The missing boys, with their coach, seen here in an image taken from the coach's Facebook page.A military spokeswoman told CNN the US team — comprised of rescue paratroopers, a survival specialist and support personnel — is in Thailand "in an advise and assist role," and has 24-hour support capability. "We're really here to provide that expertise and capability knowledge to our Thai partners," US Air Force public affairs officer Jessica Tait said.Read More"Obviously they have been providing tremendous effort for the past four days on the rescue attempt." The 12 boys, ranging in age from 11 years old to 16, and their 25-year-old coach, have been missing since Saturday afternoon when a park officer spotted bicycles parked by the entrance to the cave complex despite it being off-limits.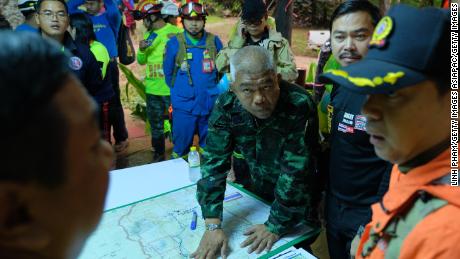 Thai officials look over a map of Tham Luang Nang Non cave in the search for the missing boys on June 28, 2018.Those bikes have been gathered and grouped together as the boys' families await news.The boys and their coach are believed to have crawled into the large series of caves through a narrow, 15-meter long (50 foot) channel.A sign at the entrance to the cave — a popular tourist attraction — warns of danger during the rainy season, which is just getting underway.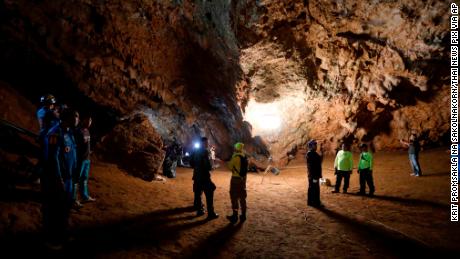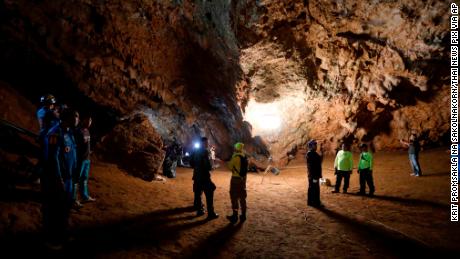 JUST WATCHEDSearch continues for teens trapped in caveReplayMore Videos …MUST WATCH
Search continues for teens trapped in cave 03:14Trekkers look for alternate routes inTrekking teams are still searching above ground for alternate entrances to the cave system."It seems the first option — of drawing out water and bring them out through the mouth of the cave is difficult now," Osatanakorn said. We have (another) option, of going down from above, we found holes and chimneys, and we are prepared to drill the hole down if we have to." Josh Morris, founder of Chiang Mai Rock Climbing, said that two of his employees are helping with rescue operations. Noppadol Uppatham had been there since Saturday, he said, as part of a "rope and technical team.""There's a diving team and separately there are army officers that are looking through the landscape to find possible other entrances outside, to bypass the entry point," Morris told CNN. "That way they could rappel down to the cave. When you are caving you look for a hole and notify to a tech team to look if that would be suitable. That's where (Uppatham) is working."Thanya Netithamkul, director general of the national park, wildlife and plants department, said that trekking teams had found a vertical shaft that appeared to lead into the cave, and had dropped in food and drinking water in case the group was nearby.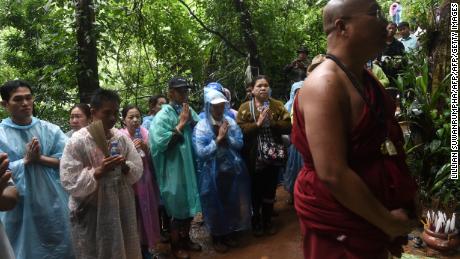 A Buddhist monk and relatives pray as they keep vigil near the Tham Luang cave.Unusually high amount of rainOsatanakorn, the governor, says the amount of rain falling on the region "is very unusual" even during the current rainy season. A five-hour storm from Wednesday into the early hours of Thursday morning pushed water levels in the cave even higher."Our teams who were working inside the cave had to withdraw to the mouth of the cave," he said. "We just can't fight the (amount of) water."Rain is forecast in northern Thailand for the next several days, CNN meteorologist Haley Brink said."Thailand is currently under the influence of the southwest monsoon, meaning a prevailing stream of warm, moist air from the Indian Ocean is surging towards Thailand causing abundant rains over much of the country," she said.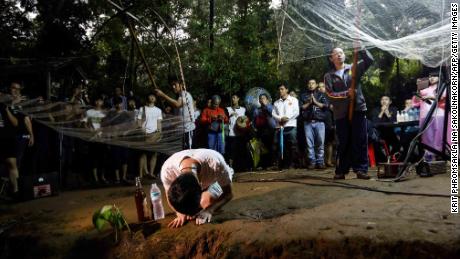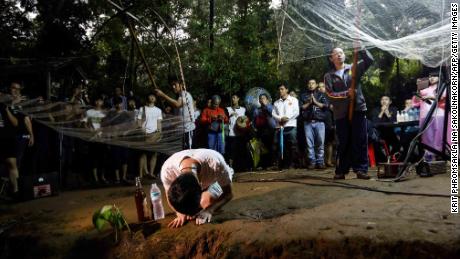 JUST WATCHEDThailand resumes search for missing soccer teamReplayMore Videos …MUST WATCH
Thailand resumes search for missing soccer team 01:15Despite the mounting odds, and the length of time the boys have been missing, Osatanakorn said that the government has "hope" that they are alive.Osatanakorn said that larger water pumps, normally used to deal with flooding in Bangkok, had been brought in overnight to help reduce water levels in the cave.He said major progress had been made Wednesday in getting the heavy-duty water pumps up and running."Yesterday, we made big progress, because we have installed heavy duty water pumps at the mouth of the cave."It's the first time rescuers have been able to pump water directly out of the cave entrance — previously smaller pumps had been operating by drawing water from creeks which run into the cave system.Families wait for newsRelatives started gathering at the cave entrance Saturday evening, and now around 60 people sit in a makeshift tent camp set up by the local government as they anxiously await updates from officials.Sudsakorn Sutham, the father of one of the missing boys, Prachak, said he is certain the authorities will bring the boys home."I feel (the situation) is getting better and better. I am confident that my son will come back. There's so much help here."He said he believes his son's athleticism will help him survive in the caves. "I'm so confident, one million percent. Because my son is strong. … He is an athlete. He is a footballer."
Source Link:
https://www.cnn.com/2018/06/28/asia/thai-football-team-trapped-intl/index.html
[0.143927]
Comments
comments