(CNN)The District Attorney's Office in suburban Houston filed five environmental criminal charges Monday against a petrochemical plant, where a fire burned for four days in March.
Intercontinental Terminals Company's "make-shift dike" broke after the fire, which sent "large (and still unknown) quantities of xylene and benzene, highly toxic chemicals, into Tucker Bayou, which flows directly into the Galveston Bay," according to a news release from Harris County District Attorney Kim Ogg.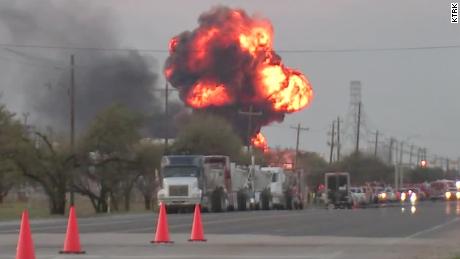 A huge fire at a Texas chemical plant is out, 4 days after it startedBecause of this release of chemicals from the Deer Park storage facility, water pollution was at criminal levels between March 17 and 21, Ogg's release said. The DA's office said that established probable cause to criminally charge ITC for each day it violated the law."People living in Deer Park and the other neighboring residential areas near ITC's plant deserve protection, too," Ogg said. "When public health is at risk, it's a public safety concern." ITC could face a fine of up to $100,000 for each of the five charges filed, Ogg said. Read MoreOne of the chemicals released, xylene, is a solvent that occurs naturally in petroleum, ITC said. Swallowing or breathing the substance can cause death, while nonlethal exposure can cause eye, nose, throat and skin irritation, among other maladies, according to the National Library of Medicine."The discharge from the ITC fire into Tucker Bayou is a clear water pollution case," said county Environmental Crimes Division Chief prosecutor Alex Forrest. "We are looking forward to reviewing the reports of other local and federal agencies, as they complete their investigations, so that we can determine if other charges will follow." ITC apologizes for the fireNo serious injuries were reported and the cause of the blaze is still under investigation."We're sorry for what has happened. We're sorry to our neighbors. We're sorry to our communities. We're sorry to the employees who live there," ITC spokeswoman Alice Richardson said.Before the fire was extinguished, several school districts near the facility, including Deer Park and La Porte, closed and canceled after-school activities because of the conditions from the fire and changes in the weather.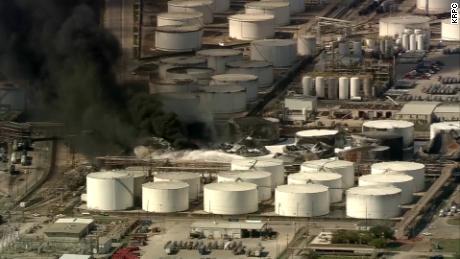 The fire at ITC, a storage facility in Deer Park, Texas, burned for four days before being extinguished. Richardson became emotional while the fire was burning when a reporter asked if ITC wanted to apologize to Deer Park residents. "This isn't an event we wanted or planned," she said as her voice cracked.She estimated 30% of the plant's employees live in Deer Park."They're out there fighting this fire the best they can … their family is of concern. So of course, ITC would apologize to any of them."According to ITC, the Deer Park terminal opened in 1972 and has capacity for 2.2 million cubic meters — more than a half-billion gallons — of storage for "all kinds of petrochemical liquids and gases, as well as fuel oil, bunker oil and distillates."The Texas Commission on Environmental Quality and Harris County have been in legal battles over spills at the facility in previous years, according to court documents.
Source Link:
https://www.cnn.com/2019/04/29/us/deer-park-itc-plant-fire-charges/index.html
[-0.766242]
Comments
comments