T.J. Holmes and Amy Robach have reached an agreement with Disney's ABC News to exit the network after their cheating scandal dominated tabloids and caused internal drama for nearly two months.
"After several productive conversations with Amy Robach and T.J. Holmes about different options, we all agreed it's best for everyone that they move on from ABC News. We recognize their talent and commitment over the years and are thankful for their contributions," an ABC News spokesperson told Fox News Digital.
The lovebirds have been sidelined for eight weeks as ABC News looked into the extent of their extramarital affair. They have hosted "GMA3," the midday extension of ABC's flagship "Good Morning America," since 2020.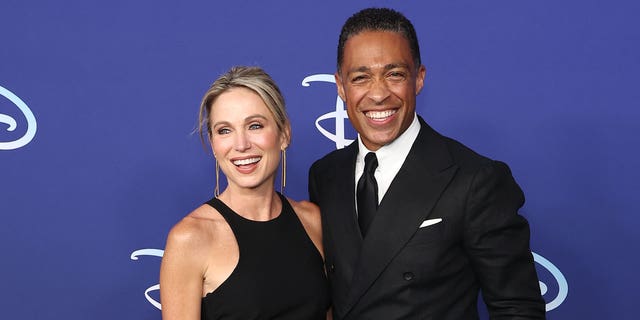 Amy Robach and T.J. Holmes, co-hosts of ABC's "GMA3," have been pulled off the air since late last year. (Arturo Holmes/WireImage)
ABC NEWS BOSS KIM GODWIN UNDER FIRE FOR HANDLING OF AMY ROBACH, T.J. HOLMES AFFAIR: 'IT'S EMBARRASSING'
TMZ previously reported that mediation was "extremely contentious," and ABC honchos accused Robach of violating company policy by keeping liquor in her dressing room.
ABC News did not immediately respond to a request for comment. Robach and Holmes also did not respond to multiple requests for comment.
Holmes and Robach had clear on-air chemistry that was revealed to be more when Daily Mail reported the affair last November. The shocking story included several intimate photos of the midday ABC News anchors taken throughout the month while both were married to other people.
In the weeks since, tabloids have essentially covered their every step, keeping scandalous headlines about the Disney-owned network at the forefront.
T.J. HOLMES, AMY ROBACH LAWYERED UP AS ABC CONTINUES TO KEEP THEM OFF AIR AMID EXTRAMARITAL AFFAIR PROBE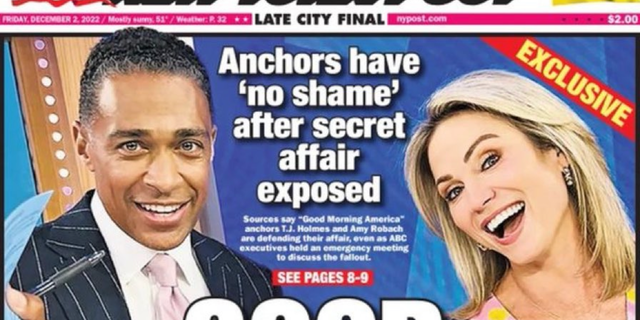 An extramarital affair between ABC's "GMA3: What You Need to Know" co-hosts T.J. Holmes and Amy Robach landed on the front page of the New York Post. (New York Post)
Public displays of affection between the duo were caught on camera, and Holmes has since been accused of other affairs with multiple former ABC News employees. Along the way, the cheating scandal resulted in workplace drama at ABC News.
"I think it's definitely caused some internal drama and gossip. Everyone's seen the… headlines. I think people thought it would blow over, but new reports keep coming out," a current ABC News staffer told Fox News Digital.
"Absolutely," a second current ABC News staffer told Fox News Digital when asked if the high-profile cheating scandal has affected morale among the rank-and-file.
"[The workplace affair] makes the network look bad," the second staffer added. "It's supposed to be a family network.
When the scandal first broke, ABC News initially declared that Holmes and Robach would not be disciplined for their relationship, as both parties were considered consenting adults. They were even allowed to go on air the same week their cheating hit the tabloids, and Holmes and Robach proceeded to downplay it and joke about having a "great week."
T.J. HOLMES'S ESTRANGED WIFE SLAMS HIS 'LACK OF DISCRETION, RESPECT' OVER AMY ROBACH CHEATING SCANDAL
The following Monday, ABC News president Kim Godwin did an about-face and pulled Holmes and Robach off the air, claiming the "distraction" had become too significant. They have been off the air since early December, with ABC saying the situation was being evaluated, until mediation began this week.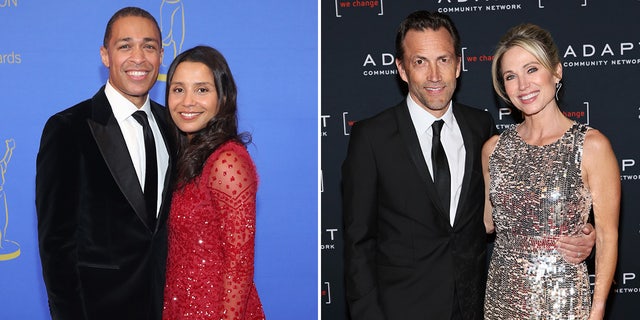 T.J. Holmes and his soon-to-be ex-wife Marilee Fiebig share one daugther together. They are pictured together in 2020. Andrew Shue and soon-to-be-ex husband Amy Robach have their own children from separate prior relationships. They are photographed together in 2022. (Bennett Raglin/Mike Coppola)
Robach has been married to former "Melrose Place" star Shue for 12 years, but is now in the midst of a divorce. Shue and Robach co-wrote a 2021 children's book called, "Better Together," based on their blended family.
Holmes, who is also going through a divorce, has been married to Marilee Fiebig since 2010, and they share one daughter.
Through a divorce attorney, Fiebig recently blasted Holmes' "lack of discretion, respect and sensitivity" after he was pictured kissing Robach in public.
Brian Flood is a media reporter for Fox News Digital. Story tips can be sent to [email protected] and on Twitter: @briansflood.
Source Link:
https://www.foxnews.com/media/tj-holmes-amy-robach-not-expected-return-abc-news-over-cheating-scandal-discussions-ongoing
Comments
comments