A large container ship remains stuck in Egypt's Suez Canal, blocking other vessels from moving in both directions and sparking a traffic jam in one of the most important waterways in the world.
The Ever Given, which is sailing under the flag of Panama, is lodged at the 151-kilometer (94-mile) mark of the canal after entering the the crucial East-West trade route on Tuesday morning. The container ship ran aground when it was approximately 6 nautical miles from the southern end of the estuary, Evergreen Marine, the vessel's operating company, said in a statement.Eight tug boats are working to float and unblock the 59-meter-wide (193.5 feet) vessel, which was en route to the port of Rotterdam, after 40-knot winds and a sandstorm caused low visibility and poor navigation, the Suez Canal Authority said in a statement Wednesday."The vessel is 400 meters in length and 59 meters in width, with a total tonnage of 224,000 tons," the authority added."Tankers carrying Saudi, Russian, Omani and US oil are waiting on both ends," according to Tanker Trackers, which monitors vessels through satellite and maritime data.Read More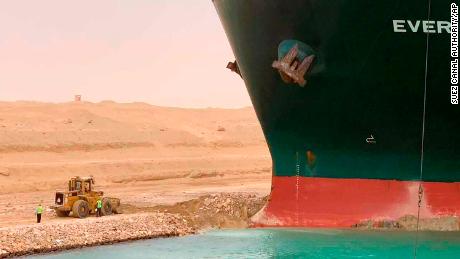 An Egyptian official warned Wednesday it could take at least two days to clear the ship. The Ever Given was transiting from the Red Sea to the Mediterranean when it ran into trouble at about 7.40 a.m. (1.40 a.m. ET) after the ship suffered a blackout, Reuters reported citing port agents GAC.GAC said on its website 15 other vessels in a northbound convoy behind the ship have been held at anchorages while the canal is cleared. A southbound convoy is also blocked, it said. Nearly 19,000 ships, or an average of 51.5 ships per day, with a net tonnage of 1.17 billion tonnes passed through the canal during 2020, according to the Suez Canal Authority.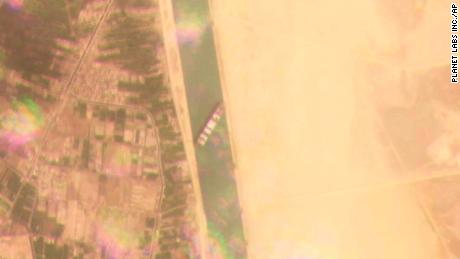 This satellite image from Planet Labs Inc. shows the cargo ship lodged across the waterway.About 12% of the world trade volume passes through the man-made canal, which is a major source of hard currency for Egypt.Tankers have started to pile up near the waterway as they wait for the container ship to be moved."This can have impact on freight very much. If it lasts longer, it can lead to shipment delays both ways," said a Singapore-based ship broker.The impact on oil and gas flows will depend on how long it takes to clear the container ship, industry sources said.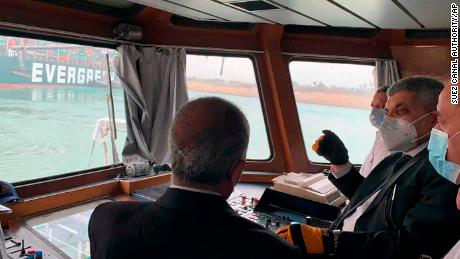 Lt. Gen. Ossama Rabei, head of the Suez Canal Authority, second right, speaks to other staff onboard a boat near the stricken cargo ship. "If it extends to, say, weeks it will of course disrupt all shipping in a major way," said Ashok Sharma, managing director of Singapore-based shipbroker BRS Baxi."But I think there should be sufficient resources available and pretty much in close proximity to deal with the situation quickly, in days rather than weeks," Sharma said.
Source Link:
https://www.cnn.com/2021/03/24/middleeast/suez-canal-container-ship-intl-hnk/index.html
[-0.693638,"negative"]
Comments
comments