Tokyo (CNN)A strong earthquake hit the Japanese city of Osaka during rush hour Monday, killing at least two people and injuring 40, Japan's government says.
The 5.3 magnitude quake shook Osaka, on Japan's main Honshu Island, around 8 a.m. Monday local time (7 p.m. Sunday ET) according to the US Geological Survey (USGS). The Japan Meteorology Agency put the magnitude at 5.9 and JMA Seismic Intensity at 5.3.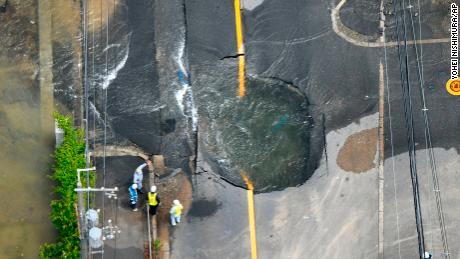 Water floods out from crack in the road, following the Osaka quake.Collapsing walls killed a 9-year-old girl as she traveled to school as well as an adult man, Japan's Chief Cabinet Secretary Yoshihide Suga said.Local broadcaster NHK reported a third death by cardiac arrest.Trains remain suspended across Osaka Prefecture, causing major travel delays. Some 170,000 homes suffered temporary power outages, which were resolved within hours after the quake, according to Kansai Electric co.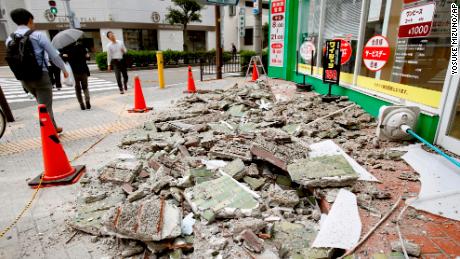 Debris from the earthquake in Osaka.Read MoreGuatemala quakeMeantime, a 5.6 magnitude quake struck near Guanagazapa in Guatemala's Escuintla province just after 8:30 p.m. local time (10:30 p.m ET) Sunday, according to the USGS. There were no immediate reports of injuries or serious damage, according to CONRED, the government agency for disaster reduction.Both Japan and Guatemala are situated on the Ring of Fire, an area of intense seismic and volcanic activity on both sides of the Pacific Ocean.The 40,000-kilometer (25,000-mile) area stretches from the boundary of the Pacific Plate and the smaller plates such as the Philippine Sea plate to the Cocos and Nazca Plates that line the edge of the Pacific Ocean in a horseshoe shape.
Source Link:
https://www.cnn.com/2018/06/17/asia/japan-osaka-quake/index.html
[0]
Comments
comments