NEWYou can now listen to Fox News articles!
A speeding semi-truck killed at least six people in the Netherlands when it veered off the road and into a community picnic on Saturday
Three men and three women were killed in the accident, with ages ranging from 28 to 75, according to the Associated Press. Seven other people are in the hospital after the incident, with one being in critical condition.
The truck, driven by a 46-year-old Spanish man, crashed into the party on early Saturday evening. Police spokeswoman Mirjam Boers says the man's name will not be released due to Dutch privacy laws.
"The affected families are in our thoughts and we wish the injured strength on their way to as good a recovery as possible," Dutch King Willem-Alexander and Queen Maxima wrote in a tweet.
DUTCH FARMERS FORM 'FREEDOM CONVOYS' TO PROTEST GOVERNMENT'S STRICT ENVIRONMENTAL RULES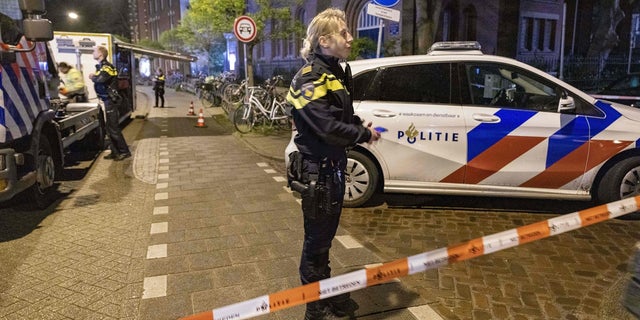 Police investigate the scene of a spate of stabbings in Amsterdam on May 22, 2021 in which one person died and four were injured. – A 29-year-old man was arrested at the scene after the attacks happened late on May 21, 2021 in an area of bars and restaurants near the capital's museum quarter. Police said there were no indications of terrorism. – Netherlands OUT (MICHEL VAN BERGEN/ANP/AFP via Getty Images) (Photo by MICHEL VAN BERGEN/ANP/AFP via Getty Images)
DUTCH POLICE SHOOT AT TRACTOR DURING NIGHT OF FARM PROTESTS
Prime Minister Mark Rutte also offered his condolences on Twitter.
"My thoughts go out to the victims and next of kin of this terrible drama. I wish them much strength," he said.
CLICK HERE FOR THE FOX NEWS APP
It is unclear what caused the man to veer off of the road, but police have stated that alcohol was not involved in the incident. A crane and tow truck were later used to move the vehicle back onto the road.
The Associated Press contributed to this report.
Send tips to [email protected], or on Twitter: @Hagstrom_Anders
Source Link:
https://www.foxnews.com/world/speeding-truck-kills-least-six-netherlands-barbecue
Comments
comments