(CNN)It's the kind of terror only a parent could know.
And the father of skateboarding prodigy Sky Brown spoke of the dread he felt after his daughter was involved in a horrific crash, and he held her in his arms as they waited to be taken to hospital by a helicopter.The 11-year-old posted a video on her Instagram and YouTube channel with a clip of her spill in California in which it showed her flying off the end of a half-pipe while traveling at high speed.According to a statement from Skateboard England, Brown suffered a fractured skull, a broken wrist and broken hand while practicing with world renowned skateboarder Tony Hawk at his private facility in California.In a post on Instagram, Brown's father, Stewart, described her fall as the "worst thing I could ever, ever imagine.Read More"She fell about 15 feet off the side of a vert ramp to flat concrete," wrote Brown. "I held her in my arms and she bled, helplessly moaning in and out of consciousness waiting for the helicopter to take her to the hospital."We spent the night sick and terrified not knowing if Sky was going to make it through the night, as the ICU team tried to get her conscious and kept her alive."Word came back while she was still unconscious, multiple fractures to her skull, a broken left arm, which she broke into pieces because she used it to break her fall, broken right fingers and lacerations to her heart and lungs."READ: 'They need the cool factor': Tony Hawk on skateboarding at Tokyo 2020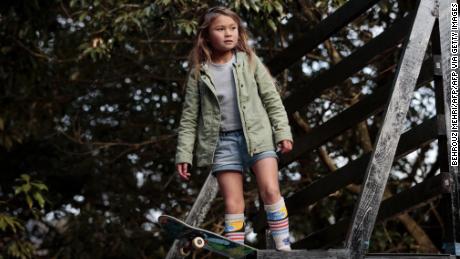 Brown stands with her skateboard before tail dropping down the half-pipe at a park in Kijo town, Miyazaki prefecture.'Recovering incredibly fast'Brown is targeting the Tokyo Games — which were postponed until 2021 because of the coronavirus pandemic — where skateboarding will make its Olympic debut.She is currently placed third in the Olympic World Ranking, which would see her qualify for the Olympic Games and make her one of Great Britain's youngest ever Olympians.Brown was very positive in her video after the accident, reassuring her fans that she was "just going to get back up and push even harder" and that her "helmet and arm saved my life."Stewart said the doctors and trauma team described her swift recovery as a "miracle."
Brown shows her skateboard to British F1 driver Lewis Hamilton after the 2020 Laureus World Sports Awards."Four days later Sky sits across from me with her full memory back, smiling, watching TikTok while eating her favorite bad snacks," he said."More importantly, her doctors and the trauma team say it's a miracle how well she is dealing with the pain and recovering incredibly fast. They said it's shocking and believe it's because of her grit, positivity and attitude.Visit CNN.com/sport for more news, features, and videos"Sky's brother, Ocean, has been so brave. He saw his sister fall to the ground lying in a pool of blood and was screaming in tears that night outside of the hospital. He has still not [been] allowed into the hospital to see her. They miss each other dearly, but no siblings are allowed to enter the hospital because of coronavirus."Brown was born in Miyazaki, Japan. Her mother is Japanese, while her father is British.
Source Link:
https://www.cnn.com/2020/06/03/sport/sky-brown-father-stewart-fall-injury-spt-intl/index.html
{"code":"rest_not_authorized","message":"Your site uid or site key is invalid, please check your settings before continuing.","data":{"status":401}}
Comments
comments