Minneapolis (CNN)A jury began deliberations Monday in the trial of a former Minneapolis police officer accused of fatally shooting a woman while responding to her 911 call.
The panel is charged with deciding if Mohamed Noor was justified in using deadly force when he shot Justine Ruszczyk in a dark alley outside her home. The 10 men and two women, who are sequestered for the trial's duration, concluded their first day of deliberations Monday without reaching a verdict.Noor, 33, pleaded not guilty to second-degree murder, third-degree murder and second-degree manslaughter in the July 2017 shooting, which led to protests and the resignation of Minneapolis' police chief. Testifying in his defense, Noor said he made a "split-second decision" based on threats he perceived from Ruszczyk as she approached his squad car. Read MoreHennepin County prosecutors contend Noor acted recklessly and then changed his account to suit his defense. In no event should the appearance of a woman in the alley have surprised Noor and his partner, prosecutor Amy Sweasy said in her closing."The only thing Ms. Ruszczyk did was walk up to the police car," she said.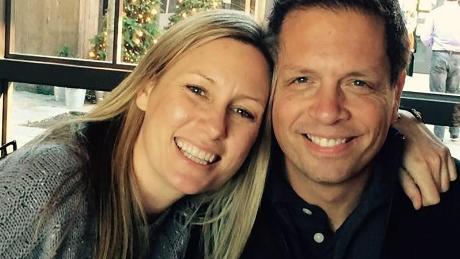 Shooting victim Justine Ruszczyk had planned to marry fiancé Don Damond in August 2017.What happened that night?Ruszczyk had relocated from her native Australia to Minneapolis to live with her fiancé. She was killed a month before her planned wedding. Authorities said Ruszczyk called 911 the night of July 15, 2017, to report a possible sexual assault in an alley behind her house. Officers Matthew Harrity and Noor were dispatched to the scene and arrived at 11:37 p.m., according to a criminal complaint. At 11:40 p.m., Ruszczyk was shot in the abdomen and died minutes later at the scene.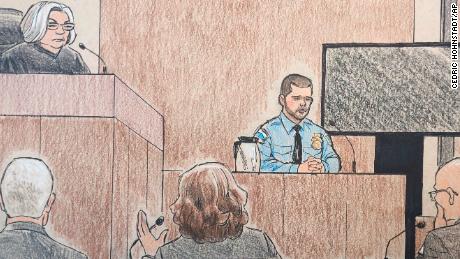 Minneapolis police officer Matthew Harrity testifies in the murder trial of former Minneapolis police officer Mohamed Noor.Prosecutors said Noor, sitting in the passenger seat, pulled out his gun and shot across the vehicle to hit Ruszczyk, who was outside the driver's side door.Harrity testified that he heard a noise on the rear driver's side door, according to CNN affiliate WCCO. Under cross-examination, he said he did not raise his gun in response to the noise because he was taught to not shoot at something until identifying a threat. Noor testified that Harrity's terrified expression and the sight of Ruszczyk with her hand raised jolted him into action. Under cross-examination from Sweasy, Noor conceded that Ruszczyk did not appear to have anything in her hands. Two neighbors testified they heard a sound that the defense argued could have been Ruszczyk slapping the squad car. But the prosecution argued the slap did not happen.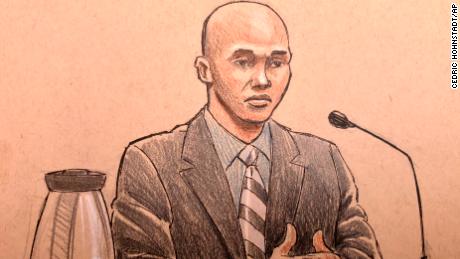 Mohamed Noor testifies in his defense on Thursday.An expert testified that "none of the 51 fingerprints found on the squad car" matched Ruszczyk's. In her closing, Sweasy argued that none of the neighbors who claimed to have heard noises describe them in the same way. "Whatever it was, nobody described it as harm," she said. Reasonable or not?Dueling experts differed on whether Noor's use of force was reasonable and therefore justified.Testifying for the prosecution, Lt. Derrick Hacker of the Crystal Police Department in Minnesota said that Noor's use of deadly force was "excessive and objectively unreasonable." Being "startled" is different than "fearing death or great bodily harm," Hacker said.Lawyer and use of force expert Emanuel Kapelsohn, who works part time as a deputy sheriff in Allentown, Pennsylvania, testified for the defense.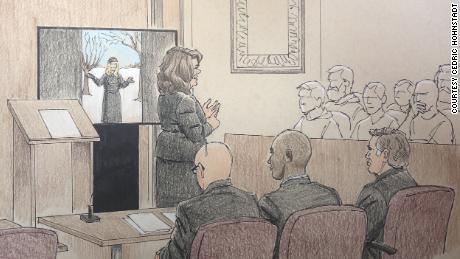 Lawyers delivered closing arguments Monday in Mohamed Noor's trial.He said Noor's conduct was an "objectively reasonable" response to the situation."It's late at night. It's dark in the alley," Kapelsohn said, noting Noor heard his partner say "Oh Jesus" and detected a "look of terror." Kapelsohn resisted the prosecutor's suggestion that Noor should have ordered Ruszczyk to show her hands before he shot her."It takes a quarter of a second" for someone to raise their hand and fire. Much less time than needed for Noor to even say commands like 'let me see your hands.'"'There was nothing at the scene that could explain that'Noor's lawyer, Tom Plunkett, began his closing argument Monday by banging his fist on the table and shouting "pow pow" to illustrate the shock his client must have felt.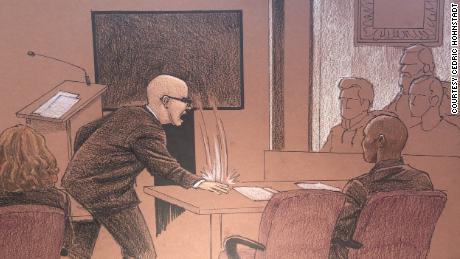 Defense lawyer Tom Plunkett delivers his closing Monday in Mohamed Noor's trial.He urged the jury to consider the circumstances in the moment, not as a "Monday morning quarterback.""An officer may use deadly force to protect themselves or others from apparent danger," Plunkett said in his closing argument Monday.He emphasized Noor's humble roots as a Somali immigrant who came to the country at a young age and worked his way through college. He wanted to serve the community by becoming a police officer, Plunkett said. He became the first Somali American assigned to the Fifth Precinct, which covers Southwest Minneapolis. He joined the Minneapolis Police Department in March 2015.The officers were wearing body cameras but did not turn them on before the shooting, and the squad car camera did not capture the incident. The Minneapolis Police Department has since updated its body camera policy to direct officers to turn on their body cameras upon being dispatched to a scene.Sweasy argued that officers who responded to the scene could not understand what happened. "There was nothing at the scene that could explain that."
Source Link:
https://www.cnn.com/2019/04/29/us/minneapolis-police-noor-shooting-trial/index.html
[-0.667424]
Comments
comments