Know someone who inspires you? Click here to nominate them as a CNN Hero.
Ann Arbor, Michigan (CNN)At one point, Zach Wigal had 5,000 video games in his parents' basement.
Yes, 5,000. But it's not what you might think.Wigal is the founder of Gamers Outreach, a nonprofit that makes sure that kids who can't leave their hospital rooms during long-term medical treatment can play video games while they recuperate."We noticed that a lot of the video games (at the hospitals) were getting stuck in playrooms," said Wigal, 29. "And because of that, there was a whole segment of the hospital population that was, sort of, limited to whatever it was they had access to their bedside environment." Those 5,000 games eventually made their way out of his parents' basement and some were featured on simple, portable video game carts that Wigal's foundation helped design and provide to more than a million kids a year.Read More
#TuesdayThoughts: if you build a GO Kart, will they 🎮 ? Yes 👾 ! In fact they help over 1.1 million gamers in hospitals each year. More on our progress: https://t.co/B1hMgXzSXV pic.twitter.com/szJMX2qg7j
— Gamers Outreach (@GamersOutreach) February 19, 2019 These "GOKarts" — equipped with a gaming console and an array of video games — are rolled into a patient's room and allow kids "a source of fun and relief during … stressful and difficult times," Wigal said.Some kids have seen health benefits as a result, and doctors are prescribing "video game time" for certain patients, according to Andrew Gabanyicz, patient technologist at C.S. Mott Children's Hospital in Ann Arbor, Michigan. "We've seen anxiety go down, prescription pain killers are being used less," Gabanyicz said. Wigal's inspiration for his charity came from his love of gaming as a teen — which took an interesting turn during his junior year of high school.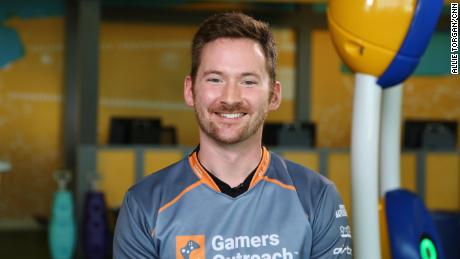 CNN Hero Zach WigalHe registered more than 300 fellow students to participate in a Halo 2 tournament in his high school cafeteria. He rented the space with permission from the school. He spent months organizing it.Then BAM. "This event got shut down a couple days before it was supposed to happen by a police officer who believed that games like Halo were, in his words, corrupting the minds of America's youth," Wigal said. "Everyone who had signed up for our video game tournament was a little upset."The cancellation sparked an idea: Wigal wanted to show authorities that gamers weren't all bad or lazy kids — and they could do something good with their gaming skills.So he decided to throw a new tournament. The twist: He would donate the proceeds to charity. In 2008, Wigal and his friends held an event called Gamers for Giving and raised money for the Autism Society of America."I thought, 'Let's illustrate the positive things that can happen when gamers get together around what they're passionate about,'" said Wigal, once named to Forbes Magazine's 30 under 30.The event continued year after year, and as it grew in popularity, Wigal's team branched out and started working with local hospitals. In 2009, Wigal began working with the C.S. Mott Children's Hospital and his team designed his portable GOKarts.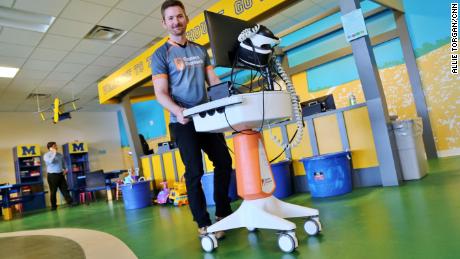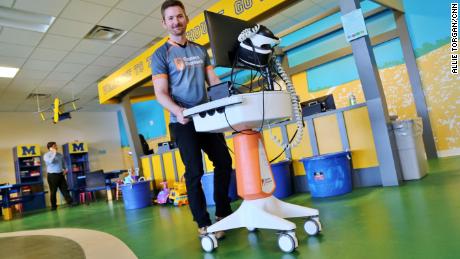 JUST WATCHEDCNN Heroes: Gaming and healingReplayMore Videos …MUST WATCH
CNN Heroes: Gaming and healing 02:20″We work with kids that can't go on the soccer field. They physically cannot participate. But I don't feel like they should be missing out on the values that are communicated through traditional activities," Wigal said.CNN's Allie Torgan spoke with Wigal about his work. Below is an edited version of their conversation.CNN: As a teenager, your parents' house was ground zero for charitable operations. What was the straw that broke the camel's back, so to speak?Zach Wigal: We had taken over my parents' basement raising money for Gamers Outreach. It had become this holding area for gaming equipment that was being donated to our organization for use in the hospital environment. There was a period of time we had, I kid you not, more than 5,000 video games in my parents' basement.We actually had someone donate, like, 900 Xboxes that had just been sitting in a warehouse. Thankfully my parents just had the patience to be okay with all of this up until that semi-truck wanted to show up, and that was the day it was like, "It's not going to go in the basement. You need to find a place for all this equipment." That was the day we got kicked out of my parents' house! Now we have a warehouse here in Michigan. CNN: Your signature GOKarts are now serving more than a million kids a year at 50 hospitals. Why that model?Wigal: By volunteering and visiting hospitals, we were noticing that it was difficult to bring technology into these environments. We noticed that a lot of the video games were getting stuck in playrooms. And because of that, there was a whole segment of the hospital population that was, sort of, limited to whatever it was they had access to their bedside environment if they couldn't leave their rooms. Sometimes you have families that can't afford technology or they don't have things that they can bring from home for their kids. It becomes important for technology and hardware to exist in the hospital environment to help provide some access to entertainment to patients who maybe can't do things outside of their room.CNN: What advice do you have for parents of patients who may be struggling with how much screen time is appropriate?Wigal: Even if you're not a fan of gaming or screen time or you feel it might be excessive, technology is a prevalent part of all our lives. I mean, even my mom has Angry Birds installed on her cell phone at this point.What's important is that we communicate the right values of how this technology plays a role in our life, how we balance technology with being healthy as an individual and taking care of your mental health, keeping up with schoolwork, finding a career. These are all things that can exist cohesively. We think of the work we're doing as an opportunity to improve a patient's quality of life. We're coming to provide entertainment into hospital environments. We're helping kids to find a source of fun and relief during times where being in the hospital can be really stressful and difficult otherwise.Want to get involved? Check out the Gamers Outreach website and see how to help.To donate to Gamers Outreach, click the CrowdRise widget below.Zach Wigal, Gamers Outreach on CrowdRise
Source Link:
https://www.cnn.com/2019/03/08/us/cnnheroes-zach-wigal-gamers-outreach/index.html
[0.309903]
Comments
comments