Washington (CNN)Arizona Republican Sen. Martha McSally, who revealed earlier this year that she was raped while serving in the US Air Force, said Tuesday that the allegations of sexual assault against Gen. John Hyten, President Donald Trump's pick to be the nation's second highest military officer, are unequivocally "false."
"To be clear, this wasn't just a jump ball. Not a 'he said, she said.' Not a situation where we just couldn't prove what allegedly happened. I believe the truth still matters in our country. And the full truth was revealed in this process. The truth is that General Hyten is innocent of these charges," she said during Tuesday's hearing before the Senate Armed Services Committee to consider Hyten's nomination as the next vice chairman of the Joint Chiefs of Staff."Sexual assault happens in the military. It just didn't happen in this case," McSally added. "I pray the accuser gets the help she needs and finds the peace she is searching for. But it cannot be by destroying General Hyten with false allegations." "I didn't take coming to this conclusion lightly. I knew the message it could send to sexual assault survivors who haven't seen all the information on the case that I have," she said.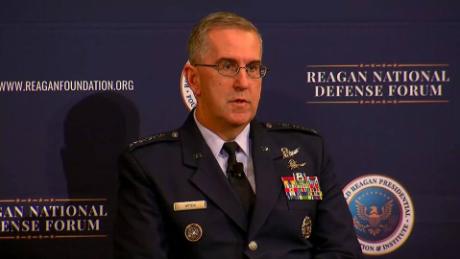 Trump's pick to be senior general expected to address sexual assault allegations at confirmation hearingMcSally has emerged as a vocal leader on the issue of military sexual assault since coming forward about her own rape in March, and the impact of her words was apparent during Tuesday's hearing as Hyten's accuser, Col. Kathryn Spletstoser looked on from the gallery. Read MoreSpeaking to reporters after the hearing, Spletstoser called Tuesday's confirmation proceedings "a political spectacle done at the expense of an innocent victim.""The reality is we're not talking about winning a case in a court … you're talking about a promotion to be the second highest military officer in the United States of America, one who couldn't answer simple questions on sexual assault or its policy or how we handle it," she said. "So I'll just tell you this, what we saw in there today was a political spectacle done at the expense of an innocent victim who has never lied on anything."Spletstoser went public with her allegations, which were originally made just after Hyten was nominated in April, last week in The New York Times, the most serious being the assault in the hotel room where she said he pressed himself against her and ejaculated."He stood up too, pulled me to him and started kissing me on the lips and holding me tight while he pressed himself against me. After a while, maybe over a minute, he came and I pushed him away and asked him why he did that. He said he thought I would like it too," according to a statement provided by her lawyer.The US Air Force Office of Special Investigations cleared Hyten of the allegations earlier this month. "U.S. Strategic Command fully cooperated with the investigation by the Air Force Office of Special Investigations. According to Air Force officials, there was insufficient evidence to support any finding of misconduct on the part of Gen Hyten," US Strategic Command spokesman Cmdr. Bill Clinton said last week.Hyten himself strongly denied the allegations during Tuesday's hearing, saying "these allegations are false" and pointing to the Air Force investigation which he said "revealed the truth" that "nothing happened."But while Hyten received strong backing from McSally and former Air Force Secretary Heather Wilson, who oversaw the investigation, Republican Sen. Joni Ernst of Iowa said she had "concerns" about his "judgment and ability to lead in one of the highest positions in the US military" due to his handling of allegations that were made against his accuser."You serve in one of the most important positions within our United States military overseeing our nuclear arsenal but you could not bring yourself admit or recognize toxic leadership within your command," she said Tuesday."All of this suggests a conflict between your personal inclinations and your professional responsibilities. There are professional responsibilities associated with beings such a high ranking leader and that is to make sure those within your command are following your directive and not engaging in toxic leadership," Ernst said.Noticeably absent from the proceedings were two of Hyten's most vocal critics, Democratic Sens. Elizabeth Warren and Kirsten Gillibrand, both 2020 presidential candidates who said in statements to CNN that they oppose moving forward with the confirmation process until Spletstoser is given the chance to testify publicly. Warren and Gillibrand are participating in the CNN debates in Detroit this week, though while Warren is scheduled to take the stage Tuesday evening, Gillibrand will participate in Wednesday's event.
Source Link:
https://www.cnn.com/2019/07/30/politics/hyten-confirmation-hearing-mcsally/index.html
[-0.675067]
Comments
comments