(CNN)A multinational rescue effort is underway to try to reach an injured sailor whose yacht is disabled in the South Indian Ocean.
Abhilash Tomy on his boat "Thuriya" at the start of the race.Abhilash Tomy, a 39-year-old Indian naval commander, was competing in the 2018 Golden Globe Race — a nonstop, 30,000-mile solo yachting competition that bars the use of modern technology — when his boat hit a storm.Tomy's 36-foot boat, Thuriya, was one of several hit by 80 mph winds and 46-foot seas midway across the South Indian Ocean on Friday, 82 days into the race, organizers said.Thuriya's mast was broken about 1,900 miles southwest of Perth, Australia "at the extreme limit of immediate rescue range," they said in a series of media statements.
Organizers became concerned after Tomy sent a text message reading: "ROLLED. DISMASTED. SEVERE BACK INJURY. CANNOT GET UP," and then was unheard from for nearly 15 hours.Read MoreIn a later satellite text message, the sailor gave his location and wrote: "ACTIVATED EPIRB (Emergency Position Indicating Radio Beacon). CANT WALK. MIGHT NEED STRETCHER."The race said that subsequent messages indicated that Tomy was safe but lying immobilized in his bunk, with his latest message reading: "CAN MOVE TOES. FEEL NUMB. CAN'T EAT OR DRINK. TOUGH 2 REACH GRAB BAG."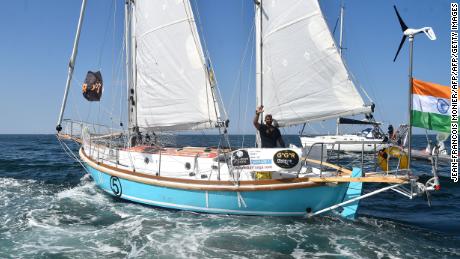 Abhilash Tomy departs Les Sables d'Olonne Harbour on July 1, 2018.The Maritime Rescue Coordination Center in Canberra, Australia, is in charge of the rescue operation.Race organizers said an executive jet had been dispatched from Perth, Australia, and is expected to reach the area early Sunday, when its crew would assess damage to Tomy's boat and try to make radio contact with him.Rescuers also will check on Irish skipper Gregor McGuckin, whose boat was rolled in the same storm and who was about 90 miles away from Tomy, organizers said. McGuckin had set up a makeshift rig on his boat and was trying to reach Tomy using a mixture of wind and engine power.The Australian, Indian and French navies are also sending vessels to assist.A French fisheries patrol vessel with medical facilities on board is expected to reach Tomy sometime Sunday afternoon or evening, while Indian authorities have dispatched a military plane from Mauritius and are diverting a stealth frigate and tanker from exercises off South Africa.Australian authorities are sending an Anzac-class frigate, but it is expected to take four to five days to reach Tomy.Ukrainian sailor Uku Randmaa is also trying to reach the disabled boats.
#IndianNavy launches Long Range Maritime Reconnaisance aircraft P8i to locate Cdr Abhilash Tomy KC. We'll get you out of this crisis soon – Admiral Sunil Lanba CNS @DefenceMinIndia @PMOIndia @ggr2018official @nsitharaman @abhilashtomy @SpokespersonMoD pic.twitter.com/y7Zjb0izxe
— SpokespersonNavy (@indiannavy) September 22, 2018
HMAS Ballarat is on its way assist an injured solo yachtsman, approximately 1800 nautical miles off the WA coast. The sailor, an officer in the Indian Navy is understood to have suffered a serious back injury when his ten metre vessel, "Thuriya" was de-masted in extreme weather. pic.twitter.com/e5zgO6F7bj
— RoyalAustralianNavy (@Australian_Navy) September 23, 2018 Origins of the raceThe 2018 Golden Globe fleet set sail on July 1 from Les Sables d'Olonne in France. The race is by invitation only and requires prior ocean sailing experience of at least 8,000 miles and solo experience of at least 2,000 miles.Eighteen vessels began this year's race but by September 10 seven of the boats had retired from the competition.In line with the original 1969 race, skippers must navigate using paper charts and the stars, with no water maker aboard.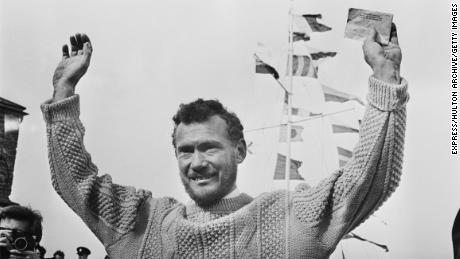 Robin Knox-Johnston: The first man to sail non-stop solo around the worldHowever, the 2018 boats carry some modern technology to keep their skippers safe.The sailors have the ability to send 100-character text reports via satellite twice a day and to use a satellite phone to make a weekly safety check. Each boat also carries a sealed safety box containing a GPS and second satellite phone, but breaking the seal disqualifies a sailor from the race.Race organizers also track the boats via GPS — though sailors cannot see the data. Tomy's boat is a replica of Robin Knox-Johnston's yacht Suhaili. Knox-Johnston won the inaugural Golden Globe race, becoming the first person to sail solo around the world nonstop. His trip took 312 days and he was the only finisher of the nine skippers who started the race.
Source Link:
https://www.cnn.com/2018/09/23/asia/abhilash-tomy-golden-globe-race/index.html
[-0.451598]
Comments
comments