Moscow (CNN)The Siberian hospital treating Alexey Navalny on Friday rejected claims the Russian opposition leader had been poisoned, as his wife said the doctors could not be trusted.
Doctors at Omsk Hospital maintain they cannot authorize Navalny to be transported due to "worry" over his clinical state, but his team asserted the delay was to mask the presence of a "deadly substance."The Kremlin critic is in a coma after falling ill from suspected poisoning on a return flight to Moscow from the Siberian city of Tomsk, his spokeswoman said Thursday. The plane later made an urgent landing in Omsk, she added.On Friday, Anatoly Kalinichenko, deputy head physician of the Omsk emergency hospital, said doctors did not believe Navalny was poisoned.No poisons were found in Navalny's blood or urine so "we don't believe that the patient suffered poisoning," Kalinichenko told local journalists in a news conference.Read More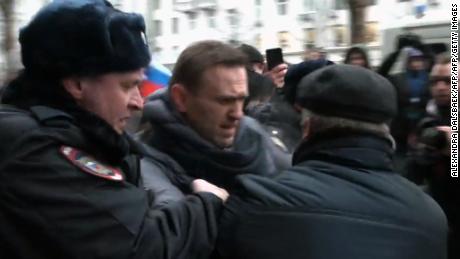 A suspected poisoning renews focus on threats faced by Putin's opponents"Poisons or traces of their presence in the body have not been identified. Probably, the diagnosis of 'poisoning' remains somewhere in the back of our minds. But we do not believe that the patient suffered poisoning," he added.A medical plane has been sent by a German NGO to Omsk in the hopes of evacuating Navalny to Berlin for treatment at the Charite clinic. But the hospital said that was too dangerous.Navalny's team claims that transport police in Omsk have detected a "deadly substance" that poses a threat to his life and the lives of those around him and say this is the reason why hospital authorities are not allowing him to be moved. The Russian opposition leader's wife Yulia Navalnaya has written to Russian President Vladimir Putin demanding her husband's release from the Omsk hospital so he can be transferred to Germany.She said at a news conference that "he [Navalny] is not in a very good state and we of course cannot trust this hospital and we demand for Alexey to be given to us, so that we could have him treated in an independent hospital whose doctors we trust."Yulia Navalnaya said she believed the hospital was refusing to allow her husband to be transported to cover up signs of a so-called "chemical substance."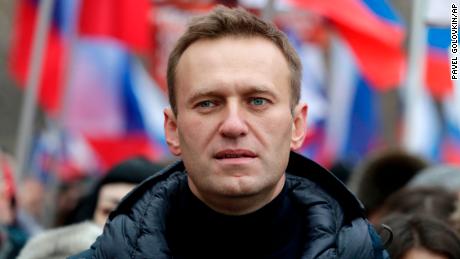 Russian opposition leader Alexey Navalny was placed on a ventilator in a hospital intensive care unit in Siberia after falling ill from suspected poisoning."They refuse to transport him. They say that they can't do it now and that he is not transportable even though two hours ago we were preparing documents for his transportation. That's why the transport police were here actually. "After that two hours passed, and [the doctors] refuse to give Alexey to us so that we can transport him."Navalnaya added: "We think of course that it is done to make the chemical substance that is in Alexey's body disappear. That is why he is not given to us of course, so that the substance residues disappear."She was unable to talk to German doctors who flew in to Omsk on Friday to take Navalny to Berlin for treatment. She said the medics were taken to the hospital by police and led through the back door and out through another entrance. She believes it was done on purpose so the doctors didn't see or contact Navalny's family."We are hidden from them … we don't know who took them in what car. I was unable to talk to them," Navalnaya told reporters in front of the hospital on a video along with Navalny's spokesperson Kira Yarmysh.Navalnaya said her husband's team have lost contact with the staff of Omsk hospital, where the opposition leader has been unconscious for two days."The doctors have stopped making contact with us starting around 3 p.m. local," she said.Navalnaya also claimed some unidentified men inside the hospital used force against her while trying to prevent her from coming in and meeting with the German doctors.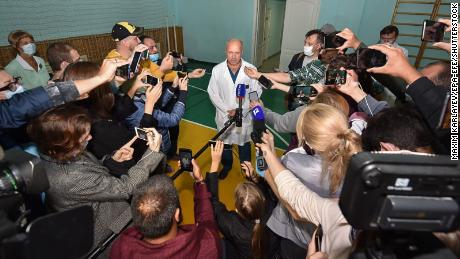 Omsk hospital's deputy physician Anatoly Kalinichenko speaks to journalists about Navalny's condition on Thursday."When I tried to go to the intensive care unit to consult the doctors, I was kicked out in a rude manner with the use of force by some people who were inside the building dressed in jackets. It is unclear who they were. Half of them are security guards, another are just some people in civilian clothes," she added."They told me there will be a 'press-approach' of the press service of the hospital where they will inform people on what is going on. And that's when I'll get to know everything. "This is an outrageous situation. Alexey is not given to us. We believe that obviously something is hidden from us. We demand that Alexey is given to us immediately so that we can take him from this hospital to the doctors we trust," concluded Navalnaya.When asked why moving Navalny might be dangerous, Omsk hospital's chief physician Alexander Murakhovsky said Friday "anything could happen, even the saddest thing is possible."The director of Navalny's Anti-Corruption Foundation (FBK), Ivan Zhdanov, claimed that while in the hospital "a member of transport police came in and showed his phone [to the physician] saying, 'this substance was found.'"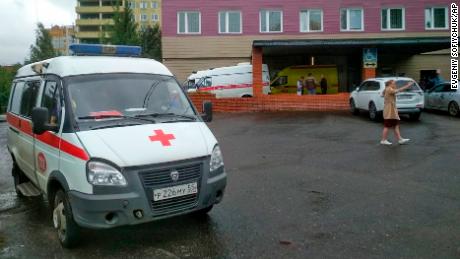 An ambulance parked next to a building of a hospital intensive care unit where Navalny was hospitalized in Omsk, Russia.Zhdanov claimed the head physician replied: "Well, okay it was found [so what?]. I have no information other than that."Zhdanov said he asked the police officer what the substance was and claims he was told: "It's a secret of the investigation, we can't tell you but it's a deadly substance. This substance poses a threat not just to Alexey's life but also to others. Everybody around should wear protective suits.""That's all she said. What substance is it? We don't know yet," Zhdanov told reporters at an impromptu news conference.When asked whether Navalny might be allowed to travel to Berlin, Murakhovsky said Omsk hospital had not had any contact from Charite but it was in contact with hospitals in Moscow."I do not think that specialists from the Burdenko and Pirogov [hospitals in Moscow] are worse than the hospital you mentioned. If the patient was in a stable state, the specialists of our clinic and the doctors concilium that we held together wouldn't object to it [his transportation]. But for today transportation is premature."The "main working diagnosis" for the Kremlin critic is "a metabolic disorder which caused a sharp drop in blood sugar," state-run RIA Novosti reported, quoting Murakhovsky.According to the RIA report, experts have ruled out stroke, heart attack or infections including coronavirus.The Kremlin has not received any appeals from Navalny's team to transport him elsewhere, spokesman Dmitry Peskov said, and whether he can be moved is a matter for his attending doctors to decide.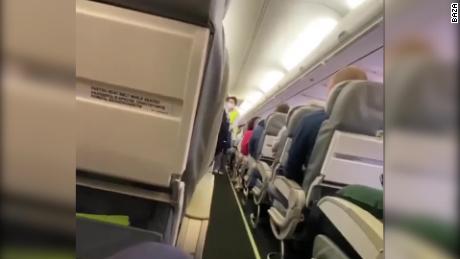 A screenshot taken from a video showing paramedics on a plane about to attend to Navalny after he fell ill in a case of suspected poisoning.When asked by CNN if the Kremlin had any knowledge of deliberate attempts by authorities to intervene or prevent the evacuation of Navalny, Peskov said the Kremlin is "unaware of this.""There's nothing for me to add. It's absolutely the decision of the attending doctor. We are talking about transportation that could pose a threat to the patient's life. This is the doctor's conclusion. The patient lost consciousness on the plane after it had gained height," Peskov continued. "For now, the doctors don't understand what exactly was the cause. So the doctor adheres to the point of view that it is impossible to transport him until the exact reasons are known."Peskov added that the Kremlin does not deal with the issues of treating a patient, "we are not doctors."Peskov added the Kremlin had not received an official appeal from Navalny's team to move him. "As such, at least I am unaware of it. There have only been some appeals on social media," he said."But, perhaps, we don't need extra bureaucracy here. As you know, a flight flew in from Germany. We asked this morning how things are. As far as I know, our doctors invited the doctors who had flown in from Germany to come to the hospital, to participate in the concilium with our doctors, to get all the information about the treatment methods, the available tests, etc." When asked if the Kremlin had any knowledge in regards to what had happened, the spokesperson said it would take time to do all the tests to identify the causes of Navalny's condition."Up until this moment, the tests have not identified anything. A number of substances that could have been a cause for poisoning have already been excluded, but the list is not exhaustive. Those are very complicated tests on toxicology, and it takes time to do them. They are not done in one or two days. So far, no results. So it just takes a lot of patience," was Peskov's response.He added he was unaware if the special services report to the president about the course of the investigation, stating: "I don't see any reason for [such] reports."Polish Prime Minister Mateusz Morawiecki said he was "very concerned" about the suspected poisoning of Navalny and "refusal" to allow him be transported outside Russia for treatment, in a tweet on Friday. "We need to be 100% sure that his safety is guaranteed," said Morawiecki's tweet, adding: "Poland supports the efforts to provide Mr. Navalny with the best available treatment."
Source Link:
https://www.cnn.com/2020/08/21/europe/alexey-navalny-russia-travel-intl/index.html
Bad Request
Your browser sent a request that this server could not understand.
Size of a request header field exceeds server limit.
Comments
comments