Moscow (CNN)A court in Moscow ordered the closure of the Memorial Human Rights Center on Wednesday, in the latest blow to Russian civil society groups.
The center was charged with multiple violations of Russia's "foreign agent" law and "justifying terrorism and extremism" in its publications, a lawyer for the organization, Ilya Novikov, told CNN.The decision comes a day after Russia's Supreme Court decided to close its sister group Memorial International. Novikov said they would launch an appeal.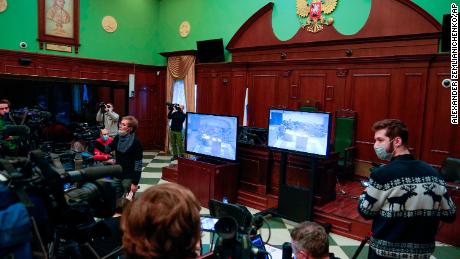 Journalists watch television coverage of Wednesday's hearing."It is quite an expected decision after yesterday's [decision of the Supreme Court to shut down Memorial International]. We did not have any illusions about the hearing today," Novikov told CNN by telephone from the court."But it is crucial that those persecutions did not discourage people and I think will not make people to stop their human rights work. The legal entity can be liquidated but the work remains and people remain.Read MoreAmnesty International's Eastern Europe and Central Asia Director Marie Struthers called the ruling "heartless" in a statement published Wednesday."The Russian authorities' heartless closure of Human Rights Center Memorial, an organization that has assisted thousands of individuals in times of crisis both at home and abroad for 30 years, represents yet another blow to Russia's civil society movement after years of relentless attacks," said Struthers, who criticized the "spurious accusations" against the organization.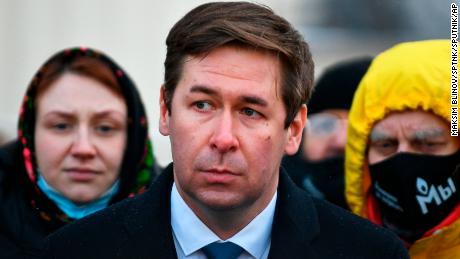 Novikov (center) said the organization would launch an appeal."These sham charges serve as little more than a pretext for silencing dissent and blocking people's ability to come together to defend human rights, and they must be immediately dropped," she added.Struthers said the ruling "fits a broader pattern of repression that seeks to outlaw Russia's civil society networks" and insisted the decision "must be overturned immediately." The Memorial Human Rights Center and Memorial International are separate legal entities.The first focuses on oppression in modern Russia, while the second works to expose the abuses and atrocities of the Stalinist era.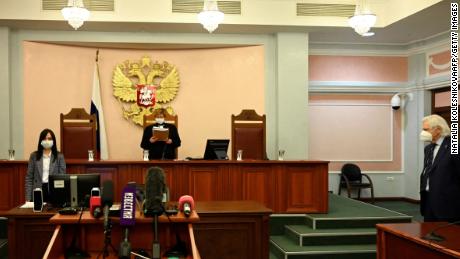 Russian court shuts down human rights group Memorial InternationalThe rulings continue the hollowing out of Russia's civil society organizations, which have gradually fallen victim to Putin's authoritarian regime.Human rights groups and advocates for democracy have come under increasing attack in recent years.Thousands of protesters were detained earlier this year for taking part in several demonstrations supporting Alexey Navalny, the country's best-known political opponent of Putin.Demonstrations during the first few months of 2021 were met with a strong crackdown by police, including widespread arrests and an allegedly disproportionate use of force.But experts worry that shuttering Memorial could be a harbinger of worse to come for any groups that fall afoul of the Kremlin."It is difficult to overstate the urgency of ensuring that the two Memorial entities can continue their crucial work protecting human rights," several rights groups, including Human Rights Watch and Amnesty International, wrote in an open letter published in early December. "Memorial is at the very heart of Russia's civil society, and by targeting it, authorities are hoping to destroy Russia's civil society at large."
Source Link:
https://www.cnn.com/2021/12/29/europe/memorial-human-right-moscow-court-intl/index.html
Comments
comments