Rudy Giuliani says he wasn't at all troubled by the thunderous boos he was showered with at Yankee Stadium on his birthday — because, according to him, the crowd's reaction was a show of "love."
"No, no, I know Yankee fans," the former New York City mayor told a TMZ Sports reporter on Wednesday when asked whether he was "upset" by the reception he received. "They boo you when they love you."
Rudy Giuliani's feelings aren't hurt after getting BOOED ON HIS B-DAY … that's how New Yorkers show their ?? pic.twitter.com/6oMHbxRD9I
— TMZ (@TMZ) May 30, 2018
Giuliani, an attorney for President Donald Trump, had been watching a game between the New York Yankees and the Houston Astros on Memorial Day when the PA announcer noted his presence at the stadium and wished him a happy birthday.
The ensuing boos were deafening.
@Yankees fans boo @RudyGiuliani on his birthday pic.twitter.com/e6FeFxk2FH
— Muck Savage (@the_irishpsycho) May 28, 2018
Giuliani may well have been joking in his recent comment about Yankee fans.
But if not, there's someone who wants to clear something up:
Boo, by definition, is an interjection that is used to express contempt or to startle or frighten. E.g. Rudy Giuliani says Yankees fans boo when they love you. https://t.co/pdMbepzMrO https://t.co/vN9PZlgooh
— Dictionary.com (@Dictionarycom) May 30, 2018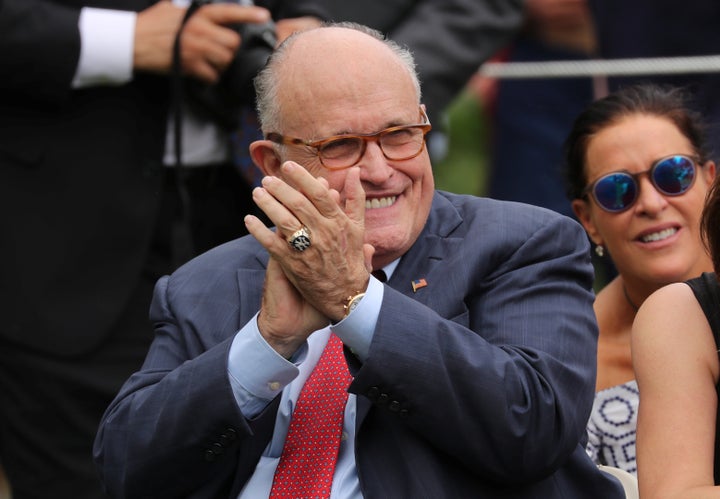 Jonathan Ernst/Reuters Rudy Giuliani was loudly booed at a Yankees game on Memorial Day — which happened to also be his birthday. Download
Source Link:
https://www.huffingtonpost.com/entry/rudy-giuliani-boos-love-yankee-stadium_us_5b0fae91e4b0870ebd085170
[-0.63146]
Comments
comments