(CNN)Luke Perry played many roles before his untimely death at age 52. Many TV watchers of the 1990s just lost their first crush. His Dylan McKay character on "Beverly Hills 90210" was a quintessential American bad boy who also looked for more in a girl than good looks and deference to his charms. Later, a new generation came to know Luke Perry as Fred Andrews — a dad and a dreamer who owned a construction business — on "Riverdale." Perry's death has also drawn attention to the issue of strokes — how to prevent them and how to identify their early signs.
Amid the outpouring of stories and memories on social media and elsewhere after Perry's passing, we wanted to check in with our readers. CNN Opinion asked you: Who was Luke Perry to you and what will you remember most after his death? The answers: he was your first crush, your role model and a passing acquaintance who left a warmth behind in his wake. He was a generation-defining heartthrob and a generation-crossing father figure who projected kindness and a lack of ego on the set and beyond. In death, he became an urgent reminder to cherish your loved ones and value each breath of life. As one reader memorably put it, "RIP Luke Perry. I hope you are still causing mall riots in heaven."Readers who met him in person and those who were fans from afar alike wrote in to share what he meant to them. Here is a sampling of your stories. Some have been lightly edited for clarity and flow, and the views belong to the authors.Luke Perry took my son under his wingRead MoreMy son co-starred in a movie of the week with Luke in spring 2015 called "Welcome Home." It was about the impact of the global recession on families and the resulting homeless crisis in the US. My son, Will, was 12 and had some TV shows under his belt, but this was his first big role. Luke was an incredible mentor, father figure and leader on the set to the two young cast members. He was quiet and completely unassuming — no ego to indicate he had once been the hottest thing in the early '90s to teenage girls around the world. When the filming ended, Luke went around and thanked all the crew and cast. And then he pulled my husband aside and said some truly lovely, encouraging things about our son and his future in this crazy business. He seemed happiest when on the phone to his kids or talking about his farm. A former hair dresser from his "Jeremiah" days came to set to visit him and he was overjoyed to see her [editor's note: Perry played the title role on "Jeremiah" from 2002 to 2004]. The bear hug he gave her was so genuine, so sweet.You could tell that those he held close, he held very close. Our son's last night on set, Luke told my husband that whether Will stayed in the film business or not, he'd go far. Luke offered us tips as parents of kids in this business and even told my husband, "I'll end up working for Will one day." He was Luke Perry. He didn't need to do or say those things, but he just understood what it was like to be a parent and to be proud of your kids.We are all very sad in our house today. We haven't seen him since June 2015 after spending every day for many weeks together and our love goes to his family and friends. We were so blessed and lucky to have spent time with him.Megan Verchere, Vancouver, British Columbia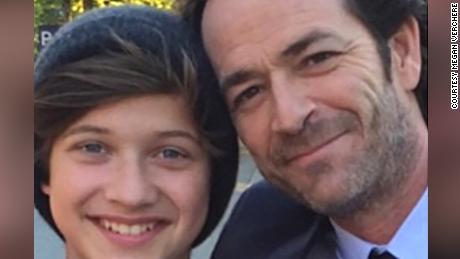 Will Verchere-Gopaulsingh and Luke Perry Luke Perry taught me to behave like an actorI worked with Luke on a movie of the week in spring 2015 when I was 12 years old. Luke was by far the biggest star I'd worked with and it was the biggest role of my career. What I remember about Luke was how kindhearted he was. He was the most down-to-earth actor I've worked with. He was so nice to the crew and we had a lot of fun on the set. I remember he and the boom operator/grip used to sing all the time between takes. As a young kid and young actor, watching Luke and learning from him was an amazing experience. Most of all, Luke taught me how to behave as an actor.Will Verchere-Gopaulsingh, Vancouver, British Columbia Death stalks us allI never watched "90210" or "Riverdale," but I still knew who Luke Perry was. I still found him incredibly handsome. He was a sex symbol when I had outgrown sex symbols. Rick Springfield was more my speed and my era. His death hits me hard because I am also 52 and I have already had 2 strokes. I had my first stroke at age 48 and the second at age 51. My first stroke was almost misdiagnosed because the emergency room doctors assumed I was too young to be having a stroke. My symptoms had subsided somewhat by the time I arrived in the emergency room. Luckily a doctor was there who believed my partner when he told them he had seen the signs of stroke: facial droop, arm weakness, and slurred speech. The decision was quickly made to administer a clot buster. I made a full recovery in 3 days.When I had my second stroke, things did not go so quickly. I had surgery to remove the clot from my brain. The doctors' prognosis to my family was not very optimistic while I was still unconscious after the surgery. But I woke up fighting the breathing tube with no signs of paralysis or impairment. When I heard that Luke Perry had had a stroke, I was sure he would make it through, just as I had. After all, he was rich and charmed. He must have had the best care. That is what I assumed. And that may all be true. And yet, he died. And yet I am still alive writing this to you for no reason other than the need to say something. I am lucky. I am afraid. I am sorry. I will continue to live my best life because death stalks us all. Trasi Johnson, Washington, DC Why I decided to name my son DylanI was among the group who were in their twenties when "Beverly Hills, 90210" first came out. I had already had my first child, and had left a relationship marked by domestic violence, but not before becoming pregnant with our second child. For months I thought I was carrying a girl, but in my 7th month found out it was another son I would soon be having. All alone, seeing as I had finally found the strength and courage to leave [my relationship] for good. I faithfully watched the show. Luke Perry's character, Dylan, had much more than a bad boy image for me — a quiet strength beneath. A soul that struggled to do the right thing, with the demons he had been left to deal with from his childhood. I could so relate. Before he was born, I knew my son's middle name would be after his doctor because neither of us were supposed to survive the high-risk pregnancy. I still however needed a first name. I decided Dylan would be the perfect fit. Strong, caring, maybe even misunderstood, but a survivor! So thank you, Luke! Thank you for giving everything you had to your craft. For being the kind and caring soul you were and are. RIP! You will be forever remembered and missed. I am sending condolences to your family, friends and fans.Patty M., Boston, Massachusetts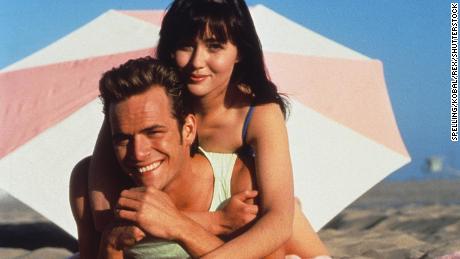 Luke Perry and Shannen Doherty on Beverly Hills 90210.His death is a reminder: I need to go hug my momLuke Perry represented my step into adulthood and a new bond with my mom, something that was needed after coming through the hormonal early teens. I was in middle school when "90210" was popular and it would take me years of convincing my parents to finally let me watch the show. In fact, I had the poster, the board game, and autographed photos of the 90210 gang (thanks to Teen Beat), long before I even watched my first episode. When my parents finally caved, the deal was my mom would watch with me and if it was inappropriate then I was not to ask again. Thankfully my mom being who she was (an avid People magazine reader), she became just as hooked as I did and it was our thing. Seeing him pass so soon was like watching a piece of my story fade away. It was a reminder of my age; that life has its own rules; and that I really need to go hug my mom.Tiffany Stephens, Orlando, FloridaI thought he and I were meant to beWhen I was a kid, I truly believed he and I were meant to be. It's silly really. I had a heart shaped pillow with his face on it and everything. I never missed an episode of "90210," insisting we record it every week. Both being from Ohio, both having an October 11th birthday, even sharing something as random as a scar over the right eyebrow … as a little girl I thought we were soulmates. Hearing of his death was like hearing a part of my childhood had died. I was incredibly sad and couldn't comprehend why. It's always sad when someone passes away. Other than Robin Williams, who was old enough to be my father, this is the first time the death of a celebrity really rocked me. And it's crazy because I hadn't thought of Luke Perry in years, I never watched "Riverdale," so I never even knew he was on it. But when I heard of his stroke, and subsequent passing, I was crushed. Like the connection never faded. I still think it's silly that I feel this way. But I'm still pretty damn sad.Jen Cannon, Pittsburgh, PennsylvaniaI looked up to Perry as Fred Andrews and in real life I am a 17-year-old in my senior year of high school. To me, Luke Perry was the greatest example of a father figure in both TV and in reality. I could always relate to Archie from "Riverdale," and Luke Perry as Fred Andrews was just amazing. He always gave Archie a great father-to-son experience, and whatever advice he gave to Archie was something I can use for myself. I looked up to him, as both a father and a brilliant actor. I will pray for him and his family, and I really wish his children great, long lives. Luke Perry, I will miss you so much and thank you for being someone I can look up to.Azraf H., Montgomery, Alabama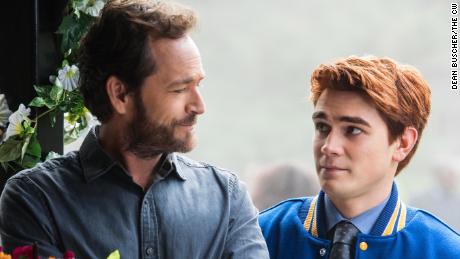 Luke Perry on "Riverdale." Luke Perry's shows helped me connect with those I love mostI began watching "90210" when I was in my early 20s, and really, I just watched it for a laugh with my sisters. I never saw Dylan (or any of the characters on the show) as a heartthrob because I was a young adult (versus a teen) at the time. However, it still did not take long for me to get hooked on the show. My sisters and I would catch up with each other and laugh about the recent "90210" episodes, but, in the end, we did grow to like the characters and care about what was happening to them. I still call each of the "90210" actors by their character's names. Now, I am close to 50 and have two teenage daughters. Recently, my 14-year-old convinced me to let her watch "Riverdale." Having read about it, I decided it would be best if I supervised it and watched it with her. I was so pleasantly surprised to see Dylan in the show and couldn't believe he could actually be playing the part of the dad versus the heartthrob!! Similar to "90120," my daughter and I actually enjoy "Riverdale" to sometimes just laugh at the absurdity of the show, but we have grown attached to characters on that, too. We concluded that Archie's dad was one of our favorite characters, but we continued to call him "Dylan" — because, that's who he was, is, and will always be. So, what did Luke Perry mean to me? It turns out he was someone who acted in shows that allowed me to forget about real life and just have fun talking about the drama of the program with some of the people that I love most in this world, from my sisters to my daughter. RIP Luke Perry — you gave people a lot of joy and you were well loved.Berrin O., Arlington, VirginiaHis death has me thinking about time and what mattersI remember Luke Perry for his portrayal of rodeo star Lane Frost in the movie "8 Seconds" — showing a sense of optimism and whimsy over the promise of achievement in his performance on the screen. I identified with that, as a working professional with a dream of personal achievement and as a growing young adult. Now, as I stare at turning the age of 40 this June — I wonder, if I need to get to "living" more and "worrying" less, as the time in the hourglass seemed to pass so quickly for Luke Perry. At 52, he died a year older than my dad did at 51. I'm only 11-12 years from that threshold, and even though I have lived a life of benefit and blessing from hard work, I still ask: "Do I have time left?" Will I have the time left to have a family? Will I have time left with those who I love and care about? Luke's death has made me think about the utility of time, and what that means to a single, soon-to-be 40-year-old working professional, who has put career before family, achievement before gratification — and it's just a little breathtaking to think that a week ago, it didn't occur to me to care.Jason Rivas, Bakersfield, California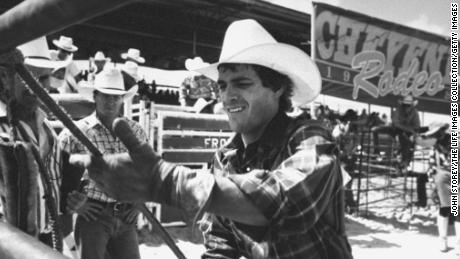 Luke Perry dressed in cowboy garb during a break in the filming of the rodeo movie 8 Seconds.Luke and "90210" helped my parents handle the tough conversationsI was 9 years old when "90210" premiered — I watched the first three or four seasons religiously — taping each episode on VHS and watching throughout the week until the next one aired. I absolutely adored the show and Luke in particular. He was the quintessential "bad boy with a good heart" and was incredibly handsome to boot. His relationships were riveting, his parental dynamics fascinating and eye-opening, and his aura intoxicating. The first few seasons were a blast to watch! But no, I had neither "libertine" nor neglectful parents; in fact, they often watched the show with me. We often discussed the featured topics together after the airing, how they made me feel, and what those feelings meant. They were open and honest with me about the facts of teenage life. In fact, it was BECAUSE my parents allowed me to watch that I avoided alcohol, drugs, and sex in high school and had the maturity, courage, and confidence to say "no" to such things I felt I was not yet ready to handle. I even felt that I understood the reasons why certain kids at school behaved the way they did (too much freedom, etc.) because the characters were portrayed with such rich nuance. More parents should have been like mine — willing to have honest yet difficult conversations with their children. I'm forever grateful to the creators, producers, writers and cast of "90210" for giving us such an important program. It truly captures the zeitgeist of the 1990s — a cultural and political time capsule we can treasure.Kathy Turner, St. Louis, MissouriHe treated me as a parent and an equalI met Mr. Perry and his then-wife when they stayed with us at the Ritz-Carlton, St. Louis during the Planet Hollywood opening here. They had their toddler with them, and my 2-year-old was with me when I slipped into the cocktail reception to say goodbye to my boss. The two boys ended up playing on the floor for a good hour, and I sat at a small cocktail table with Luke Perry and his wife, talking about having children and being parents and our fears and concerns. He never once alluded to his celebrity, or his presence there, and as a rule, neither did I. The next morning I came to my office to find a bottle of wine and a note from him (he'd gone to the trouble of finding out my name), thanking me for letting his son play with mine and wishing me "parenting" good vibes! They were both so gracious and unassuming; I've never forgotten that. Our sons are both in their early twenties now. I'm sending both of his children my prayers and thoughts today — their dad was a wonderful person.Kelley Bryan, St. Louis, Missouri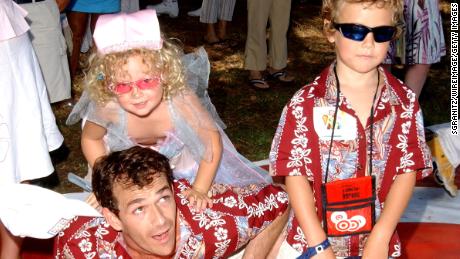 Luke Perry, daughter Sophie and son Jack in 2004. Luke Perry represented freedom for meI grew up in Eastern Europe, behind the Iron Curtain, where American shows were banned for decades, and so was traveling abroad. When the Berlin wall fell and the communist regime in my country (then Czechoslovakia) fell, the TV was one of the first places where freedom really manifested itself. "Beverly Hills 90210" was a massive hit in my country and a huge part of my teen years. Not only did I fall in love with the characters, but I was also learning about the free world from it, so to speak, and how teenagers are in the "land of the evil imperialists" which is the label the communists gave the US. Nevertheless, I loved the show, grew up on it, moved to the US later, became a lawyer and a director and now live in New York City, and will always cherish freedom. Luke Perry represented part of the freedom I wanted to live enjoying, unlike my parents who spent 40 years behind the Iron Curtain. He will be missed.Nora Kurzova, New York City, New York Stay up to date…
Sign up for our new newsletter.
Join us on Twitter and Facebook
His scar made my scars feel coolI woke Tuesday morning hoping that Monday's news wasn't true. Sadly, I have realized that I have to accept it. Dylan was my very first crush. I mean I fell hard. He covered my preteen bedroom walls with posters and any magazine article with his face on it. My mother and I were reminiscing yesterday about when I was 12 years old, she took me to go to an autograph session of his in Sherman Oaks, California, near where I grew up in Sylmar. It was cold and pouring rain. We waited for 90 minutes. When I finally met him, I felt like all my dreams came true. I saw the sideburns, gorgeous smile and the scar on the eyebrow that made me feel like my scars (burns from walking close to an exhaust pipe as a toddler) were pretty cool, too. He asked me my name and I could barely utter a word. He signed my "90210" poster with my name and his name. I remember how genuinely nice he was. There was a positive aura around him that was infectious. I remember that time as one of the happiest in my young life. That movement eclipsed all the episodes I would repeatably watch, magazines I would collect … that moment was monumental. Thank you, Luke Perry, for being such a positive and integral part in my life growing upRachel Manning, Dallas, Texas
Source Link:
https://www.cnn.com/2019/03/06/opinions/luke-perry-remembrances-reader-response-opinion/index.html
[0.429834]
Comments
comments