Washington, DC (CNN)Revel mopeds will return to New York City Thursday, a month after safety concerns forced the company to pull its vehicles from city streets.
The company made several changes after there were three fatal crashes involving its mopeds within a two-week period in July. New York Mayor Bill de Blasio said the deaths were "an unacceptable state of affairs," and the company would not be allowed to reopen unless it could do so safely. The changes made by Revel include requiring riders to take a selfie of themselves wearing a helmet before any trip can begin. Revel is also requiring all of its 360,000 New York riders to complete a new in-app safety training course."New Yorkers deserve more mobility options, and we've focused on welcoming a safer, more accountable service to city streets," a spokesman for the mayor said in a statement Thursday. "But dangerous operations will not be tolerated; we're watching closely for reckless practices."Revel expects the steps will improve safety. Not everyone is convinced.Read MoreErik Marketan, an injury prevention coordinator at St. Barnabas Hospital in New York, noted that riders may remove their helmets after taking a picture.He believes that Revel should increase its prices — it costs $1 to start a ride and $0.25 per minute after that, plus a $5 sign-up fee. Marketan also said Revel should raise the minimum age for riders, which is 21 for drivers and 18 for passengers, the better to attract more responsible riders. The brains of young riders aren't fully developed until their early 20s, and they make riskier decisions, Marketan said."They don't have that part of the brain to say 'hey let me check myself before I wreck myself," Marketan said.He also said Revel should make its scooters more visible, with bright reflective tape and orange colors. "Make them as ugly and visible as can be," Marketan said.Revel's riders will be quizzed on topics such as where mopeds can be driven, and how users will be penalized if they run red lights, drive on highways or allow an underage passenger to ride with them. New York City customers must answer all questions correctly twice before they can ride again on Revel's vehicles. The quiz takes about 10-15 minutes to complete.The company has already rolled out the quiz in other markets. It also operates in Washington, DC, Miami, Austin, Oakland and Berkeley, California.Revel's riders have been criticized for bad behavior and rule breaking, such as riding where they shouldn't, not wearing helmets and running red lights. New York Councilman Ydanis Rodriguez believes the Revel deaths could have been avoided with better safety measures in place.He introduced a bill Thursday calling for the Department of Transportation to take additional steps to make sure shared mopeds are used safely in New York. Rodriguez said it's not enough for Revel to require riders to take a selfie showing themselves wearing a helmet. He wants Revel to add a system, such as a camera, to identify at all times if a helmet is being worn.Rodriguez also believes that the top speed of Revels should be dropped to 25 miles per hour from 30. New York City's speed limit is 25 mph, unless otherwise posted.Ben Welle, the cities director of integrated transport and innovation at the World Resources Institute, said Revel's mopeds should be slowed down as part of an aggressive plan to lower all traffic speeds in New York City. He said the Revel deaths are a symptom of deep problems in infrastructure safety, such as streets being designed to allow for high speeds."You can't get rid of the fact that these are vulnerable road users, like pedestrian deaths and cyclist deaths," Welle said. "People make mistakes. It's inevitable you'll have issues, unless the city designs a safer system."Revel CEO Frank Reig told CNN Business that Revel will keep its top speed at 30 mph."We need to make sure our users are not put in unsafe situations because they actually don't have the power to flow with traffic, to keep up with cars on major thoroughfares," Reig said. Revel originally launched in Brooklyn, New York in 2018 and expanded its New York fleet and service area this year. The mopeds became a popular transit alternative during the pandemic, but safety issues quickly cropped up. Health officials at St. Barnabas Hospital in the Bronx, New York said they saw an increase in injuries from Revel crashes starting in late May. In July, Revel said that it had suspended more than 1,000 riders in the prior 30 days for violating its rules. Reig said that helmet compliance was a big issue in recent months, as well as bad behavior."I'm not sure if that's a symptom of New York City, a lot of people being quarantined for 10 to 12 weeks, stuck in their apartments. The city being in a bit of turmoil back in May, June, July," Reig said. "Anyone that was here like myself could feel that. There was just a rise of user behavior that we needed to have a reset on."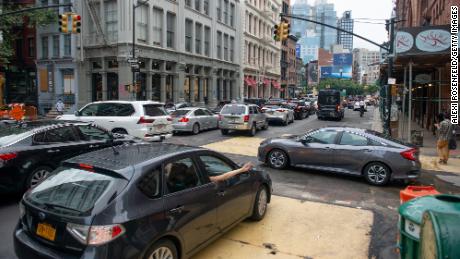 Plan to charge cars for driving into Manhattan is facing 'unprecedented' delaysReig said Revel will also begin to use GPS to identify automatically when riders go the wrong way on one-way streets or ride in parks or on highways. Riders will be automatically suspended, he said.Revel will also begin selling helmets online to consumers, in case they're uncomfortable wearing Revel's shared helmets during the pandemic. The company said it cleans its helmets every one or two days, and offers helmet liners for extra protection.Reig said that the company would also add an app feature for reporting bad behavior involving Revel mopeds. A person does not need to be a registered Revel user to report a violation, he said.
Source Link:
https://www.cnn.com/2020/08/26/cars/revel-mopeds-nyc-return/index.html
Bad Request
Your browser sent a request that this server could not understand.
Size of a request header field exceeds server limit.
Comments
comments