(CNN)Faced with a barrage of damaging headlines for President Donald Trump stemming from impeachment inquiry testimony, congressional Republicans are beginning to coalesce around a strategy aimed at discrediting key witnesses and taking a more confrontational stance against the Democratic-led impeachment process.
Republicans on Thursday ramped up their skepticism of the testimony delivered by US diplomat Bill Taylor — which undercut White House claims Ukraine aid wasn't tied to an investigation that could help him politically — and the Senate's No. 2 Republican Sen. John Thune walked back earlier concerns he expressed about Taylor's opening statement.Republicans in the Senate have also shown little interest in investigating the frozen Ukraine aid, with two committee chairmen signaling that's not a priority right now.Congressional Republican lawmakers and aides say they are taking the reins to defend the President in the impeachment inquiry amid mounting fears that the White House is not consistent nor organized enough to lead the President's defense. But their efforts come as the President publicly and privately is pushing congressional Republicans to toughen up their defense of him as the Democratic impeachment process marches forward.And the strategy congressional Republicans have formulated was on display this week when Republicans launched a political stunt to disrupt Wednesday's deposition, launching a five-hour delay that gave their protest of the closed-door process broad media coverage even as some Republicans broke House rules themselves by bringing electronics into the secure facilities. Read MoreThe effort was a success in the eyes of the President.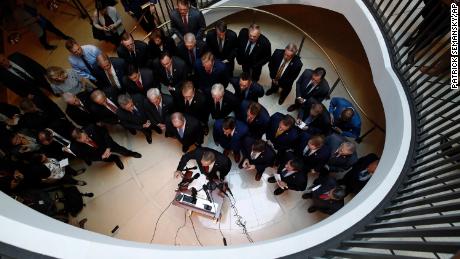 For any national security professional, GOP stunt is a serious breach"Thank you to House Republicans for being tough, smart, and understanding in detail the greatest Witch Hunt in American History," Trump tweeted.It has also, to a large degree, been a success with their members, a pulse leadership continues to check in on as they gauge how the conference is reacting to the seemingly daily drip of revelations, the aides said. "Tell me who besides Rooney has shown cracks publicly," one GOP lawmaker told CNN, referencing retiring Florida Republican Rep. Francis Rooney, who has voiced concerns about the Ukraine revelations. "The answer is nobody. Even our moderates are upset about the process — and even our moderates are hearing from back in the district that the process argument resonates with our people."Senate Republicans are getting into the complain-about-the-process act, too, with Sen. Lindsey Graham of South Carolina and Senate Majority Leader Mitch McConnell introducing a resolution Thursday to condemn the Democratic impeachment inquiry.Graham said at a news conference Thursday on the resolution that White House acting chief of staff Mick Mulvaney acknowledged the White House needs help with impeachment messaging."I met with Mick Mulvaney. He said, 'Keep talking to us. We're getting there,'" Graham said. "Yes, the message has been received and they're making corrective action but he actually mentioned that."GOP targets witness testimonyWhile Republicans have decried the Democrats' closed-door depositions in the first phase of the impeachment inquiry — criticizing the testimony that's leaked out as misleading and lacking context — Democrats are planning a round of public hearings when they complete their depositions that will put pressure on GOP process-focused strategy.Those hearings could happen as early as next month, though the timing remains fluid as the committees identify more witnesses they want to speak to behind closed doors, so they also might not occur until after Thanksgiving, according to sources.It's something senior GOP aides are aware of — and behind the scenes have begun to craft a strategy to confront the next phase of the Democratic effort, aides tell CNN. "We know the process argument has a shelf life," one GOP aide said.Recognizing they will have to battle Democrats over the testimony of witnesses like Taylor, Republicans have set their sights on undercutting witnesses who could be damaging to the President.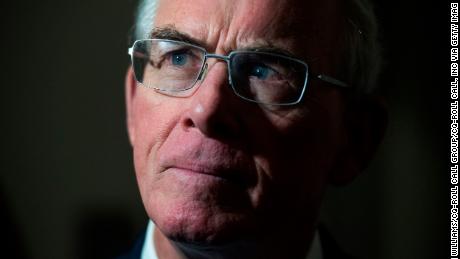 Francis Rooney is the rare House Republican open to impeaching TrumpTaylor's opening statement stated that he was told by US Ambassador to the European Union Gordon Sondland that Trump was conditioning the release of US security aid to Ukraine and a one-on-one meeting with President Volodymyr Zelensky on Zelensky stating publicly that Ukraine would investigation the 2016 election and Burisma, the company that hired Vice President Joe Biden's son Hunter Biden.Reporters have pressed Republicans on the testimony, and many in the House and Senate have responded by arguing that Taylor's testimony is "hearsay" or secondhand information — a similar complaint that the President and his allies launched against the original whistleblower complaint."How would you really know? … It was his testimony, but all second and some third-hand, I understand," said Sen. Roy Blunt, a Missouri Republican."When you watch a trial and you want to get a fair assessment of guilt and innocence, you don't just listen to the opening statements," said Sen. John Kennedy of Louisiana. "You listen to the witnesses and the examination and the cross examination. You don't just take pieces of the trial and take them out of context."Even GOP senators who initially raised concerns about Taylor's testimony were focused on the source of his information on Thursday. Thune, the Senate's No. 2 Republican, said Tuesday that "the picture coming out of it, based on the reporting that we've seen, I would say is not a good one."But on Thursday, Thune argued "we are hearing one side of the story.""From what I could tell, a lot of the interactions and statements had been based on second-hand information and those are obviously points that can be disputed, but I think until the administration has an opportunity to put on their response and answer some of those questions. … I think we all sit and wait until the full body of this comes out," Thune said.While the House's investigation into the freezing of Ukraine aid is moving full-speed ahead, there doesn't seem to be a similar effort underway in the Senate. Asked if he would hold hearings on why the aid was withheld, Senate Foreign Relations Chairman Jim Risch told CNN, "That's been assigned to the Intelligence Committee." He declined to comment further.But Senate Intelligence Chairman Richard Burr said his committee is not focused on the aid being frozen, only the whistleblower complaint. "I'm trying to unpack the whistleblower process," Burr said, adding: "I'm only telling you what we're doing right now." 'Last week was not a good week'Republican congressional aides say the work on impeachment has become a round-the-clock endeavor, with aides working to ensure that the party has a cohesive message regardless of the President's evolving Twitter defense.Rep. Steve Scalise, the No. 2 House Republican, holds a weekly impeachment meeting, and there are regular, if ad hoc, contacts to gauge the temperature and any concerns from members during House floor votes and at conference meetings.That was a particularly important factor in the wake of Mulvaney's widely panned press conference last week, where he openly acknowledged a political quid pro quo before walking it back later in a statement. Several members made clear to leadership that they were, in the words on one GOP lawmaker: "rips—" about what had transpired. But leadership worked throughout the day to calm the waters.Internally, Republican lawyers for the House Intelligence, Oversight and Foreign Affairs are meeting regularly with counsel for House Minority Leader Kevin McCarthy, aides say, and communication directors for the relevant committees are talking daily with leadership about how to tailor the message.They are providing their members with three main talking points, including an attack on the closed-door process and leaks, criticizing House Intelligence Chairman Adam Schiff personally and arguing that the allegations against Trump don't rise to the level of an impeachable offense.A Republican leadership aide told CNN that the inconsistency in the White House's message has been difficult to navigate around, thanks to the unpredictability of Trump's Twitter feed and comments to reporters with a new defense of his "perfect" call with Zelensky. "Last week was not a good week," the aide said, noting that the Clinton White House worked hard to provide air cover for all Democrats to be able to stick with the President."I wish they would adopt a very consistent, well-thought out message that talks about one message and follow that theme all the way through. They just jump around day to day," said one GOP aide. "It's kind of whatever he tweets out in the morning, that is what they run with." Senate Republicans worked through their own baseline of four talking points in a closed-door lunch on Tuesday, with senators proceeding to pick their preferred message to deploy on their own, senators in the room told CNN. But the White House message, or lack of one, has also unsettled Republicans in that chamber, senators acknowledged. Asked Wednesday if the White House could do a better job of messaging on impeachment, Graham, a staunch ally of the Pesident, said flatly: "Yes." Another senator, asked about what the White House strategy has been up to this point, started to chuckle. "A one-man Twitter war room apparently," the senator said. "Not sure that's the answer."
Source Link:
https://www.cnn.com/2019/10/24/politics/gop-sharpens-impeachment-defense/index.html
[-0.373076]
Comments
comments