This was excerpted from the August 24 edition of CNN's Meanwhile in America, the daily email about US politics for global readers. Click here to read past editions and subscribe.
(CNN)You can criticize Donald Trump for a lot of things. But he could never be accused of failing to toot his own horn.
The US President plans to outdo even his own record for self-promotion this week at the Republican National Convention, where he and his family will rarely leave center stage. That ubiquity will feed his craving for attention and delight his supporters. But hours of Trump TV seems unlikely to win back disillusioned moderate Republicans and independents, and will play directly into Democratic claims that Trump's self-obsession and refusal to listen makes crises worse. Last week's smooth virtual Democratic convention raised expectations for the Trump show, not least since he portrayed his opponent Joe Biden beforehand as bumbling and senile, and then criticized the convention as boring. Trump wants a more spontaneous show, but any glitches in the live performance will add to his reputation for chaos and mismanagement.Still, Republicans have an opening: they can do a better job than Democrats of highlighting the anger and economic disenfranchisement of working class communities devastated by globalization and a technological revolution that destroyed blue collar jobs. Trump's campaign promises testimony from regular Americans who have been lifted by the President's policies. But he will have to rebrand his response to the coronavirus — which killed nearly 180,000 Americans so far — as a huge success, since Biden is promising a way out of the nightmare.And since he can't win the character contest, Trump needs to find a way to drive the Democrat's numbers down somehow. Brace for tales of radical "socialists," "left-wing" fascism, burning cities, and liberals who want to shut the economy, abolish (White) suburbs, grab Americans' guns, rewrite the country's history, open the borders to marauding immigrants and surrender to foreigners. Read MoreSpy scenes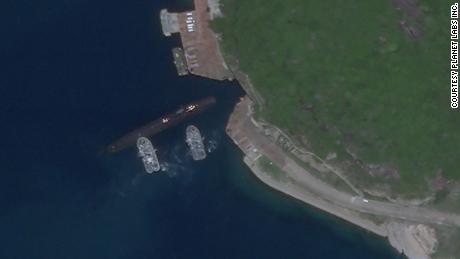 Satellite image of Aug. 18, 2020, appears to show a Chinese submarine using an underground base on Hainan Island on the South China Sea.Serendipitous satellite images taken Aug. 18 appeared to show a Chinese submarine entering an underground base in China's southern resort island Hainan — immediately drawing comparisons to scenes from a spy movie. 'It's the phoniness of it all'There's one member of Trump's family who definitely won't be giving a speech at the RNC — his sister Maryanne Trump Barry, who warned "Donald's out for Donald," in audio excerpts obtained by CNN. "His goddamned tweet and lying, oh my God," she said, according to the recording, first reported by the Washington Post. "I'm talking too freely, but you know. The change of stories. The lack of preparation. The lying. Holy shit." The sisterly rebuke was secretly taped by Mary Trump, a niece and fierce critic of the President, whose bombshell book contends he is unfit for office. "It's the phoniness of it all. It's the phoniness and this cruelty. Donald is cruel," said Barry, a retired judge. She also alleged that Trump got into college because he paid someone to take his exams. (The White House denies it.)Diplomacy at a distance"You can't replace the personal interactions," complained one ambassador in Washington. "It is just not the same thing."Foreign envoys normally enjoy schmooze fests of cocktail parties and breakfasts with party power brokers during the US nominating conventions. But as CNN's State Department reporter Kylie Atwood writes for Meanwhile, there are two problems: Social distancing has scotched in-person diplomacy; and Biden aides are skittish about giving face time to anyone from Embassy Row, wary of the slightest suggestion of courting foreign interference in the vote."Diplomats traditionally swarm the Republican and Democratic conventions — their cables back home buzz with intel on rising foreign policy players and hints about how a second term administration might behave. Not this year."The fallout from the last election, when Trump campaign aides had multiple contacts with Russians and future national security adviser Michael Flynn discussed sanctions with Moscow's ambassador during the transition has complicated efforts by foreign envoys to contact Biden's team."One Democratic foreign policy official informally involved in the former VP's foreign policy orbit explained it this way. 'People are very, very wary of anything that would smack of passing information or conveying information at all to representatives from abroad.' "A second foreign diplomat based in Washington said: 'It is more of a jigsaw puzzle than it would normally be.' And some diplomats aren't even in the US — a country that has mismanaged the pandemic more poorly than many others: If they're doing their jobs virtually anyway, they might as well be back home."Still, it could be worse. It's not as if Biden is an unknown quantity. He led the Senate Foreign Relations Committee, traveled the globe as Vice President and his likely diplomatic 'A team' is also well known. The Democratic nominee has promised to rejoin the Paris climate accord, restore traditional American global leadership and convene a conference of the world's democracies early in his presidency if he wins in November."But diplomats want answers about exactly how Biden would proceed on key issues like China and trade that are unlikely to follow the blueprint of the Obama administration."The Rose Garden, before and after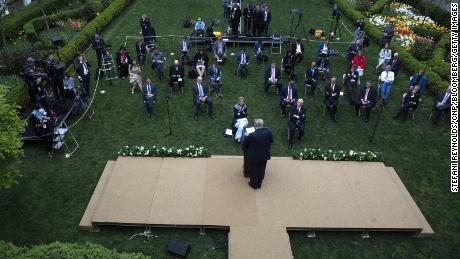 The modern Rose Garden — a regular stage for press briefings, bill signings and receptions at the White House — was inspired by the gardens of France, the UK and Austria, according to heiress horticulturalist Rachel Lambert Mellon, who recalled John F. Kennedy returning home from a state visit with disappointment that the White House "had no garden equal in quality or attractiveness to the gardens that he had seen and in which he had been entertained in Europe." The resulting redesign transformed the Oval Office's backyard into a wide reception lawn — turning up Civil War horseshoes and a military hotline cable during planting. We'd like to know what first lady Melania Trump found in her renovation of the famous garden, unveiled over the weekend and pictured below.
Source Link:
https://www.cnn.com/2020/08/24/politics/meanwhile-in-america-august-24-intl/index.html
Bad Request
Your browser sent a request that this server could not understand.
Size of a request header field exceeds server limit.
Comments
comments