Washington (CNN)Rep. Doug Collins, the top Republican on the House Judiciary Committee who has been one of President Donald Trump's staunchest Hill allies amid Democrats' oversight efforts, led the GOP charge against former special counsel Robert Mueller during Wednesday's hearing.
The Georgia Republican kicked off questioning for Republicans by asking Mueller about his report on Russian interference in the 2016 election and on whether the President obstructed justice. He grilled Mueller on the "colloquial" difference between the terms "collusion" and "conspiracy" and asked Mueller if at any point the investigation was hindered or stopped, to which the former special counsel answered no.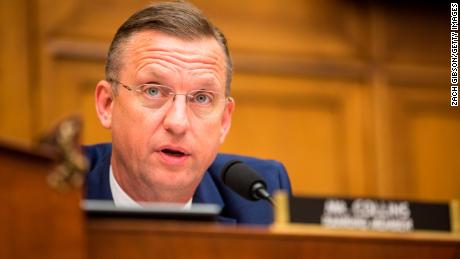 Judiciary Ranking Member Doug Collins' opening statement before Mueller testimonyA fast-talking southern conservative, Collins has been in office for three terms but he's held his current role on the Judiciary Committee leadership role for about seven months, during which he's been the top voice pushing back against chairman Rep. Jerry Nadler's efforts to investigate Trump.Born in Gainesville, Georgia, Collins' father was a state trooper and his mother was a caregiver to senior citizens.His first stint in Washington was as an intern in the House of Representatives, and he went on to earn a masters degree in divinity after graduating from the University of North Georgia. For 11 years, he was a Baptist preacher in his hometown.Read MoreHe's an Iraq veteran who was a chaplain for the US Air Force Service beginning in 2002, and completed a one-year deployment to Iraq in 2009. He remains an active member of the US Air Force Reserve. Dive deep into the Mueller report
Read and search the full report
77 lies and falsehoods Mueller called out
Mueller had everything he needed to charge Trump with obstruction, but didn't
Mueller speaks, but he's still an enigma
He first stepped into public life in 2006, by serving in the Georgia House of Representatives, representing Gainesville, and was elected to the Congress in 2012, representing a northeast area of the state. During his time in the House, he's worked closely on several pieces of legislation with his Democratic colleague from New York, Rep. Hakeem Jeffries, another member of the Judiciary committee.The two have partnered on the First Step Act, a criminal justice reform bill, and the Music Modernization Act — both of which were signed into law last year by Trump.
Source Link:
https://www.cnn.com/2019/07/24/politics/doug-collins-judiciary-committee/index.html
[-0.638698]
Comments
comments