(CNN)Remnants of Hurricane Grace, which slammed into Mexico as a Category 3 hurricane Saturday morning, may bring flash floods and mudslides to the central part of the country, according to the National Hurricane Center.
At least eight people are dead and another three missing from the storm, which made landfall on the Gulf Coast of Mexico with maximum sustained winds of at least 120 mph.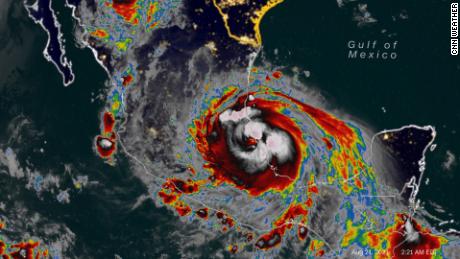 Hurricane Grace stuck Mexico as a Category 3 hurricaneSeven of the deceased are from Xalapa and one is from Poza Rica, in the Mexican state of Veracruz, and six of the victims are from the same family, Governor Cuitlahuac Garcia Jimenez of Veracruz said during a press conference. After making landfall, Grace was downgraded to a tropical storm, Mexico's National Meteorology Service said.Heavy rainfall will bring the risk of flash flooding and mudslides through the weekend, the center said.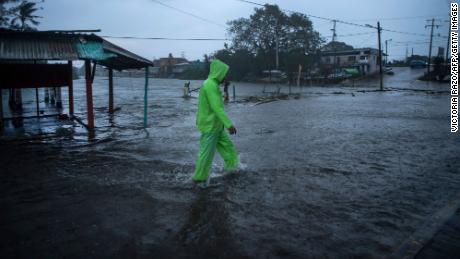 A man walks in a flooded street due to heavy rains caused by Hurricane Grace in Tecolutla, Veracruz, Mexico.Read MoreVeracruz, Puebla, Tlaxcala, Hidalgo, northern Querétaro and eastern San Luis Potosí could see significant flash and urban flooding as well as mudslides through the weekend. Those areas may get 6 to 12 inches of rain with isolated totals up to 18 inches through Sunday, the hurricane center said.The remnants of the storm are expected to head into the Pacific, according to CNN meteorologist Robert Shackelford. There is an 80% chance of redevelopment in the next 48 hours, but this is not likely to have a significant effect to those on land since the system will be moving 10-15 mph away from the coast of Mexico.Grace made landfall over Mexico twiceGrace had already made landfall once in Mexico prior to Saturday, plunging through the Yucatan Peninsula as a Category 1 hurricane on Thursday with sustained winds of 80 mph before weakening to a tropical storm. The storm crossed into the Gulf of Mexico and regained hurricane strength before its second landfall.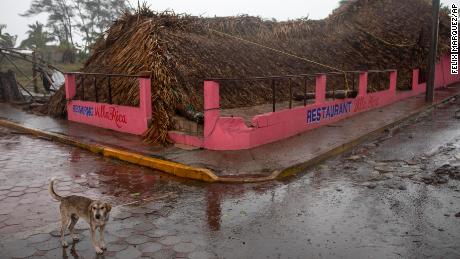 A dog stands in front of a restaurant toppled by winds brought on by Hurricane Grace in Tecolutla, Veracruz, Mexico.The eastern coast of the Yucatán, including Cancun, Cozumel and Punta Herrero, faced hurricane warnings prior to Grace's arrival as it moved west and strengthened, battering Jamaica and the Cayman Islands.Earlier, Grace passed over Haiti, which is recovering from a magnitude 7.2 earthquake that killed more than 2,000 people. About 1.2 million people, including 540,000 children, were affected by the earthquake, according to UNICEF.
Source Link:
https://www.cnn.com/2021/08/22/weather/hurricane-grace-mexico-sunday/index.html
[-0.787358,"negative"]
Comments
comments