(CNN)As millions across the US slept, a small raccoon who first captured the attention of Minnesota, and then the world, did something remarkable.
He made it to the roof.
THE GREATEST STORY EVER TOLDHE MADE IT #mprraccoon pic.twitter.com/DC7LsZ2EZP
— Joel Neill (@joelneill) June 13, 2018 At about 2:30 a.m. local time, a grainy live feed from St. Paul showed a shadowy little figure scurrying up and onto the top of a 25-story building, prompting an almost audible sigh of relief from the internet.For hours on Tuesday, Twitter users followed the exploits of the daredevil free-climbing raccoon. The drama started after maintenance workers removed the creature from the roof of a St Paul office block. Not prepared to take a hint, it headed to the neighboring UBS tower — one of the tallest buildings in the city.Read MoreThen it started to climb.
My picture from the 13th floor around noon. Hope he makes it down OK! #mprraccoon pic.twitter.com/gfVWysn9iO
— Ben (@Johnson88Ben) June 12, 2018 People noticed, and before long it had its own Twitter account.
I made a big mistake. #mprraccoon
— The MPR Raccoon. (@TheStPaulRacco1) June 12, 2018 The hashtag #mprraccoon began to trend, attracting celebrity followers.
I'll donate a thousand bucks to the non political charity of choice to anyone who saves this raccoon. I can't handle this. Poor dude. https://t.co/2F5reAKkKa
— James Gunn (@JamesGunn) June 12, 2018 The city's mayor, Melvin Carter, assured raccoon-watchers help was on the way.
Even wild animals know @cityofsaintpaul is a great place to reach for higher heights. We're working with staff & building owner to find a way to help #MPRraccoon without further endangering it or staff by scaring or making it feel threatened.
— Mayor Melvin Carter (@MayorCarter_) June 12, 2018 With no balconies or windows that open, office workers inside the building were left to watch anxiously as the raccoon continued its climb.At the 23rd floor, it stopped for a nap, allowing time for more photos.
He is on the ledge on our floor. He seems to be doing well. We've been told that the building has live traps on the roof and are trying to get him to go up there. We all just have to keep our fingers crossed.. #mprraccoon pic.twitter.com/HY1PkuFKz0
— Paige Donnelly law (@donnelly_law) June 12, 2018
The #mprraccoon is doing a little grooming now that he's a social media star. You know, on a 23rd floor window ledge. @MPRnews pic.twitter.com/pGcwh7OJ6L
— Tim Nelson (@timnelson_mpr) June 12, 2018 As night descended on St. Paul, the raccoon appeared to start climbing down, before reversing course. Concerned that the raccoon had become trapped, Twitter users called for a host of inventive solutions, including sending up a hot air balloon to take the raccoon to safety.In the end, there was no need.The raccoon was caught and was to be picked up by the city's Department of Safety & Inspections, according to a tweet from the building's owner, UBS Financial Services.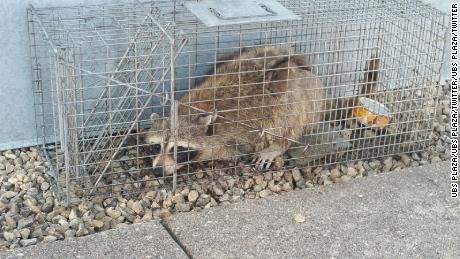 The raccoon that scaled a high-rise office building in St. Paul, Minnesota was caught atop the UBS Tower.The critter was put into a cage after "a delicious meal of soft cat food," according to UBS. Wildlife Management was planning to release it into the suburbs, the company added.
Source Link:
https://www.cnn.com/2018/06/13/us/raccoon-minnesota-intl/index.html
[-0.284301]
Comments
comments