The anti-Kremlin punk activist group Pussy Riot has claimed responsibility for several people who ran across the field during the World Cup final on Sunday.
Four people wearing similar black-and-white uniforms stormed the field in Moscow during the second half of the match between France and Croatia.
"Hello everyone from the Luzhniki pitch, it's cool here!" the group posted on Twitter and Facebook almost immediately after the stunt, according to Reuters.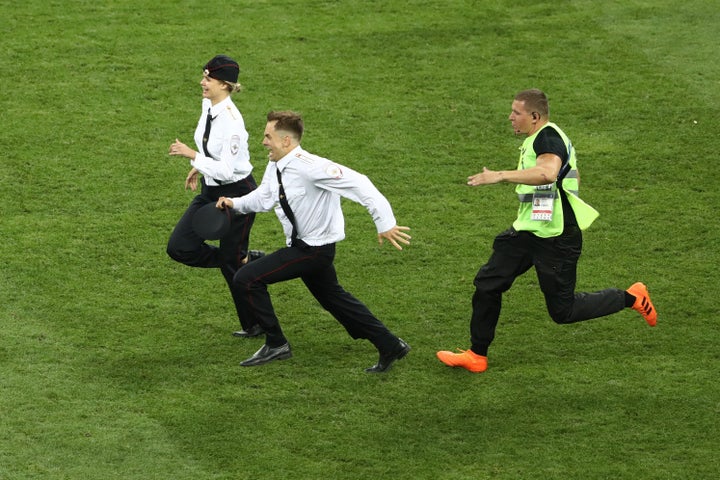 Robert Cianflone – FIFA via Getty Images A man and woman are seen being chased by guards after invading the field at the World Cup final Sunday.
Olga Kurachyova, who is a member of Pussy Riot, identified herself as one of the four people in a phone call to Reuters from a Moscow police station where she said she had been detained.
Members of Pussy Riot have been detained and arrested in the past for participating in political protests and performances in Russia.
Sunday's spectacle came as Croatia trailed France 2-1. Photos captured one female participant high-fiving French soccer player Kylian Mbappe on the field while a male participant was seen getting shoved away by Croatia's Dejan Lovren.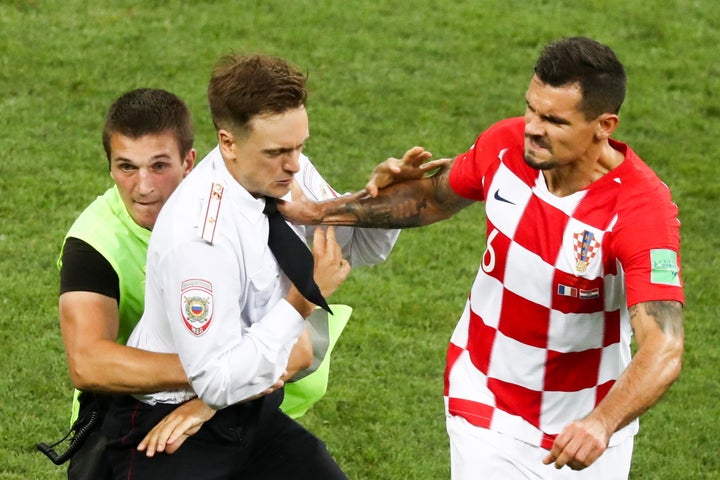 Stanislav Krasilnikov via Getty Images Croatia's Dejan Lovren shoves a man who invaded the field during the World Cup final's second half.
One way or another, all of the participants were seen being forcibly carried off the field by guards.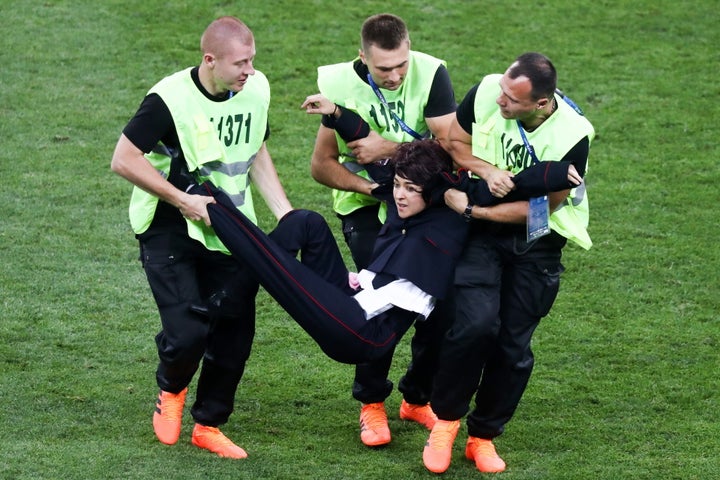 Stanislav Krasilnikov via Getty Images Security guards detain a field invader during the 2018 FIFA World Cup final match between France and Croatia at Luzhniki Stadium.
The people were believed to be wearing mock police uniforms, the Evening Standard reported.
A post on the organization's Facebook page summarized the interruption as "Policeman enters the Game." The post listed a number of demands, including the release of political prisoners, the end of illegal arrests, and allowing fair political competition in Russia.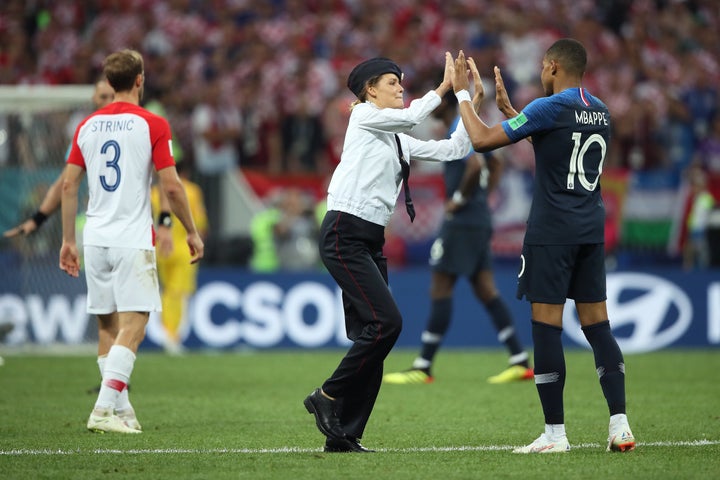 Matthew Ashton – AMA via Getty Images A woman high-five's Kylian Mbappe of France after running onto the field. RELATED COVERAGE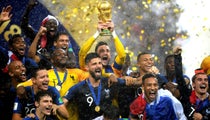 2018 World Cup Final: France Beats Croatia To Win Second Title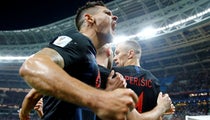 The 2018 World Cup's Best Moments So Far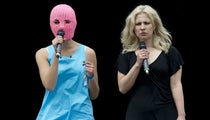 Pussy Riot Members Reportedly Detained After Protest In Siberia Download
Source Link:
https://www.huffingtonpost.com/entry/pussy-riot-world-cup-field_us_5b4b7a2ee4b0bc69a7881639
[-0.520055]
Comments
comments