If you couldn't make it to the royal wedding but still want your chance to see Prince Harry and Meghan Markle up close, Madame Tussauds is on it.
The famed wax museum unveiled two "live figures" ― that is, real people wearing what appear to be wax versions of Harry and Meghan's faces ― in London last week as a preview for its new, vaguely disquieting attraction.
Madame Tussauds London says it has the two live people portraying the Duke and Duchess of Sussex so fans will get the chance to meet the royals "in person." The impersonators were first featured on the finale of "Britain's Got Talent" in June, according to a press release.
Last week's outing was the first time the two doppelgängers were out and about in London. The likeness of the masks is admittedly quite good, but there's something creepy about seeing fake faces on real people.
At least the faux royals got Meghan and Harry's casual-chic wardrobe down pat: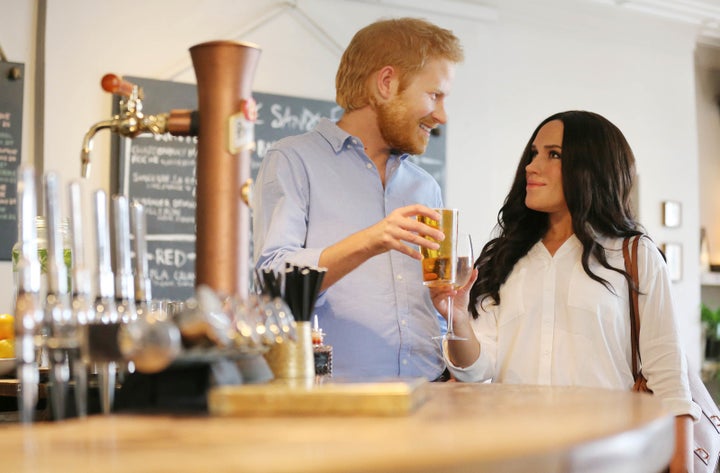 PA Images/INSTARimagescom Just sharing a drink with a loved one while gazing unblinkingly into each other's eyes, as you do.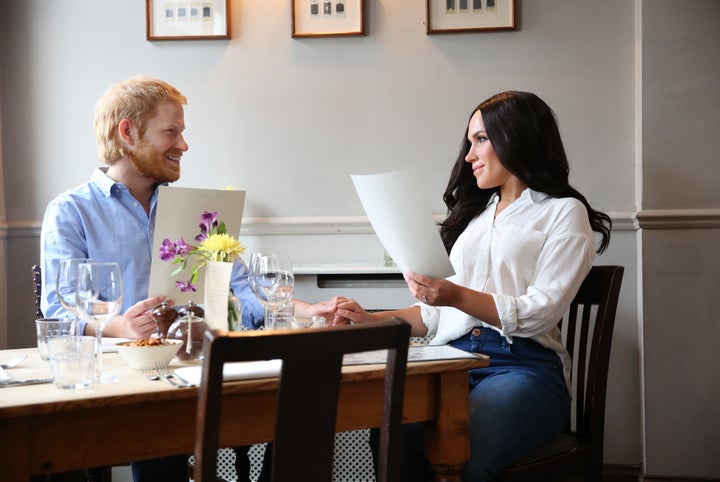 Isabel Infantes/PA Images/INSTARimagescom The "live figures" head to the Sands End pub in London — one of Harry's favorites — on Aug. 22.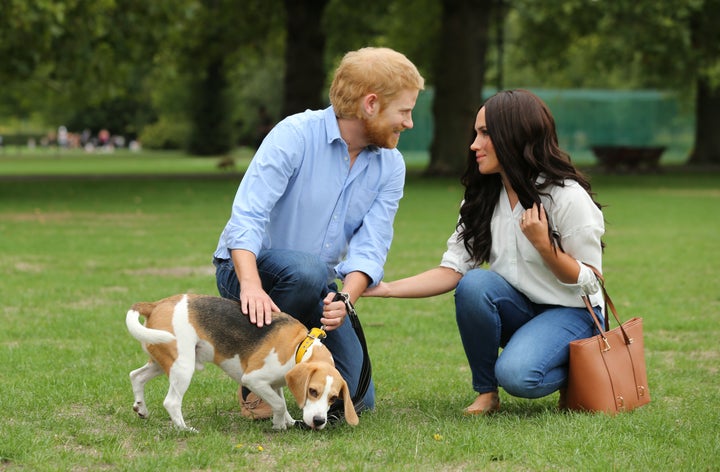 Isabel Infantes/PA Images/INSTARimagescom The fake Duke and Duchess of Sussex walk through London's Battersea Park. The REAL royals have reportedly adopted a dog together.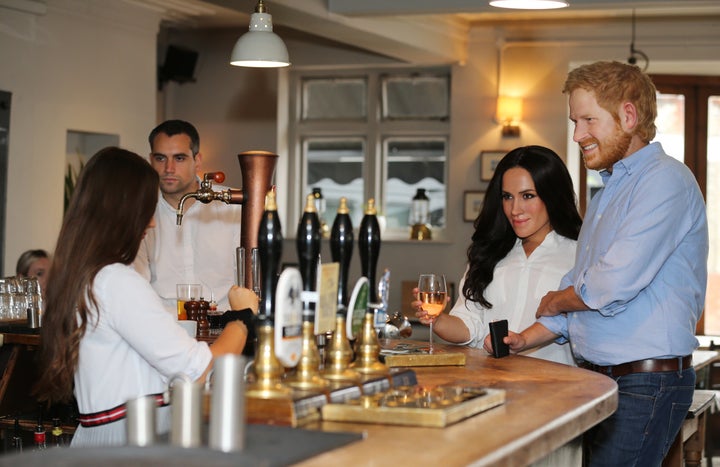 PA Images/INSTARimagescom This is a pretty interesting Wikipedia article, apropos of nothing.
Of course, if you prefer wax statues of the Duke and Duchess of Sussex, Madame Tussauds London has those as well. Meghan's debuted earlier this year, alongside an updated version of Harry's statue.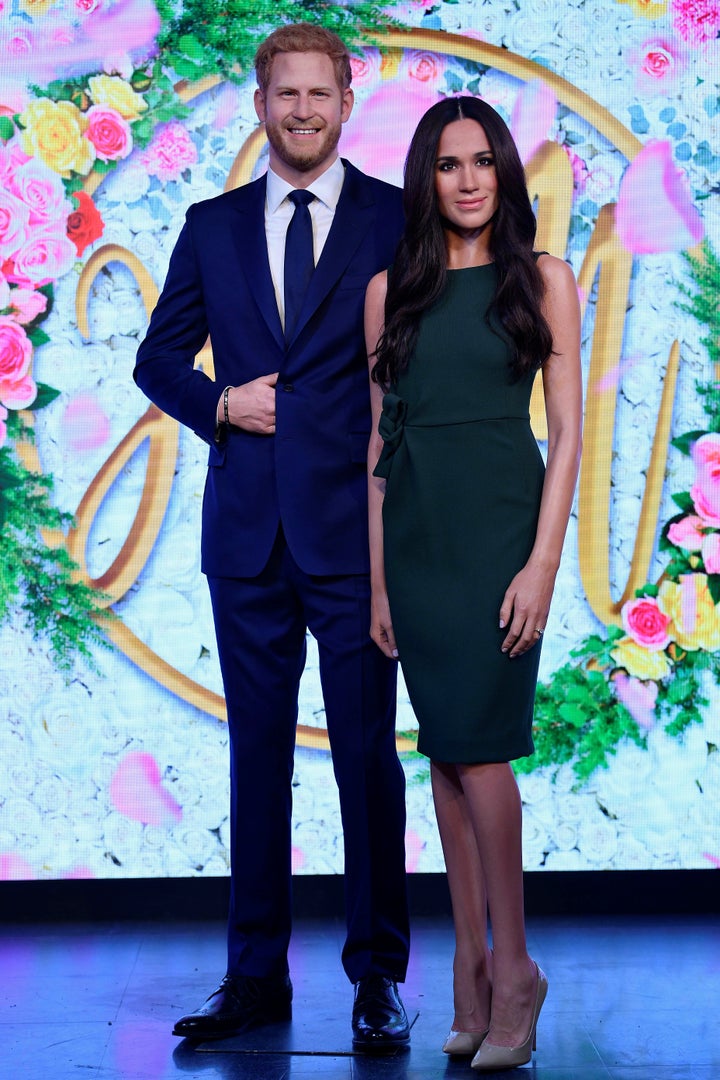 Toby Melville / Reuters These are still wax figurines, although they at least do not sweat or have heartbeats.
The real Meghan and Harry made their first public appearance in weeks on Wednesday for a special viewing of "Hamilton" to benefit the prince's charity, Sentebale.
The former "Suits" actress looked stunning in a chic tuxedo dress from Judith & Charles, and Harry charmed the crowd by singing a line from the musical ― one attributed to his great-great-great-great-great-great-grandfather King George III, according to playwright Lin-Manuel Miranda.
"You say…"Thank you to the cast and crew of @HamiltonWestEnd for a fantastic performance, raising awareness and funds for @Sentebale's work with children and young people affected by HIV #HamiltonLDN pic.twitter.com/M5hmjTfhEz
— Kensington Palace (@KensingtonRoyal) August 29, 2018
Royal news doesn't stop at the wedding. Subscribe to HuffPost's Watching the Royals newsletter for all things Windsor (and beyond).
RELATED… Meghan Markle Is Returning To TV — And It's All In Honor Of The Queen Halle Berry Calls Out Prince Harry For Having Her Picture On His Dorm Wall Prince Harry Sang A Line From 'Hamilton' And Lin-Manuel Miranda Couldn't Cope There's A New Meghan Markle Wax Figure, And It's Actually A Great Likeness Download
Source Link:
https://www.huffingtonpost.com/entry/prince-harry-meghan-markle-wax-faces-madame-tussauds_us_5b8808fbe4b0cf7b00330ebd
[0.556522]
Comments
comments