(CNN)Buffeted by a global pandemic, the future of the English Premier League — whose 20 clubs in 2018/19 delivered total revenue of over $6.5 billion for the first time in his history — appears to be up for grabs.
With no fans currently allowed at games, the 92 professional clubs that comprise English football have been grappling with the pandemic's financial impact, particularly the 72 teams that play across three divisions in the English Football League (EFL) outside the Premier League.According to Deloitte, Premier League clubs alone face a £1 billion ($1.3 billion) reduction in their revenues in 2019-20 because of the coronavirus pandemic.It's against the background of the pandemic and also a vacuum of power that's seen the Premier League, the EFL and the Football Association, which regulates English football, unable to come up with a comprehensive solution over the last few months to help clubs weather the financial storm that 'Project Big Picture' has come into vision.Reportedly backed by Liverpool and Manchester United — two clubs that have American owners — and EFL chairman Rick Parry, 'Project Big Picture' would see the top division of English football cut from 20 to 18 teams and the League Cup and Community Shield would be abolished.Read MoreIn return, the EFL would get 25% of all future TV deals, plus a £250 million rescue fund made immediately available to the EFL to help clubs manage during the coronavirus pandemic. Liverpool and Manchester United did not respond to CNN's request for comment.The Premier League, which oversees English top-flight football, said it was "disappointed" by the proposals put forward by the EFL in 'Project Big Picture,' arguing that some of them have a "damaging effect on the whole game.""English football is the world's most watched, and has a vibrant, dynamic and competitive league structure that drives interest around the globe," said a Premier League statement."To maintain this position, it is important that we all work together. Both the Premier League and The FA support a wide-ranging discussion on the future of the game, including its competition structures, calendar and overall financing particularly in light of the effects of Covid-19. "Football has many stakeholders, therefore this work should be carried out through the proper channels enabling all clubs and stakeholders the opportunity to contribute."In the Premier League's view, a number of the individual proposals in the plan published today could have a damaging impact on the whole game and we are disappointed to see that Rick Parry, Chair of the EFL, has given his on-the-record support."The Premier League has been working in good faith with its clubs and the EFL to seek a resolution to the requirement for Covid-19 rescue funding. This work will continue."A spokesperson for the Department for Culture, Media and Sport told CNN it was "surprised and disappointed" by the proposed changes. "We are surprised and disappointed that at a time of crisis when we have urged the top tiers of professional football to come together and finalise a deal to help lower league clubs there appear to be backroom deals being cooked up that would create a closed shop at the very top of the game," a DCMS spokesperson said. "Sustainability, integrity and fair competition are absolutely paramount and anything that may undermine them is deeply troubling. Fans must be front of all our minds, and this shows why our fan led review of football governance will be so critical."READ: Frozen out by Arsenal, Mesut Ozil is proving an expensive problem for the club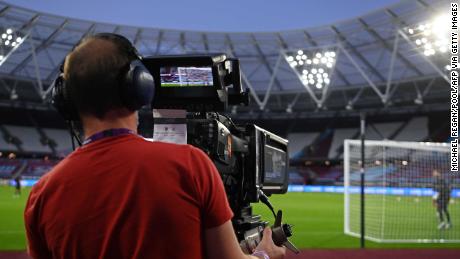 A television cameraman follows the action during the English Premier League football match between West Ham United and Newcastle United.'A flagrant, abusive and ruinous power grab'As well as reducing the number of teams in England's top flight, the bottom two teams in the Premier League would be relegated automatically, with the 16th-placed team joining the second-tier Championship playoffs, under the proposed new structure.Parachute payments — money given to relegated teams — would be scrapped and £100 million would be paid to the FA to make up for lost revenue.The nine longest serving clubs in the Premier League — which currently are Liverpool, Manchester City, Manchester United, Chelsea, Tottenham, Arsenal, Everton, Southampton and West Ham — would be afforded voting rights which would enable any six of them to pass and veto certain new rules.According to Parry, the need for a "complete rethinking regarding the funding of English professional football" was apparent even before the ongoing coronavirus pandemic."Now is the time to address both the long-term health of the game and the most challenging short- term crisis it has ever faced," said Parry in a statement.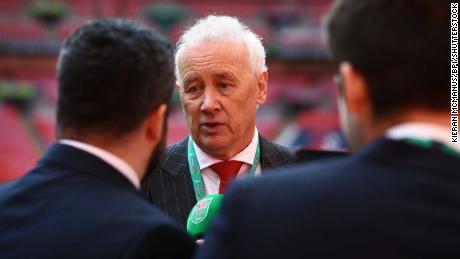 EFL chairman Parry is interviewed prior to the game Aston Villa vs. Manchester City EFL Carabao Cup final."Project Big Picture provides a new beginning which will revitalize the football pyramid at all levels. This new beginning will reinvigorate clubs in the lower leagues and the communities in which they are based."The whole of English football has been negatively impacted by this pandemic and the English football pyramid as a whole is only as healthy as those at its base. This is about building on what is good and making the most of what works well in order to benefit the game as a whole, while simultaneously tackling those issues which trouble all of us."However, the proposal's apparent consolidation of power in the hands of a few clubs has drawn widespread criticism. Martin Samuel of the Daily Mail called the move a "flagrant, abusive and ruinous power grab.""They are promising all kinds of bungs and sweeteners to get their way, painting themselves as the saviors of the game, the friends of the little folk, but do not believe a single word of it," wrote Samuel."This is about six clubs controlling the wealth and seizing the power, right down to deciding who gets into their competition. This is about closed shop protectionism that will end the Premier League as a vibrant competition. This is about getting your round in with another man's money."Chief football writer for the Times, Henry Winter, called 'Project Big Picture,' "so wretchedly, nakedly cynical, so obviously greed dressed up as munificence, that it deserves the widespread contempt it has immediately garnered."However the Guardian's David Conn argued the idea was worthy of further consideration."An offer, finally after a generation, to rejoin the top division with the three below and repair the vast, calamitous financial gap caused by the breakaway of the First Division from the Football League to form the Premier League in 1992," wrote Conn.READ: She made history by playing football. Now she's changing livesPay-per-viewThe news of 'Project Big Picture' comes soon after the Premier League was widely criticized for announcing that games not selected for broadcast in October will be available to fans to watch for £14.95 ($19.47) on a pay-per-view basis.In September, every Premier League game was available to watch in the UK, but now fans will have to pay additional fees to watch games not selected for television.
Pay £14.95 to sit indoors & watch a Premier League game which is a sterile version of the game I played??? No thanks, you're alright, I'll go watch my local non league club, have a pint & chips & gravy & support my community #LetFansIn
— Trevor Sinclair (@trevor8sinclair) October 9, 2020 Premier League clubs voted 19-1 in favor of the move, which is seen as an "interim move" with fans still not allowed to attend games in person.The change has drawn swathes of criticism from across football, with former Manchester United and England right back Gary Neville calling it a "really bad move" by the Premier League on Twitter.Visit CNN.com/sport for more news, features, and videosThe Football Supporters' Association urged broadcasters to "reconsider their pricing" in a statement.There are also fears this move will drive more fans towards illegal streams.The Premier League did not immediately respond to CNN's request for comment regarding criticism of the pay-per-view announcement.
Source Link:
https://www.cnn.com/2020/10/12/football/premier-league-project-big-picture-efl-rick-parry-pay-per-view-spt-intl/index.html
Bad Request
Your browser sent a request that this server could not understand.
Size of a request header field exceeds server limit.
Comments
comments