Vatican City (CNN)Pope Francis rebukes narrow-minded Catholics and warns the world about the devil in a new document about modern holiness unveiled Monday by the Vatican.
In the major teaching document, called an apostolic exhortation, Francis also encourages Catholics to reach for holiness in daily life, urging the faithful to become "the saint next door." The 100-page booklet is titled "Rejoice and Be Glad; On the Call to Holiness in Today's World." After March for Our Lives protests, Pope urges youth to speak outIn a pointed rebuke to Catholic anti-abortion activists who focus on the issue to the exclusion of all others, Francis says that helping the poor and immigrants is as important as taking a stance against abortion."Some Catholics consider it (the situation of migrants) a secondary issue compared to the 'grave' bioethical questions," he writes.Read MoreTo do so, the Pope says, is like "a politician looking for votes."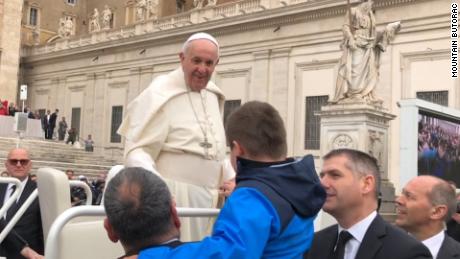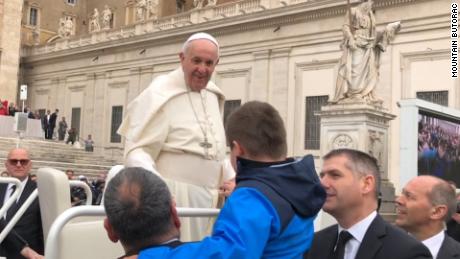 JUST WATCHEDWatch boy who survived cancer get Pope's kissReplayMore Videos …MUST WATCH
Watch boy who survived cancer get Pope's kiss 01:36A Christian, Francis says, should "stand in the shoes of those brothers and sisters of ours who risk their lives to offer a future to their children."Can Pope Francis keep the door open for refugees?"Our defense of the innocent unborn, for example, needs to be clear, firm and passionate," the Pope writes."Equally sacred, however, are the lives of the poor, those already born, the destitute, the abandoned and the underprivileged…" he adds.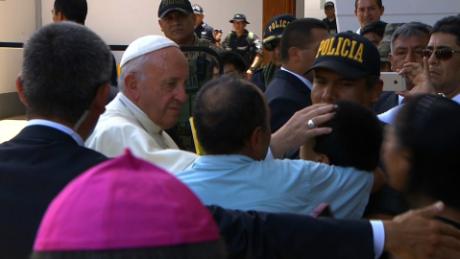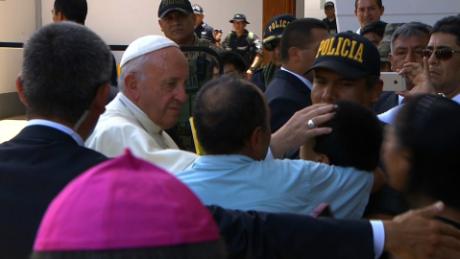 JUST WATCHEDPope Francis blesses child on the streetReplayMore Videos …MUST WATCH
Pope Francis blesses child on the street 01:19Pope Francis has previously criticized those who he claimed are "obsessed" with the issues of abortion and homosexuality."It's not necessary to talk about these issues all the time," he said in a 2013 interview.Rigid CatholicsFrancis also takes issue with conservatives who have criticized him for trying to open up Catholic teaching.Sunday was the second anniversary of the publication of Francis' previous apostolic exhortation, Amoris Laetitia, which occasioned an outcry among some conservatives for Francis' position on allowing communion for divorced and remarried Catholics.On Saturday, a group of those conservative Catholics — led by Cardinal Raymond Burke, one of Francis' principal critics — held a conference in Rome discussing the limits of papal authority, heresy and doctrine.
JUST WATCHEDA look at Pope Francis' papacy at five yearsReplayMore Videos …MUST WATCH
A look at Pope Francis' papacy at five years 02:29While the Pope has never directly addressed the concerns of his critics, he has frequently condemned their "rigidity."In the new document, Francis once again calls out his critics' "obsession with the law… and a punctilious concern for the Church's liturgy, doctrine and prestige," claiming that they are closed off to the Holy Spirit."Not infrequently, contrary to the prompting of the Spirit, the life of the Church can become a museum piece or the possession of a select few. This can occur when some groups of Christians give excessive importance to certain rules, customs or ways of acting," the Pope writes.'The devil exists'Just last week, Francis made waves in an interview with Italian journalist and founder of the left-wing daily La Repubblica, Eugenio Scalfari, in which he allegedly claimed that hell did not exist. The Vatican issued a vague denial, leaving some to question the true position of the Pope.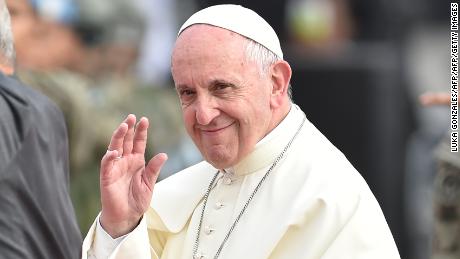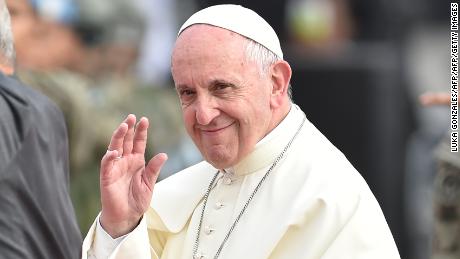 JUST WATCHEDPope warns against 'fake news'ReplayMore Videos …MUST WATCH
Pope warns against 'fake news' 02:11While Francis does not address the question of hell in his new document, he makes clear that he believes the devil exists and is at work in our world."We should not think of the devil as a myth," Francis writes, claiming that the devil is "a personal being who assails us."Using battle imagery, Francis writes of the importance of discerning the work of the devil in our lives: in lethargy, self-centeredness and a "rigid resistance to change."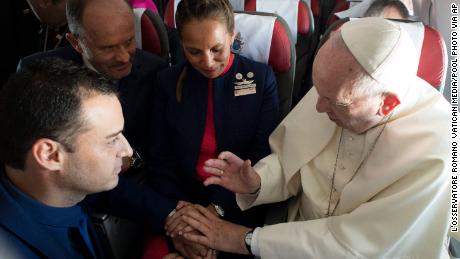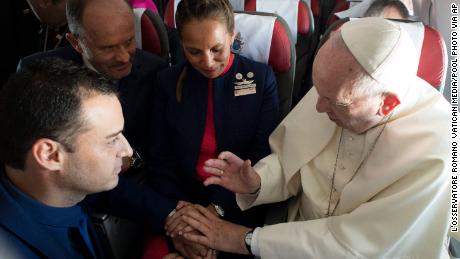 JUST WATCHEDPope performs impromptu wedding on planeReplayMore Videos …MUST WATCH
Pope performs impromptu wedding on plane 01:32The Pope calls upon Christians to engage in "spiritual combat" through prayer and vigilance against the work of the devil by a daily examination of conscience.Seeing the Pope help strangers made me tear up. Later I learned why."We are not dealing merely with a battle against the world and a worldly mentality that would deceive us and leave us dull and mediocre, lacking in enthusiasm and joy," the Pope writes. "It is also a constant struggle against the devil, the prince of evil.""Jesus himself celebrates our victories," Francis says.The saints next door Francis says that everyone is called to be a saint in "small everyday things.""Holiness is not about swooning in mystic rapture," he writes. It is found in daily life, the Pope says, in the patience of parents, the sick, and the elderly."Very often it is a holiness found in our next-door neighbors, those who, living in our midst, reflect God's presence. We might call them, 'the middle class of holiness,'" he writes.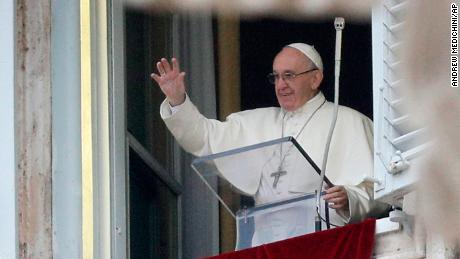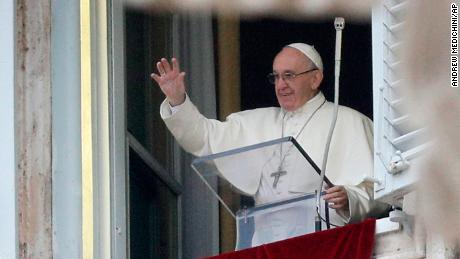 JUST WATCHEDPope calls on world leaders to help refugeesReplayMore Videos …MUST WATCH
Pope calls on world leaders to help refugees 02:33Francis recommends following Jesus' Beatitudes, avoiding gossip, having a sense of humor, reaching out to our neighbors and shunning consumerism and too much technology."When we allow ourselves to be caught up in superficial information, instant communication and virtual reality, we can waste precious time and become indifferent to the suffering flesh of our brothers and sisters," the Pope writes.
Source Link:
https://www.cnn.com/2018/04/09/world/pope-abortion-holiness/index.html
[0.201268]
Comments
comments