(CNN)A police officer has died as rival fans violently clashed before a European soccer game between Spanish club Athletic Bilbao and Russian team Spartak Moscow.
In a statement, Ertzaintza regional police said Inocencio Alonso García, 51, died after suffering a cardiac arrest, following the clashes between supporters of Athletic and Spartak outside the Basque club's San Mames stadium before their Europa League game.According to police, several people had turned up to the game with batons and knives. At least nine people have been arrested.
An Athletic Bilbao fan lies injured on the floor after supporters were attacked with golf balls and glass bottles ahead of the Spanish side's Europa League game with Spartak Moscow: https://t.co/Jc0TbG5Kvh pic.twitter.com/aKIkbUFRvO
— CNN Sport (@cnnsport) February 23, 2018 After the game, Athletic tweeted: "Our deepest condolences to the family and companions of the deceased agent today."Athletic Club shows its strongest rejection of the violence generated around football."Read MoreFootage of the clashes showed supporters aiming fireworks at each other on the streets.David Vilumbrales, an Athletic supporter, tweeted a video from the scene saying: "Several injured in Bilbao. We were attacked by the Spartak ultras with golf balls and bottles and the ambulance does not arrive."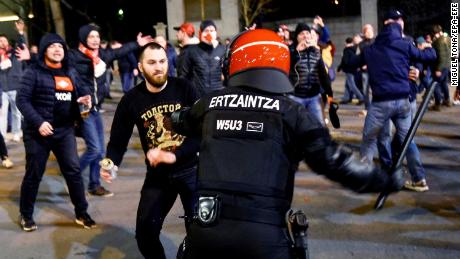 Police officers clash with supporters during riots prior to the UEFA Europa League round of 32, second leg soccer match between Athletic Bilbao and Spartak Moscow."I was caught by surprise," Vilumbrales told CNN, adding that fireworks, bottles, and golf balls were all thrown by Spartak "ultras.""I wanted to go to San Mamés Stadium on the safest street, Alamedo Urquijo, and I ran into a pitched battle all-against-all without police."Everything was very confusing and the police did not distinguish Athletic Bilbao's fans from the Spartak because they all wear the same colors. The ultras were prepared in groups of 30 people and attacked us three times."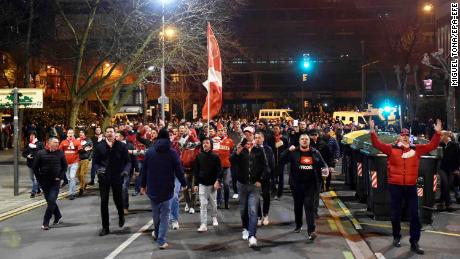 Spartak Moscow supporters march and shout on their way to the stadium.Spain's Prime Minister Mariano Rajoy, offered his condolences to Garcia and his family on Twitter."My condolences to the family and friends of the policeman who died in Bilbao and my consideration to the Ertzaintza for its efforts to protect those who do enjoy sport. I condemn in the most energetic way the violent events," he tweeted.CNN has contacted Spartak for comment.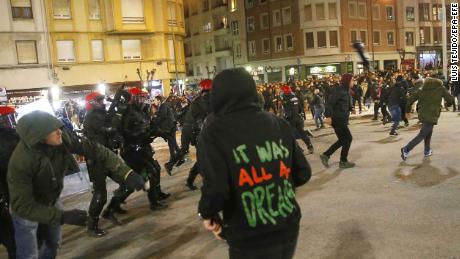 Police officers clash with supporters during riots.In a statement, UEFA said it "strongly condemns the violent clashes which occurred on Thursday night.""We are in contact with local authorities to obtain further information on these incidents"UEFA sends its sincere condolences to the family and colleagues of the police officer who passed away tonight. "Spain's Football Federation has announced plans for a minute's silence at all upcoming matches. Meanwhile, Real Madrid captain Sergio Ramos tweeted: "Football, sport and society cannot remain indifferent to violence, fear and the loss of life. We must force change."
El fútbol, el deporte y la sociedad no podemos permanecer indiferentes ante la violencia, el miedo y la pérdida de vidas. Hay que actuar.Hay que impulsar un cambio.Football, sport and society cannot remain indifferent to violence, fear and the loss of life. We must force change.
— Sergio Ramos (@SergioRamos) February 23, 2018 Russia World CupThe incident once again places a spotlight on Russian hooliganism ahead of this year's World Cup which Russia is hosting.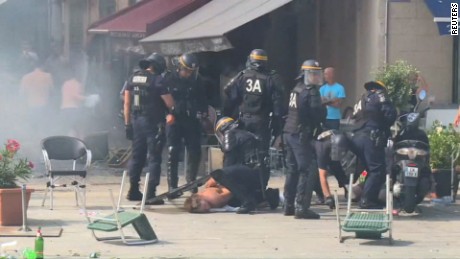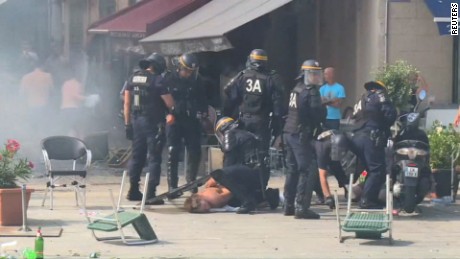 JUST WATCHEDViolence erupts at Euro 2016ReplayMore Videos …MUST WATCH
Violence erupts at Euro 2016 02:49Russian hooligans caused trouble during the 2016 European Championship finals in France, clashing with rival supporters.Both Russia and England were threatened with expulsion from the tournament following clashes between rival fans in Marseille.Earlier Thursday, German police said they had arrested a Russian football hooligan for attacking an England fan during Euro 2016.Read: Dozens injured as crowds of rival fans brawlThe suspect was arrested en route from Moscow to Bilbao where he was traveling to watch the game between Athletic and Spartak.Spartak won the game 2-1, but Athletic progressed to the last-16 courtesy of a 4-3 aggregate victory.The Europa League is UEFA's second tier club competition.
Source Link:
https://www.cnn.com/2018/02/23/football/policeman-dies-bilbao-spartak-clashes-intl/index.html
[-0.199428]
Comments
comments