Pittsburgh Steelers quarterback Ben Roethlisberger on Sunday donned custom-made cleats honoring those killed in last Saturday's mass shooting at the Tree of Life synagogue.
The shoes were emblazoned with the words "stronger than hate" and included a reimagined version of the NFL team's logo, featuring the Star of David.
Ben Roethlisberger wearing these cleats today in response to shooting at Tree of Life Synagogue. Roethlisberger and his wife are close to Michele Rosenthal, who worked in Steelers' community relations and assists with Ben's foundation. Michele lost two of her brothers in shooting pic.twitter.com/W3UrHDBb6M
— Adam Schefter (@AdamSchefter) November 4, 2018
Roethlisberger and his wife Ashley Harlan are reportedly close friends with former Steelers' community relations manager Michele Rosenthal, the sister of two men killed in the attack.
Cecil and David Rosenthal ― 59 and 54, respectively ― were among the 11 killed when a gunman opened fire at the Pittsburgh synagogue on Oct. 27.
"To say that everyone in the Pittsburgh Jewish community knows them is not even a remote exaggeration," Jeffrey Solomon, a fellow Tree of Life congregant, told The New York Times. "They were both active participants in so much of life."
Roethlisberger, along with several other Steelers players, attended funeral services for the brothers last week.
The Steelers faced the Baltimore Ravens on Sunday at 1 p.m. ET.
RELATED…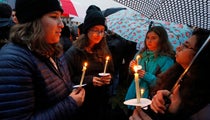 Pittsburgh Synagogue Shooting Victims Include 2 Brothers, Husband And Wife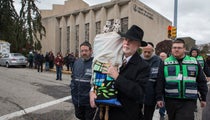 Tree Of Life Rabbi Says 'Hate Speech' Fueled By Politicians Led To Synagogue Massacre Download
Source Link:
https://www.huffingtonpost.com/entry/pittsburgh-steelers-cleats-stronger-than-hate_us_5bdf28abe4b09d43e31fe08b
[0]
Comments
comments