(CNN)Even if the calendar says "spring," a wintry storm will be bringing a late round of snow, record low temperatures and severe storms to the Northeast on Wednesday, in a sign that Old Man Winter isn't loosening his freezing grip on millions of people just yet.
Freeze warnings are currently in effect for over 70 million people from the Plains through the Northeast for Wednesday night into Thursday morning.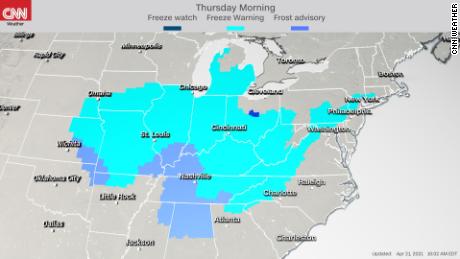 Current freeze and frost alerts issued by the National Weather Service"Ironically, today is considered the start date for the growing season across this area," said the National Weather Service (NWS) office in New York.These warnings mean freezing temperatures are likely and could kill crops and sensitive plants while also possibly damaging outdoor plumbing, according to the National Weather Service.Temperatures will be 10 to 20 degrees below average across much of the eastern two-thirds of the nation. In some areas, highs could be 30 degrees cooler than the typical high temperature for this time of the year.Read MoreAnd while in a city like New York, the high temperature could touch 70 degrees on Wednesday, after a high on Tuesday of 76 degrees, the warmest day so far this April, a dramatic change is coming.Temperatures will plummet in the Northeast. Highs will shift from around 10 degrees above normal on Wednesday to 5 to 15 degrees below normal on Thursday.Much of the country will be on the cooler side of normal on Thursday, outside of interior portions of the West and the extreme northern Plains.Over two dozen record-low temperatures could be broken across parts of the Midwest, South and Mid-Atlantic. On Wednesday morning, around 30 record lows were broken unofficially in the middle of the country, according to the NWS.Record late snowThis is an unusual, late-season winter storm for some cities in the Northeast, as it has been elsewhere in the US.The NWS office in Paducah, Kentucky, reports both Paducah and Evansville, Indiana, have had the latest snowfall on record with this winter storm.
Here at the office, we measured 1.1" of snow at 7:05 AM on this April 21st morning. This is the latest accumulation of 1 inch or more for the Pittsburgh area since 2005, when 1.6 inches was recorded on April 24th. pic.twitter.com/F3ZoSA5z6h
— NWS Pittsburgh (@NWSPittsburgh) April 21, 2021 The storm system driving this cold has already entered the Northeast, with snow falling across interior portions of the region. This includes Buffalo, where 1.8 inches of snow has fallen so far Wednesday morning, Syracuse, Pittsburgh and Burlington.The Cleveland area has already reported a range of 4 to 7 inches from this storm. If more than 2 inches is officially measured in Cleveland, then this will be only the third time this much snow has fallen this late in the season.As cold air continues to crash in behind this storm, that could fuel scattered snow showers across the Great Lakes region during the day Wednesday.This is a quick-moving storm system but it does contain heavier snow bands, which will drop inches of snow in just a few hours. A couple days ago, this storm was dumping over a foot of snow in parts of the Rocky Mountains. On Wednesday night, much of the snow will end in New York while it will continue into the first half of Wednesday night across parts of northern New England. The storm will exit the Northeast by Thursday, but lingering snow showers are expected in northern portions of New England and New York.Two to 4 inches of snowfall is forecast for Upstate New York through interior Maine, with lighter totals to the south.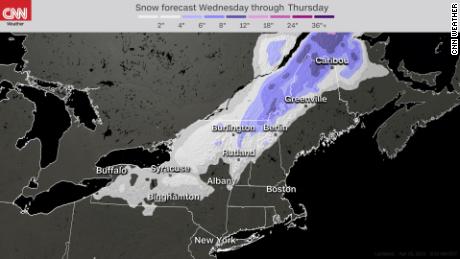 Snowfall forecast through Thursday,Severe storms are possible in the Major Northeast citiesThose caught on the warmer side of this unseasonable weather aren't off the hook; they are looking at severe storms, including New York City, Philadelphia, Springfield, Massachusetts; Virginia Beach, Virginia; and Newark, New Jersey.The Storm Prediction Center has placed parts of the Northeast in a level 2 out of 5, slight risk for severe storms. This means scattered strong storms are forecast.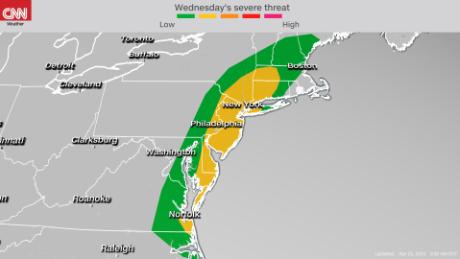 Severe weather outlook Wednesday into Wednesday nightThe main impact from these storms are damaging winds and some large hail.Rounds of showers and storms are expected to develop midday Wednesday across eastern Pennsylvania and surrounding areas, possibly moving into Philadelphia, Baltimore and Washington, DC.By evening, the severe risk will likely be at its highest as that line of storms tracks toward the east coast and through the I-95 corridor during the evening rush hour. These showers and storms will also move into eastern New England, impacting Boston, Providence and Portland. This region is in a level 1 out of 5 risk for severe storms, meaning isolated severe weather is possible.A dramatic temperature change separates the snow to the north and the storms near the coast. In a small state like Connecticut, there could be strong storms in one part while snow is falling in the northwestern hills at the same time.A warmup is comingChanges are ahead, however, with a shift in the weather pattern leading back to warmer temperatures for the East by this weekend.On Friday, temperatures will return to above average for the Northeast, inter-mountain West and Gulf Coast.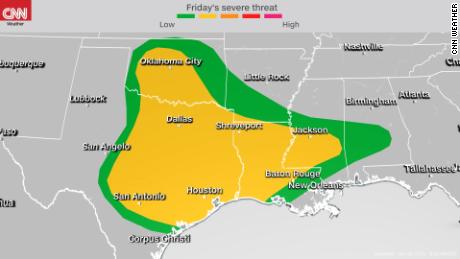 Severe weather outlook Friday into Friday nightBy Sunday, it will dramatically warm up for the central US, with high temperatures potentially over 20 degrees above average.This shift in the weather pattern could fuel the risk for severe storms Friday into Saturday from the southern Plains through the Southeast. While the significance of the threat is still unknown, in coastal sections of the Northeast "large to very large hail, damaging winds, and isolated tornadoes all appear possible," according to the Storm Prediction Center.
Source Link:
https://www.cnn.com/2021/04/21/weather/snow-freeze-cold-storms-weather-forecast/index.html
[0,"neutral"]
Comments
comments