Ottawa (CNN)Ontario, Canada's most populous province, issued a stay-at-home order Tuesday, as officials warn there is a "real and looming threat of the collapse of the province's hospital system" if Covid-19 case counts do not come down.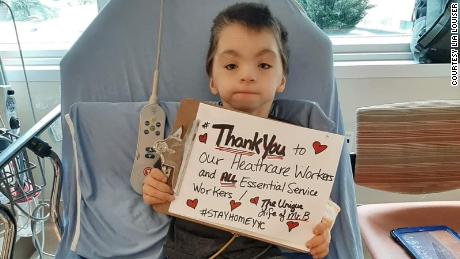 Canadians call out leaders for breaking their own Covid-19 rules The new order is set to take effect Thursday and will apply to the whole province, including Toronto and Ottawa. It is the second of its kind since the pandemic began."Last week I stood here and I told you our province is in crisis," said Doug Ford, Ontario's premier, in a news conference in Toronto on Tuesday. "The facts are clear: Cases and deaths are the highest since the start of the pandemic and community spread continues to escalate."For at least four weeks, the Ontario government will be "requiring everyone to remain at home with exceptions for essential purposes, such as going to the grocery store or pharmacy, accessing health care services, for exercise or for essential work," according to a statement provided to CNN.All non-essential retail stores and in-person dining have been shut down in Ontario since Christmas Day, and in Toronto since the end of November. Schools in Ontario's hotspots, including Toronto and its suburbs, will not resume in-person learning until at least February 10.Read More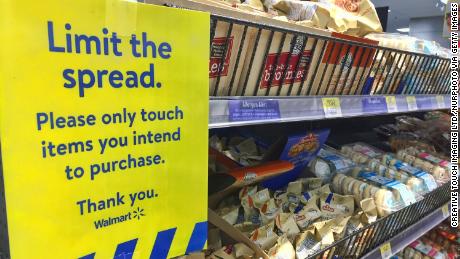 A sign at a Walmart store in Toronto on January 8, 2021, urges customers to touch only items they intend to purchase."We must change our mobility patterns. Too many people are having too many contacts. Increased contacts result from increased mobility," said Christine Elliott, Ontario's health minister. "So to break this cycle you must stay home as much as possible and that starts with a stay at home order."Officials promised strict enforcement of the new restrictions and warned people who violate the measures could be fined thousands of dollars and could face up to a year in prison.Ontario ICUs are already nearing capacityCanada's second wave of Covid-19 is now more widespread and serious than the first, with a seven-day national average of 8,100 new cases per day, a pandemic high, according to the Public Health Agency of Canada.Ontario public health officials warned at a Tuesday news conference that one in every four intensive care units in Ontario were already full, and that the hospital system was under threat of being overwhelmed.Officials also said the United Kingdom variant of Covid-19 could be become the dominant variant in Ontario in less than two months if left unchecked. The variant is at least 56% more transmissible than earlier variants and if allowed to spread it would mean that vaccines would not have a significant effect on mortality or morbidity, given the current slow rollout of the vaccine.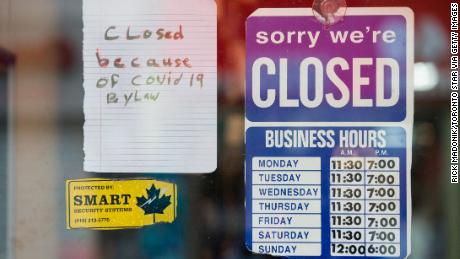 Trudeau warns tough days ahead as Canadian officials consider extended Covid-19 lockdownsOntario has reported 14 cases of new variants in the province, but officials said what's more troubling is the discovery of three cases this week not linked to travel, which could indicate the variant is already in the community and spreading."Three of our cases we don't have a travel history," said Dr. Barbara Yaffe, Ontario's associate chief medical officer of health. "If that is confirmed, we have evidence of community transmission and that is a very serious concern that the vaccine will not be able to address quickly enough."Earlier Tuesday, Canadian Prime Minister Justin Trudeau announced his government is buying an additional 20 million doses of the Pfizer-BioNTech vaccine, adding that Canada would have at least 80 million doses of vaccine available by fall. Canada is also currently administering the Moderna vaccine.Trudeau repeated his promise that every Canadian who wanted the vaccine would be vaccinated by September."We're doing everything we can to bring forward more doses, to accelerate the process," Trudeau said in a news conference in Ottawa on Tuesday. "Because we know that the sooner we get as many Canadians as possible vaccinated, the sooner we get through this pandemic."
Source Link:
https://www.cnn.com/2021/01/12/americas/ontario-lockdown-canada-stay-at-home-order/index.html
[]
Comments
comments