Man-O-War Cay, Abaco Islands, Bahamas (CNN)The entire top floor of a pastel-blue beachfront home was sheared off while the lower level remained untouched.
A boat rested amid the remains of a leveled home. Yachts were scattered about this community of 300 people — upended, like discarded toys. Shelves full of books still stood beside a crumbled wall with its windows intact. The wall and roof of a quaint living room were peeled off like tape from one small house, revealing a couch and dinner table. The destruction in this once-idyllic enclave in the northern Bahamas can't be put into words. "Words can't describe it," Sherrie Roberts said. "I don't wish it on nobody. … It's like an atomic bomb went off."Uncertainty adds to the trauma Read More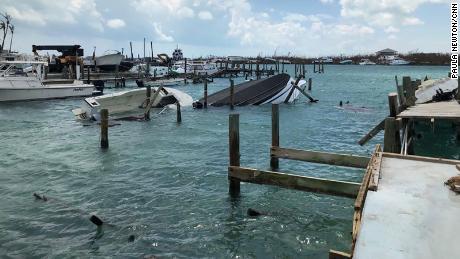 Overturned boats in the waters off the Abaco Islands. Dorian, the strongest hurricane ever to hit the Bahamas, wiped out whole neighborhoods when it made landfall Sunday at Category 5 strength. It unmercifully lingered for days, pounding the same battered places again and again as residents took cover. As of Thursday, the official death toll was 23, Bahamas Consul General to Washington Theo Neilly told CNN. But authorities have said the tally is expected to rise as the extent of the damage becomes clear over the next few days.Residents rattle off a litany of names of neighbors and friends they have not seen or heard from. All communications went down Sunday. Satellite phones have trickled in. The uncertainty creates another layer of trauma. Residents pass on news of loved ones by word of mouth. Your mom is OK. Dad is OK. These people were Medevaced. At least 100 people have been rescued as small planes and helicopters hopscotch the Bahamas' northern islands as part of international efforts to reach stranded survivors, feed the displaced and further assess apocalyptic damage left by Hurricane Dorian.At least 80 people had been rescued and evacuated Thursday morning from the Abacos, a government official told CNN. Many were flown to the Odyssey Aviation center outside Nassau Airport, where a CNN team saw rescue and relief aid helicopters and small planes landing and taking off.Residents dodged projectiles and shielded windows with mattresses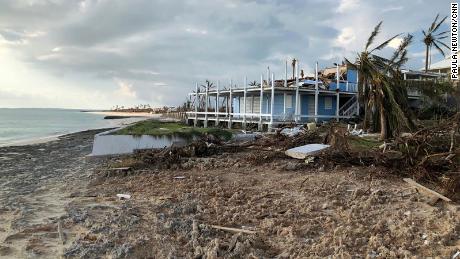 The storm sheered off the top floor of a beachfront home. Roberts held a bottle of water as she stood with her grandson in a debris field where her home once stood. She cried. She wanted her family in Tampa to know they had survived. "It's not just us, everybody's hurting," she cried. "We're not any worse than anybody else. Everybody is hurting and we thank God for life. We've got each other." Hardened by previous storms, residents of the Abacos remember dodging projectiles unleashed by the hurricane-force winds. They shielded doors and windows with mattresses. Looking at the aftermath, it's hard to imagine how anyone survived.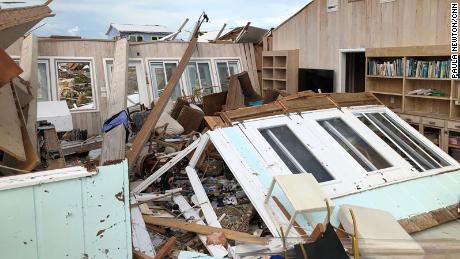 Neighborhoods were reduced to rubble.A man described climbing on his kitchen cupboard amid rising water, with just inches of space to breathe. He went under at one point before his son pulled him up. "I found the strength because I didn't want my son to see me die that way," he said.Others weathered the storm by moving around their homes. When a window would blow out in one room, they rushed into another, where, again, the windows would burst — like a cruel joke. After the hurricane, a starry sky provides temporary relief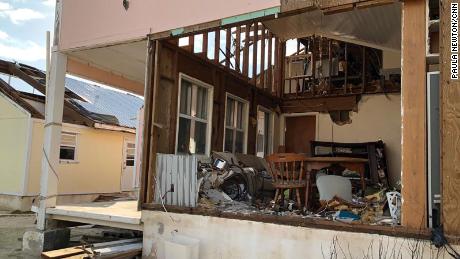 In one home, the walls were peeled off like tape. The Abacos suffered massive destruction, Bahamian Prime Minister Hubert Minnis said. About 60% of homes in the town of Marsh Harbour were damaged.The people of the Abacos are resourceful and self reliant. Many were born here. On Wednesday night, stars filled the dark sky. The sense of relief for those who survived was dampened by the realization of the absolute destruction. Streets they knew so well now seemed foreign. "The community has come together," Roberts said. "Families have taken in other families." How will food and supplies get to the island? some residents asked. A baseball field was cleared of debris to make possible the landing of a helicopter carrying a CNN crew and othersBilly Albury was on the helicopter. He hadn't heard from his wife Chana in days. Had she survived? They finally reunited. She cried as they exchanged a long embrace. "It'll be OK," he told her. Chana Albury and her friends cowered in a small bathroom room in a seaside home during the storm. The roof blew off. Chunks of debris pelted the sides of the house. When the CNN crew was unable to catch a flight out on Wednesday, Marcia and Angel Cruz opened their homes. They took the food in their refrigerator and made a chicken dinner for the visitors. Some residents asked where are the government representatives? There are reports of looting. Military helicopters hovered in the night sky, shining spotlights on the destruction. Again, a temporary sense of relief. But when will the helicopters land with help? Their lives, and their island paradise, will never be the same, residents said. "The people are strong here and we're going to try to do our best to rebuild the best way we can but we know it'll never be the same," said Jeremy Sweeting, Man-O-War's chief councillor.
Source Link:
https://www.cnn.com/2019/09/05/americas/bahamas-abaco-islands-paula-newton-notebook/index.html
[-0.359213]
Comments
comments