Story highlightsSpectacular Opening Ceremony gets Winter Olympics under way Ceremony unites athletes from North and South Korea
(CNN)A giant dove of peace lit up the night sky, famous South Korean singers sang John Lennon's "Imagine" and, most significantly of all, athletes from North and South Korea walked in unison for the first time in 11 years.
Follow @cnnsport Even on a brutally cold February evening, there were moments aplenty to warm the heart during a Winter Olympics Opening Ceremony which had peace as its central theme. Like writing in a stick of rock, the message that mankind can live in harmony ran through every dance routine, song and dazzling light show.South Korea's President Moon Jae-in described these Games as a "festival and celebration of peace," and the competition's curtain-raiser certainly set the tone.The show of unity was not lost on International Olympic Committee President Thomas Bach, who said North and South Korea had set a "great example" for sending "a powerful message of peace."Read MoreREAD: Olympics Opening Ceremony as it happened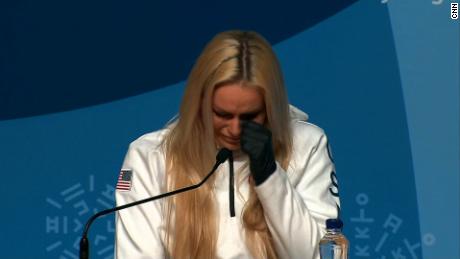 JUST WATCHEDLindsey Vonn moved to tears at OlympicsReplayMore Videos …MUST WATCH (21 Videos)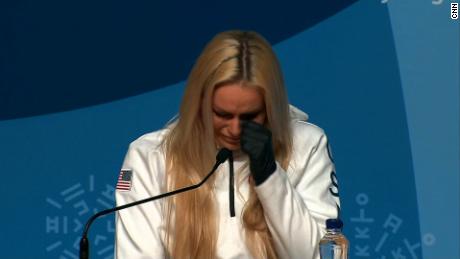 Lindsey Vonn moved to tears at Olympics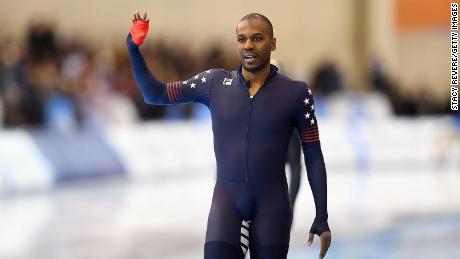 Shani Davis skips Olympic opening ceremony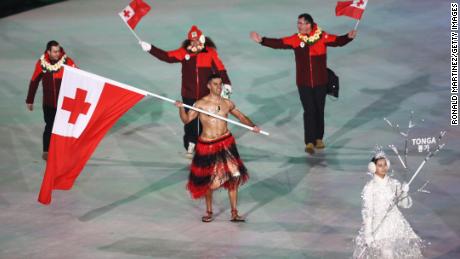 Shirtless Tongan makes Olympic return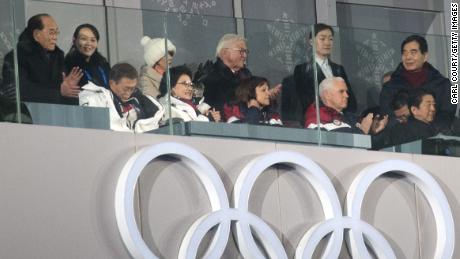 Pence sits near Kim Jong Un's sister at Games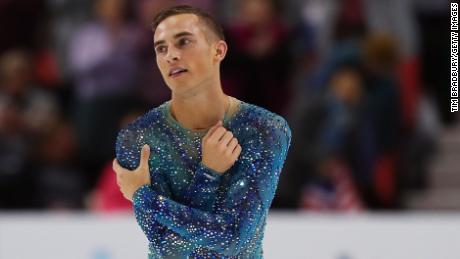 How Adam Rippon plans to win gold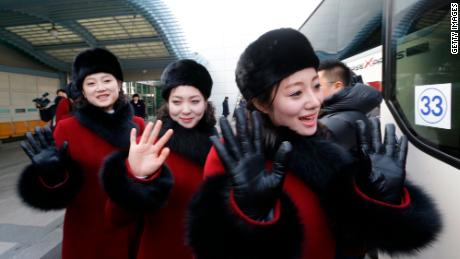 Who's who in North Korea's Olympic delegation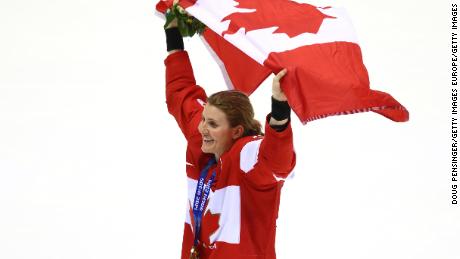 Olympic legend questions united Korea hockey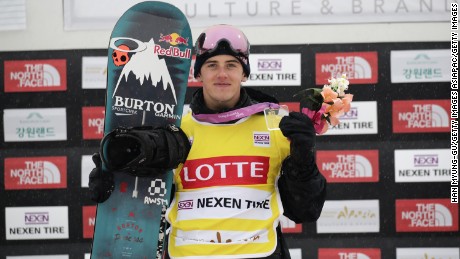 Mark McMorris: From injury to Olympics hopeful
The Koreas: Divided by war, united by a flag?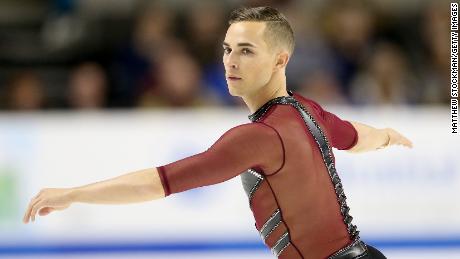 Mom of gay US Olympian speaks out against Pence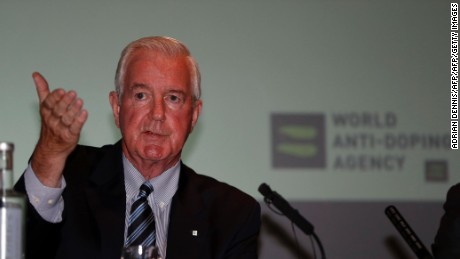 Winter Olympics: WADA chief Reedie on Russia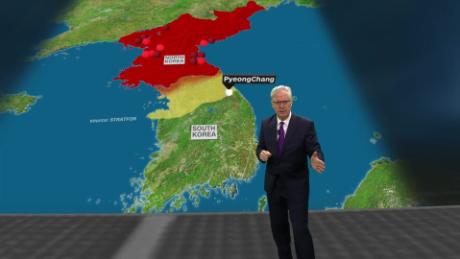 Security and the 2018 Olympics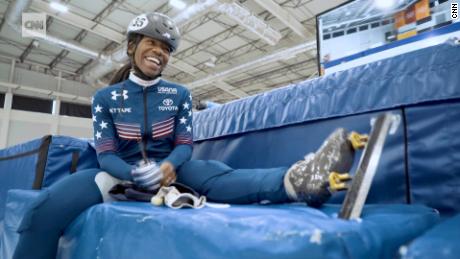 US Skater breaking barriers, chasing gold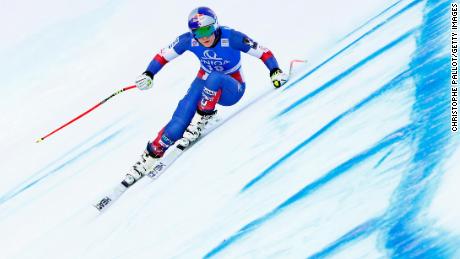 Lindsey Vonn overcomes grief to reach Olympics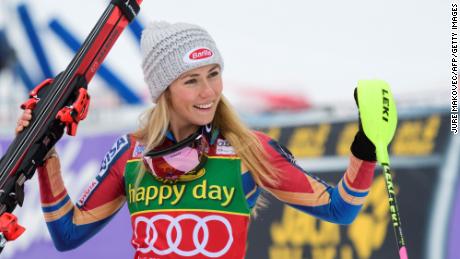 Mikaela Shiffrin: I'm chasing the world
Nathan Chen finds freedom on the ice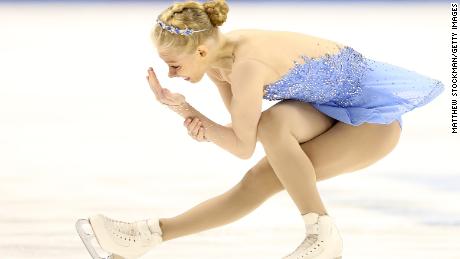 Bradie Tennell defeats injuries before Olympics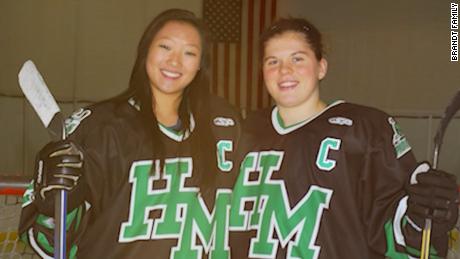 Sisters compete in Olympics for 2 countries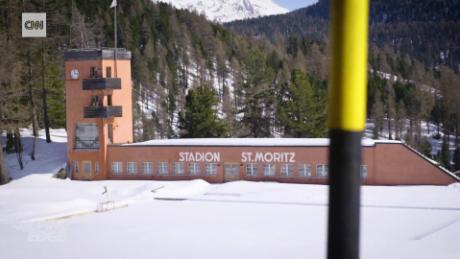 The man who lives in an Olympic stadium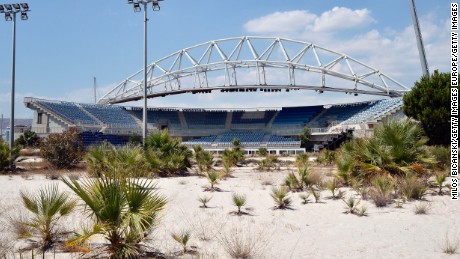 What happens to host cities when the Olympics are over?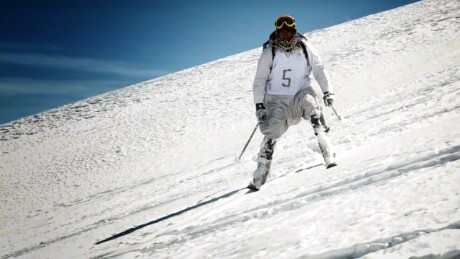 From a war zone to the Winter Olympics?The lead up to these Winter Olympics has been dominated by relations between two nations still technically at war. After a year of escalating hostility over Pyongyang's ballistic missile program, this Olympics has given the two countries reason to talk again. No matter how affecting the message of the host nation's first night, it would be fanciful to think that a sporting occasion such as this can bring about a truce between a Korea divided since 1953, but it was an evening filled with symbolic moments.As the Korean athletes marched together, President Moon shook hands with Kim Yo Jong, sister of North Korea's leader Kim Jong Un. She is the first member of Pyongyang's ruling dynasty to set foot in the rival country since the war.To add to the political intrigue, US Vice President Mike Pence, sitting a few seats away in the same VIP booth, looked stony faced as the ceremony unfolded.READ: Downhill daredevils — how to conquer skiing's toughest event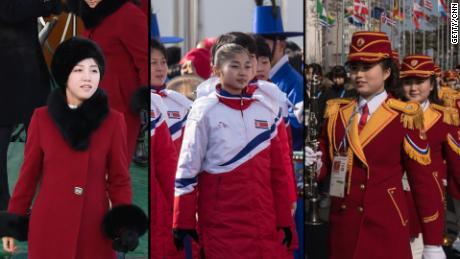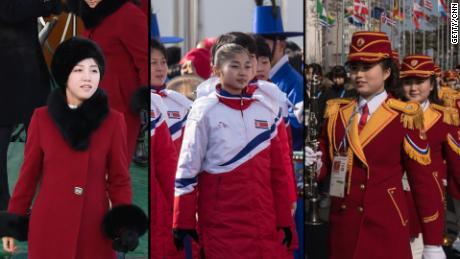 JUST WATCHEDWho's who in North Korea's Olympic delegationReplayMore Videos …MUST WATCH
Who's who in North Korea's Olympic delegation 01:07There were also selfies between North and South Koeran athletes as they waited to walk into the heart of the stadium.And when the Koreans emerged — North Korea ice hockey player Chung Gum Hwang and South Korean bobsledder Won Yun-jong both held the flag of a unified Korean peninsula — they were greeted to an ovation from 35,000 cheering spectators. Though this is not the first time athletes from the two countries have entered the Olympics together, it would take an extraordinary sporting feat to usurp the Koreans' march as the predominant moment of these Games. Indeed, the sporting spectacle that is to come has been overshadowed by this year's apparent rapprochement. Only a few months ago there were justifiable fears over whether Pyeongchang, roughly 40 kilometers from the border, could host these Games because of the North's nuclear proliferation. The political road ahead is a long and complicated one, as protests in the region during the ceremony testify, but inside the Olympic Stadium the sentiment was largely of hope. Titled "Peace in Motion," the ceremony began with a countdown, the ringing of a nine-meter-high "Bell of Peace." Five children then appeared, taking the audience on a journey to the past, present and future. A white tiger, the Games' mascot Soohorang, long considered a protective guardian in Korean history and culture, guided the children to a cove where they were then transported to an ancient land.READ: Winter Olympics sport-by-sport guideFor TV viewers, augmented reality created a spectacular dome of constellations and stars above the performers before traditional Korean kites were then flown, a mural of the Four Guardians (symbols of ancient Koreans' hope for peace) was formed and 48 traditional dancers performed. Next came the spirituous thumping of drums — 371 men and women beating Jangoos. Audience participation was encouraged — spectators were given a small drum called a sogo — which was perhaps a wise move given that the temperature dropped to a teeth-rattling -6C during the two-hour outdoor ceremony.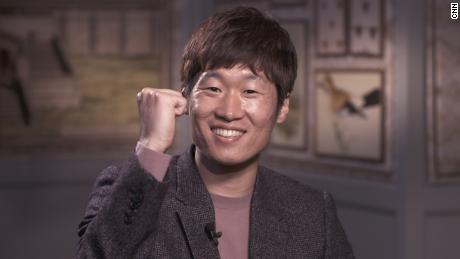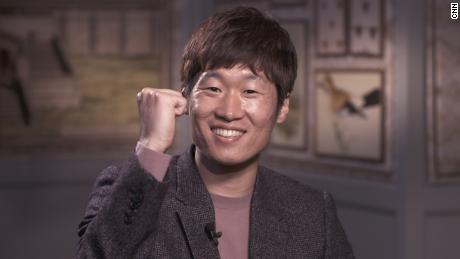 JUST WATCHEDThe CNN ENG-KOR PyeongChang 2018 dictionaryReplayMore Videos …MUST WATCH
The CNN ENG-KOR PyeongChang 2018 dictionary 02:19As well as diplomacy, the weather has been one of the other dominant topics in the build-up to an Olympics which is expected to be the coldest in more than 20 years.The 1994 Games in Lillehammer, where temperatures plunged to -2.7C (27F), holds the record, but the mercury is not expected to creep above zero during the first few days of competition in South Korea. While spectators wrapped themselves in the blankets provided and eked every bit of warmth from the multiple heat packs also provided, some athletes appeared to not feel the chill.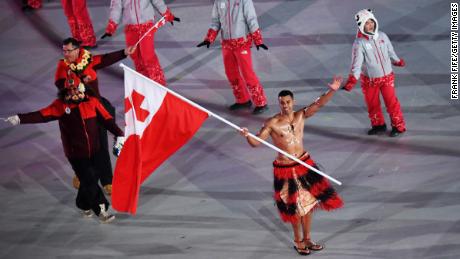 Tonga's Pita Taufatofua repeated his topless flag-bearing from Rio 2016.Notably one-man Tongan team Pita Taufatofua, a cross-country skier who also competed in taekwondo at the 2016 Summer Games, caused a stir as he entered the stadium topless, just as he did in Rio, while Bermuda's athletes wore traditional shorts during the parade. READ: Tonga's famous flag bearer achieves 'impossible dream' This will be the largest Winter Games in history, with 2,800 athletes due to compete in a record 102 events, but even during the parade of nations it was not always about the competitors, as the focus of some spectators turned to President Donald Trump and Kim Jong-un impersonators. Both were quickly ushered from the stands. Everyone's attention quickly returned to the center of the pentagon-shaped stadium, which will be demolished after these Games. A 77-year-old man, the oldest performer at the ceremony, sang Arirang, a traditional Korean folk song considered the unofficial anthem of Korea. As the time-traveling children returned to the present, having learnt a new secret to peace, a giant dove of peace was formed and singers sang Lennon's famous ode. On any other occasion, it may have been considered schmaltzy, but performed in a country still at war the performance resonated.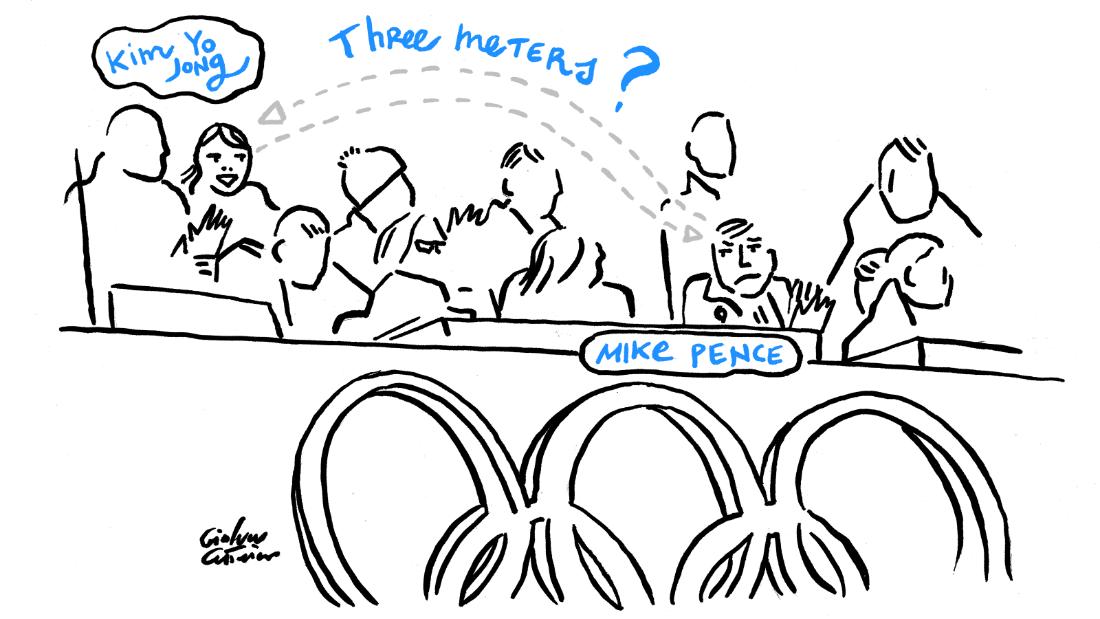 Photos: Hide Caption 1 of 5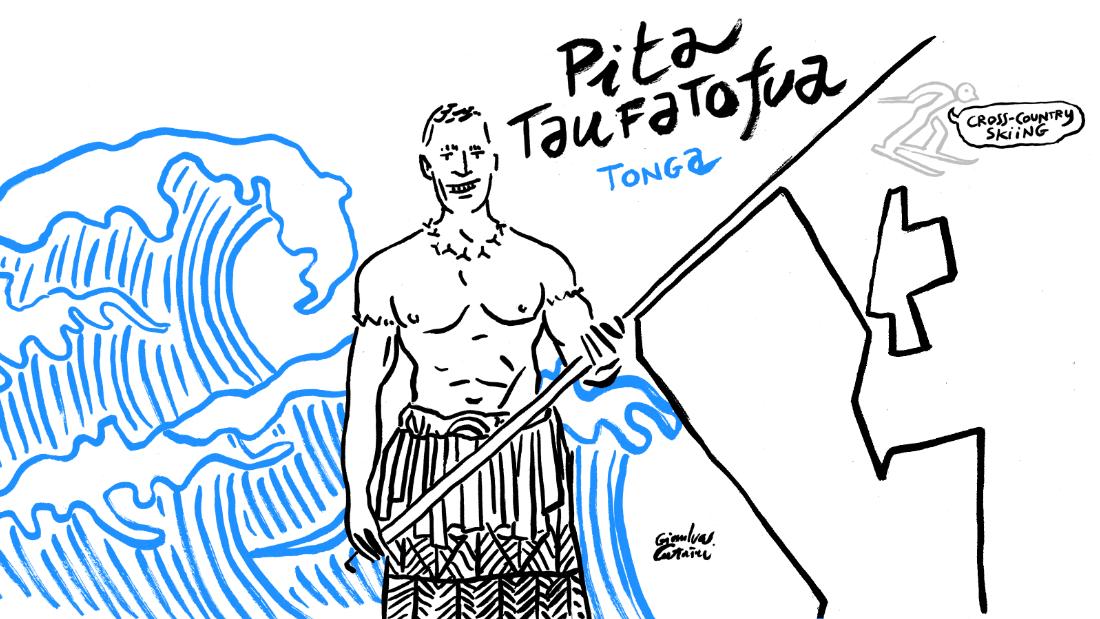 Photos: Hide Caption 2 of 5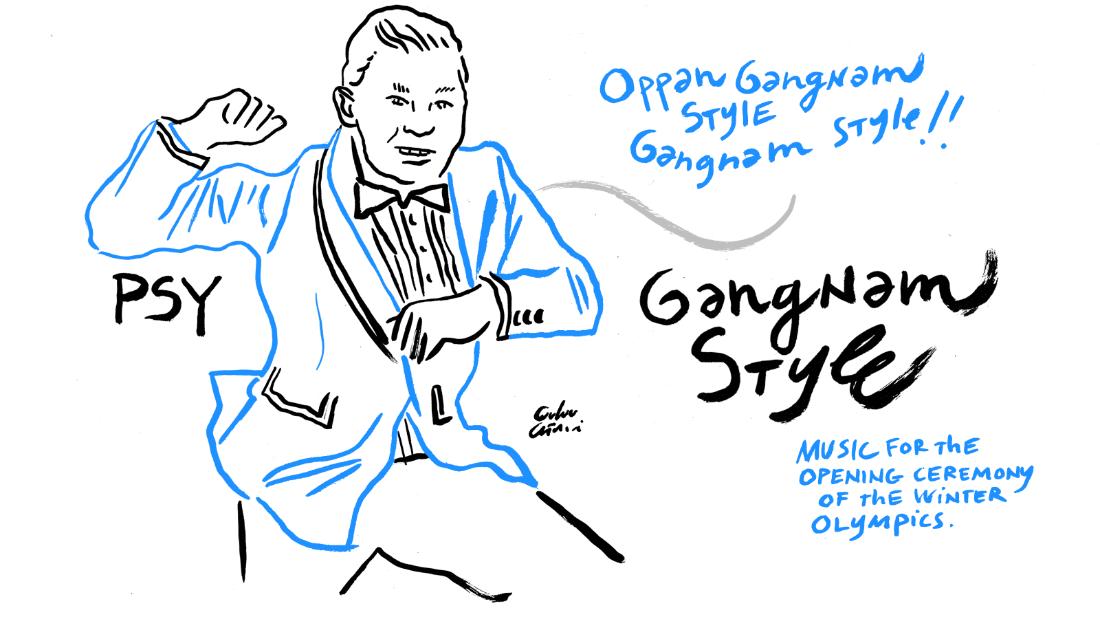 Photos: Hide Caption 3 of 5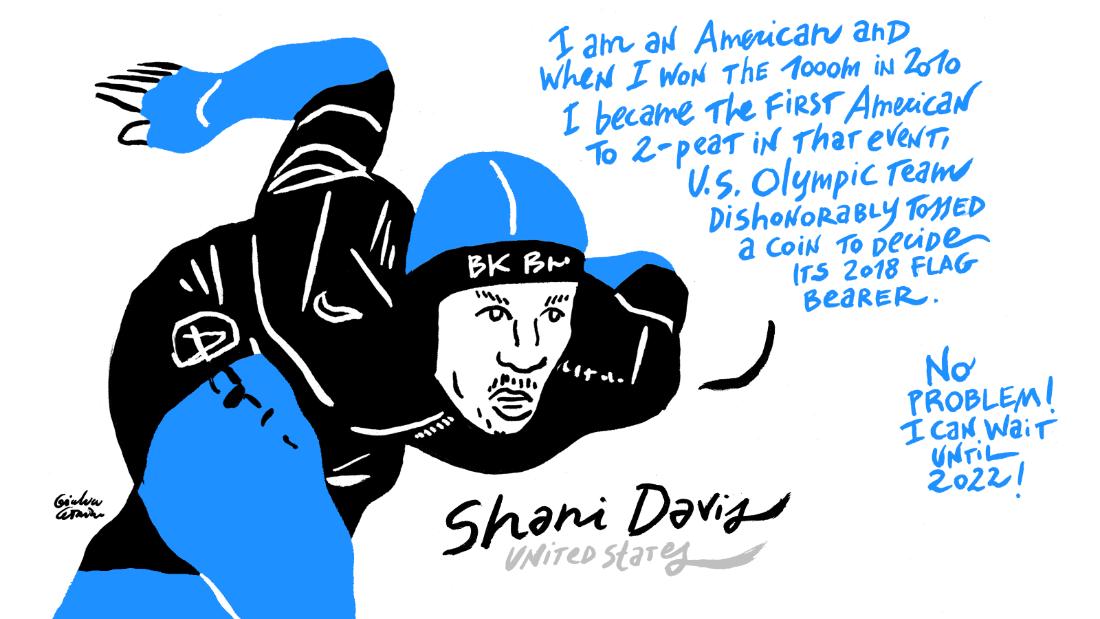 Photos: Hide Caption 4 of 5
Photos: Hide Caption 5 of 5



READ: From one-room home in Ghana to Winter OlympicsThe evening concluded as every Olympic ceremony does, with the lighting of the flame and a spectacular firework display — 20,000 fireworks were used during the ceremony. Two members of the joint Korean hockey team carried the Olympic Torch up a steep flight of stairs, and spectators gasped in unison when they realized the torch would be given to 2010 Olympic figure skating champion Yuna Kim to light the flame.Let the Games begin.
Source Link:
http://www.cnn.com/2018/02/09/sport/olympics-opening-ceremony-peyongchang-color-intl/index.html
[-0.0441275]
Comments
comments