Washington (CNN)Democratic Rep. Alexandria Ocasio-Cortez delivered an impassioned testimony Friday before lawmakers when recalling her recent visit to the southern border.
Ocasio-Cortez was among the Democratic lawmakers who toured two Texas border facilities earlier this month following reports of squalid conditions for detained migrants at the border, overcrowded facilities and thinly stretched resources. She claimed she saw migrants drinking out of toilets, which a Border Patrol official flatly denied, and that she felt unsafe during the visit."When these women tell me that they were put into a cell, and that their sink was not working, and we tested the sink ourselves and the sink was not working, and they were told to drink out of a toilet bowl — I believed them," said Ocasio-Cortez, who asked to be sworn in before testifying before the House Oversight Committee. "I believed these women."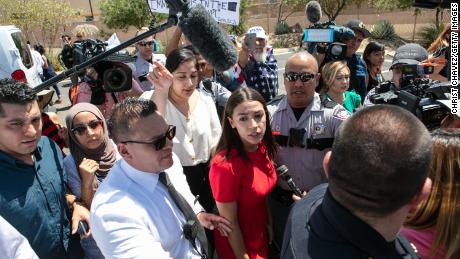 Lawmakers, including Ocasio-Cortez, lash out over conditions following border facility toursShe added: "And what was worse about this, Mr. Chairman, was the fact that there were American flags hanging all over these facilities — that children being separated from their parents, in front of an American flag — that women were being called these names under an American flag. We cannot allow for this."Reps. Veronica Escobar, Rashida Tlaib, and Ayanna Pressley also visited the facilities this month. Read More"I held the hand of a woman who heaves sobs as she explained her deep fear that at any moment she could fall to the floor in a seizure," Pressley testified. "She's an epileptic and the medicine she relies on had been confiscated. And in fact she feared that by telling that truth, she would experience retaliation after we left and her medication would continue to be withheld."The Massachusetts Democrat spoke of meeting another migrant."I spoke to another woman who wept in my arms crying for her baby. She didn't care to know my name, she didn't care to know who we were, she simply craved compassion," Pressley said. "She wanted to be treated like a human being. She asked me if she deserved to be treated like this. If they deserved to be treated like dogs."Friday, the House Oversight Committee released a report outlining the impact of the Trump administration's "zero tolerance" policy that led to the separation of thousands of families.At least 18 migrant infants and toddlers under the age of two were separated from their parents at the border "including nine infants under the age of one," and kept apart for 20 days to six months.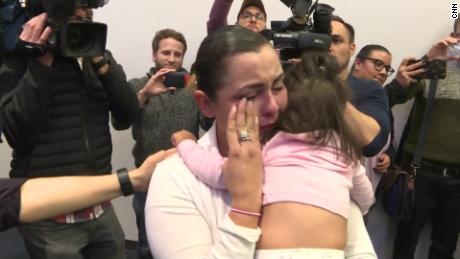 House report: At least 18 migrant children under the age of 2 were separated from parents for 20 days to 6 monthsThe lawmakers' trip to the border came the same day as a report that revealed a closed Facebook group in which current and former Border Patrol agents reportedly share jokes about migrant deaths, derogatory comments about Latina lawmakers and a lewd meme involving at least one of them. "Into that environment, we walked into this facility, we were asked to surrender our phones and be guarded by the people without a guarantee that no one there was in that Facebook group," Ocasio-Cortez said. When asked why Ocasio-Cortez asked to be sworn in at Friday's hearing, her communications director, Corbin Trent said that she "wanted to make sure people understood what she is saying is the truth."The posts have been turned over to the Department of Homeland Security inspector general. Acting inspector general Department of Homeland Security and assistant inspector general for Evaluation and Inspections at the Department of Health and Human Services are also testifying at Friday's hearing.
Source Link:
https://www.cnn.com/2019/07/12/politics/ocasio-cortez-tlaib-pressley-border-camp-visit/index.html
[-0.84427]
Comments
comments