(CNN)A New York federal judge granted a one-day stay until Thursday in a dispute over a subpoena from the Manhattan district attorney's office for President Donald Trump's tax returns.
US District Court Judge Victor Marrero also set a deadline for Monday for the Manhattan US Attorney's office to determine whether it wants to participate in the case, and said if it chooses to do so it must file a brief with the court by October 2."Go home. Sober up. Decompress," Marrero told both sides after a 90-minute hearing. He advised them to "get together again and see whether some way could be found to accommodate the concerns expressed by both sides." Wednesday's decision further delays broader constitutional questions at the heart of the dispute over the subpoenas, including whether the President can be criminally investigated.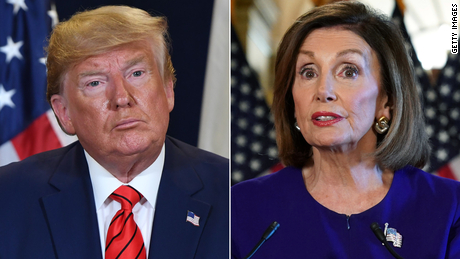 What Pelosi's impeachment move means in the legal fight over Trump's recordsTrump sued the Manhattan district attorney's office last week after it sent his longtime accounting firm Mazars USA a grand jury subpoena seeking tax returns and related documents going back to 2011.Read More The district attorney's office, led by Cyrus Vance Jr., is investigating the hush money payments made to two women who, during the 2016 campaign, alleged affairs with the President. Prosecutors are looking at whether the Trump Organization violated any New York state laws, including potentially filing false business records, in its effort to reimburse Michael Cohen, Trump's former attorney, who paid some of the hush money on Trump's behalf. Cohen is serving a prison sentence after pleading guilty in a federal case concerning the payments.A lead prosecutor on the Cohen case, Tom McKay, attended the hearing Wednesday, sitting in the back of the courtroom.In the lawsuit, which was filed in federal court in New York, Trump has argued that a criminal investigation of a sitting president is "unconstitutional," and asked the judge to suspend the subpoena until Trump is no longer in office.New York prosecutors on Monday filed a motion to dismiss the lawsuit and deny Trump's request for a temporary restraining order. They argued that "the law provides no such sweeping immunity" for a sitting president.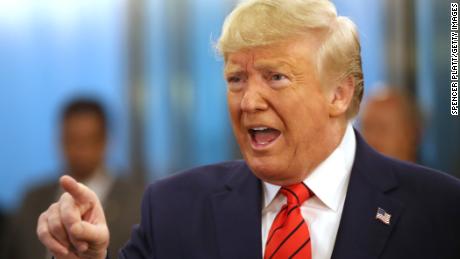 Trump takes far-reaching claim of presidential immunity to courtIn court Wednesday, Carey Dunne, the general counsel for the district attorney's office, argued that waiting for rounds of potential appeals would stymie the grand jury's investigation, potentially past the statute of limitations for them to bring charges — if warranted — against a number of individuals or entities. He said the delay Trump's lawyers were seeking "is not limited relief. It is what they want in the end…temporary immunity." "We just want to go home and do our grand jury work," he added.An attorney for Trump, William Consovoy, argued the state shouldn't be allowed to pursue the President, saying it would inhibit his ability to lead the country. "The costs to the nation of allowing this to occur outweigh the rights of the states in this narrow setting," he said. "If the court rules New York can do this, then all 50 states can do it. That is untenable."He also argued that although the grand jury is legally obligated to maintain the confidentiality of material it reviews, he envisioned a scenario in which the New York state legislature could amend long-standing laws to lift such secrecy constraints. Dunne called that argument "fanciful." "It is also possible," Dunne said mockingly, "that the state of New York could be annexed by Ukraine."The deadline for Mazars to respond to the subpoena is now 1 p.m. ET on Thursday. Marrero suggested both sides should try to reach an agreement over sharing some of the documents requested in the sweeping subpoena, but the prosecutors and Trump's lawyers indicated that was unlikely. In an unusual move, the Manhattan US Attorney's office filed a brief late Tuesday evening, saying it may seek to participate in the case, pointing out that the lawsuit "raises a number of significant constitutional issues that potentially implicate the interests of the United States."The lawsuit was filed in federal court, not state court, which prosecutors argued was the improper forum to hear a challenge to a state grand jury subpoena. "Important separation of powers and federalism concerns prohibit federal litigation of a state court subpoena," they wrote.Trump's attorneys said they filed the case in federal court because it involves "the Constitution and laws of the United States."
Source Link:
https://www.cnn.com/2019/09/25/politics/trump-taxes-new-york/index.html
[-0.679127]
Comments
comments