Pyongyang, North Korea (CNN)Dozens of military vehicles and goose-stepping soldiers paraded through the streets of the North Korean capital Sunday to mark the 70th anniversary of the country's founding, against a background of stalled diplomatic talks with the United States over the issue of denuclearization.
The display of military hardware during Sunday's procession was considerably understated compared to previous years and did not feature intercontinental ballistic missiles (ICBMs) believed to be capable of targeting the US.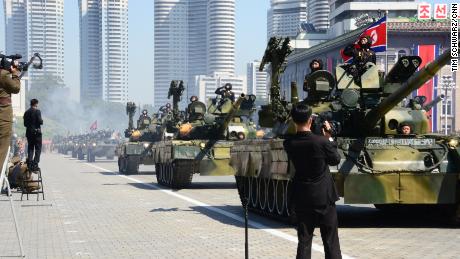 Military vehicles are seen during a parade marking North Korea's 70th anniversary Sunday.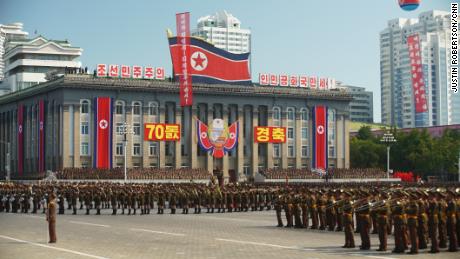 Soldiers inside North Korea's Kim Il Sung square.Before the event, experts speculated that North Korea may choose not to display the controversial weapons to avoid antagonizing US President Donald Trump.Sunday's parade was attended by leader Kim Jong Un and other senior officials, including Li Zhanshu, a special envoy sent by Chinese President Xi Jinping. Kim and Li locked hands and raised arms at the end of the event.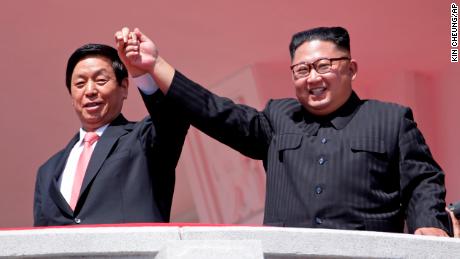 North Korean leader Kim Jong Un, right, raises hands with Chinese envoy Li Zhanshu.The parade, which appeared to be smaller than similar events in the past, was split into two sections, civilian and military. The military portion featured thousands of soldiers wearing uniforms from different periods of North Korea's history, dating back from 1948 through to the present day.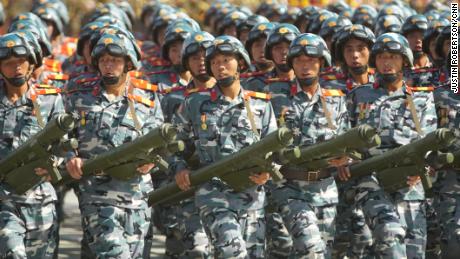 Soldiers march during a military parade in North Korea.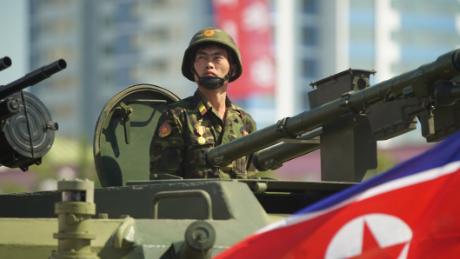 A soldier is seen during celebrations for North Korea's 70th anniversary.Read MoreThough some of the artillery pieces on display featured anti-American slogans as in previous years, the theme of the parade appeared overwhelmingly focused on economic development and improving the lives of the North Korean people.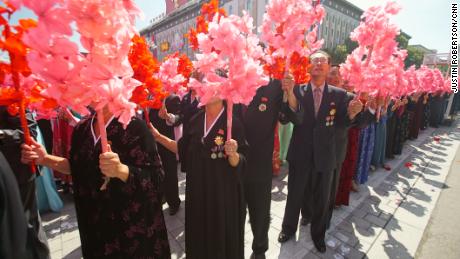 North Koreans celebrate the country's 70th anniversary.In a break from recent tradition, Kim did not speak at the event. The country's ceremonial head of state, Kim Yong Nam, addressed the audience, telling soldiers to prepare simultaneously to fight a war but also be ready to battle for economic development.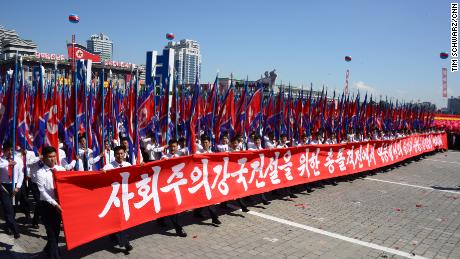 North Koreans march in Kim Il Sung Square as part of Sunday's civilian parade.Visiting journalists invited to the event were not allowed to bring phones or live broadcasting equipment to the parade. It's unclear why North Korea chose to bar reporters from broadcasting live from the event, though the delay allows Pyongyang's propaganda officials to better control the images coming from the parade.Experts are closely watching this weekend's festivities, as Pyongyang is known to use mass events like these to convey its policy priorities and future intentions to average North Koreans and the rest of the world.Journalists were invited to a concert Saturday night to kick off the celebration, an event dominated by songs and performances lionizing North Korea's history. There was no mention of missiles or nuclear weapons.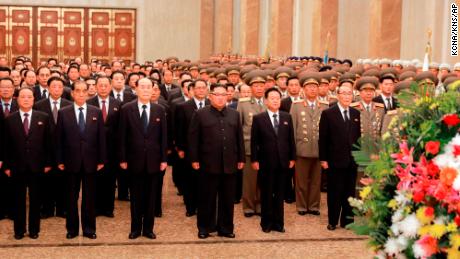 In this photo provided Sunday by the North Korean government, North Korean leader Kim Jong Un, center, visits the Kumsusan Palace of the Sun in Pyongyang, North Korea. Independent journalists were not given access to cover the event depicted in this image distributed by the North Korean government. Kim's bodyguards appeared to show up at the event, but there was no sign of the young leader himself. Footage from North Korean state television appeared to show Kim greeting the Russian delegation Saturday night. and Pyongyang is also expected to host a revival of the highly choreographed performance known as the Mass Games for the first time in five years.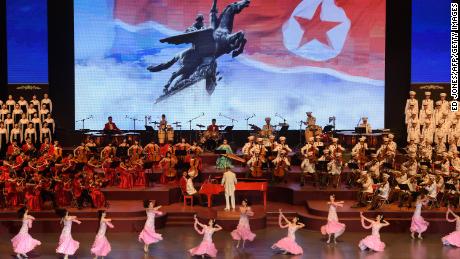 Performers take part in Saturday's concert.It's not known when exactly the Games are due to take place, as North Korea did not provide visiting journalists with a schedule of events.But the event is one of North Korea's most well-known spectacles and typically involves up to 100,000 performers dancing and performing gymnastics together in unison. It's a grandiose mix of performance art and North Korean propaganda which reflect the country's socialist values.
Source Link:
https://www.cnn.com/2018/09/09/asia/north-korea-celebrations-intl/index.html
[0.759997]
Comments
comments